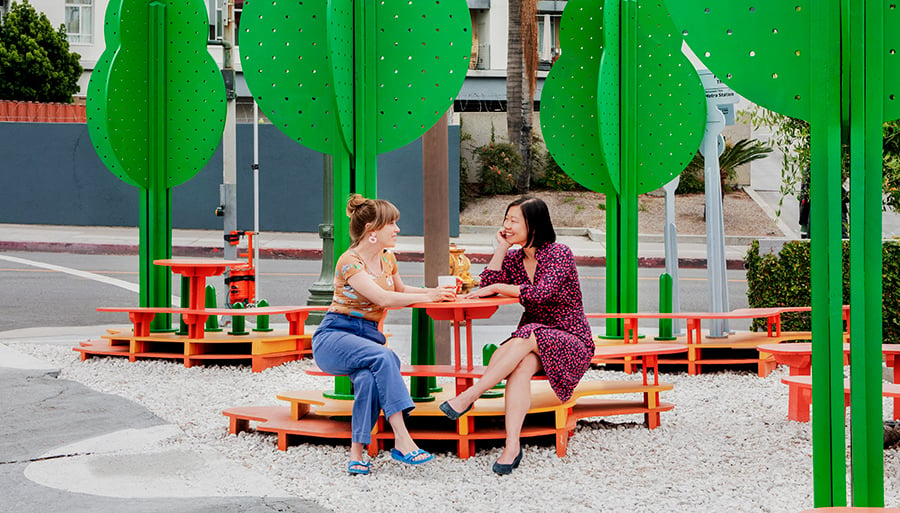 July 26, 2018
Metropolis Magazine's 8 Rising New Talents
From a nonprofit revitalizing L.A.'s overlooked corners to a studio specializing in experiential graphic design, this year's New Talents feature multidisciplinary skill sets.
---
The two founders of LA-Más didn't start their careers at their Los Angeles–based nonprofit, which tackles local urban problems through grassroots initiatives. Elizabeth Timme designed hospitals in Rwanda for MASS Design Group, a 2011 Metropolis Game Changer; Helen Leung worked for then–city councilman Eric Garcetti, who is now mayor of Los Angeles. The skills they honed at their previous jobs—in particular, engaging with and designing for disenfranchised communities—have helped the duo create some of the most joyful and meaningful urban interventions the city has seen in years.
In fact, all the rising stars featured as Metropolis Magazine's 2018 New Talents developed deep expertise in one field and then applied it to new challenges in another. Architect Thomas Kosbau came to the housing sector by way of urban agriculture; experiential graphic designer Joe Lawton became a maestro of branded environments while employed in marketing at his firm. The founders of Swiss-American studio Karamuk Kuo were steeped in intellectual pursuits before they set out to build: Partner Jeannette Kuo has edited two books and held teaching positions at a power list of world-class architecture schools.
Many emerging design firms also share this superpower—recasting time-honored practices in a new, more relevant mold. In addition to the four practices above, our New Talent group includes a quartet of product designers: Angeleno furniture maker Kalon, Brazilian minimalist Guilherme Wentz, textile experimenter Nadine Goepfert, and playful product designer Maria Jeglińska.
Learn more about each of these unique New Talents below:
You may also enjoy "Super-Sustainable Dwelling, Built to Push the Limits of Self-Sufficiency, Goes on View at U.N. Headquarters."