February 5, 2021
GRT Architects Brings Innovation to Restorations
Designers Tal Schori and Rustam Mehta lead Brooklyn-based GRT Architects in projects including residential and hospitality renovations as well as product design for manufacturers such as izé and KAZA Concrete.
---
Most are lucky if they remember friends they met in elementary school. But for designers Tal Schori and Rustam Mehta of GRT Architects, the playground proved an unlikely matchmaker for an enduring creative partnership. After meeting in the third grade, Schori and Mehta both coincidentally went on to study at Brown and later pursue their M.Archs at Yale. "Tal and I have known each other for a very long time and have always had similar but not identical interests," explains Mehta. "We are often working on the same project but thinking at different speeds and scales."
The duo has gained accolades for a commitment to preservation through a portfolio largely consisting of residential, commercial, and hospitality renovations. Both founders have taught a hands-on course exploring historically informed surface embellishment at Columbia University's Graduate School of Architecture, Planning and Preservation. "We are drawn to work that requires thinking in historical, aesthetic, and technical terms equally," says Schori.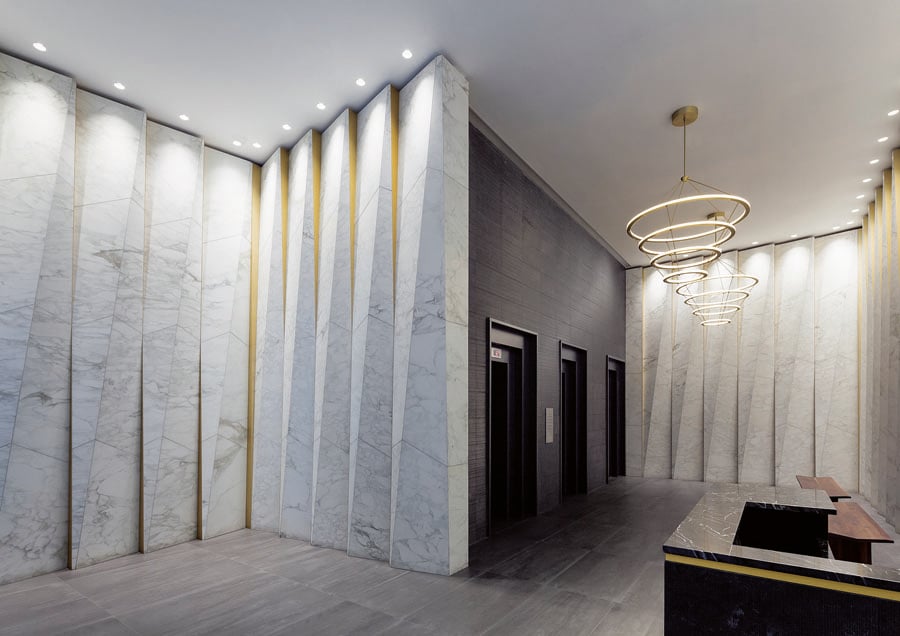 ---
Working within cultural and historical frameworks to inform its projects, GRT focuses on understanding the stylistic and material qualities of existing spaces, and then creates a contemporary language inside centuries-old structures. In its first project, GRT was hired to lead the renovation of the lobby of Manhattan's Art Deco–era Fashion Tower, built in 1925. In the process, Schori and Mehta consulted the original drawings of architect Emery Roth, known for his iconic prewar residential high-rises including the San Remo and the Beresford.
By studying these blueprints, and damage to the building from years without landmark protections, GRT executed Roth's vision of the facade. An earlier renovation had obscured the original sandstone facade and destroyed intricate detailing at the entryway. After pointing out the historic value to its clients, the firm also began restoration work. By using 3D-scanning technology, GRT was able to unearth paint and pattern samples below and re-create the archway, adding a glass entry flanked by polychrome terra-cotta panels with peacock ornamentation.
---
Inside, GRT extended the lobby, bolstering it with pleated Calacatta marble and bronze-tinted aluminum. Off-site, CNC fabrication was used to conceptualize a contemporary design. "We were lucky to start our practice with a fascinating project that brought together all our interests and have since been convinced the most fulfilling way to learn is through doing and engaging."
The firm's recent work encompasses collaborations with artists, innovative commercial spaces, and single-family homes, including Dutchess County Studio, a striking black brick structure set against the rolling hills of upstate New York. This willingness to experiment grows out of their individual passions. "After hours we both work with our hands, fixing and building things," Mehta says, noting that Schori makes furniture and ceramics, while he himself enjoys experimenting with hardware fittings and finishes, including electroplating and powder coating. He even recently completed a decadelong restoration of an Alfa Romeo GTV.
Currently the studio is working on its first freestanding commercial project, preserving a trio of brick factory buildings in the process. "Everyone wins when a building endures," the duo says. "Except for the most rarefied buildings, enduring naturally means change, adaptation, and evolution. We love being a part of the continuation of older buildings, and we aim to make new ones whose utility will also endure."
You may also enjoy "A Historic Shoe Factory Serves as a Model for Environmental and Social Sustainability"
Would you like to comment on this article? Send your thoughts to: [email protected]
---
Register here for Metropolis's Think Tank Thursdays and hear what leading firms across North America are thinking and working on today.