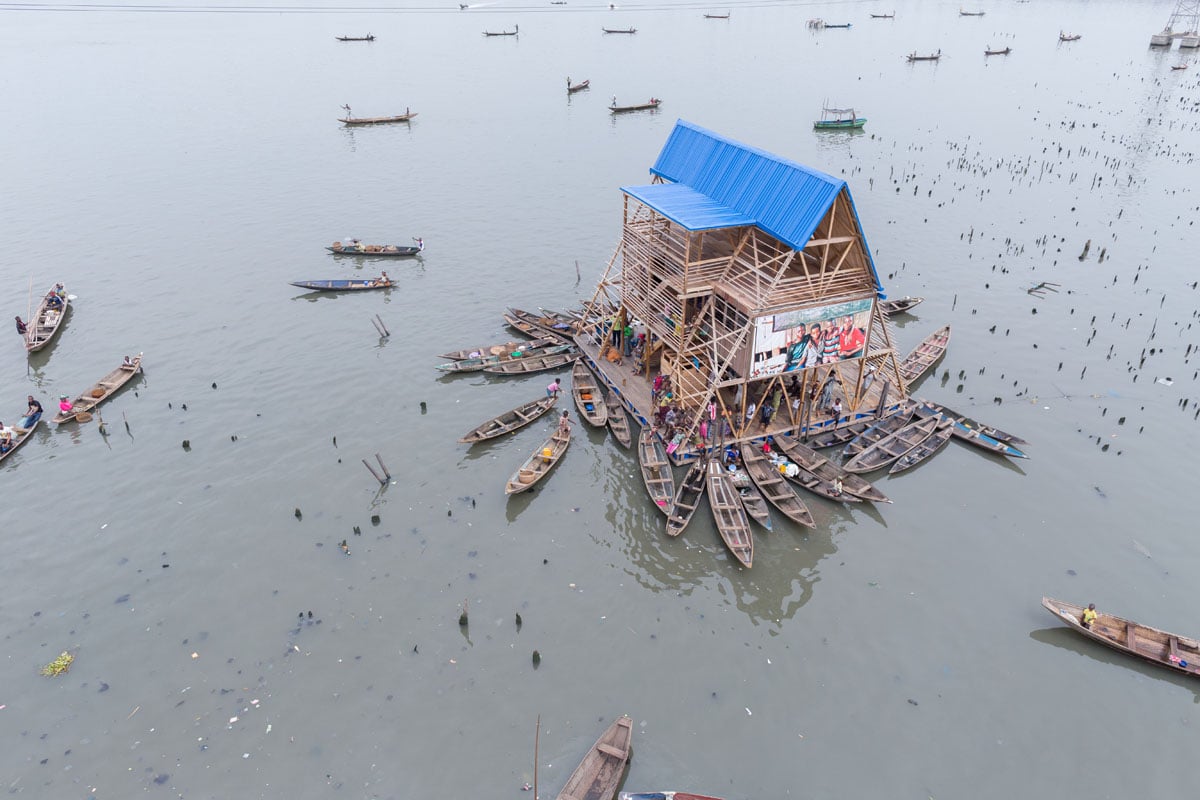 October 28, 2014
Nigerian Architect Kunlé Adeyemi Targets Growing Cities for Long-Lasting Impact
Focusing on growing African cities, Nigerian architect Kunlé Adeyemi creates buildings with the potential for long-lasting impact.
---
Nominated by Sarah Herda
---
Makoko is a fishing village, mostly built on stilts, on a lagoon in Lagos, Nigeria. NLÉ's prototype floating school offers a sustainable solution for this community to expand and build necessary facilities. The school awaits official sanction, but "it has drawn the attention required to stimulate the support that a development like that will need," Adeyemi says.
Courtesy Iwan Baan
---
When the Makoko Floating School was completed in March 2013, it received wildly enthusiastic critical acclaim from the international news media. The simple A-frame structure, buoyed by recycled plastic barrels in a lagoon in Lagos, Nigeria, was designed by NLÉ, a Lagos- and Amsterdam-based studio founded by the architect Kunlé Adeyemi. The project, intended as a model for how Lagos's floating community could build simple, sustainable structures for themselves, subsequently faced a few challenges. One of the biggest was winning over local officials, who simply did not know what to make of such a building.
"We want this validated as a prototype for building and living on water, which I don't think there is a precedent for," 38-year-old Adeyemi explains. "To enable its replication—or even the replication of such an idea, not necessarily in form, but in the way of building on water—now the government's support is crucial." More than a year later, that support finally seems to be on its way. The Nigerian government has granted its approval, and the changes to the structure required by local authorities have been made. At the time of writing, a team of officials had just completed an inspection. Adeyemi remains hopeful in the face of a long struggle.
Portrait of architect Kunlé Adeyemi
Courtesy Reze Bonna
One of the architect's long-term research interests is urbanization in developing countries, particularly those on the African continent. "I think we're still at a stage where a lot of effort is being put into just doing things as opposed to getting it right," he says. "Social and environmental consciousness that is specific to African needs has not been addressed enough, particularly by the big developments."
His firm hopes to bring this kind of thinking to its residential and commercial developments in Lagos and other African cities. Part of its strategy is a return to vernacular building methods and materials. At a project that he has just begun in Karatu, Tanzania, the architect—who spent eight years working with Rem Koolhaas at OMA on projects around the world—is fascinated by local brickmaking. "I was very delighted to realize that almost everything that we need to design and build a beautiful building is within a fifty-kilometer radius of the site," Adeyemi says.
NLÉ is engaged with Lagos's coastline in several projects, including the Bloomsbury Waterfront Development (above), which will provide premium office space on the city's Victoria Island.
Above and below courtesy NLÉ
Adeyemi is increasingly being called upon to offer his perspective at international fora. He was a juror at this year's Venice Biennale and a member of the International Advisory Council for the World Design Capital 2014. He is also leading a studio at Cornell University this fall, where students will focus on the topic, "Water and the City." They will first try to understand urban waterfronts in the African context, before plunging into a project in Dar es Salaam, Tanzania. "We will be working with the local institution there to understand the development of coastal areas and the challenges of water," he says.
"How are cities in Africa dealing with the issue of climate change, particularly as they try to urbanize, given the pressures of economic development and population growth? We're looking at how all these parameters come together."
The firm's design for the Chicoco Radio project—a floating media station and community hub for Port Harcourt, Nigeria—was the recipient of a 2014 Regional Holcim Award.
---
"Adeyemi approaches architecture as a tool for social change. His practice demonstrates that architecture can operate as a positive catalyst in development, and that some of the most innovative solutions to social and urban problems within a specific community grow from an understanding of local climate, ecological conditions, people, customs, and immediate needs. Engaging the local and the specific can have a powerful effect on a global level." —Sarah Herda, director of the Graham Foundation