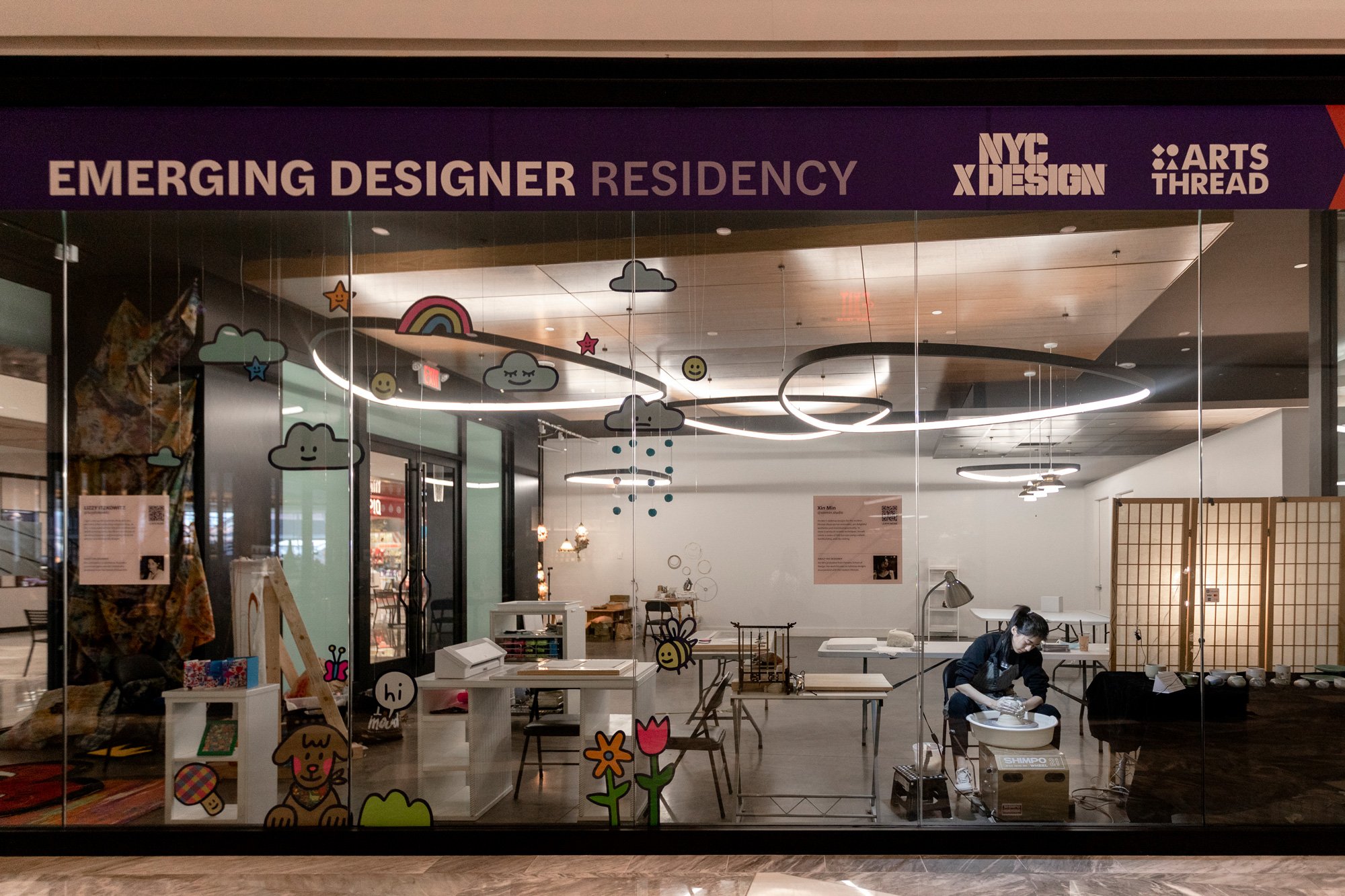 May 17, 2021
NYCxDESIGN's Emerging Designer Residency Brings Craft to Commercial Retail
In partnership with Arts Thread, the 2021 designers-in-residence transform a storefront in The Shops at Hudson Yards.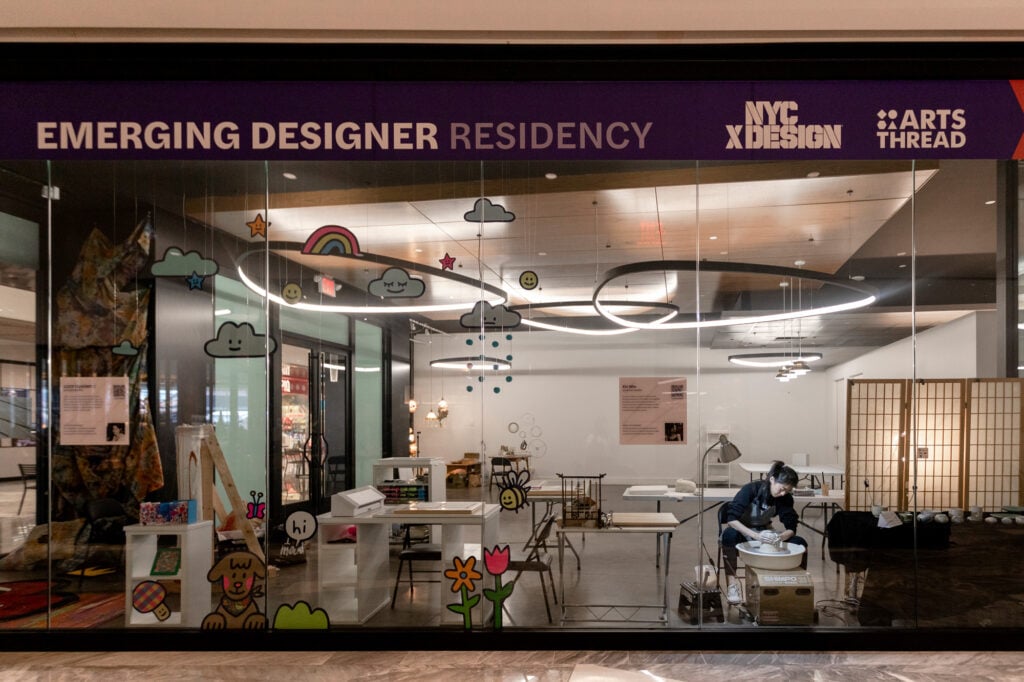 ---
Human connection is the premium social currency between designers, their craft, and an audience. In a landscape where clicks, likes, and page views are often the metrics of success, making art in a physical public space can seem like a commodity available to very few artisans. That's why NYCxDESIGN and ARTS THREAD–a global digital platform for emerging creatives–have secured the type of space once only accessible to brands with the financial means, to serve as a studio for four recent design school graduates. Located on Level 4 in The Shops & Restaurants at Hudson Yards, the pop-up studio is part of the new Emerging Designer Residency program.
---
Graduating from the Fashion Institute of Technology (FIT), Parsons School of Design, and the School of Visual Arts (SVA), the residents have through June 2021 to fully realize a new collection that elevates their respective portfolios. Each designer is allotted roughly 100 square feet behind the glass storefront that serves as a design showcase for Hudson Yards visitors. "It's meant to be that space where emerging designers can expand understanding of their practice and develop it into something they can bring to market," says Valerie Hoffman, program director of NYCxDESIGN.
The visual programming and variety of each designer's media tests the boundaries of craft, while taking the student-to-audience engagement from saccharine to serious. "NYCxDESIGN acts as the connector for them to start thinking about the audience and develop both as an artistic practice and a profession," notes Elissa Black, executive director of NYCxDESIGN.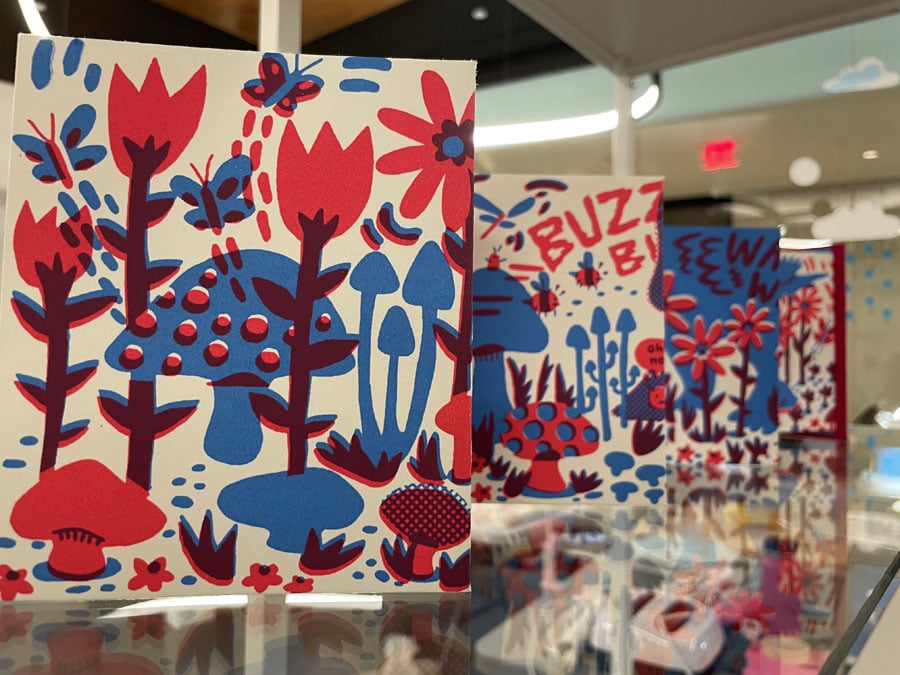 ---
Visitors are beguiled upon approach by the whimsical pendant lamps fashioned by textile designer Yi Hsuan Sung who graduated from Parsons School of Design with an MFA in Textiles in 2020. Her original creations integrate handcrafted, floral-like elements fabricated from agar–a biodegradable, gelatinous substance derived from algae–with electrical fixtures to produce lighting that emanates an ethereal glow. Pedestrians then continue towards the buzzing of Lenny Vuitton's (MFA Fashion Design, FIT, 2019) rug-tufting gun as it punches colored yarns through fabric stretched over a wood frame. "I think I provide a splash of color in peoples' day," he says of the illustrations he brings to life through rugs, pillows, and other textiles.
Turning the corner, brightness abounds with Lizzy Itzkowitz's (BFA Cartooning, SVA, 2018) electric designs. Her highly-pigmented custom home accessories and stationary test the versatility of illustration across mediums from screenprinting to stitching. When it comes to her neon palette she says, "I want people to be happy. This past year has been a difficult time for everyone. My art makes me happy and I want to spread that joy."
---
The neighboring display rounds off the cohort with a softness staged by ceramicist Xin Min (Parsons, 2020). "Calm" is the word she uses to describe the ideal response to her work. "I want people to find a sense of calm from seeing the flowers or waves on the pieces they use." Her items revive traditional techniques to create a contemporary collection for tabletop rituals.
This collaboration tackles more than the issue of visibility of emerging talent. It creates a synergy between the resident and guest leaving visitors with a greater appreciation for craft as they witness moments of discovery and new methods of making.