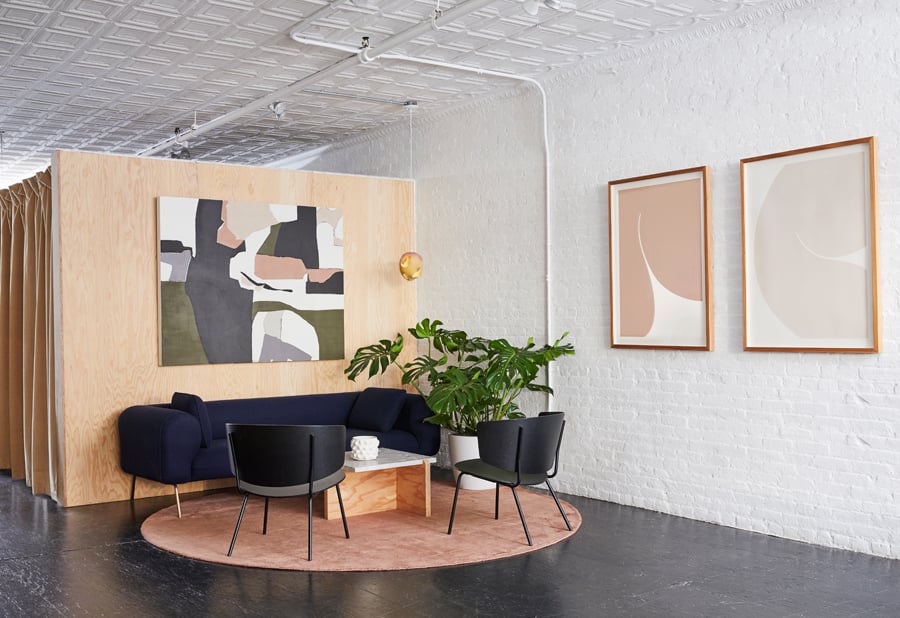 March 5, 2020
Office of Tangible Space Aims to Deepen Interior Practice
The interdisciplinary studio engages in interiors, products, and exhibitions that form connections between "the built world and the human psyche."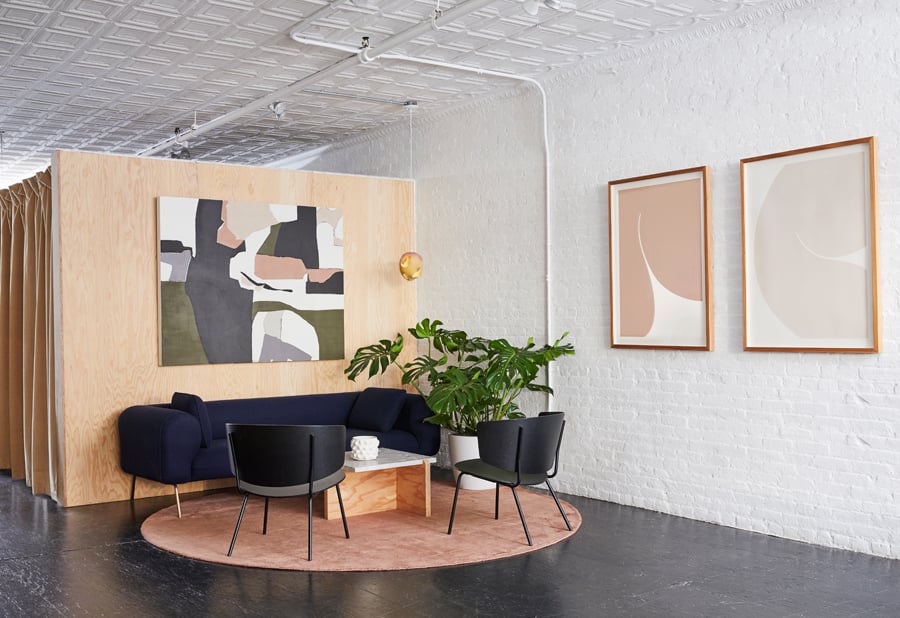 The word "tangible" has multiple, perhaps contradictory, meanings. On the one hand, tangibility is all about touch and suggests a material or object that is concrete, or per Merriam Webster, "substantially real." But emotions can also be tangible—clear and definite, not physically, but psychically. When Michael Yarinsky Studio rebranded as the Office of Tangible Space earlier this year, Michael Yarinsky and Kelley Perumbeti wanted to choose a name that spoke to the physical, spatial, and emotional experience of interior space, something they feel is often lost in the age of Instagram.
The two-person, Brooklyn-based studio casts a wide net over the design world, engaging in interiors (workplace, residential, hospitality), furniture, and curation. It even has a new artist residency and event series in the works. But for the designers, each separate inquiry forms a connection between "the built world and the human psyche," Yarinsky explains, "It's like pulling a thread on a massive carpet that we still feel is under-explored."
The duo's recently completed office for the Manhattan-based online art gallery, Uprise Art, showcases their intersecting interests in fine art, design, and manufacturing. The brief outlined a need for a workplace that also provided ample space to store and display their collection. Tangible Space made little changes to the architecture, more as a way "to add on to the existing character" than to detract from it, Yarinsky says. They left the original exposed brick walls and pressed tin ceiling common in SoHo loft buildings of the time (the building dates to 1915) but added a coat of white paint, as Perumbeti puts it, "to let the art speak for itself."
The Uprise project captures the studio's attention to the beauty and tactility of simple materials. With a desire to emphasize raw textures that appeal to the senses, warm wood often dominates their palette. While the studio insists that every aspect of their work needs to first satisfy specific functional requirements, they don't shy away from subtle nods to the history and theory of art and design. Take for example the Marine Fir plywood used to craft the custom shelving throughout the space. "A really simple reading is that it's the specific plywood Donald Judd used a lot," Yarinsky notes. CNC-milled by a local fabricator, Thirdkind Studio, and constructed onsite, the curvilinear shelves wrap the room fitting snugly around pilasters, pipes, and radiators, showing how Yarinsky and Perumbeti take into consideration the eccentricities of the older building. They also constructed a large stone-topped table out of the same plywood, providing Uprise with a central place to meet with clients and artists. Above is a custom hanging room divider that helps create a flexible barrier while allowing light to pass through the open-plan office.
The design of Uprise also highlights the studio's ongoing collaborations with artists through Cooler Gallery, a curatorial project the two run out of their studio near Brooklyn Navy Yard. Yarinsky points to a large sculpture (which also functions as a whimsical seat and plant stand) sitting on the floor at the entrance, designed by local artists Chiaozza and commissioned for the space. "It's a funny thing," Yarinsky says, "There was this sort of happy moment in the fact that we have actually exhibited a lot of the same artists that Uprise represents, so we've all become friends through this work." Perumbeti emphasizes the importance of building these relationships across disciplines, and the freedom that such creative overlap has allowed for. "The community we're surrounded with is a lot of people making things—people making art, people making products," she explains, "I think that naturally feeds back into new explorations, partnerships, and types of work that we do."
In the spirit of building community, Tangible Space recently launched People in Places, an event series dedicated to deepening the discussion on people's relationships to interior space through themes such as "On Being Alone", "On Intimacy", or "On Human Scale." During their first lecture on February 20, Perumbeti read from a manifesto, "When we see and absorb photos of interiors and read surface level descriptions of their makeup, we rarely are able to tease out a deeper narrative and the process of their creation." For them, aesthetics is always secondary to the process of making and human activation, "interiors aren't just supposed to exist in or create an appealing image," she said. Her reading was followed by a presentation (ironically via Instagram stories) by Yarinsky on Alvar Aalto's Paimio Sanatorium, and an artist talk by sculptor and trained architect, Allan Wexler. (A frequent collaborator, Wexler also designed the studio structure for Cooler Ranch, an artist residency Cooler Gallery runs on Treiber Farms in Long Island.)
Yarinsky posits, "We've been asking ourselves, how do we kind of fit everything into this big umbrella of Office of Tangible Space?" He continues, "We're a design business, we do product design, we run Cooler Gallery, and we're starting an artist residency…It sometimes feels like this ever-expanding universe." But it all certainly seems to go back to the idea of what an "interior" is. Perumbeti's manifesto reads: "It's the notion of being inside, of being contained, or of being a part of." An interior can be the space within a physical boundary (a plywood room divider) or it may be the more intimate confines of the mind (the feeling one gets when looking at a beautifully functional display of handmade objects.) Without question, both are real—both are tangible.
Perumbeti concludes, "I don't think we're ever going to be a studio that wants to stay in one lane or brand ourselves as 'we only do interiors and we will only do it in this way'."
You may also enjoy "At Casa Perfect, Retail Gets a Big Dose of the Hospitality Factor"
Would you like to comment on this article? Send your thoughts to: [email protected]