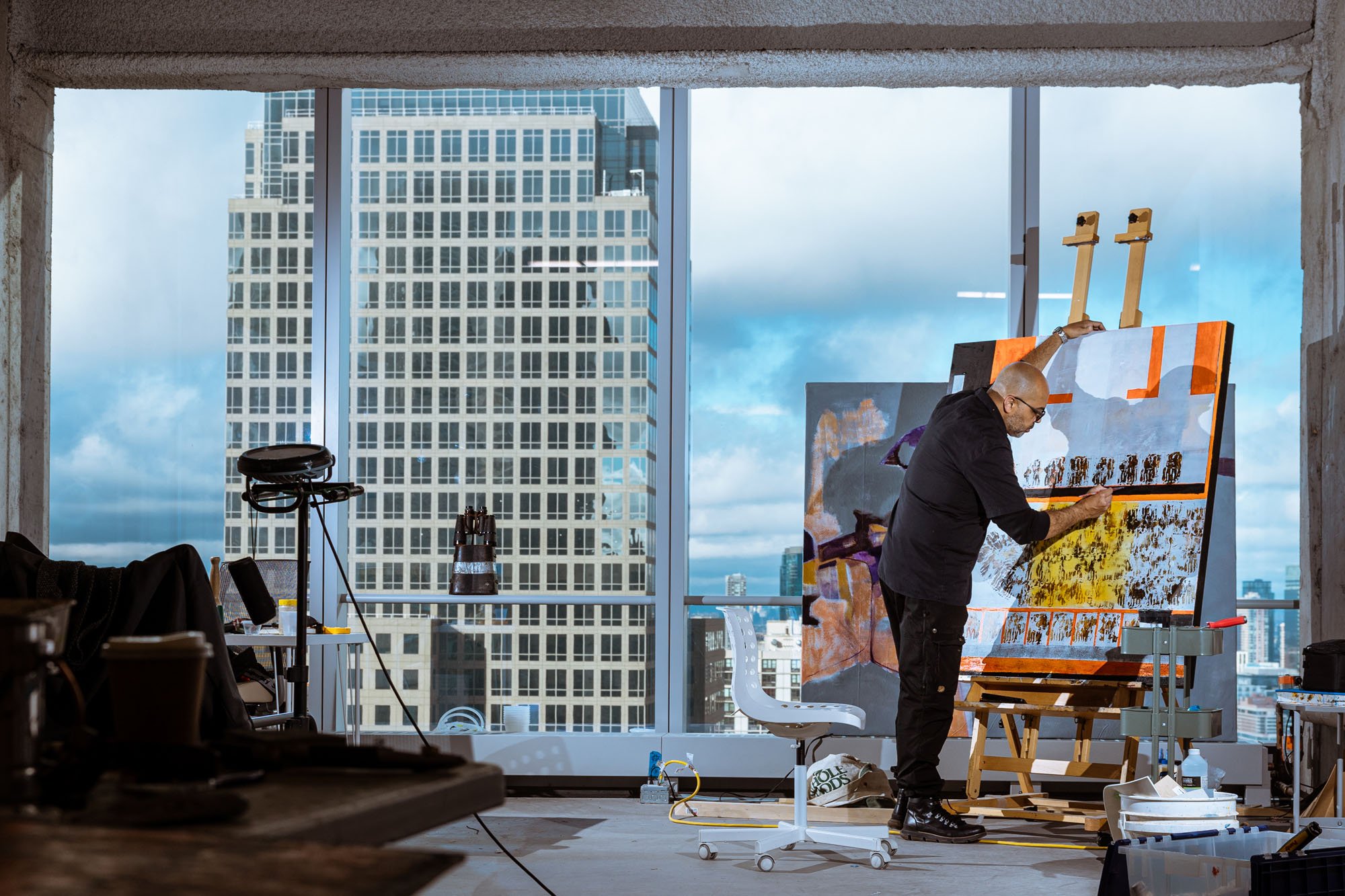 July 28, 2022
Prime Space, Visibility, and Community
Since September 2021, Lindsey and 27 other artists have been occupying flexible studios ranging from 500 to 1,500 square feet, spread over almost the entirety of the floor's 44,000 square feet of raw unfinished space, as part of the second cohort of Silver Art Projects.
Established as a non-profit in 2018 by Cory Silverstein (grandson of mega-developer Larry Silverstein) and Joshua Pulman, who met as undergraduates in business school at George Washington University, Silver Art Projects is a 10-month-long artist incubator located in a neighborhood that long ago priced out early-career artists.
As long-time patrons of the arts, Silverstein and Pulman were looking for a way to counter structural inequalities that make it difficult for some artists to be seen, while bringing the arts back to Lower Manhattan. For them, that meant removing distractions to artists' creativity and career growth by providing free studio space, career-focused mentorship, and unparalleled access to leaders in the art world.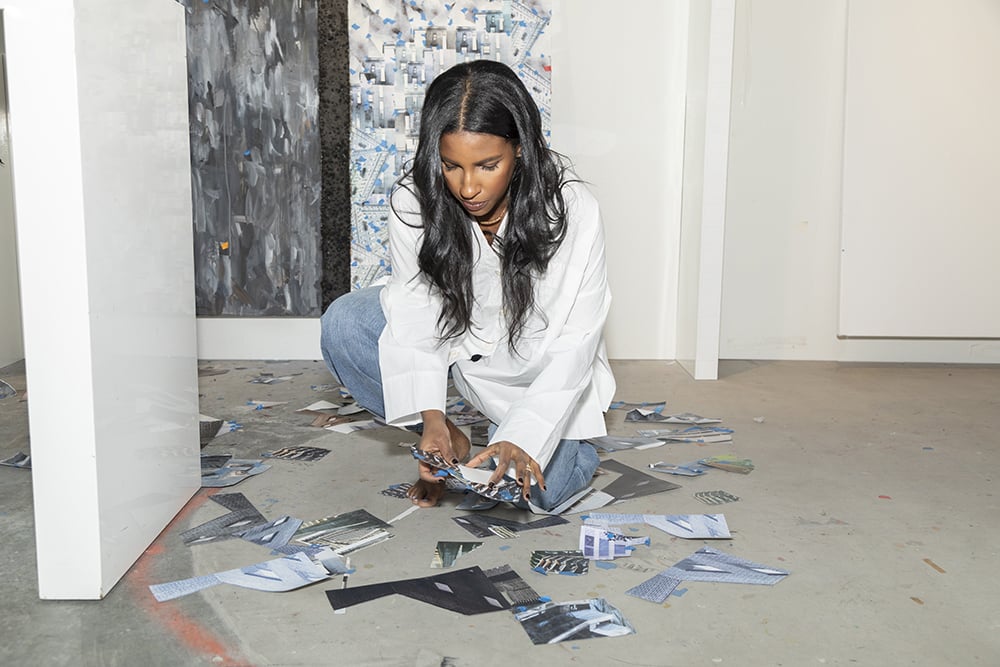 "It's kind of paying attention and thinking about what's needed now. How can we serve that?" says the program's newly appointed executive director, John Hatfield, of the founders' impetus for starting the program.
One of the greatest needs of course, is studio space.
"What New York City does not have, increasingly, is equitable affordable space for artists to actually do their work," declares Hatfield. Artists at Silver Art echo the sentiment.
"Before I came to the residency, I had a 170-square-foot studio with no windows," notes Helina Metaferia, an interdisciplinary artist from the 2021 cohort, whose studio at the residency is 600 square feet." Now I have reasonably so much more space. It was not possible for me to make my museum show prior to this. It's a big upgrade."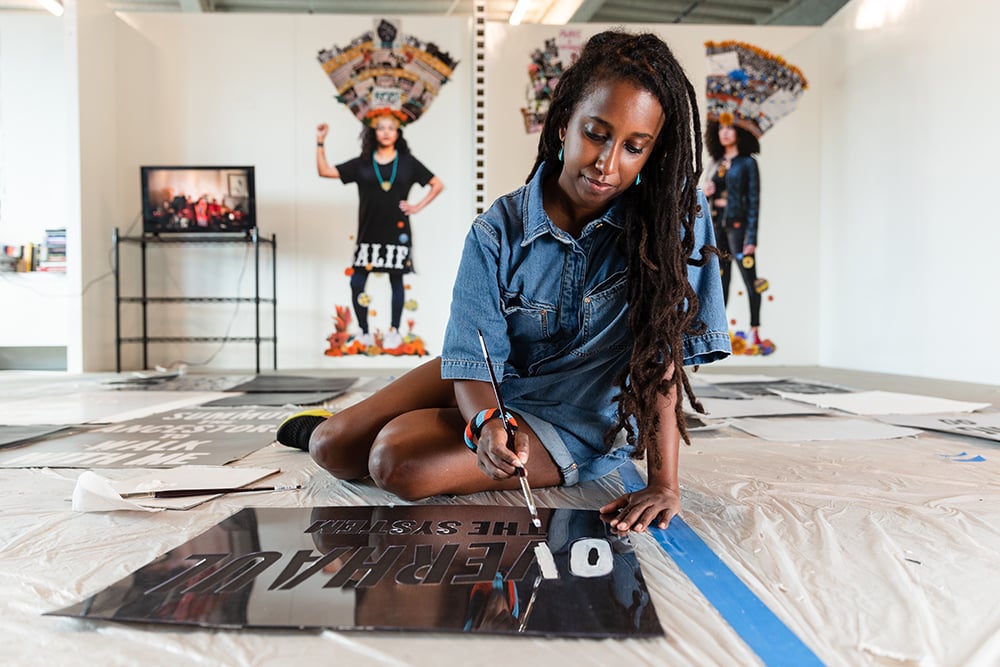 While at Silver Art, Metaferia has produced work for solo shows for the Museum of Fine Arts, Boston, and Praise Shadows Art Gallery, Boston. She's currently working on pieces for an exhibition at the RISD Art Museum, the 2023 Sharjah Biennial, and a number of group shows.
Metaferia will be staying on for a second stint as an "Artist Liaison" for the next Silver Art cohort, who will begin in September. The position allows her to keep her studio while advising the new group about practical matters like building logistics, the most efficient art handlers with which to work, and helping with community building.
One of the greatest indirect benefits of bringing together so many like-minded creators under one roof seems to be the camaraderie experienced amongst the artists. "What I think was so amazing about our year together, aside from the space, was the community that we built," Metaferia says of the Project's 2021 artists. "We all were making work inspired by and sometimes collaborative with the community."
Headed to Simon Lee Gallery in London, Xin Liu, who works at the intersection of fine art and technology, concurs: "We had small self-organized group critiques. This is like a new family."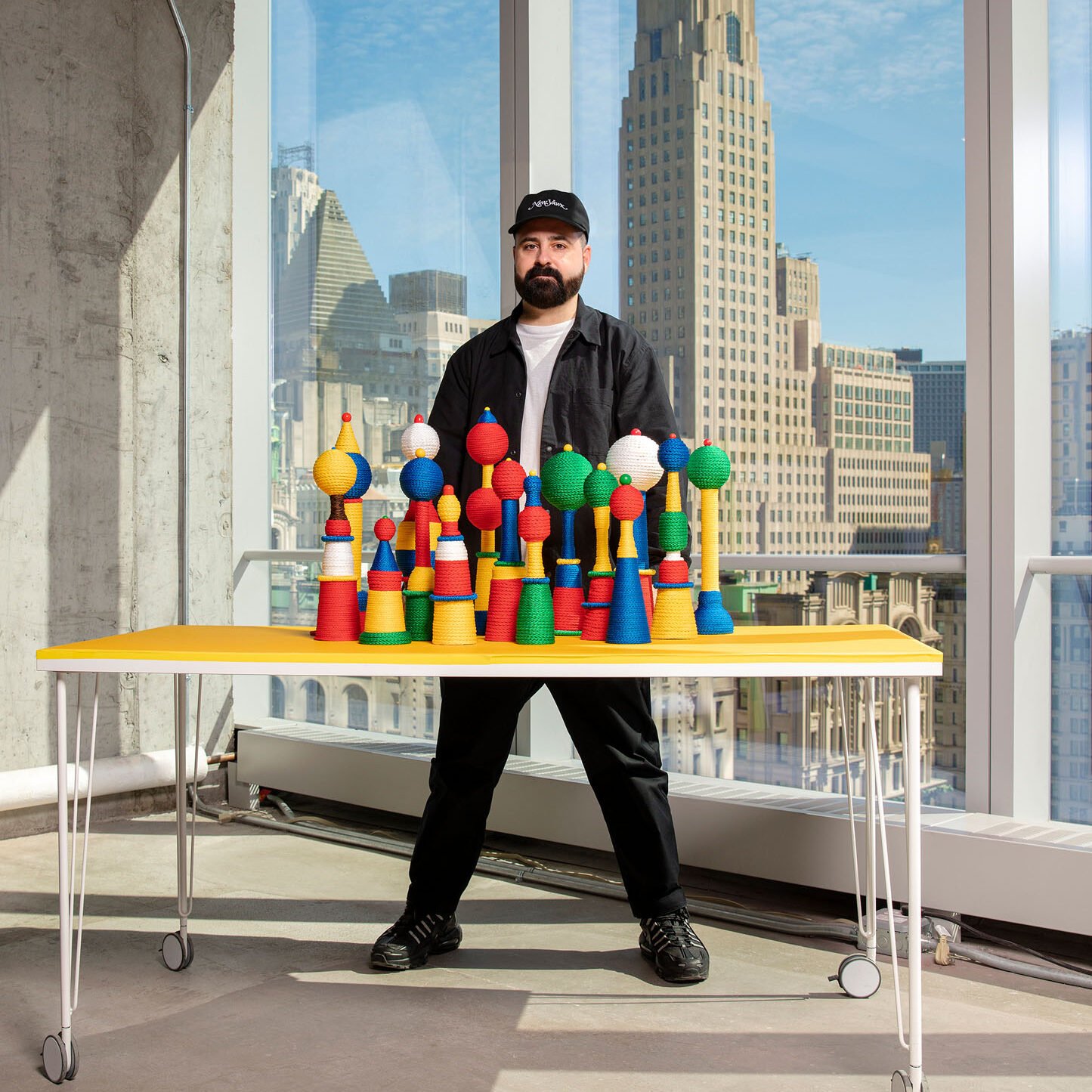 Metaferia hopes to keep that family-style character going with help from painter, sculptor, and installation artist Jared Owens.
A member of the 2021 group, Owens has found success using his craft after spending 18 years in the federal prison system. Silver Art has dedicated spots in the upcoming cohort specifically for formerly incarcerated artists and so, in addition to being a liaison, Owens will serve as a mentor and spokesperson for this part of the program.
In addition to forging a tight-knit bond among its artists, the program's connections and location have put them in rare proximity to some of the top gallerists, museum directors, and collectors in the country.
"This is in Lower Manhattan, and the accessibility of this location is extraordinary," Hatfield mentions. "That can't really be underestimated. I'm so impressed by the people that have come to visit."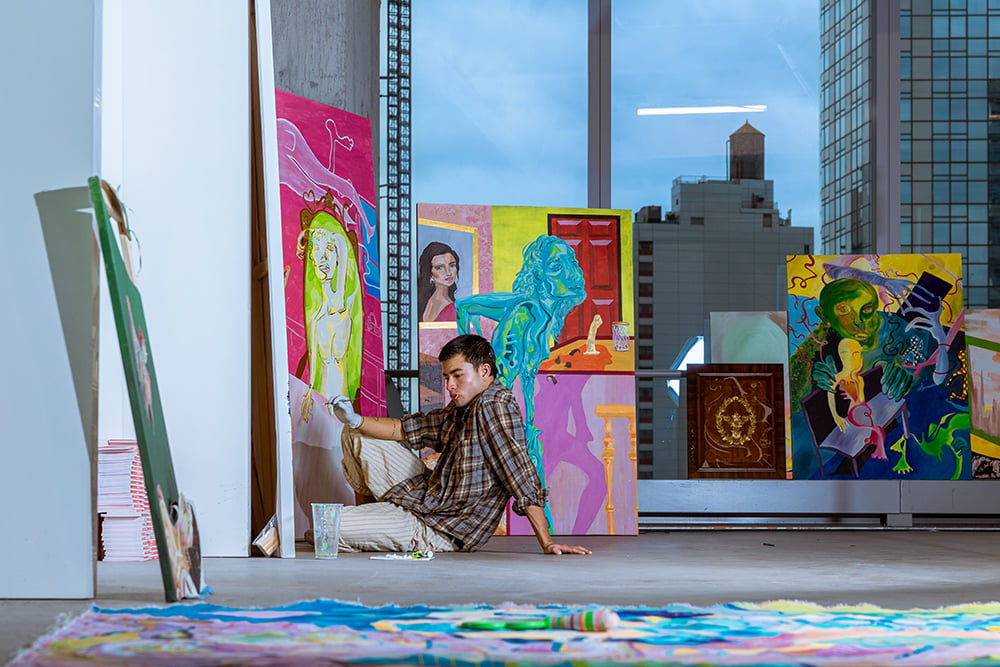 Heavyweights like MoMA director Glenn Lowry have toured the studios, and recognizable collectors like Venus Williams have stopped by, benefitting both sides: visitors get to see several artists at once while artists get unmatched exposure to people that can advance their careers.
"There is a confluence of word of mouth, our own efforts, the accessibility, the caliber of artists—it's rewarding when they do come," adds Hatfield.
That high caliber is no accident. Participants are onboarded to the residency by a yearly-revolving cast of carefully chosen industry heads and social justice activists like Mickalene Thomas and Roxane Gay. Selected artists are generally at a tipping point in their careers, with perspectives that are evolved enough for a roster of influential art-world experts to take notice.
"These are not necessarily artists that I would characterize as emerging," Hatfield comments. "Their practice is at a maturity level where they're able to expand literally physically the amount of work that they can produce if you take out the burden of studio affordability and inject that as opportunity for them."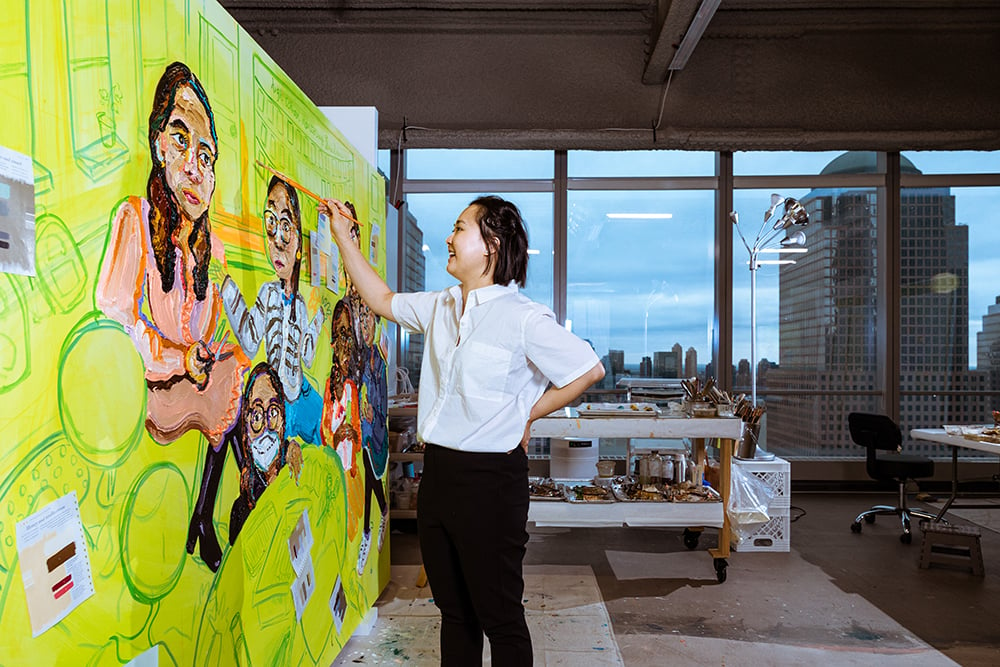 And even though their practices may be way beyond the early stages, Silver Art still provides career and business workshops to artists who need them.
Reflecting on his time at Silver Art, Bubi Canal, a photographer and videographer from Spain who just created his first NFT drop with Nifty Gateway after a producer from the platform saw his work at the studio says: "It gave me a lot of visibility; also, to connect with a community of other artists is very important—you feel part of something. It was amazing."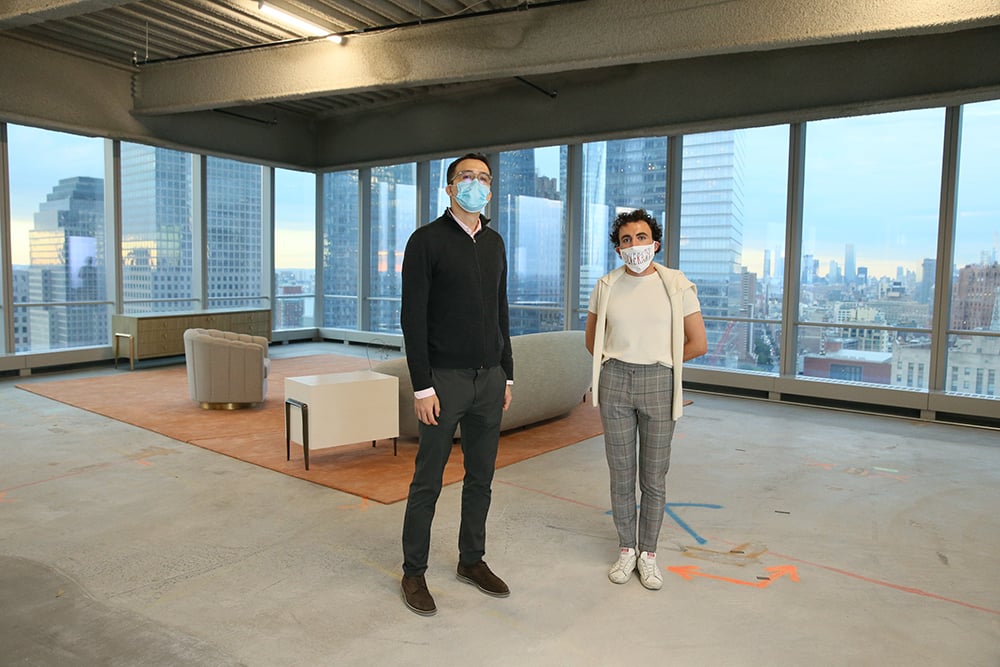 Would you like to comment on this article? Send your thoughts to: [email protected]