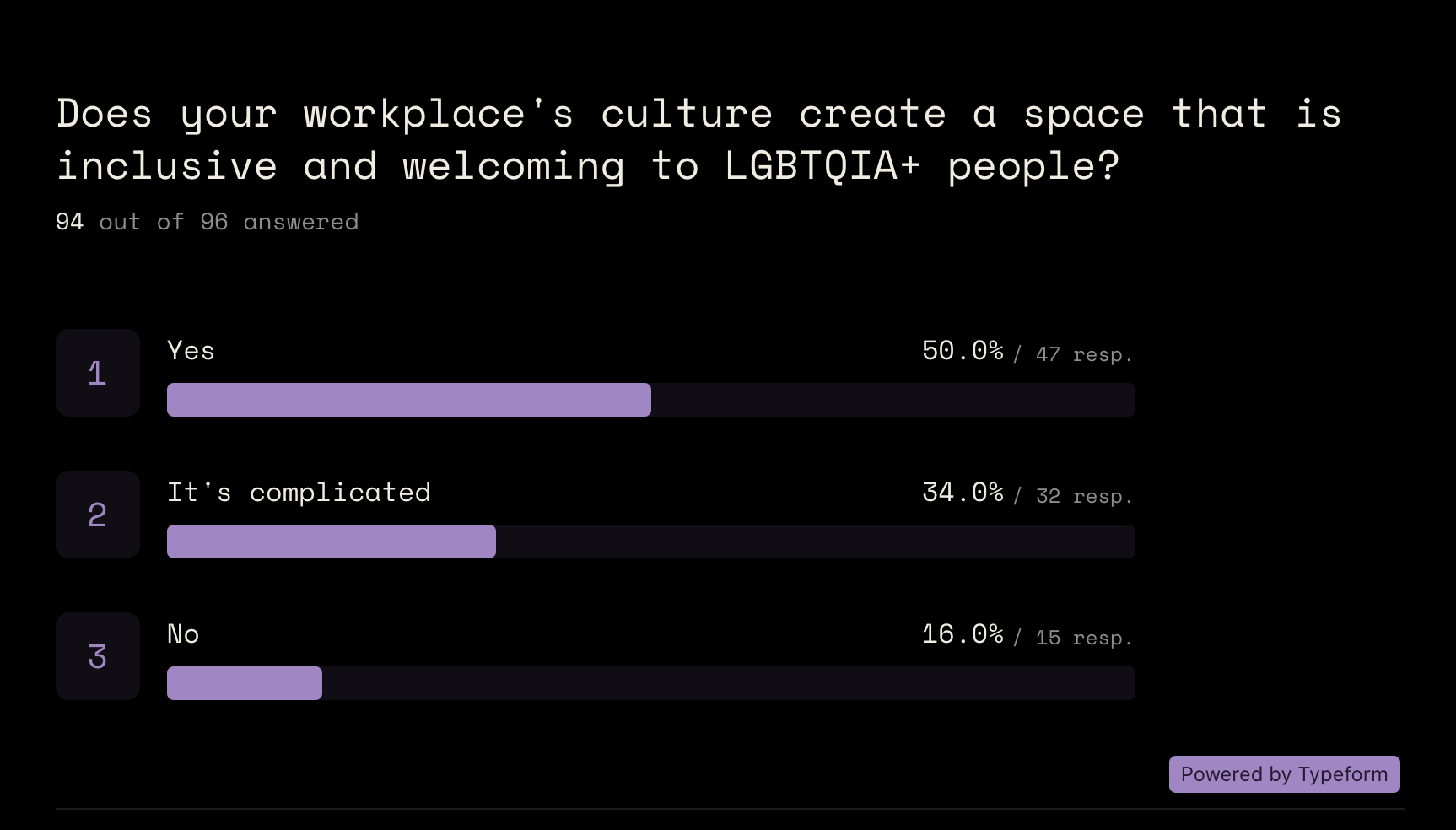 June 28, 2021
Queeries Is Documenting the Experiences of LGBTQIA+ Architects and Designers
The ongoing survey of queer architects, designers, and students aims to challenge the discourse of diversity and inclusion.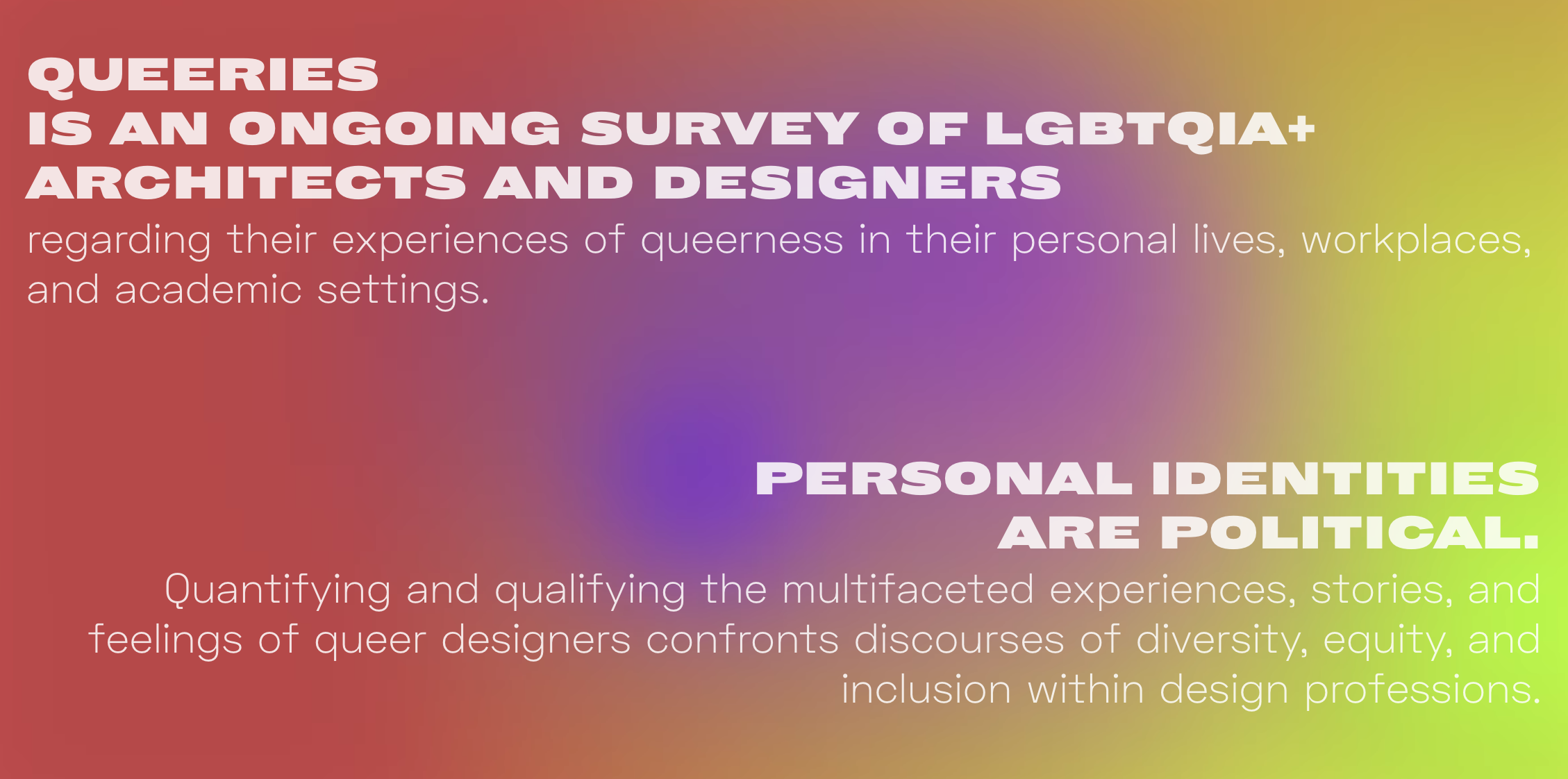 ---
Fifty-two years ago today, the Stonewall riots served as a turning point in the gay liberation movement and the ongoing fight for LGBTQIA+ rights in the United States. While we may have more freedoms than our queer predecessors, it's as important as ever to remember that Pride started as a riot—an act of resistance against police brutality led largely by Black trans women. With ongoing police violence in the United States and a new wave of regressive anti-trans legislation, it is clear that the fight for equity and equality for queer folks is far from over.
What does all this mean for the A&D community? How safe and supported do LGBTQIA+ individuals in design professions feel at their workplace today? What can architecture learn from the queer community and what aspects of architecture and design could use some "queering"?
These are just some of the questions that Queeries, a new ongoing survey of LGBTQIA+ architects, designers, and students, attempts to answer. Founded on the premise that identities have the power to shape design, Queeries explores the intersections of queerness and design by documenting the lived experiences both in the workplace and academic settings.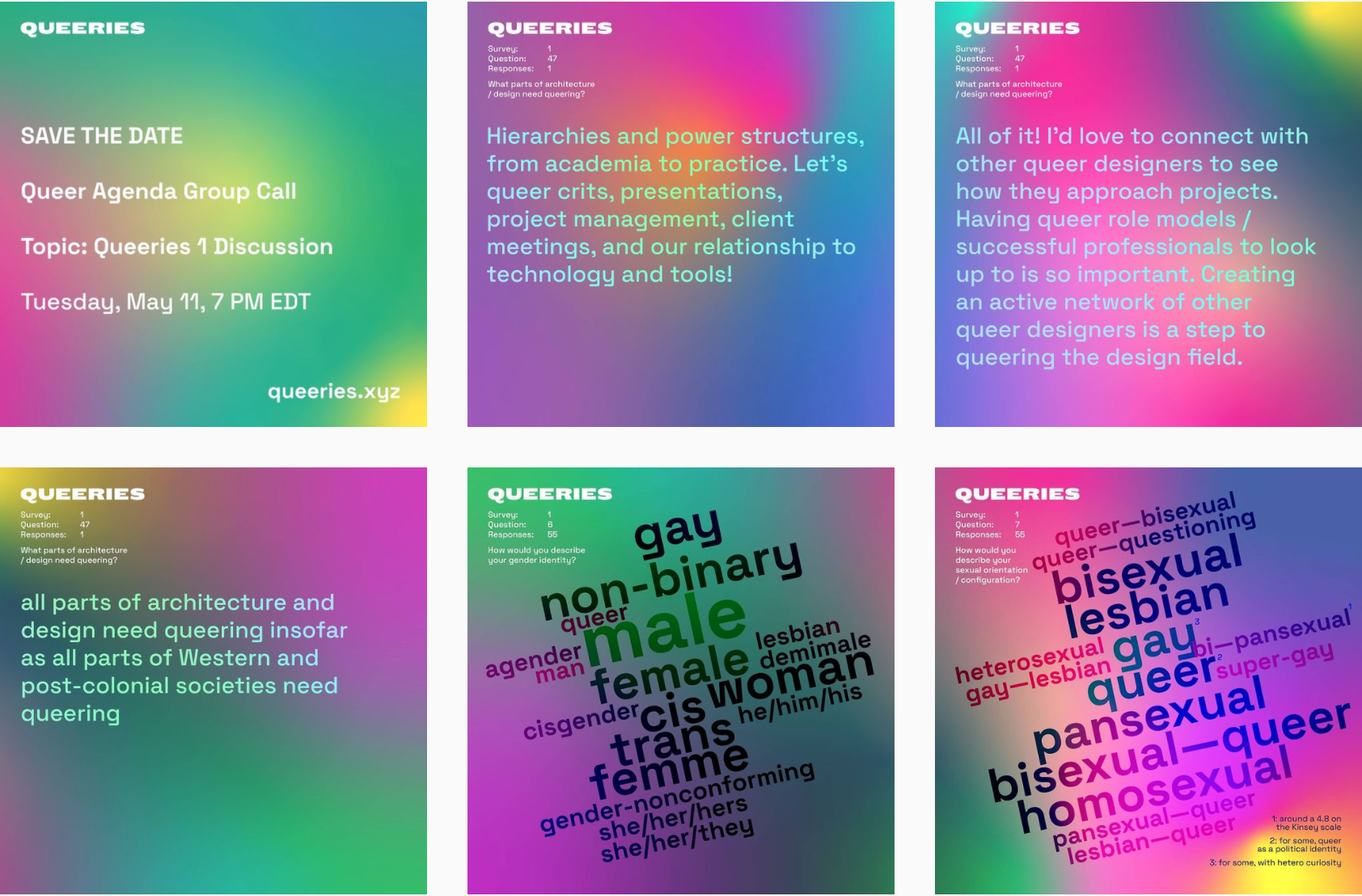 ---
Launched by A.L. Hu, a queer, trans, nonbinary Taiwanese-American architect, organizer, and facilitator based in New York City, the survey responses are used as prompts for Zoom-based community discussions and are distributed in Hu's newsletter Queer Agenda and on Instagram.
As someone who is also involved in multiple advocacy initiatives including Dark Matter University and Design as Protest, for Hu, intersectionality is key. "Queeries is trying to change the discourse around diversity and inclusion," they say. "There is almost a hierarchy where [different minority groups] can be really siloed. You'll often get [AIA's] Women in Architecture off in the corner doing one thing and the National Organization of Minority Architects doing another. There needs to be more of an intersectional approach."
Hu points to the fact that most demographic studies and surveys exclude many people by only listing two gender options, the binary "male" and "female." Such was the case with AIA's 2018 Equity by Design survey, which surveyed 14,360 people, of which 7 percent identified as LGBT and one percent as nonbinary. "Here, I asked 'How do you perceive your gender?' which lets people self-identity."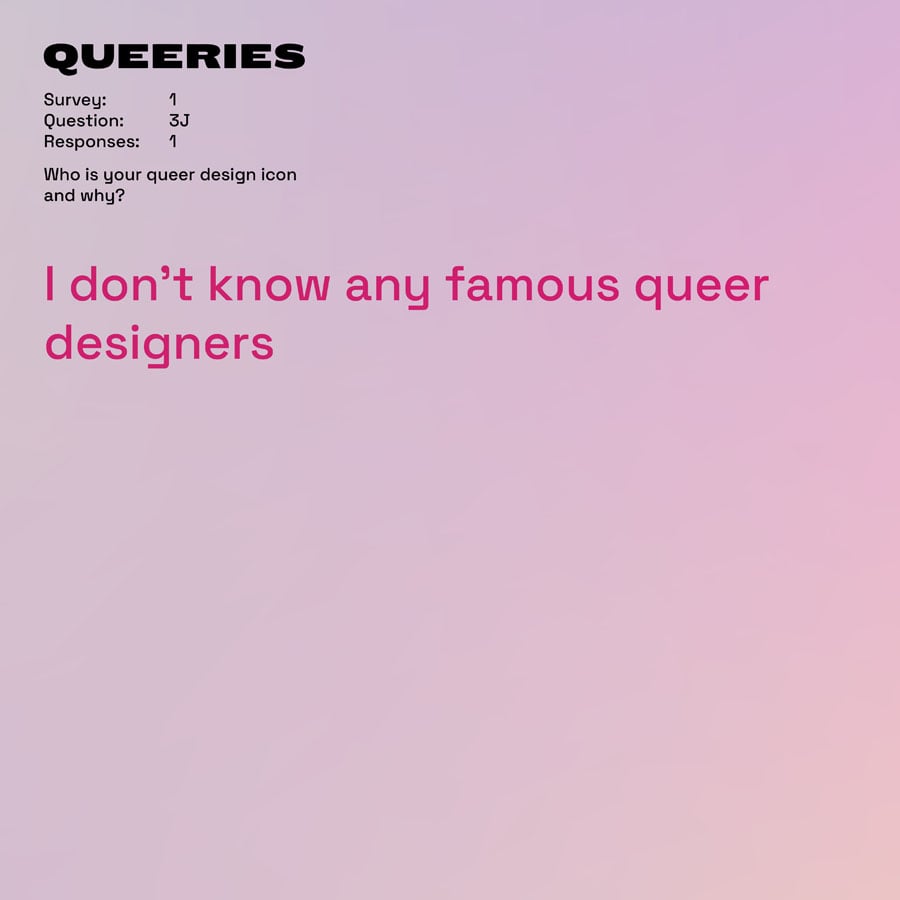 ---
Queeries 1 is broken up into three sections "Queerness & You", "Queerness & Labor", and "Queerness & Design." Hu says, "One of the questions that got the deepest answers was 'What does queer design mean to you?' A lot of people responded with the understanding that queer design goes beyond diversity and inclusion. There's a lot of folks talking about tapping into desires, allowing for open-mindedness, and sometimes it has less to do with the work itself and actual equitable practices in the workplace."
Out of 98 respondents, 66 percent answered that they are out at their workplace, 16 percent responded that they were not, and 16 percent responded, "it's complicated." When asked if their workplace's culture creates a safe space that is inclusive and welcoming to LGBTQIA+ people, 50 percent answered yes. Nearly half of the people responded that it is complicated or unsafe to be out at work and cited everything from living in a red state and not trusting male coworkers with details about their personal lives, to being out to colleagues who are in the same age group but not to their bosses or leadership.
If personal identities have the power to impact how designers work, then it only makes sense that the workplace should be a safe space to share these insights. When asked "Are you able to bring your whole self/all of your identities into your design practice?" respondents listed a few common barriers such as capitalism, hierarchy, access, experience, deep-rooted essentialism, and dated expectations of professionalism. "I want to use design to abolish. Queerness and abolition are not exactly corporate-friendly. If all my selves were here, we'd be using design to destroy most of what larger corporate design culture stands for," wrote one recent design graduate.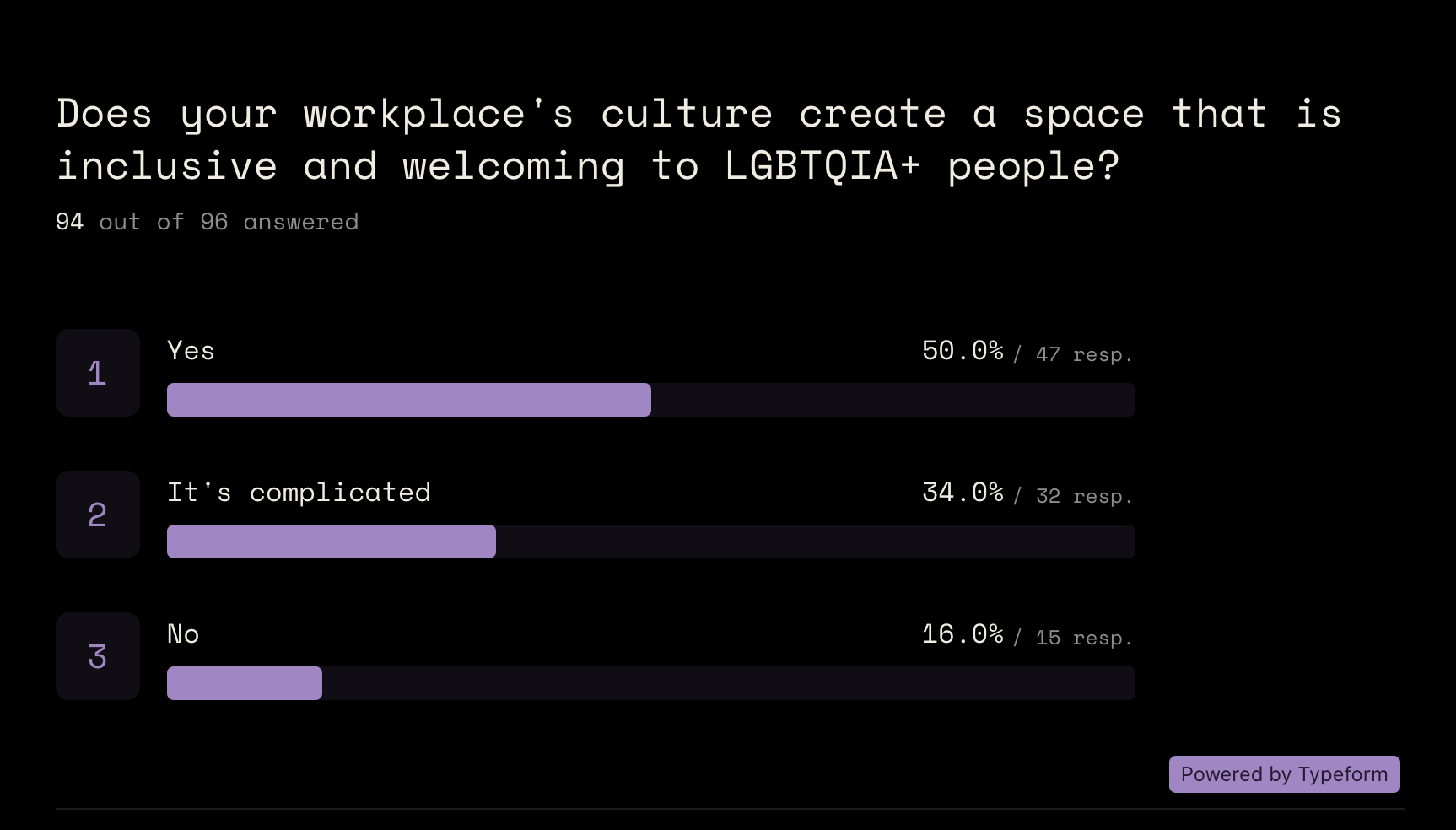 ---
It's telling that out of 91 respondents, 42 answered that they don't have a "queer design icon" because they don't know of any. Hu hopes that Queeries grows to "become a resource that people can point to in order to help others understand queerness." But they also hope it inspires others to do their own research and advocacy so that queer folks can feel better represented in the field.
"Queerness is a way of life and a different way of thinking," Hu says, "I think of queerness as a framework through which to look at design and design processes that subvert modes of architecture such as 'form follows capital.'" Instead, they conclude, queerness allows designers to focus on how people feel and what they need from their spaces. We need the LGBTQIA+ community to feel safe being themselves in all aspects of life, including the workplace. 50 percent is not enough.
To participate in the anonymous Queeries 1 or read the full results, click here.
You may also enjoy "Queer Spaces: LGBT Voices and Resources for Architects and Designers"
Would you like to comment on this article? Send your thoughts to: [email protected]
---
Register here for Metropolis's Think Tank Thursdays and hear what leading firms across North America are thinking and working on today.