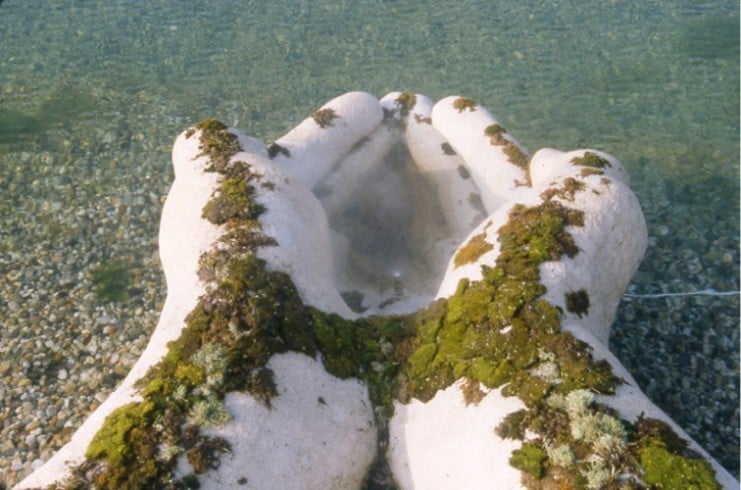 June 30, 2015
Remembering the Life and Work of Ecological Artist Jackie Brookner
Jackie Brookner was a pioneering ecological artist, designer, writer and educator. Here, she is remembered for her passionate work with ecologists, design professionals, and communities on water remediation/landscape restoration for parks and wetlands, among many other projects.
---
I'm lucky to have crossed paths with a rare individual who made me think deeply about the universe and my place, our place, in it. A decade ago I was researching a book with Lance Hosey that turned into Women in Green: Voices of Sustainable Design, Ecotone Publishing, 2007. Among the many inspiring individuals I interviewed,  Jackie Brookner left a lasting impression on me. She died last month after a battle with cancer.
Brookner was an ecological artist. Her biosculptures reflected her deep interest in water, biology, and the human body. She worked in cast bronze in her early career, before turning to "living sculptures", as she called them. They were conceived to make links between art, urban sculpture, biology, and culture. These site-specific public art projects were the focus of her career. She was also a beloved teacher at Parsons The New School for Design from 1980 until her death.
One of Brookner's biosculptures, titled The Gift of Water.
In an obituary by Lenore Malen and Mira Schor, Brookner's work was poignantly described as having been "always distinguished by an engagement with natural materials. Early on she made numerous graphite drawings, small and large scale cast bronze sculpture, always informed by bodily touch and the human hand. Throughout her career there has been a metonymy between material and concept: in her later work more specifically she drew analogies between morphological patterns and systems in nature and the human body, her work crystalizing the moment when these became philosophical points about the connection between the body and the world. Local resources became the focal point for community collaboration, what Brookner called 'neighborhood driven solutions' moving beyond the goal of creating permanent works of art." (See the comprehensive obituary here. A 2008 ecoartspace interview by Patricia Watts captures Brookner discussing her work in Finland.)
For the last four years, Brookner spent part of her time in Fargo, North Dakota, where she was working on a project to reimagine critical stormwater basins as sites of ecological restoration and community connection. She came to Fargo at the invitation of landscape architect Nicole Crutchfield, the city's Planning Administrator, and they worked closely with each other. "One of Jackie's skills that made the project so vibrant was knitting and connecting different people to the project. Her enthusiasm was infectious, and her personal engagement of so many people was making it meaningful to the community in a very real way." (Brookner delivered a stirring talk about the project at TEDx Fargo in 2012.)
Panoramic view of the stormwater basin at Rabanus Park in Fargo, North Dakota
There was a deep gravity to her perspective, but also a palpable sense of joy. I spoke to her about her work, her thoughts of about "the sustainability movement" (such as it was), and the role of women. She intrigued me at every turn. "Sustainable design is far too anthropocentric," she told me. "The focus has to be much bigger. This is where artists are more radical than the design profession. When I work with design teams, I am often the one who is pushing to make things visible and go for the maximum rather than the minimum. We have to celebrate this stuff and make it sexy, irresistible, and joyful. Also, sustainable design is too small. It's about products and technology. Really, we need to change our relationship to life and to death and to other species, and to ourselves and to each other."
Jackie Brookner creating a foot portrait of Florence Bennett in 1995 for the Of Earth and Cotton traveling exhibit.
I asked whether she thought that women bring something different than men do to the sustainable design arena. "It does seem to be a fact that women use their corpus callosum more continuously than males do," she said. "I think that is probably what allows us to integrate different aspects of our intelligence, like our emotional intelligence, sensory intelligence, verbal intelligence … we may be able to do that more readily."
She thought deeply about death, too, long before she was ill. "We don't know about the spirit, but we know that the body dies," she said. "The body is matter. The matrix of that matter is the earth. I think we are furious at matter that we cannot live forever, and so we are lashing out at it like two-year-olds, mad at the mother. Matter is the mother."