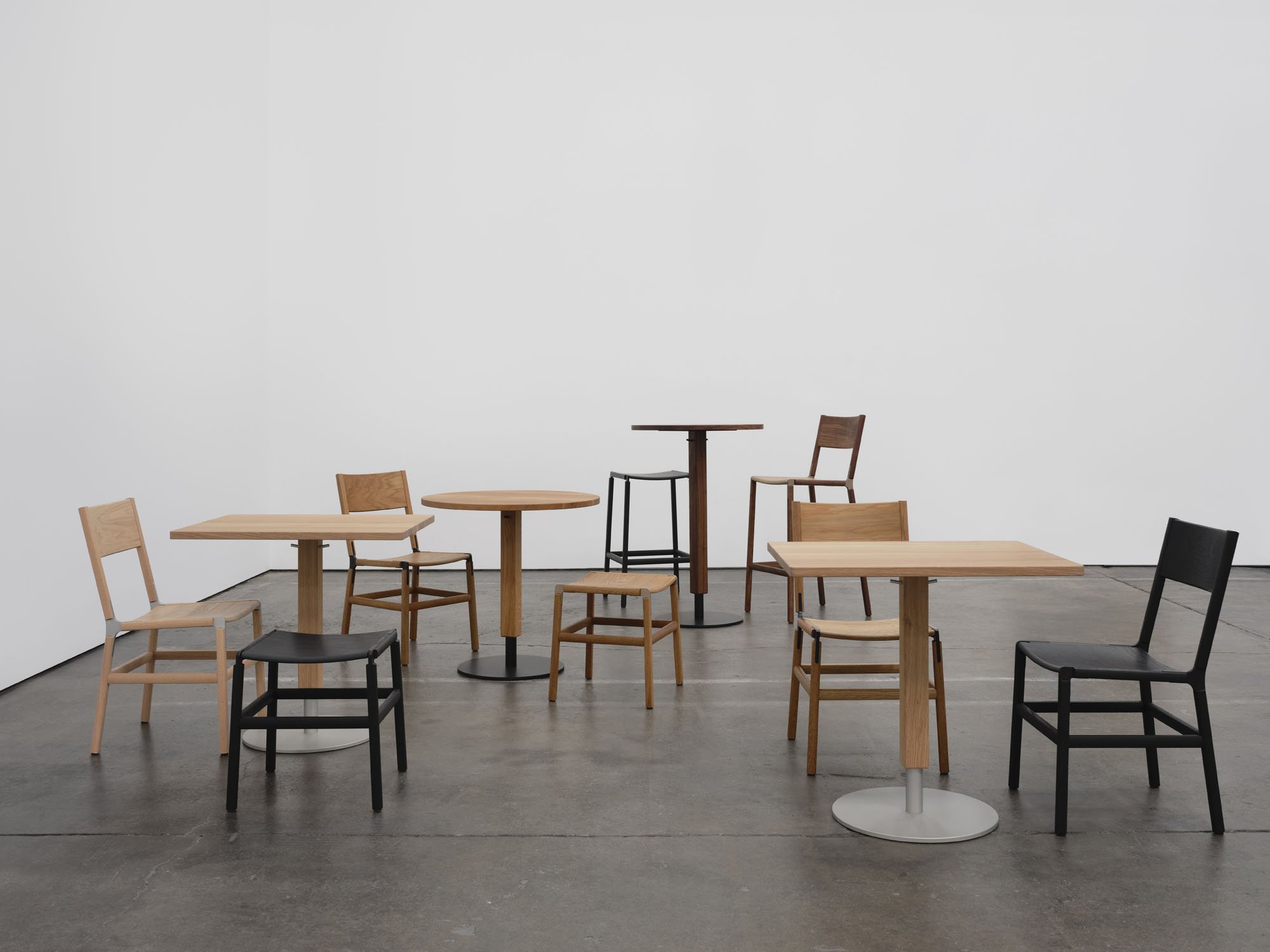 May 31, 2023
In San Francisco, a Furniture Maker Bridges Old Traditions and High-Tech Production
Fourth-generation woodworker, Ros Broughton, began his career as a cabinetmaker doing high-end projects for high-end clients around the San Francisco Bay Area. But it wasn't long before he began to tire of working only for the richest of the rich. As a custom cabinetmaker, he reflects, "We got to do some incredible stuff but at the end of the day only a few people would ever see or enjoy it." With an eye to bringing good design and quality craftsmanship to more people he began Fyrn (pronounced "fearn"), a furniture brand with an emphasis on craft, in 2016 along with cofounder David Charne.
A Fourth-Generation Woodworker
Raised on a farm in northeastern Connecticut (affectionately known as the state's "quiet corner"), Broughton's great grandfather helped revive the Hitchcock Chair company, which in the middle to the 19th century was an early mass producer of quality furniture. Broughton credits that family connection for nurturing his own love of woodworking, craft, and Yankee efficiency.
Where the Hitchcock company was innovative for mass producing interchangeable chair parts, Broughton's company would find its own fertile ground in combining the warmth of wood and the strength of metal. Broughton developed a system that uses brackets made of CNC-milled aluminum to connect the wooden legs, seat, and back. Inside the wooden frame, hidden from view, is another metal joint that connects the wooden stretchers and legs to provide strength. Broughton explains that "because of the way chairs get used, sat on, and moved around, they're almost never on a perfectly level surface, so they need to be able to flex and bend and be durable." The patented hardware the Fyrn team developed allows just the right amount of flex and lets users replace individual parts easily, should they ever break.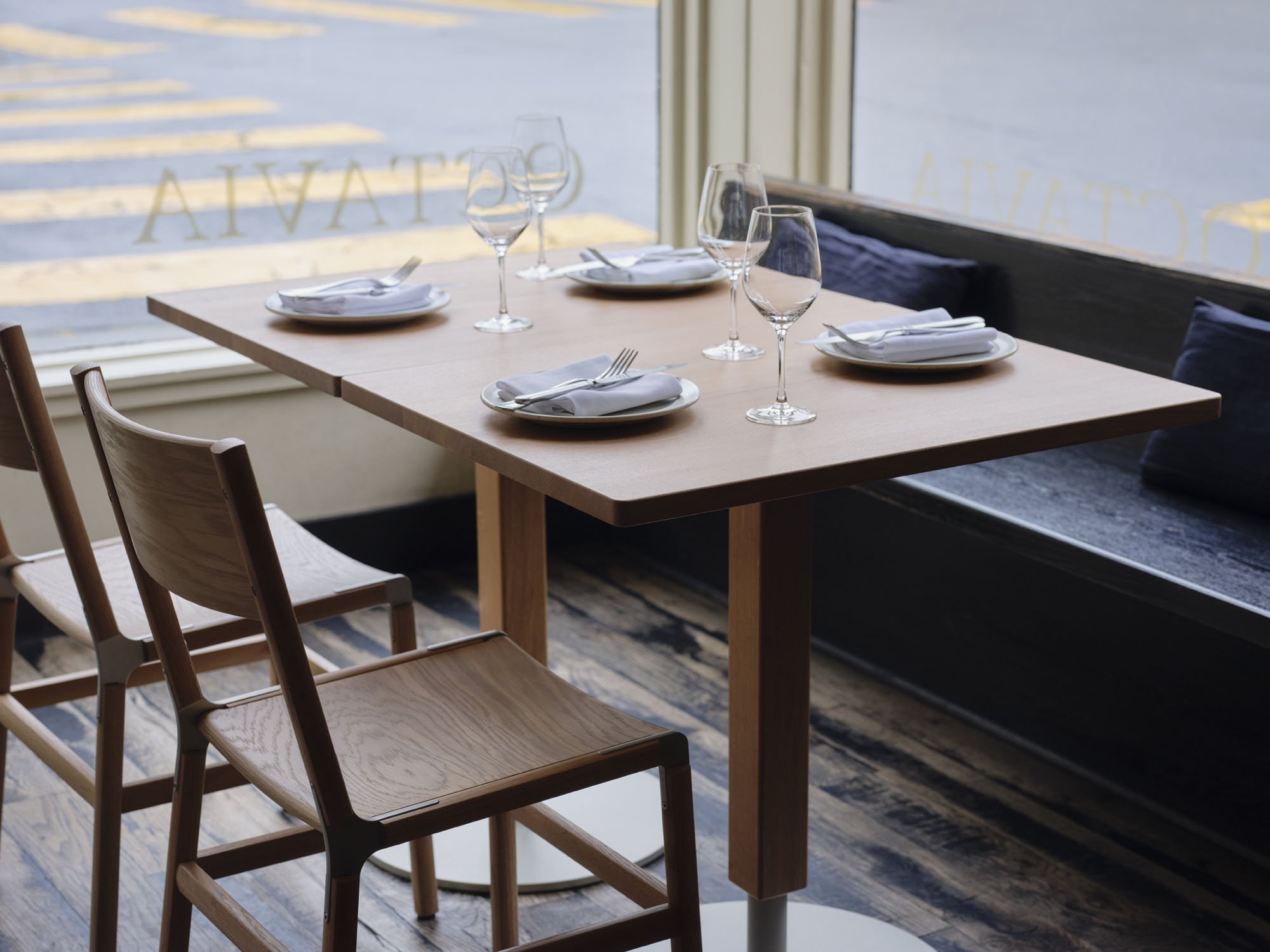 A Favorite of the Restaurant Industry
To prove their concept, the team tested early prototypes in one of the most rigorous environments for a piece of furniture, a restaurant dining room. The Fyrn chairs were a hit with customers and restauranteurs alike, and soon orders started coming in from hospitality venues around the Bay Area.
Walking through the workshop in San Francisco's Mission District where Fyrn began producing chairs, Broughton explains that the system's machined components required extremely precise fabrication (Certain tolerances are 4/1000 of an inch, more typical of aerospace than woodworking). In order to reliably achieve that precision, the team had to build a set of 30 fully custom machines to route, drill, and cut each element of the Fyrn chair. Product development leader, Derek McCall demonstrated how one of the machines works, placing a length of milled hardwood into an automated, pneumatic routing and drilling device that grabs hold of stick and with a whirr and hiss, creates the opening for one of Fyrn's signature brackets before popping the stick back up to be retrieved by the worker.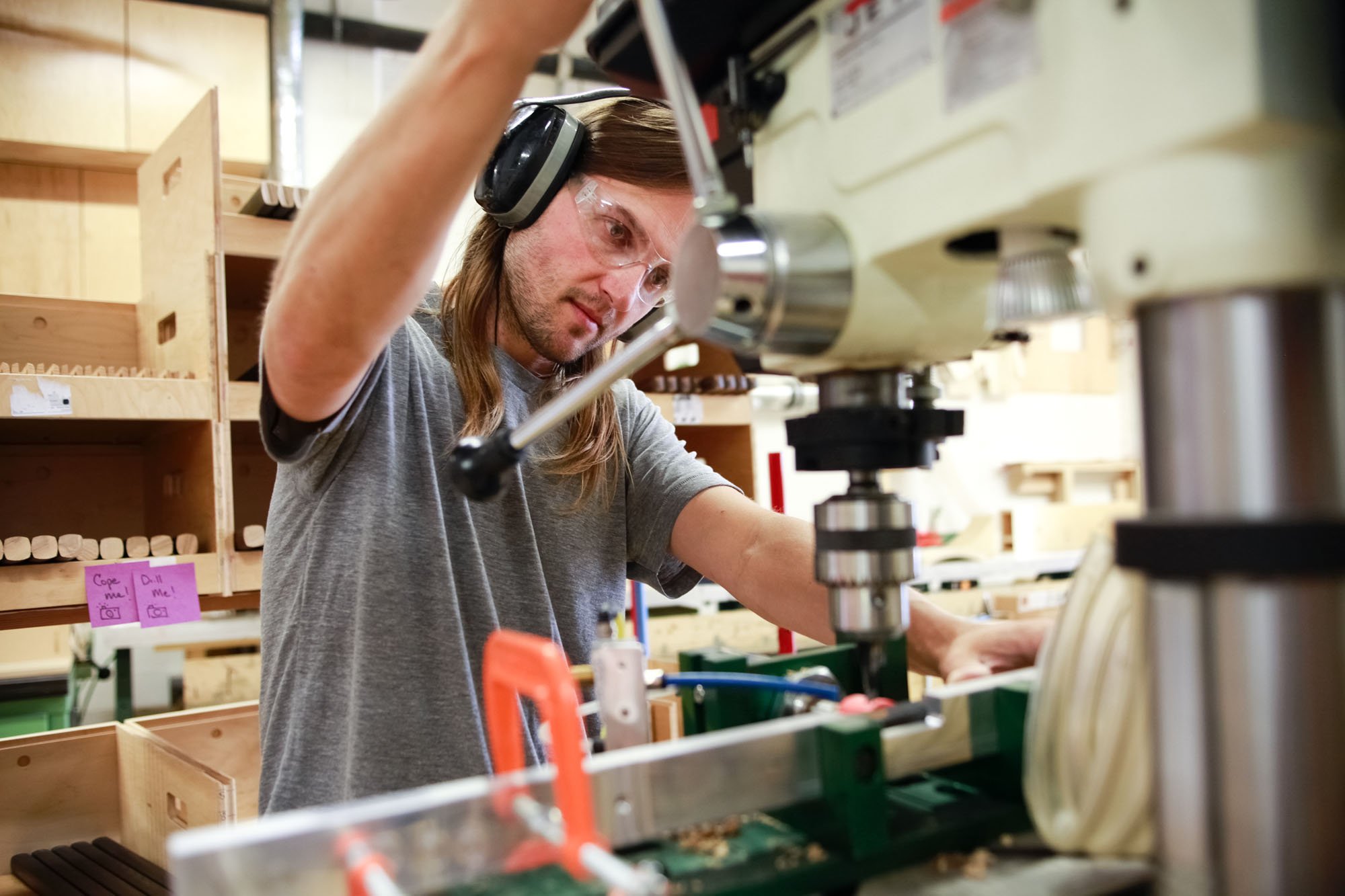 Scaling Up Craft
Though the brand describes its products as craft, the reality is slightly more complicated. The precision engineering required by the Fyrn system means there's no room for the subtle imperfections of the handmade. But with their exposed tubes, wires, gauges, and dials, the row of machines (purpose-built by Broughton and McCall) feels slightly more Burning Man than Henry Ford.
Nowadays this workshop in a building full of artists' studios is for developing new products and refining new ideas. Fyrn recently opened a 40,000-square-foot production facility near Reno, Nevada, to keep up with demand for the brand's signature chairs. And though restaurants were only supposed to be an experiment to test durability, hospitality is a major source of commissions for the growing company.
The company is also expanding its range of offerings, with a series of nesting tables that launched in 2022, and a café table that debuted at ICFF this year. Broughton explains that the café table fills an unmet need from the brand's earliest supporters—chefs and restaurant owners. "We are excited to introduce beautiful, well-made tables for a function that is mostly overlooked," he says.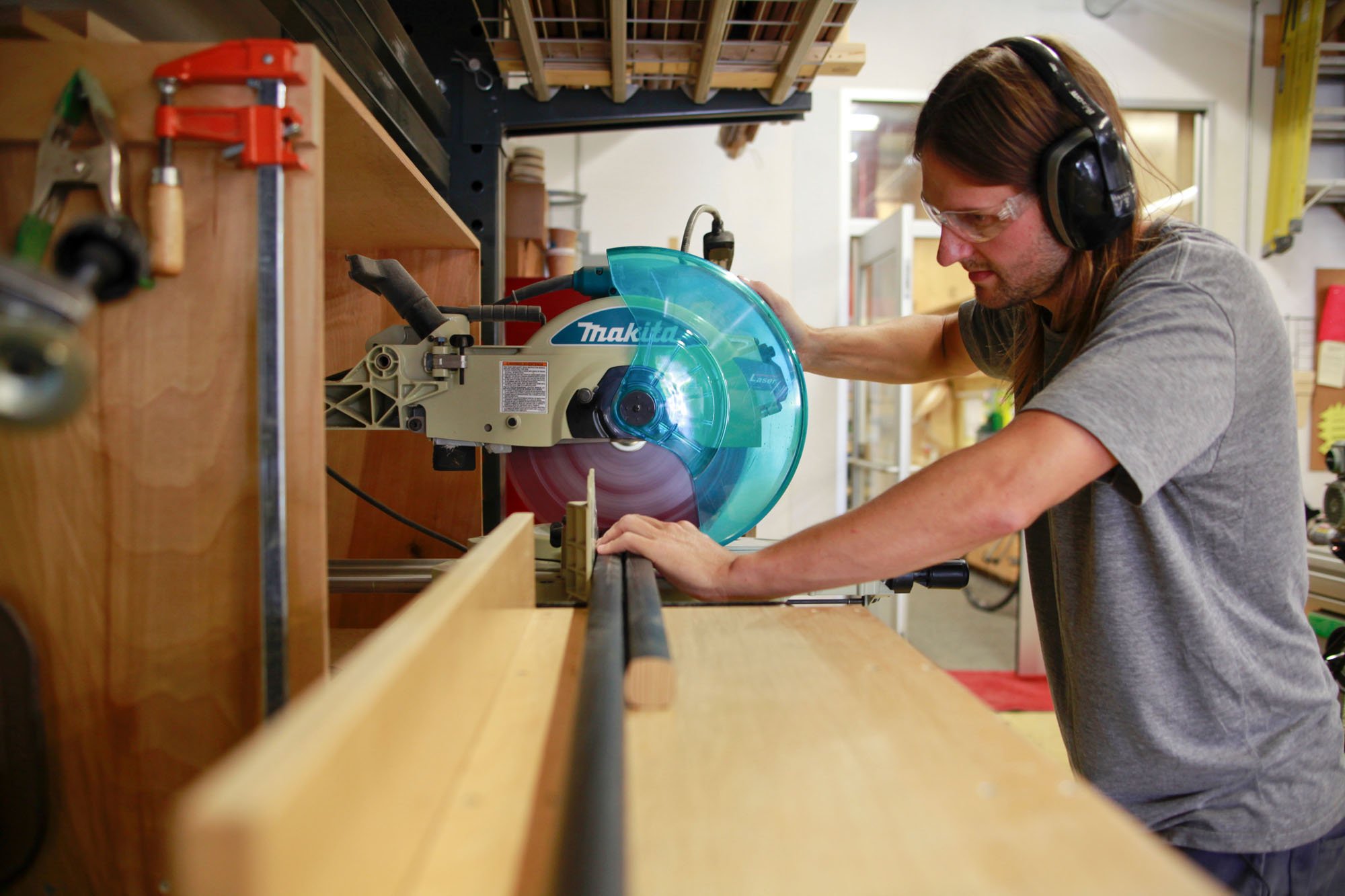 Would you like to comment on this article? Send your thoughts to: [email protected]