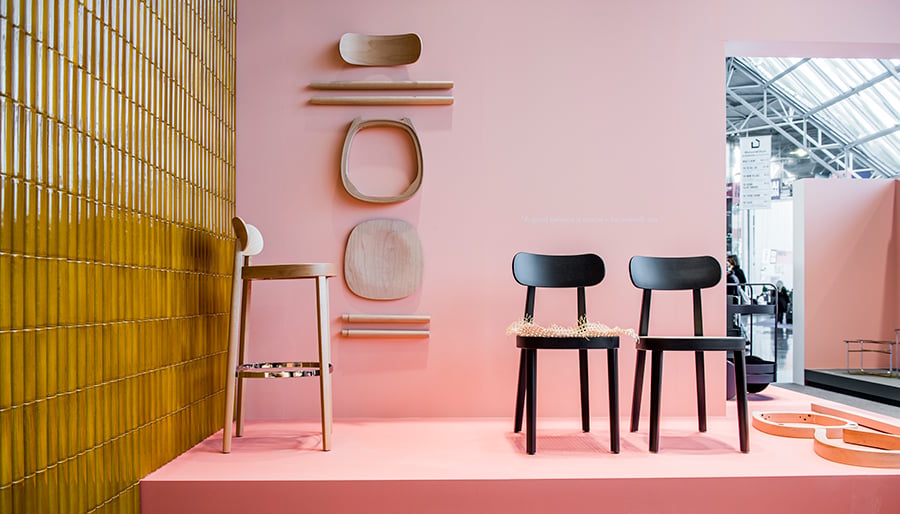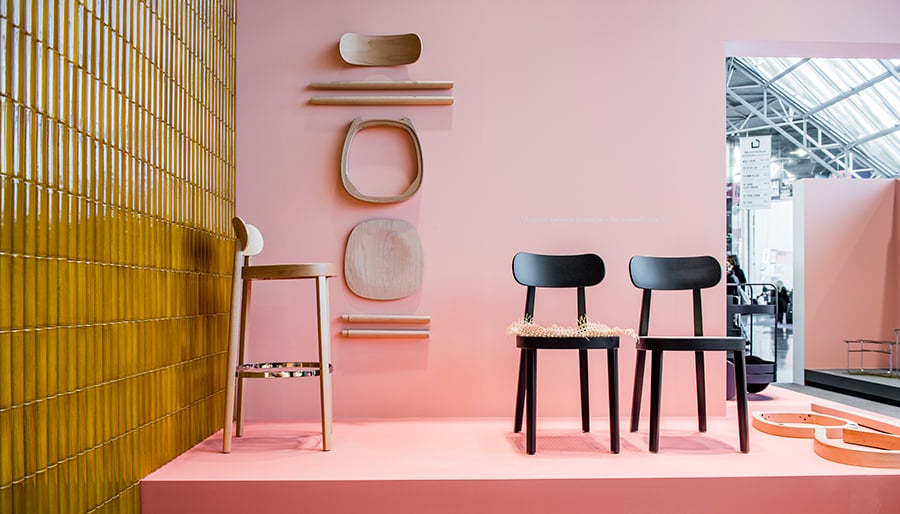 January 23, 2019
Sebastian Herkner on the Intersection of Craft and Design
Metropolis dives in with Maison et Objet's 2019 Designer of the Year, discussing his work and his goals for the Parisian fair.
---
Among the madness of Maison et Objet, the sprawling, five-day furniture and accessories fair on the outskirts of Paris, there was an oasis of calm at the Designer of the Year booth. Occupied in 2019 by Sebastian Herkner, the German maestro responsible for instantly recognizable products like the Bell Table for ClassiCon, the stand walked visitors through a retrospective of the designer's creations for brands including Pulpo, Kaufmann Keramik, Shoenbuch, Dedon, and Ames. In addition to the designs featured at the booth, Herkner included references to their production: a half-woven chair, a wooden mold, a video of a glassblower sweating and toiling. The exhibit made clear that Herkner himself, for all his finesse with form-making and materiality, is only one figure in a complex equation of making.
Metropolis's managing editor Lila Allen sat down with the designer to discuss his interest in craft and its intersection with design.
Lila Allen: First of all, congratulations—the booth looks great. Did you design it?
Sebastian Herkner: Yes, my team. They hooked me up.
LA: I think it does a really nice job of exploring the idea of craft in your work.
SH: Yeah. For me, I love to design for a show. You'll often see the first sketch, cardboard model, and things like that—we have those things too of course, but for me, I really want to focus in the amazing people producing my products. In the furniture business, the lighting business, there are many people involved. You need those experts with the knowledge and the passion and the sweat and power to produce it. That's why we are playing a video here—really showing the faces of the people, because it's not a robot.
---
LA: And do you see this also as a way of preserving cultural tradition, or heritage?
SH: Definitely. I think craft is so, so important for the identity of a community, of a city, of an area. You know? I'm based in Offenbach, which is next to Frankfurt in Germany, and it was a German leather city. There was a leather production for wallets, for bags, for backpacks, but it's all gone. Ten years ago was the last one—they moved somewhere else. So the city has lost its identity about leather. There's some still in a museum, but that's it.
LA: Are there any new craftspeople or makers that you're working with at the moment that you're excited about?
SH: It's always exciting. There are a couple of novelties here we are showing, which is fantastic. This year we did the line for the Pulpo. It was cast glass, not blown.
I really like to travel to see new factories, facilities, and then to understand their typical techniques. There, they are doing casting—just casting, no blowing. This is always the starting point for new design, so it's driven sometimes by craft or technique, or a special thing that the company is doing.
---
LA: Right. Then I also saw the weaving of the Stuhl 118 in this exhibition, which you did for Thonet GmbH—
SH: Which takes—what do you think? How long does it take to weave the chair? Because people think it's done with a robot. That's why we have the disassembled one and the half finished one. None of us would have the patience to do it. Patience is very important, and our civilization, we don't have it anymore. We order, then we have it the same day. If we don't like it, we send it back. We have no respect anymore for the value of products and the production. That's why I really want to focus on what it means to produce something.
Also, all the tiles here, they're handmade.
LA: You're referring to the Soap Tiles you designed for Kaufmann Keramik. I've seen several people going and touching them. It's quite nice.
SH: It's important, touching. We lose a lot of tactility and haptics with the cloud, the smartphone, wifi. We can work everywhere. We don't need an office desk sometimes anymore. So at home, we want to have reality. We are human beings. We want something like glass and brass: warm, hot, soft.
---
LA: Going back for a moment, let's talk about this glass pendant above us, the Stellar lighting you made for Pulpo.
SH: This one is blown. It requires a very complex metal mold. You can't do it in wood. It's very delicate. You work on a mold like this for a month. I know 40 glass companies, and every one works in a different way. They have specific colors, different techniques. Sometimes, the temperature's a little bit different.
LA: Do you tinker at all in craft and making yourself, outside of design? Have you ever done glass blowing or anything like that yourself?
SH: Yeah, I have blown, but it was just a test—like, a Christmas bulb. For a big piece, it's not just about the power; it's the experience. Sometimes you have to blow slowly. It takes a long time to get the thickness, which is very precise. If its glass is too thick, then the light it creates will be too dark. If it's too thin, it will be too light.
Sometimes, people will complain, "It's not the same one as this other one." But this difference is okay in craft, for me. If you have an air bubble inside, it's a sign that it's handmade. It's a sign of beauty. It's a sign that it's something real.
You may also enjoy "9 Highlights from Toronto's Interior Design Show."