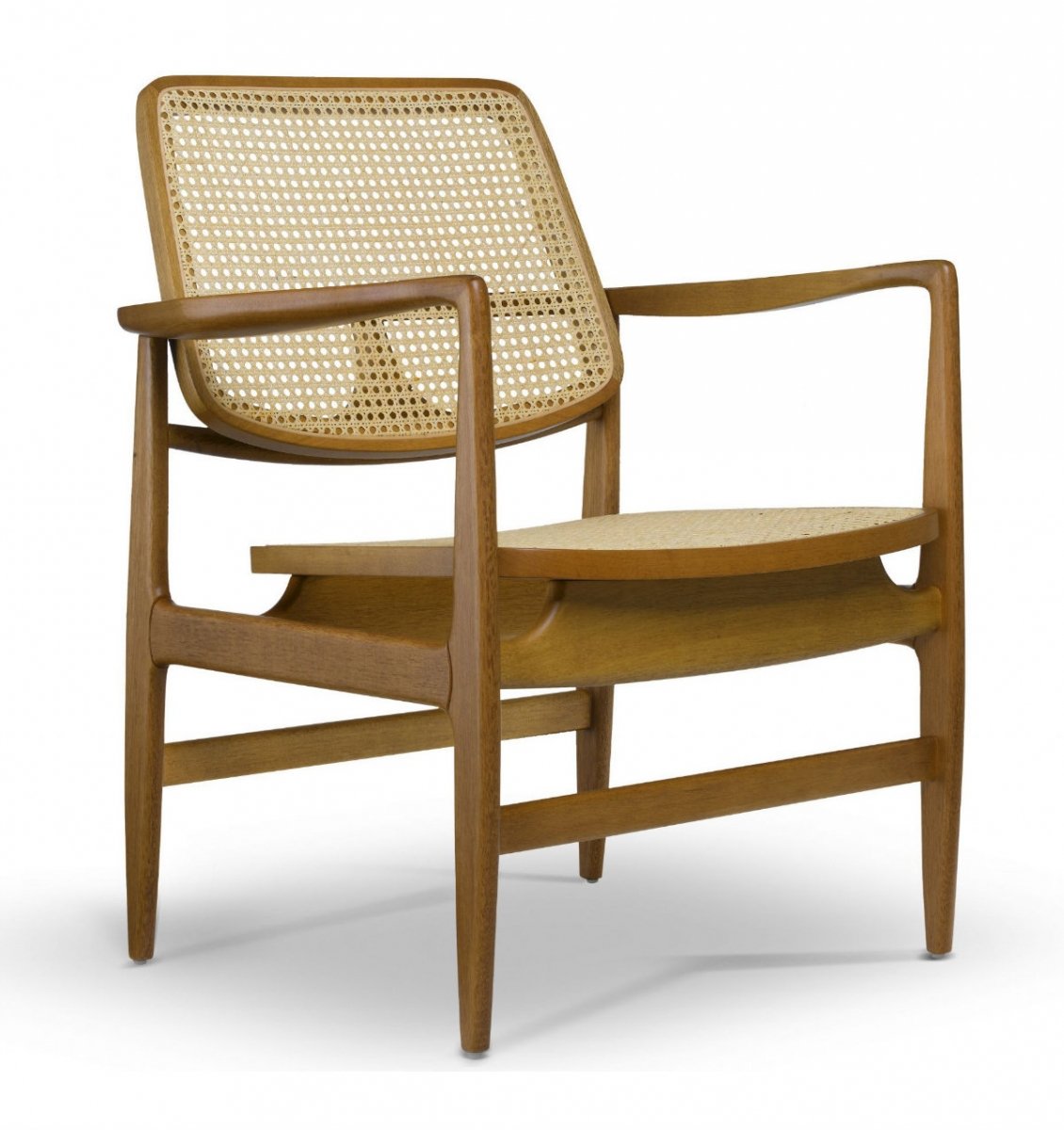 September 3, 2014
Sergio Rodrigues, Icon of Brazilian Midcentury Design, Dies at 86
The celebrated Brazilian designer died Monday at 86.
Rodrigues, sitting in his "Mole" chair
Metropolis is sad to report the death of prolific designer Sergio Rodrigues, widely acknowledged as the father of modern Brazilian furniture. Rodrigues, who died Monday at 86, is credited with helping make his country's ebullient design sensibility internationally known. Famous for his use of native woods such as jacaranda, he is much celebrated for his iconic "Mole" armchair (1957), a defining example of 20th-century Brazilian design.
Rodrigues was born in Rio de Janeiro in 1927 and graduated from the Faculdade Nacional de Arquitetura in 1952. After graduating he worked on the Curitiba Civic Center project—an important example of modern Brazilian architecture—with David Azambuja, Flavio Regis do Nascimento, and Olavo Redig de Campos. Rodrigues's brush with Brazil's modern architects such as Lucio Costa and Oscar Niemeyer—both would befriend the young talent—proved instrumental in shaping his design aesthetic. Costa, Niemeyer, et al had popularized a unique Modernist vernacular for Brazil, one adapted to the country's climate and culture. Their buildings swooshed and curved—formal qualities Rodrigues, having left architecture, began incorporating into furniture design. "Furniture was lacking the national identity achieved in architecture," Rodrigues said of the time.
In 1955 he founded Oca, the preeminent Brazilian furniture company that became a platform for Rodrigues's growing portfolio of chairs. In 1956, he produced designs dedicated to Costa and Niemeyer, who would later rely on Rodrigues to furnish many of his new buildings in Brasília. The designer achieved global acclaim with his Mole chair (mole meaning "soft" in Portuguese), which was awarded first prize in 1961 at the International Furniture Competition in Cantu, Italy. The chair was praised for its quintessential Brazilian attitude to form and material; it now occupies a spot in MoMA's permanent collection.
Rodrigues disassociated himself from Oca in 1968 to form his own studio devoted to furniture, architecture, and interior design. Over the subsequent decades, his designs maintained their unique flair and characteristic playfulness. In his career, he designed upwards 1,200 chairs and other furniture pieces—a prolific output matched only by his Danish contemporary Hans Wegner. "I would say that my search was for materials that characterize Brazilianness: noble woods, straw that comes from India and then passes through Europe," Rodrigues told an interview in 2008. "I think that leaves something very characteristic behind."
"Oscar" chair, 1956
All furniture images courtesy Espasso
"Lucio Costa Dining Chair," 1956
"Mole" Chair, 1961
"Chifruda" chair, 1962
"Cuiaba" chair, 1985
"Katita" chair, 1997