March 22, 2018
HOK's Tom Polucci on the Forces Reshaping Workplace Design
Tom Polucci, director of interiors at HOK, discusses cultural shifts influencing commercial interior design, changing client relationships, and his dizzying first experiences at NeoCon.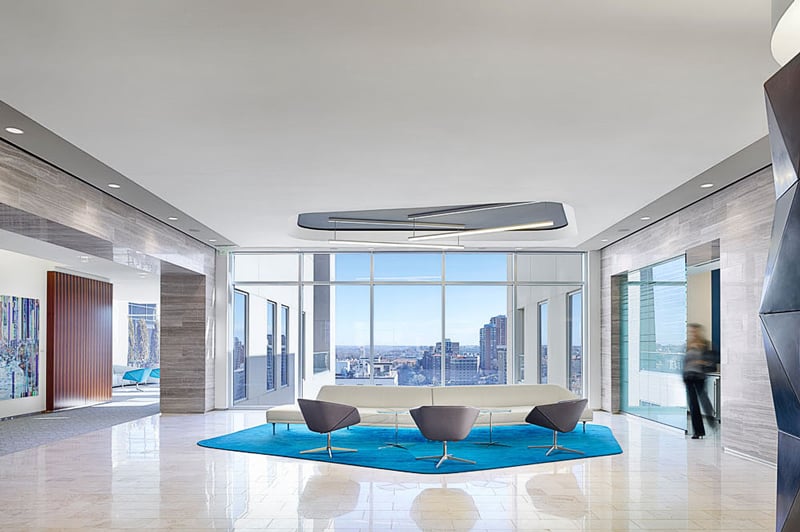 ---
Tom Polucci is the firmwide director of interiors at HOK and a cofounder of its Product Design division, launched in 2009. A licensed architect, workplace strategy expert, and member of HOK's board of directors, he has been a principal designer on hundreds of projects over more than 20 years. Polucci talked to Metropolis editor-in-chief Avinash Rajagopal about the many forces reshaping workplace design.
Avinash Rajagopal: You've done so many workplaces over the years. What do you think is the most significant way the American office has changed in the last decade or so?
Tom Polucci: For the last ten years, it's been meeting real estate needs, depending on how an organization is growing or contracting and what impact that has on space. Outside of just the traditional thinking around design and construction, I think there is an impact with coworking sites and with how clients are asking for the delivery of design services and space.
We're seeing this with certain clients: They're looking at the competition a little differently. I don't think it's just traditional design firms competing for work. We're competing with real estate organizations like brokerage firms. We're competing with individuals who are in the coworking space who are providing real estate solutions to clients in a different way. There's also an interest in the technological advances of how offices are connected. With smart offices and sensor technology, understanding how the space is performing is becoming more important.
AR: In this kind of scenario, where different pieces of the design puzzle are being picked up by different entities, how does interior design stay relevant?
TP: I think we'd better get our heads around this because it is changing. To me, it's a couple of things: It's about the quality of the relationship that we create with our clients, and it's about the level of risk that we take in delivering that space.
We still have to ensure that life safety and other issues are being met. That also includes issues around sustainability, health, and wellness. Those things don't come from just a simple space plan. They come from our understanding, as designers, of holistic solutions. For the design firms, we have to figure out ways to partner with others and be able to say, "We understand how to pull all these components together to create the right solution for our clients."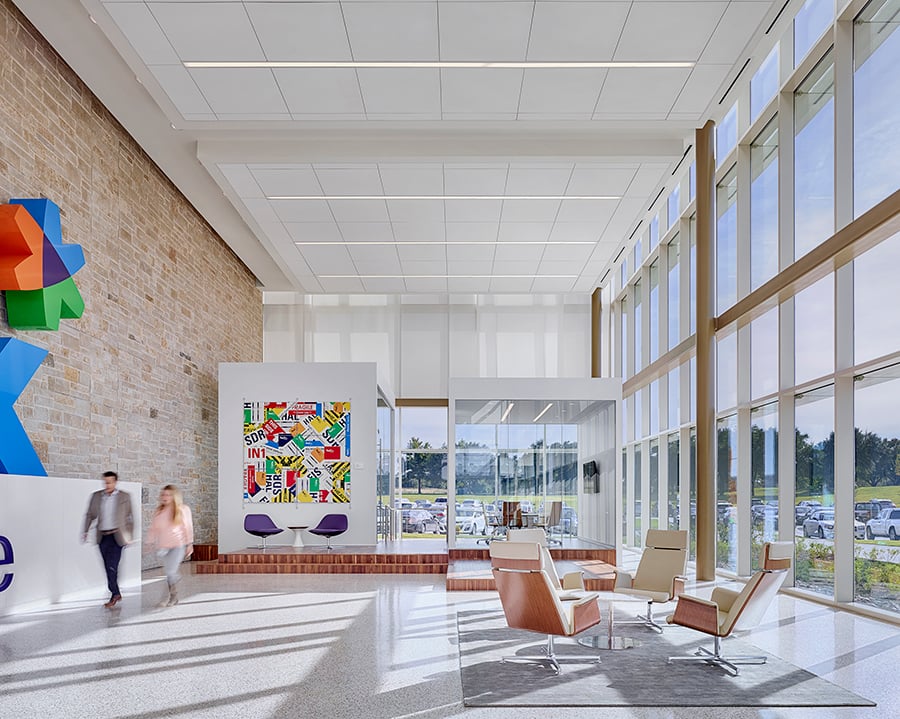 ---
AR: To me, that seems to suggest that interior designers coming into the profession need to be equipped with a whole new set of skills just around the design process.
TP: Agreed. I'm fascinated lately by the number of students I've been meeting who are getting degrees in construction management as well as in design. They're really thinking, "OK, it's a lot more than just knowing how to conceptualize a solution, come up with some great ideas, and articulate them. I've got to be able to deliver this." I'm also fascinated by professionals who choose to come into design as a second career. I'm talking about somebody who might have been in advertising or maybe construction or another allied field. They come to the profession with a level of understanding of how business works and what it means to actually get something approved in an organization. I find those people incredibly compelling to work with.
AR: Since we talked about smart offices, what drove the creation of HOK Product Design? You were one of the first people to head up that division.
TP: This was a number of years ago, when there was kind of a call to arms in the firm to ask what other pieces of business we should be in and what other things we should be striving toward. Product Design was the outcome. We had this incredible group of talented individuals across the world who were engaged and involved with manufacturers on multiple levels, and we felt like it was a natural extension of what we were already doing.
There's the classic stuff that we've been dealing with in sustainability, its impact on occupants, and using the right kinds of products to create the healthiest environment possible. It's our job as designers to think about how your product will get people to be engaged and less sedentary and move through the environment.
AR: Can you look back over the time that you've been going to NeoCon and think about how the experience has changed?
TP: I remember one of my first times going to NeoCon as a young designer and going to the launch of the Leap Chair for Steelcase and the pomp and circumstance of that launch. Cirque du Soleil–like performers and chairs were hanging from ceilings. The way in which things are introduced to the marketplace has changed, I think for the better. We don't need the smoke and mirrors, the dancers, the whole kit and caboodle to launch something.
These manufacturers aren't working in a vacuum anymore. They're reaching out to us as designers to say, "We're in the development of something. Would you sign an NDA? Would you give us your opinion on this? Would you test this?" I think that is a smart way of engaging us in something that's much more meaningful. I love that NeoCon has gone less to the showmanship and more to something where you're getting some valuable information.
You may also enjoy "Catching Up with Corgan's Lindsay Wilson on the Evolving Workplace."