June 22, 2023
3 Projects Transform Urban Life for the Better
The Metropolis Planet Positive Awards were established to recognize the incredible breadth of the Green Building movement and celebrate the projects and products that have a positive impact on people and planet.
What does that mean? To be Planet Positive, projects and products must go beyond addressing energy efficiency or a reduction in harmful chemicals. The winning projects make a holistic effort to do good in the world in the related fields of health, equity, and ecological regeneration. Last year's mixed use and landscape winners were selected by Avinash Rajagopal, editor in chief of Metropolis, John Czarnecki, executive director, AIA Arizona, and Anna Dyson, founding director, Center for Ecosystems in Architecture (CEA) at Yale. Through a direct interface with citizens, mixed use and landscape projects often combine private amenities and public benefits. Sensitive programs, deep ecological study, and stakeholder engagement, can help these projects transform urban life for the better.
You can submit a project for the 2023 Planet Positive Awards here.
Mixed Use Winner
OMA | POST Houston | Houston, Texas
POST Houston transforms one of Houston's civic landmarks, the historic Barbara Jordan Post Office, into to a much-needed cultural anchor and public space for downtown Houston. The building is LEED Gold certified.
POST Houston began with a masterplan to integrate the project with the city's "Green Loop" network of parks, open spaces, and commercial clusters.
A "Texas-sized" rooftop Skylawn supports an urban farm, additional zones for gathering and events, shaded gardens, recreation areas, and two restaurant pavilions, adding 170,000 square feet of new public realm for downtown and the city's "Green Loop." The green roof not only creates recreational opportunity that engages the greater public but also provides environmental benefits of carbon and air pollution sequestration (9,360 tons of CO2e over 25 years), mitigates urban heat island effect, and reduces pollutant runoff into water resources.
Community members and city stakeholders were engaged from this early ideation phase through to construction to provide feedback. POST is accessible by public transit and is walkable from downtown Houston.Accessible parking and ramps are available at each side of the building, in addition to wheelchair-accessible elevators, restrooms, and seating.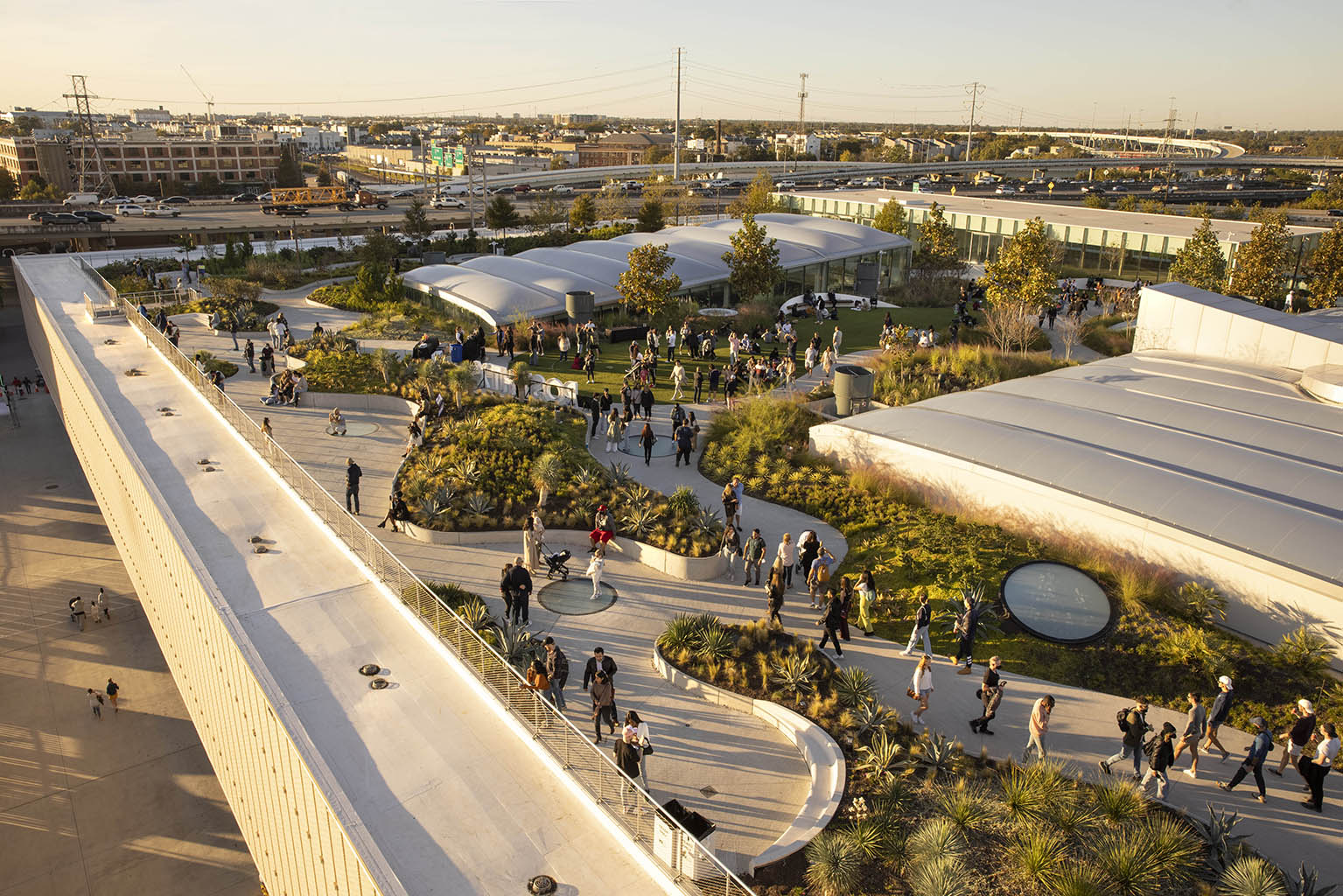 Landscape Winner
Surface Design | Expedia Campus | Seattle, WA
Expedia HQ is located a mile north of downtown Seattle on a 40-acre waterfront site that was infilled between 1962 and 1969. The campus has unparalleled sweeping views of the Puget Sound, Mount Rainier, and Downtown Seattle.
Inside the campus boundaries, employees have free rein to utilize a variety of landscape spaces, but one of the key components is the public interface. The Beach at Expedia is a quarter-mile of waterfront inspired by the native coastal landscape, with spaces for people to gather and celebrate the bay.
Soil management was a critical component of the design of the Expedia campus. An assessment of the mostly paved, substantially disturbed existing site was conducted at project onset. While most of the existing soil's healthy qualities had been lost, some vestiges of microbiological life were discovered, and this soil was stockpiled for future use.
A comprehensive soil program was developed to build and restore conditions consistent with native soils in the area to support the new vegetation with reduced needs for irrigation, fertilization, and frequent management. Soil testing and monitoring after installation informed formulation of compost tea blends used to seasonally inoculate the soil and plants, stimulating biological activity and resilience without the use of chemical fertilizers or other inputs.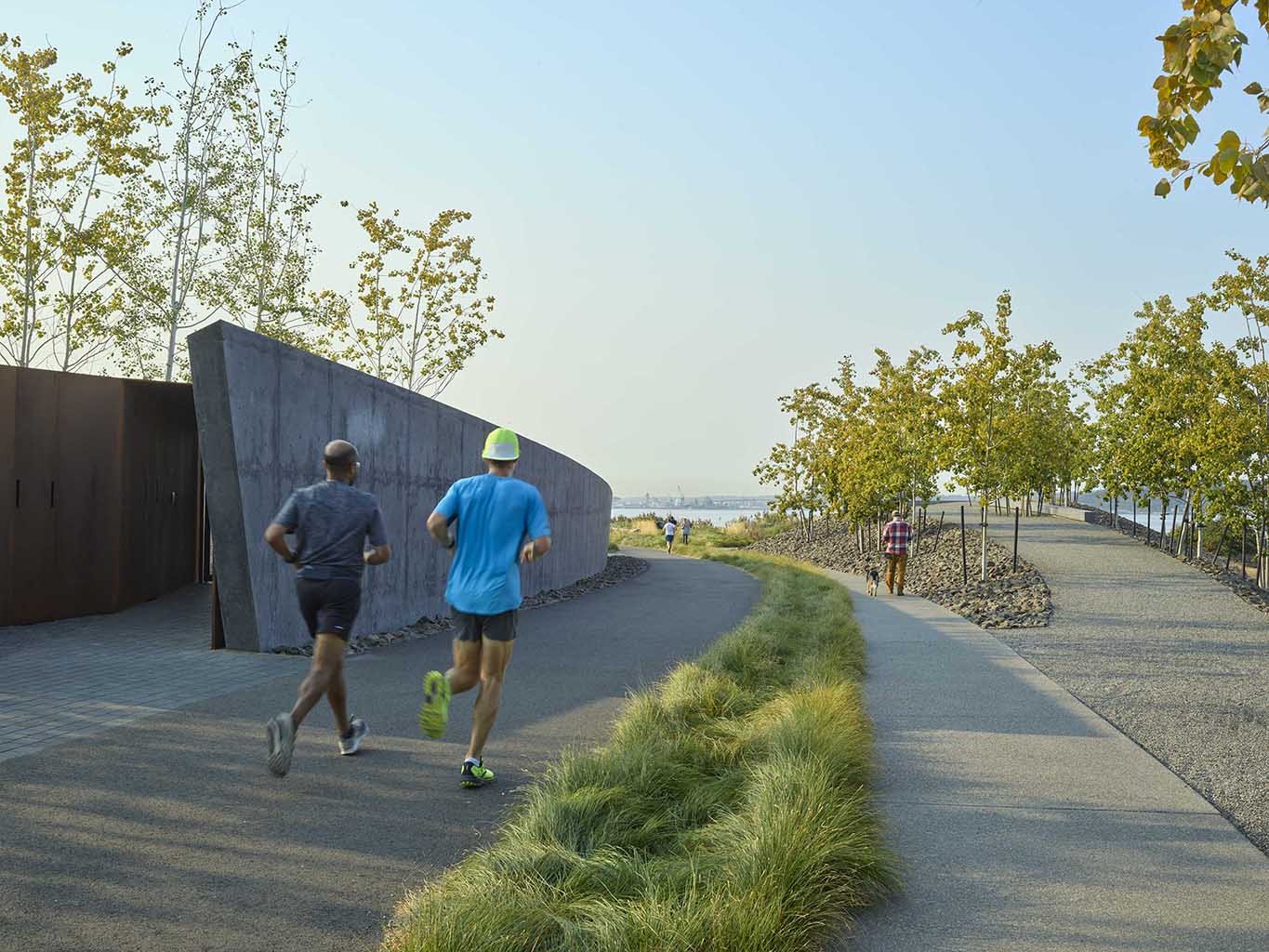 Landscape Honoree
Surface Design | Pierpont Lane | San Francisco, California
Located in the Mission Bay neighborhood of San Francisco, Pierpoint Lane is comprised of a public park, a major streetscape on Third Street, and a public roof level terrace. While the site was originally intended to be solely an emergency vehicle access route, the project team came up with a strategy to utilize this infrastructural space as a vibrant amenity for the public.
Planting at the UBER MB Campus 1&2 is curated to conjure emotion and stimulate the mind. The open-space planting of Pierpoint Lane is the People's Garden, a point of leisure and pause from the surrounding urban context. The seasonal planting attracts year-round pollinators including birds, butterflies and bees, a celebration of habitat that adds to the rich experience of being in the gardens. A series of bioretention planters seamlessly integrated into the site capture runoff and facilitate infiltration while also showcasing the beauty of the planting in the basins.
Open and accessible to the public off Third Street in San Francisco's Mission Bay, Pierpoint Lane creates a new typology of green space.
Would you like to comment on this article? Send your thoughts to: [email protected]