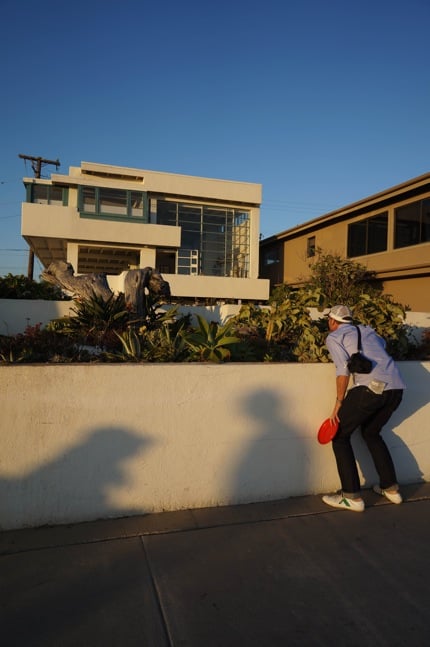 October 21, 2011
A Day at the (Lovell) Beach (House)
Newport Beach, California, Sunday, October 16, 2011–Around 200 Southern Californians enjoyed an extremely rare opportunity today, to enter the avant-garde Rudolf Schindler Lovell Beach House (1926). The MAK Center for Art and Architecture sold $80 and $100 tickets to raise money for its operations–based in Schindler's own "King's Road" house in L.A. Some walked past […]
Newport Beach, California, Sunday, October 16, 2011–Around 200 Southern Californians enjoyed an extremely rare opportunity today, to enter the avant-garde Rudolf Schindler Lovell Beach House (1926). The MAK Center for Art and Architecture sold $80 and $100 tickets to raise money for its operations–based in Schindler's own "King's Road" house in L.A.
Some walked past unaware
With other things to do.
Others had waited many years
Just to sneak a view.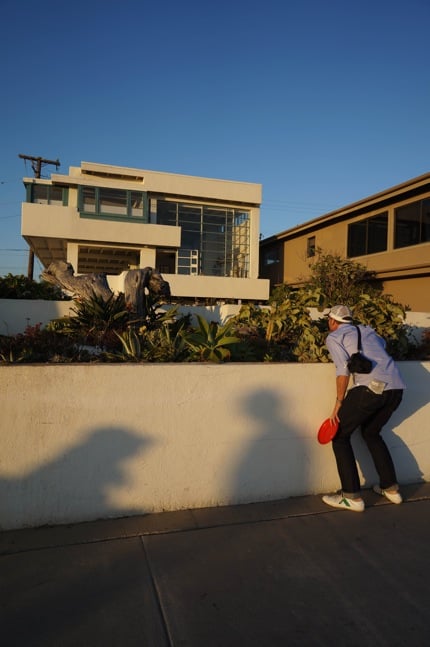 From the MAK Center:
About the Lovell Beach House
Dr. Philip Lovell was a naturopath, an anti-drug practitioner who advocated natural methods of healing and preventative care through exercise and a vegetarian diet. Among the methodologies he espoused were massage, heat and water cures, open air sleeping and regular nude sunbathing… He was best known for his weekly "Care of the Body" column, published in the Los Angeles Times. Leah Lovell… ran a Kindergarten with (Rudolf Schindler's wife) Pauline.
The site for the Beach House was a level lot along the Balboa Island boardwalk in Newport Beach. Space was at a premium and it was necessary to separate the house from vehicular and pedestrian traffic and to preserve ocean views. Schindler's solution was to raise the house above the street, providing a play yard and parking facilities at ground level. But rather than employing stilts or pilotis, the architect created a structural skeleton based on five free-standing concrete frames, shaped like square figure-eights. These not only support the house's two-story volume, but provide the infrastructure that supports plaster walls, floors and roof. Completely exposed to view, the concrete frames give the house its distinctive appearance and allowed Schindler to base his design on the shaping of space, rather than on structural exigencies.
Fifteen experts spoke, thirty minutes each.
One house, fifteen takes.
"Rashomon" on the beach.
Kimberli Meyer directs the MAK Center:
"It's amazing to hear how different people approach this, some think about it structurally, some in terms of the social program and what health meant in the 1920's, some say how its tied to its site, others talk about the incredibly powerful formal aspects.
"This house is just not like anything else. The concrete frames set the tone, and the crazy ways the stairs weave in and out of that frame house is so unusual and striking. I was surprised at how it is heroic modernism with incredible intimacy. It's very close to the body, it feels not alien to us at all."
The architecture critic for the Los Angeles Times, Christopher Hawthorne got inside the Lovell Beach House for the very first time, and said, "I think I'm now convinced that this ranks as one of the two most important houses in Southern California, up there with the Eames House. This is incredibly experimental and forward-looking and quintessentially modern, but also very much connected to Southern California and to an L.A. idea of architecture and living. This predates so many experiments in Europe (Le Corbusier's Villa Savoye was built between 1928 and 1931). This is doing 'Corb' before 'Corb.'"
Dr. Paulette Singley is a professor in the School of Architecture at Woodbury University in Los Angeles, California:   "The Lovell Beach House very clearly translates Schindler's idea of the den or the cave as a place that we come from, and we're drawn to for purposes of safety and security, but when we feel safe and secure, we move into the very light structures that more or less just keep the rain out.  This house has the den and the cave below, with the outdoor fireplace. But when you move up into the space that explodes in the living room, the proportions are beautiful and you have a transparency and a lightness that is uplifting- then you're liberated, then you're free, then you are at equilibrium with nature and the world is at peace."
The owner, last name Lovell, said she enjoyed this long day,
Meeting people and hearing what the "experts" had to say.
After forty years she loved this house, but– in her way–
Lifted up, ocean view, that morning she spied whales at play.
True too often, she has big home repair bills to pay,
"Starting with the roof and moving down" she says, yes, down all the way.
"I never saw my house in the ways you all do, I just enjoy it! But I learned a lot!" Mrs. Lovell said, "and now I have a question for you- why is everybody going around knocking on everything? What is it that you're listening for?"
To tell wood from metal, solid from not,
She asked those with cameras – please, no interior shots.
We appreciated her care and generosity, and we were not over-zealous,
Satiated without pix, we all walked away jealous.
I made my way home, to, in comparison, a hovel.
Thank you ma'am, MAK Center, Rudolf Schindler, Dr. Lovell.
Edward Lifson is an award-winning architecture critic, and writer. He teaches writing and thinking about architecture at the University of Southern California (USC) in Los Angeles. He was a visiting and a Loeb Fellow at Harvard's Graduate School of Design (GSD); as well as an  Annenberg Fellow and a Getty arts journalism fellow. He works with USC's American Academy in China. He lived and studied architecture and urbanism in Paris, Berlin, Florence and London, Boston, Chicago and Los Angeles and was a reporter and correspondent for National Public Radio for many years.