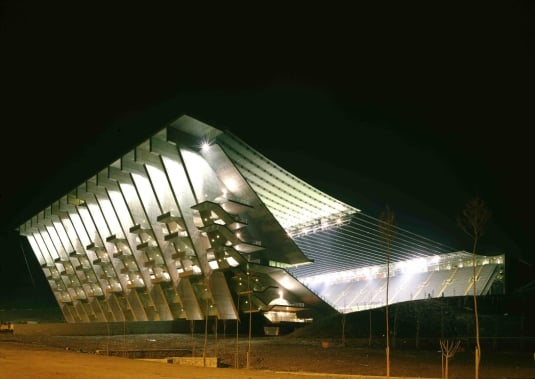 March 29, 2011
A Portuguese Pritzker
Casa das Artes by Souto de Moura Arquitectos, photo: Luis Ferreira Alves. When I first entered a house by Portuguese architect Eduardo Souto de Moura, winner of the 2011 Pritzker Prize, I was not impressed. The sun was setting and a bitingly cold wind had just started, causing me to rush through a small white […]
Casa das Artes by Souto de Moura Arquitectos, photo: Luis Ferreira Alves.
When I first entered a house by Portuguese architect Eduardo Souto de Moura, winner of the 2011 Pritzker Prize, I was not impressed. The sun was setting and a bitingly cold wind had just started, causing me to rush through a small white gate and an over-porportioned door into a rather small hallway. Here, wooden slab floors ran parallel to the horizontal lines that permeated the whole space, and, looking around, I gawked. What had appeared from the outside to be a generic small space was unraveling in front of me— room after room of white, hard, geometric walls that opened to larger and larger spaces. The house finally opened, through glass panes, into a seemingly infinite garden, and as I stepped out to appreciate the horizontal volume, I instantly became smitten with this work.
In Porto, Portugal, where Souto Moura—we usually drop the "de"—has lived, taught and worked for the last thirty years, the architect is quite a celebrity. The northern part of Portugal is where you can find most of his strongest body of work—his houses. With each single family dwelling, Souto Moura has refined a style that is rigorous, grounded and muscular; minimal—the influence of both Mies and Siza are felt—but detailed in the way the volume is inserted into the landscape and the space unfolds within.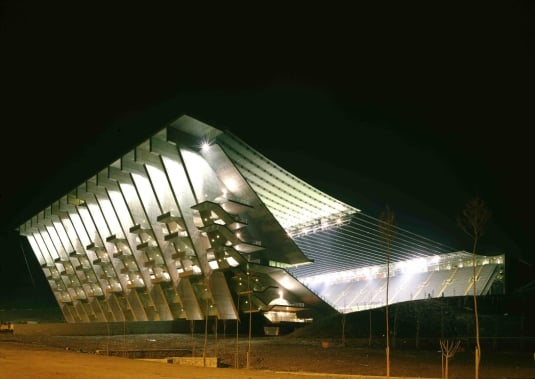 Braga Municipal Stadium by Souto de Moura Arquitectos, photo: Luis Ferreira Alves.
This theatrical revealing of the space is best achieved in his Estádio Municipal de Braga (Braga Municipal Stadium,) where two parallel concrete stands with breathtaking sloping roofs are thrust, on one side, against a former quarry, dramatically staging Portugal's favorite event—soccer. The stadium, one of the ten commissioned by the Portuguese government in 2004 for the European Soccer Championship, is the only to break free from the typical stadium typology, its minimalist results awe-inspiring. In a recent interview, Souto Moura describes the stadium as "a project I had the opportunity to do at the right place and time…a work that goes from intervening in the landscape to drawing the doorknobs. It's a project…in which the faults are mine."
Burgo Office Tower by Souto de Moura Arquitectos, photo: Luis Ferreira Alves.
After the Braga Stadium, Souto Moura has veered more and more into public space, with the Burgo office tower in Porto, or the Casa das Histórias Paula Rêgo Museum in Cascais. But he is also an architect of minute intervention, taking on requalification projects such as the Pousada de Santa Maria do Bouro, in Amares; ephemeral, poetic interventions such as the Portuguese Pavilion at the Venice Architecture Biennale in 2008, in collaboration with the artist Ângelo de Sousa; or broader scale urban interventions such as the overall project of the Porto light rail system.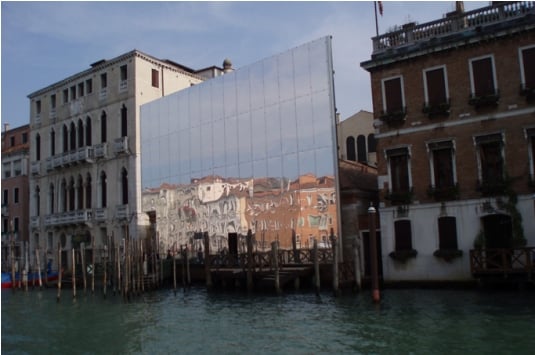 Portuguese Pavilion at the 2008 Venice Architecture Biennale, by Eduardo Souto de Moura and Ângelo de Sousa, photo: DGArtes/Manuel Henriques
Souto Moura's Pritzker prize is a great honor for Portuguese architecture. But in light of the recent events in Portugal, where financial meltdown looms after government disbanded, and hopelessness currently abounds among young and old, this Pritzker is a morale booster for the entire country. Congratulations, Mr. Souto Moura.
Vera Sacchetti hails from Lisbon, Portugal, and writes about design and architecture for both sides of the Atlantic. She has contributed to Change Observer, Arte Capital and Proximo Futuro/Next Future, and will be graduating from SVA's MFA in Design Criticism this coming May. As a Portuguese stranded in New York, she is, like the swallows back home, very much in favor of impermanence.
Email her at v[email protected], or follow her on twitter, @verasacchetti.