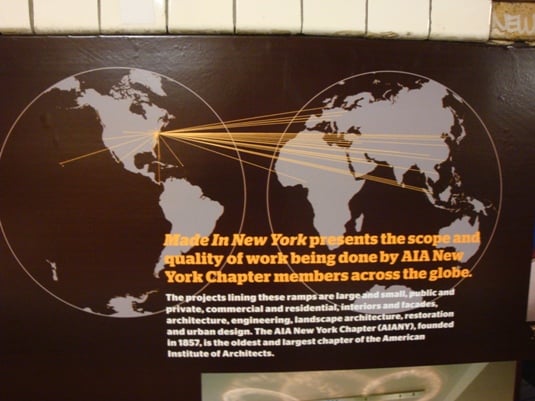 October 4, 2010
Architectural Sphere of Influence
At New York City's West 4th street subway station, an unusual sight greets my eyes on a Saturday evening. In the long passageway from the entrance on West 3rd street to the train platforms, New York's harried commuters are pausing to look — not at ads, but at architecture. For the month of October, the […]
At New York City's West 4th street subway station, an unusual sight greets my eyes on a Saturday evening. In the long passageway from the entrance on West 3rd street to the train platforms, New York's harried commuters are pausing to look — not at ads, but at architecture.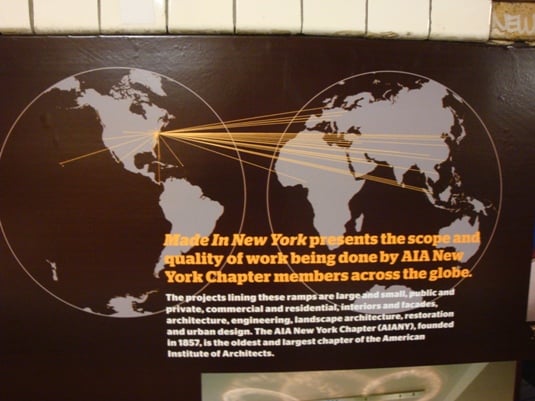 For the month of October, the station's advertising space has been taken over by Made in New York – the member showcase of the New York chapter of the American Institute of Architects (AIA). In August, the AIA called for recent projects that represented "the scope and quality of work being done by New York Chapter members across the globe."  Two hundred members responded with work done in five continents, from Pei Cobb Freed's Nascar Hall of Fame in Charlotte, North Carolina, to the Jinqiao Biyun Hotel in Shanghai by Swanke Hayden Connell Architects. Rumors, a Brooklyn-based design firm, created the posters that stretch the length of the passageway, on which each of those two hundred projects is represented by an image and a caption.
So in terms of breadth and scope, Made in New York is certainly impressive. There are offices and memorials, hotels and mosques, churches and museums – every conceivable kind of architectural undertaking.  I find that every passerby finds at least one project that catches their fancy, so my only grouse is that the one image hardly does justice to some of these buildings. In today's smart phone world, there might have been an easy way to add depth – QR codes. One of those tiny black and white boxes could have connected the tech-savvy New Yorker to a web site that tells them more about a particular project.
Last month, the National Council of Architectural Registration Boards (NCARB) reported that New York state had 15,587 registered architects in all, second only to California. Awe-inspiring as it is, Made in New York showcases a little over one percent of these architects, so it's probably just a small sampler of the international work done by the architects of this city. As I run to catch the train that has just pulled in, my mind boggles at what the architectural sphere of influence of New York might actually be.