December 19, 2017
The Biology of Happiness in the Workplace
A Q&A with FXFOWLE Architects on new research on happiness in the workplace.
For the past two years, Metropolis's publisher and editor in chief, Susan S. Szenasy, has been moderating a series of discussions with industry leaders on important issues surrounding human-centered design. On October 19, 2016, at FXFOWLE Architects in New York City, she talked with an artist, an interior designer, a lighting designer, and a business project manager about happiness in the workplace and how designers are responding to new research on the topic. What follows is an edited transcript of the conversation, prepared by S. T. White.
---
ART, LIGHT, AND INTERIORS
Susan S. Szenasy, director of design innovation, Metropolis (SSS): Our goal is to discuss this moment in design history, a time when the biology of happiness is on our minds. Markus, where does art enter into this dialogue?
Markus Linnenbrink, artist (ML): In the 21st century, everything can be art. My specialty is color, which is universally understandable. We react to it. When there's a lot of it, it has an impact, whether in Asia or New York.
SSS: Color cannot exist without light. Rob, you talk about light and our connectivity to the larger room that's outside, under the great dome of the sky.
Rob Leiter, architectural lighting designer and project manager, HDLC Lighting Design (RL): Lighting was always quantified: How many candles do we need for illumination, visual comfort, energy use? Now standards are emerging that specifically address our circadian systems, levels of alertness, and moods. There are matrices by which we can judge projects, allowing us to target certain bandwidths of light to achieve certain effects.
SSS: I think lighting designers will be the next generation of gurus of human behavior. There's so much to understand. Hrisa, as a sustainability advocate, what are you considering as you look beyond environmental sustainability to make workplaces human-centered?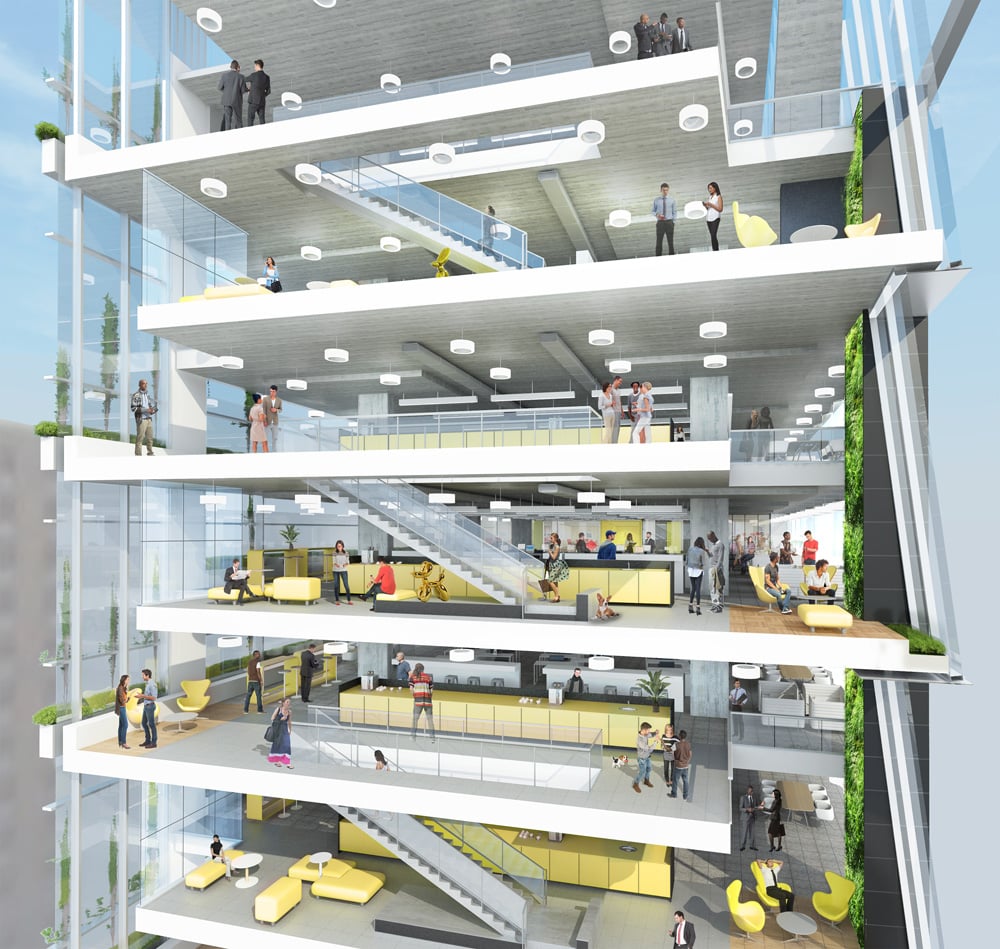 Hrisa Gatzoulis, LEED AP BD+C, senior project manager, Jones Lang LaSalle–Energy and Sustainability Services (HG): We always focus on ways to reduce energy consumption using sustainable elements. But now there's the WELL certification; it's not about energy but about employee happiness and well-being. We decided that the best way to understand it was to run a pilot in one of our offices. Millennials are driving this focus on the happiness of the actual employee.
SSS: Angie, how does your interior design work incorporate the biology of happiness?
Angie Lee, principal, design director—interiors, FXFOWLE (AL): In many ways my job is to create a narrative for the clients. This notion of biology and happiness is fed by some exciting new data. I talk about how to implement it practically with people like Rob and how to express it emotionally with people like Markus. What tends to happen, if we're not careful when we talk about a new certification process, is that we get lost in the jargon. Sometimes we forget to talk about intuition and basic instincts that we all have.
SSS: I'm really glad we're using words like "intuition," which is essential to who we are. It complements the rational conversation. Markus, tell us about intuition in terms of place and color. We relate to color in a visceral way. What's the intention of your paintings, and what kinds of emotions do they elicit?
ML: One project was a series of eight wall paintings placed in the elevator lobbies of a big law firm that occupies eight floors of a large building. The paintings are like a business card. It's one connected piece from one floor to the next, but different on each floor. You can see where the vertical and diagonal stripes continue on the adjacent floor. Each level has different people doing diff erent things, so it became a nice image for the company.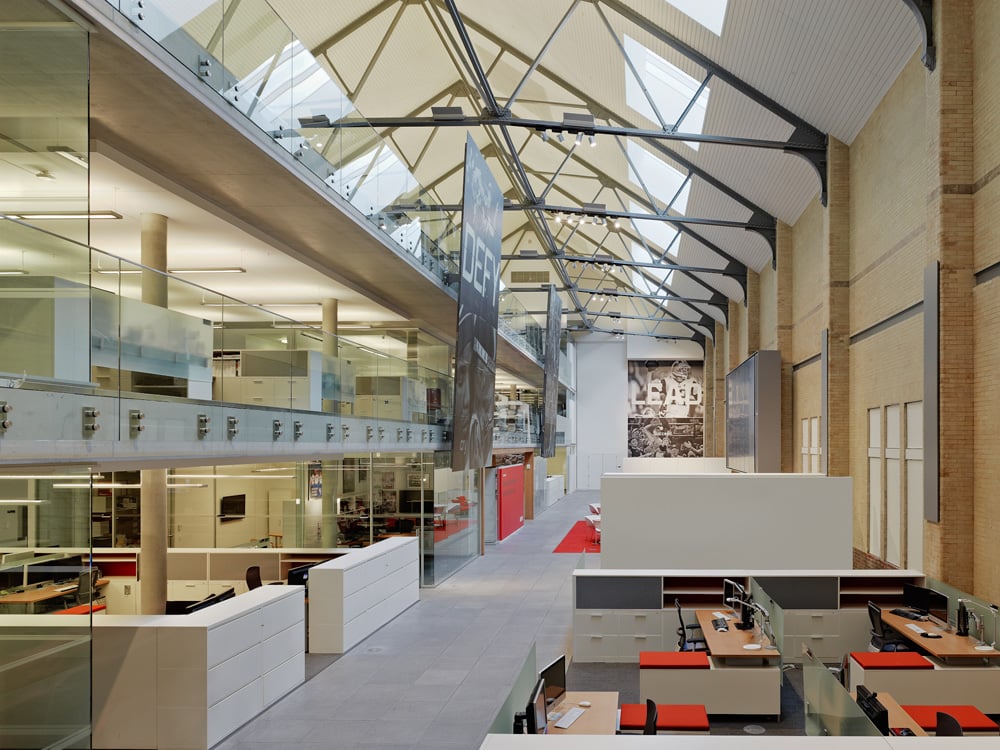 SSS: Let's go again from color to light. Rob, can you define the concept of circadian rhythms?
RL: Circadian rhythms are a biological system that has a lot of traction right now. When it gets dark, melatonin—the hormone that triggers sleep cycles—comes up, and your body starts to calm down and puts you in a state to sleep. This is a natural rhythm. But we're spending all our time indoors. This is very new. Particularly in winter, you show up at work when it's dark, eat in the cafeteria, leave when it's dark, and never feed your body sunlight. Circadian systems regulate your body so it knows when to sleep and when to be awake.
SSS: There needs to be some connection to life. How do we begin to understand that we need to think about biology?
RL: Light ties into all the other disciplines. Some changes are made not through architectural lighting per se, but in the overall design of the space. For example, perimeter offices move into the core so the average worker has access to daylight.
SSS: Angie, what opportunities do you have to adjust the color, lights, textures, and exposure to exteriors to bring spaces more in line with our needs?
AL: We're having an active conversation about developing buildings that allow you to escape. Examples might be operable windows or access to terraces to experience winter daylight. The height of windows is important. Experiencing daylight allows people to trust their environment. As designers, we can teach people how to use the space. Like in a car, the design of that interior space tells you what to do: put your hands on the wheel. Similarly, in architecture, if the perimeter is designed properly, the sunlight comes in at the proper angle, which allows people to experience a healthy relationship to the sun. Ultimately, this is about emotional trust in our environments.
SSS: Isn't there a lot that can't be programmed in relation to circadian rhythms?
RL: There's a lot we don't know, but it's important to have a dialogue. Is there a number we can target that will trigger melatonin suppression and reinforce circadian rhythms? Where is that trigger and where does it point? How much exposure do you need? How much light and for how long? After we design for that, is it really better than a ten-minute walk at lunchtime? The only way to know is to start to make environments and see how employees feel about a space and how it affects absenteeism. What space did they come out of? It's cheating if they come out of an old, rotten space and move into a WELL Building space, and then they like it. Of course they do, compared with where they were! When people move out of well-designed spaces into WELL Building–designed spaces, then we'll start to know. It's a process.
WELL BUILDING STANDARD
SSS: What is the WELL Building Standard?
HG: There are seven categories: air, water, nourishment, light, fitness, comfort, and mind. It's challenging to think in a new way, to ask how a work environment can mimic biology. I realize now that I would've liked to survey future tenants to find out which categories are most important to them, so we could bring those features to the next level.
SSS: Do people in your pilot program understand the shifts in their environment? Is it life-changing or are the benefits subtle?
HG: There are noticeable benefits, but we are also planning to educate every employee to explain all the features, like how sit-stand desks work and why task lights with color temperature matter. All these aspects are important, including artwork. We always incorporate some type of art into our space. That has to be intentional at the beginning to make sure the lighting and space can accommodate the art.
SSS: Angie, could you comment on the idea of more fluid workspaces? Do you feel that there's a general understanding that things are shifting in a favorable way toward humanity and away from the machinery?
AL: I think it's happening. Every single conversation we have at the start of the project is about how the workplace needs to be less corporate or not corporate at all. The blurring of boundaries between what is a workplace and a headquarters building, or a workplace and a residential building—or an amenity space, a hotel, an airport, or a car—is a very cogent topic that we need to address because we're working too much. Artwork is important because we want to have an experience. In the case of Markus's work, the boundary between art and architecture is blurred. The workplace resembling a house is something we see all the time. The flip-flop is happening, where we talk about the demise of the desk. Our dining rooms have become de facto desks. The backlash trajectory of too much work and fluidity is that we need to start protecting ourselves in a workplace—in the name of being a happy person—by having a low- or no-tech zone, so that we actually experience face-to-face interactions. These days, we don't do drawings. We make our tablet sketches look like watercolors. There's an inherent trust that we're trying to preserve by way of honest, authentic experiences. We crave the visceral or tactile sensation that comes from art or a natural material. Art can offer us a break from practicality and create a sense of joy. As important as it is to have a beautiful view, we're also hearing "Bring your dog to work, your bike to work, get outside." Just be happy. Now designers are deviating from the previous path of having rigorous, linear, programmatic approaches. It's a huge relief from a designer's point of view, and very exciting.
SSS: This is also driven by new generations coming into the workplace with different demands and interests.
AL: I think all the generations, not just millennials, desire something better. Good design means healthy design.
SSS: I love that designers are saying, "We know something in our hearts," because a visceral understanding of the world is critical, especially now that there is so much change and need to refocus ourselves.
ML: As an artist, I have the luxury of flexibility because I don't have to punch a clock. Personal rhythm is important. If you're constantly forced to work against your personal biological rhythm, you're going to be miserable in one way or another.
SSS: I always thought having freedom to choose where you are and when is an ideal way of being. Thank you to the panel. Are there any questions from the audience?
Audience member: As we focus more on this conversation about well-being, has the definition of productivity changed? How do we measure productivity, or does it need to change from things like billable hours and revenue to creating happiness? How do we measure humanistic qualities in order to demonstrate the value of a design?
AL: Measuring productivity is slowly evolving in terms of happiness, which, unbelievably, is at the forefront of our conversations these days. It's a lot more qualitative than quantitative. We talk about employee retention, burnout, and efficiency. We're sick less. We show up. We're not checked out because we've stayed up till two in the morning. You see evidence of it. Your clients will see it too, and they give you more work and that's one way to measure success.
---
Panelists:
Hrisa Gatzoulis, LEED AP BD+C, senior project manager, Jones Lang LaSalle–Energy and Sustainability Services
Angie Lee, principal, design director—interiors, FXFOWLE
Rob Leiter, architectural lighting designer and project manager, HDLC Lighting Design
Markus Linnenbrink, artist
Moderator:
Susan S. Szenasy, director of design innovation, Metropolis magazine

The Metropolis Think Tank series is presented in partnership with Corian® Design,  KI, Sunbrella Contract Fabrics, Teknion, and USGBC.