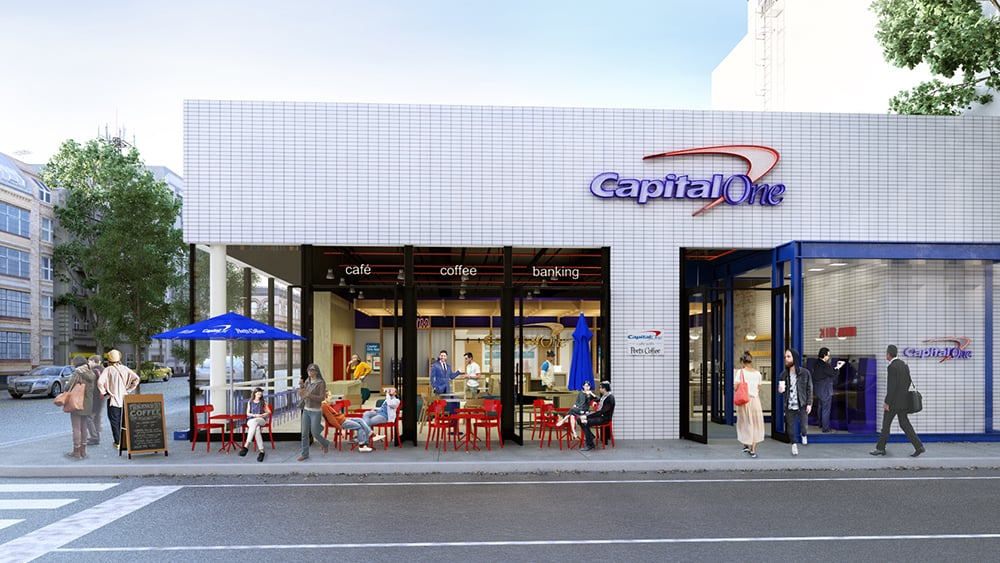 October 2, 2017
Cash with Your Coffee: The Neighborhood Bank Turns to Hospitality Design
A Q&A with the Rockwell Group on the merging of architectural space and digital experience.
For the past three years, Susan S. Szenasy, Metropolis's director of design innovation, has been moderating discussions with industry leaders on key issues surrounding human-centered design. On a recent visit to the Rockwell Group's offices in New York City, she talked with members of the architecture firm and Capital One Bank about their work on an innovative banking model: a neighborhood cafe merged with in-person banking services. What follows is an edited transcript of the conversation, prepared by S. T. White.
---
Susan S. Szenasy, director of design innovation, Metropolis magazine (SSS): What is the cash and coffee concept?
Helen W. Herrick, head of store design, Capital One (HH): There is a Capital One sign outside and we partner with Peet's coffee. If you look through the window it looks like a coffee shop except there are a couple of ATMs in front, a few more in the back, and banking associates casually moving around the space. There's no banker desk or office. Customers get to choose where they want to have banking conversations. We meet customers where they feel in control. We've opened five locations in Boston and by the end of next year we'll have over 20 locations across the country.
SSS: Could you tell us about Rockwell Group's initial presentation?
Barry Richards, principal and studio leader, Rockwell Group (BR): Early on, we named the project "coffee bank" to keep in mind that it differs from a bank branch.  At the capabilities presentation, we showed our portfolio, highlighting our strengths in hospitality—hotels, restaurants and other places where people like to live and feel comfortable. In addition, like our Imagination Playgrounds, this project exemplifies that almost any place can be a place of learning. We also showed our theater work, which is about choreography, pacing, and how to put things together. Capital One wanted to reinvent their brand by creating a social space, one that didn't yet exist and couldn't be mimicked. We showed a number of projects that illustrated a unique approach to narrative, to give them an idea of how we can help solve a problem.
SSS: Why coffee, and where did this idea originate?
HH: Well, caffeine is addictive, so there's that, and it's legal. And coffee shops are environments where people feel comfortable. We have customers that come in daily. One of the goals was to allow customers to come in ten times before they ever have a banking conversation. Capital One actually started as a credit card company a couple of decades ago but about five years ago they bought ING direct, which is a 100 percent digital bank without any branches. However, some people were uncomfortable with banking digitally without knowing the people behind it, so ING started inviting people in for coffee. Later, they opened cafes in five cities. Then, when Capital One acquired them, it was rebranded into Capital One 360, which is still a digital bank. Capital One wanted to push the cafe further, so we opened five locations in Boston, where there were no branches of Capital One, but they still resembled banks. Our new design with Rockwell resembles a bank even less, and emphasizes hospitality.
SSS: It's a real coffee shop, but there are also bank associates, who you call ambassadors. How did you choreograph those two programs: coming in for coffee and talking to an ambassador about banking?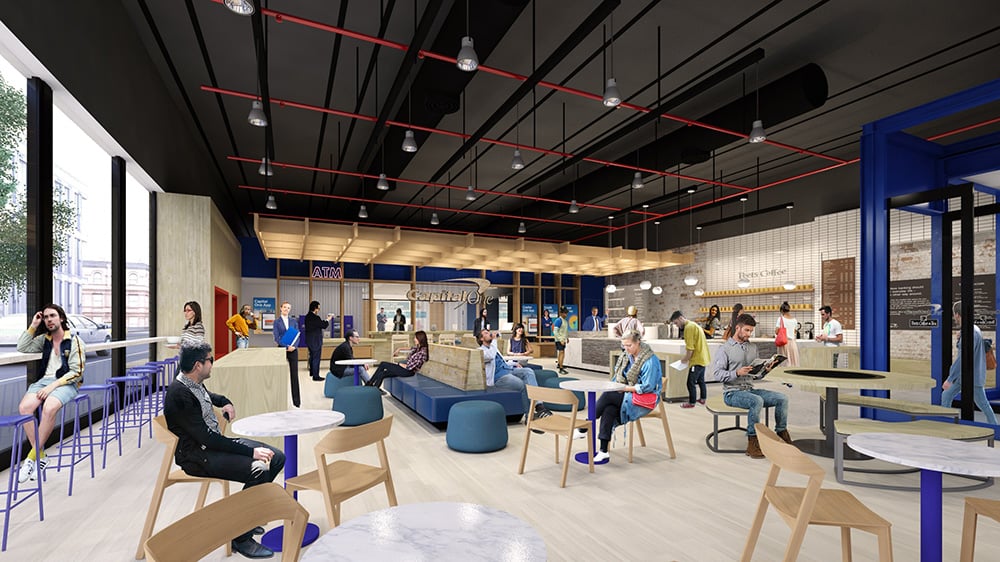 BR: The first stop is coffee, so you don't want to interfere too much. People come in, either for the ATM or coffee. There's a screen with information, and on the condiments bar, there might be postcards. If someone seems interested in something banking related, an ambassador can come forward and offer help. There will always be an ambassador standing in one spot if someone has a question.
SSS: How did you train the ambassadors to approach people?
HH: The last thing you want is to go to a coffee shop and have someone say, "Hey, how's it going? Do you need checking?" And then another associate comes by and asks you the same question. They're trained to be sensitive to customers' needs. I've talked to some ambassadors, and they've told me you can sense when somebody is looking for a banker or is open to a conversation. The ambassadors have certain clothes on and a name badge, so they're visible if and when someone wants to talk.
BR: This is a big switch from a banking point of view. The bank is not telling you their bullet points, but finding out what you need to know.
SSS: How do you ease people in and keep them coming back, so that eventually they'll engage with Capital One?
BR: Ultimately, if you do the design right, you give the right experience to people who need it most. The coffee service should be efficient. The space is for lots of types of people, so we have a range of seating choices: high-top, communal, nooks. There are probably eight different types of seating. Everyone has a different way to sit, and then if they do need to talk to someone about financial choices, they're more likely to be physically at ease.
HH: There is a clear line of sight through the space so people see the coffee bar and where the bankers sit. We want customers to feel comfortable right away and not be confused, so there is a welcome menu that explains what the place is, because it is a little strange to have a coffee bank.
SSS: What kind of communities are the coffee banks reaching?
HH: We're starting with ideal locations with heavy pedestrian traffic. Even if the doors are closed, most of the storefront is open, so you can see the coffee bar. We look for vibrant retail areas with evening foot traffic as well. Some locations are open past 9pm.We'll also reach local communities by partnering with artists for art walls and bakeries from the area. There are digital screens with financial information. Rather than sales tools, they serve to empower people to make financial decisions. The screens will also include local information.
SSS: How do you involve artists without losing control of the design?
HH: That's a good question. We created guardrails that we use when artists send proposals. A team with someone from the design group, branding, and food services makes sure everything works together. Actually, the last time I worked with Rockwell, someone wanted to put up pink piñata pigs, so our motto is, "We don't want any pink piñata pigs."
SSS: The space aims to connect people in an authentic way to their communities and to banking. The concept values people. Is this going to safeguard us from a boring, cookie-cutter corporate world?
HH: Since we're mostly using street fronts, every space is different. The ambassadors are part of the community, and how they reach out is key to how grounded customers' experiences will feel.
BR: Some of the buildings are old, so they do a lot of work creating authenticity and presence. People love the unique character of reclaimed spaces. We repurposed bleachers, which were being torn out of high schools with writing on them and a sense of local history.
SSS: Is there a future imagined for these locations, in case we won't be using ATMs sooner rather than later?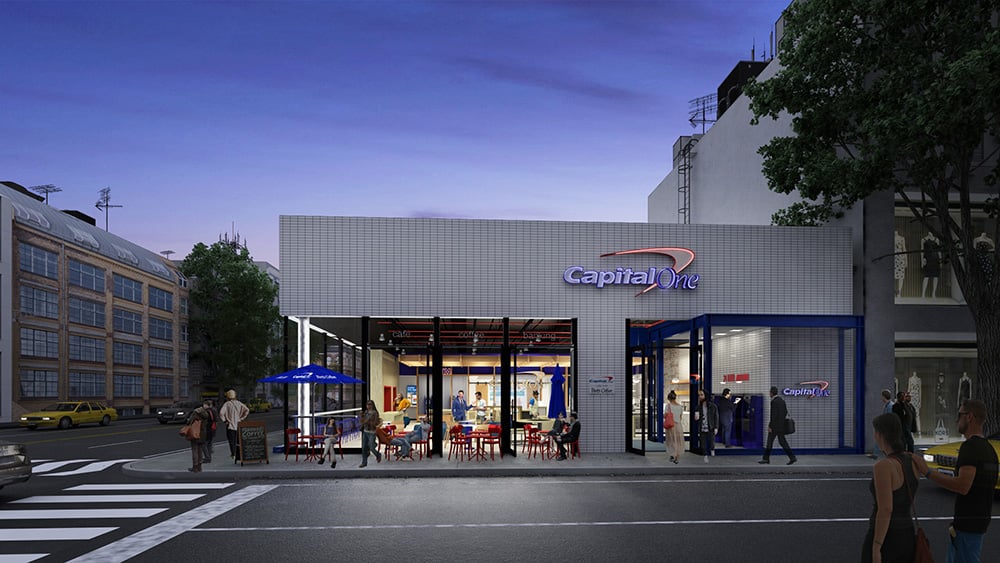 HH: All these spaces will evolve as technology and how people bank change. It's an ongoing task.
BR: They are not meant to replace bank branches, but act as a new way to reach customers.
SSS: These cafes can function as community rooms. What exactly is that?
 BR: It's a fluid space where people can have different conversations and events. We saw this as a potential mini TEDx-inspired place where you can give a talk in front of a screen to a group of 20 people. Similar to the Ace Hotel lobby, it can switch function from day to night. There are four tables on casters that can be set up for a cafe or a political activist meeting. The space can be sequestered a bit so it's less public, with lower ceilings for better acoustics, and set further back into the space.
SSS: Can we talk about language? Barry, you have mentioned story, progression, playgrounds while talking about hospitality, but I'm concerned that as we all start to use these words, they lose some of their specific meanings.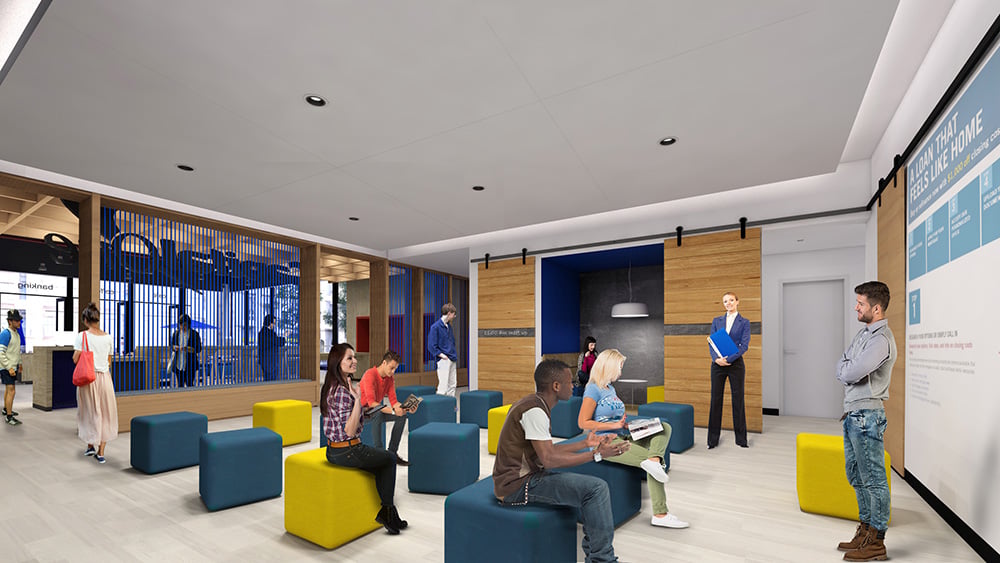 BR: That's true. Everyone is talking about storytelling, even medical designers. We adapt. It's easy to follow convention and use a word so that everyone knows what you mean without thinking about why you're using it. Coining the term "coffee bank" helped us be more thoughtful.
SSS: One of the issues I have with the design community is how we find buzzwords that everybody repeats ad infinitum and you wonder what their design is going to be like. There was a moment when everybody would say, "I gave them benching" or "I'm giving them sit/stand desks."  How do we begin to expand the conversation? We're going through an important cultural transition that we need to recognize and be able to talk about. We're becoming different kinds of people when talking to friends over coffee in a bank. How do we expand the conversation without repeating the habit of grabbing on to a flimsy phrase?
BR: When I first arrived at Rockwell Group, we talked about the "big wow."  Everyone would create the "big wow" within their design. I think you have to pay attention to the changes in how people live. Theater design was transformative for me. In theater, we have to support the narrative of the story on stage, rather than be the story. A designer can step back from acting like the master of everything, and live in this new world where the user is more important. The user creates the story, and social media trains us to do that.
SSS: It seems like a rich relationship forms between a designer and a client intent on creating an original kind of social space.
BR: It's a gift to get a project where we can play and learn about banking. Every client has something to teach, and, as a designer, the idea that you can play in a new world that is so different from our own is a treasure.
---
Panelists included:
Helen W. Herrick, head of store design, Capital One
Barry Richards, principal and studio leader, Rockwell Group
Moderator:
Susan S. Szenasy, director of design innovation, Metropolis magazine.
The Metropolis Think Tank series is presented in partnership with Arper, Lutron, and Wolf Gordon.