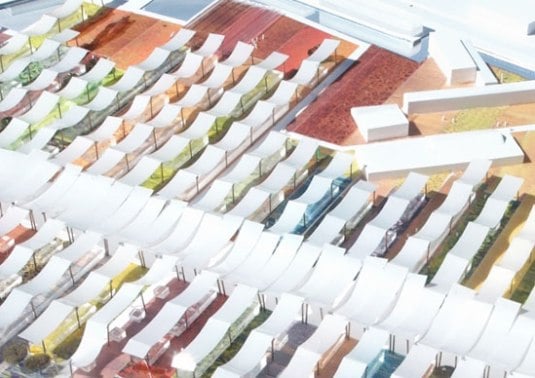 April 4, 2011
Crowdsourced and Networked
Bio-filtering canals at the Expo 2015 in Milan. Hiving together at a watercooler, a railway platform, a trade show or a World Expo for "crowdsourced" ideas and innovation is as necessary for our evolution as the ideas buzzing on Twitter. Given our lightspeed online community of ideas, some may question the relevancy of World Expos […]
Bio-filtering canals at the Expo 2015 in Milan.
Hiving together at a watercooler, a railway platform, a trade show or a World Expo for "crowdsourced" ideas and innovation is as necessary for our evolution as the ideas buzzing on Twitter. Given our lightspeed online community of ideas, some may question the relevancy of World Expos today. But let's remember that some of our most iconic architecture and design experiments were originally conceived for world expos, gems such as London's Crystal Palace, Paris's Eiffel Tower, Seattle's Space Needle and Buckminster Fuller's geo domes.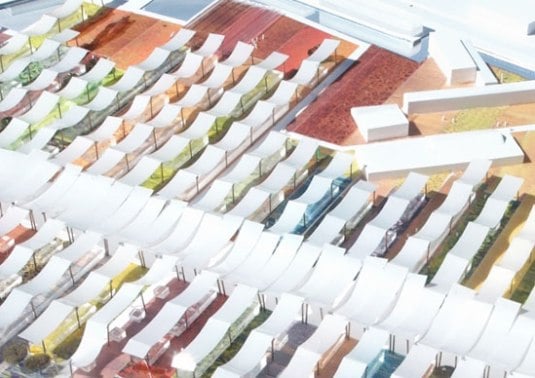 Milan's 2015 is perhaps the first world expo, as its promoters promise,  to be focused on the a "bio-diverse metropolis including the concept of a global kitchen garden, a large space for agro-food production which will produce food for a cosmopolitan metropolis." Displaying food vs. material goods and corporate-sponsored envisionings, the expo will mark a shift by its team of planning architects–Stefano Boeri, Richard Burdett, Mark Rylander, Jacques Herzog 
and William McDonough who, together, created, a "planetary botanical garden open to the citizens of Milan 
and the world. A place for a fresh encounter between farming and the city that will feed Milan literally, spiritually and intellectually."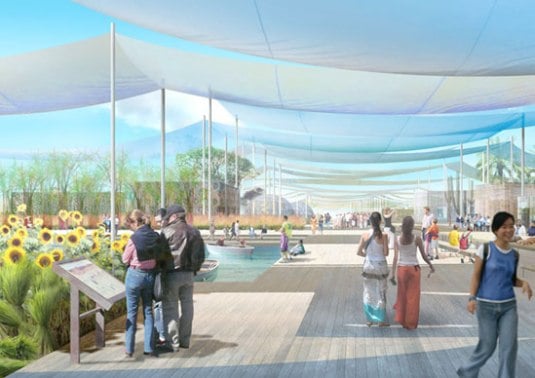 As we head to the 50th anniversary of Milan's Salone del Mobile, we're thinking of the world expos from  a half-century ago, those I saw as a child and recall vividly, like the  1964 New York World Expo, and Montreal's Expo 67, with its three inspired structures: Moshe Safdie's Habitat, Bucky Fuller's geodesic dome, and Frei Otto's flying tent. All still vital ideas today.  If there are no new ideas in nature or human dramas at the watercooler, we expect to see some of these classically modern, nature-inspired design ideas still resonating, especially as models for efficient form, integration, and localized craftsmanship as micro-environments influencing the whole.
We'll be scouting the Salone with a green, sustainable, and futuristic eye centralized at Isola Green Island 2011 where human-scaled weed libraries, eco-labs, and crafts from a shop specializing in finely-crafted lutes to urban interventions such as Green Provocateur's two-story Garibaldi train platform stairs swathed in lush vegetative art will take center stage– a mini-foreshadowing of the 2015 Expo.
LIGHT:  lightweight, portable, and sustainable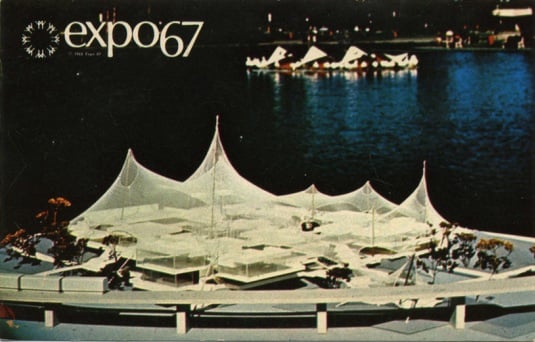 Almost 50 years later, Frei Otto's soaring tents may have inspired the 2015 committee's avenues of tents along bio-filtering canals that line the gardens growing and serving food from bio-regions around the world.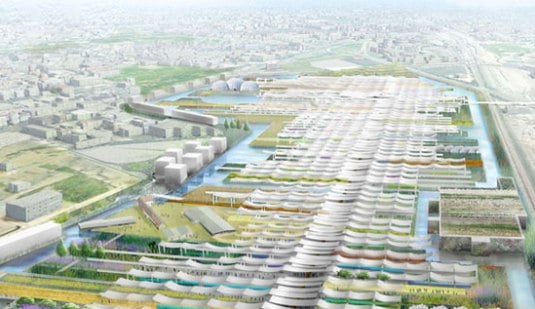 The tents at Milan 2015.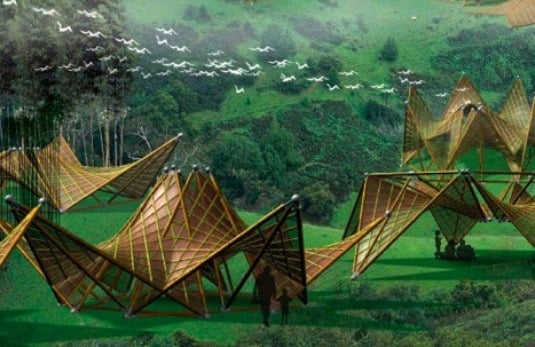 The tent theory found its way into design recently with Ming Tang's Folding Bamboo Houses (above) created for temporary shelter for those displaced by natural disasters, with a portable, lyrical, and lightweight sensibility for less than light situations.
Making headline news on Fuorisalone 2011 is Tom Dixon's collaboration with tech giant Blackberry. The British designer is also launching lightweight golden orbs in groupings that remind us of the delicacy of Otto's envisions for the future.
EFFICIENT Ephemeralization 
"Ephemeralization", was the term Bucky Fuller coined to express "doing more with less."  Safdie's Habitat (above), appearing in Montreal 1967, displayed economics and density beyond the solid and singular boxes that made up urban design and even furniture for hundreds of years.
The World Expo 2010 in Singapore inspired this updated interpretation of Safdie, where Singapore-based Design Act mixed a geode formation with glass for a "digital cloud" skyscraper.
It was a gardener, Joseph Paxton, whose work and experiments with glass and iron greenhouses became the architect of The Crystal Palace as he had seen the strength and durability of the design, a theme which will be present in 2015.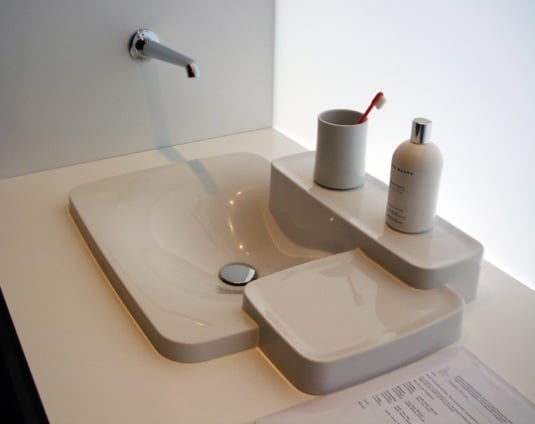 We will be looking at the Salone for ephemeralized and efficient designs with integrated parts worked into sleekness such as Ronan and Erwan Bouroullec's design for a multi-functional sink for Axor (above), stepped and graduated and very serviceable. 
And we're thinking  of Milanese designer Joe Cesare Colombo, who predicted a future where "furnishings will disappear…the habitat will be everywhere." Colombo is best known for giving creative workspaces the fully functional Boby trolley cart, and his other compact designs that are still vital today, such as Boffi's re-issue of his mini-kitchen. With both products in the Museum of Modern Art's permanent collection, and space-saving and mobility more important than ever, we expect to see many more fresh interpretations of Fuller's concept of emphemeralization.
LOCAL: touchy-feely and craft, come together 
While talk of small manufacture, return to local craftsmanship, and even Etsy-inspired touchy-feely furnishings may seem utopian and inspire a backlash by those lamenting the decline of mass production factories of the Industrial age, today's thriving small craft-based industries make smart news, by encouraging small-scale creativity and productivity based on local markets and resources.
"The eye of the needle of local space is a creative device that transforms global flows into a kind of fuel for regenerating places," writes Stefano Boeri. "It takes advantage of the whole world in order to construct a place."
New student work from London's Royal College of Art Design Products Department will be exhibiting again in the Ventura Lambrate district at this April at Milan's Salone and recent grad Will Shannon's Metro-cabinet of papier maché (left), found suitcase, and turned wood can be seen as a local, less-slick, adaptive re-use version of Colombo's Boby cart.
The piece is based on the slowed down narrative idea of a fictional character, the Cabinet Maker, whose routine wanderings granted him the opportunity to harvest reclaimed materials from the city for simple handmade furniture pieces.
In a similar fashion, planned as an educational Mecca for international students, the Thematich-Scientific Park will be one of the main lasting legacies of EXPO 2015 to the city of Milan, fostering innovation by the new generation.
The RCA student works are from the Design Products Collection, set up by department head and professor Tord Boontje, whose own designs at Salone 2011 will include latest versions of The Shadowy Chair, which he designed for Moroso. 
As an example of local craft industry, utilized for inspired furnishings, the Shadowy Chair begins as digitally-drawn color patterns, then hand-woven by expert Senegalese craftsmen using colored plastic threads around the steel frame for one-of-a-kind pieces that can be as surprising as finding a technicolor caterpillar in the garden.
Milanese architect Andrea Branzi, best known for founding the Domus Academy where his Agronica experimented with "low-impact urbanization models", and his theories of Enzymatic Architecture speaks of innovation, says "…the wave of the 'new', the different, the planning innovation should emerge; actually, this wave won't be run by the conventional, industrial policies, but it will be the outcome of a spontaneous, social energy, a flow of ungovernable anarchic creativity, shoved in all directions by a 'mass' planning thought. So innovation will become an expansive enzymatic phenomenon, a molecular plankton, that will not necessarily carry out clear and targeted reforms, but probably a polycentric multiplication, an archipelago of different strategies."
In pondering how world expo architecture has shaped our design sensibilities for centuries, it is exciting to think how the simple theme of World Expo 2015, "'feeding the planet, energy for life'" will shape our future lives and the designs we choose to live intimately with.