March 27, 2009
DIFFA Makes Dining a Design Destination
Good design, good food, and a great cause
Every year Design Industries Foundation Fighting Aids (DIFFA) brings together innovative and talented designers from the fields of fashion, interior, art, and architecture to create one of a kind dining experiences. Even future designers from schools including Parsons and FIT also get to dish out the design at this one-of-a-kind-event. DIFFA will take these amazing rooms on tour and host a number of dining events to help raise money in support of HIV/AIDS victims and preventive education. Last night, Metropolis joined the designers in celebration of their creations at the kick off of the 12th annual Dining by Design national tour in New York. Some rooms were elegant and beautifully styled; others were more funky and outrageous. Check out what we found!
Michael Tavano for New York Design Center
A fun graffiti inspired disco meets clown creation. What would a dining room be without a magnificent chandelier?
David Starck for Benjamin Moore
A can of paint pours out a colorful dining table in Benjamin Moore's room. Paint bucket pendant lamps and fresh cut flowers brings this table to life. The paint by numbers walls and floors makes this dining room one of my favorites.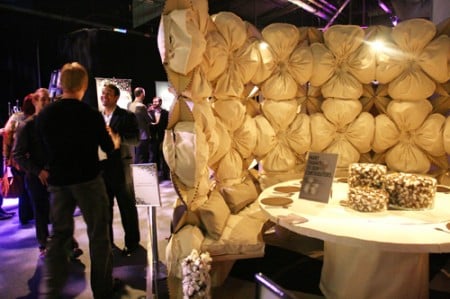 SHoP Architects and Supima for The New York Times
Of course this booth was designed by ShoP. Their attention to the structure and tactile quality of the back panels to this dining table shows off what they do best – built environments. The semi-circle configuration tucks away diners from the rest of the crowd. And note, in the last photo, the detail of their laser-cut blossoms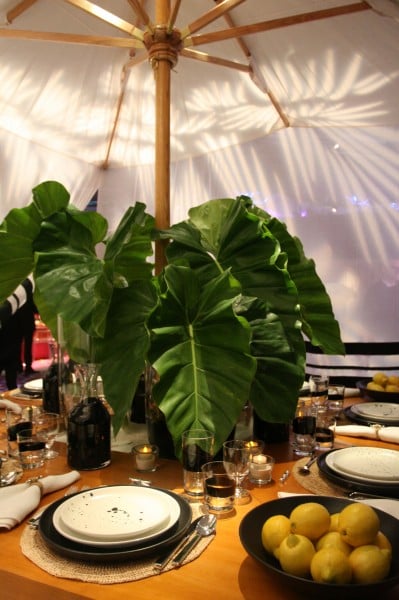 Ralph Lauren Home
An immaculately styled beach getaway by Ralph Lauren. Would you expect any less?
Eric Warner
Beautiful place settings in a serene setting
Parsons the New School For Design with mentor Vicente Wolf
For this dining experience, Parson's students were inspired by Benjamin Moore's (sponsor of the student dining rooms) cute monster-like swatch names. The laser-cut robots that adorn the room were meticulously put together. Each robot took at least 30 minutes to construct. Say hello to Goil Green on the right!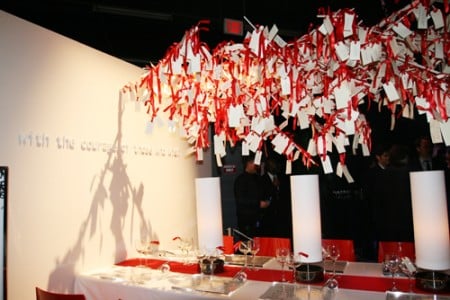 Fashion Institute of Technology with mentor David Beahm
An interactive and elegant red and white table with thought-provoking place mats. Guests were invited to tie "wishes" to its cantilevered structure.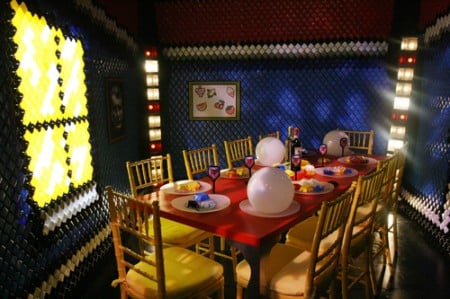 New York University with mentor Miles Redd
A super fun and primary colored room – the digital fireplace makes you right at home!
Events connected to New York's Dining by Design (Pier 94, New York City) are going on throughout the upcoming weekend. Do yourself a favor and get yourself a seat:
DIFFA'S DINING BY DESIGN TABLE HOP & TASTE
Sunday, March 29; 12 PM – 5 PM
Ticket holders view the amazing design installations and sip Castello di Gabbiano wines paired with tastes from New York's top restaurants and gourmet food purveyors.
Tickets: $50 per person available online at diffa.org
DIFFA'S DINING BY DESIGN GALA DINNER
Monday, March 30; 6:30 PM – 11:00 PM
Table-hopping and opening of the design installations to guests for a luxurious seated dinner, followed by dancing, dessert and silent auction.
Tickets: Designed tables for 10 available for $10,000. Individual tickets at Club tables for $500 per person. Both available online at diffa.org