April 17, 2020
For a Successful Workplace, It's All About the Neighborhood
At a Metropolis Think Tank event, designers, urbanists, brokers, and developers agreed that amenities can become great connectors between the office and the city.
The ever-rising popularity of new-wave amenities in the office has blurred the line between workplace and hospitality settings. As a result, designers must ask some key questions: Does our building interact with the civic realm around it? How can we incorporate hospitality staples into our amenities? Today, there is a new pressure, says Peter Knutson, director of strategy at architecture firm A+I, to "create spaces that can work differently than those sort of circumscribed and predictable desk, conference-room, receptionist, break-room kind of arrangements."
These changes in the workplace have ramifications outside the office, as amenities trickle into urban spaces and become part of the fabric of the neighborhood. In a Think Tank panel hosted by A+I in New York City earlier this year, design experts discussed how architects can consider features that both benefit tenants and improve their surroundings.
Going beyond the now-expected perks like café spaces, meditation rooms, and beer on tap, amenities can come to represent the ethos of a company, according to Avinash Rajagopal, Metropolis's editor in chief.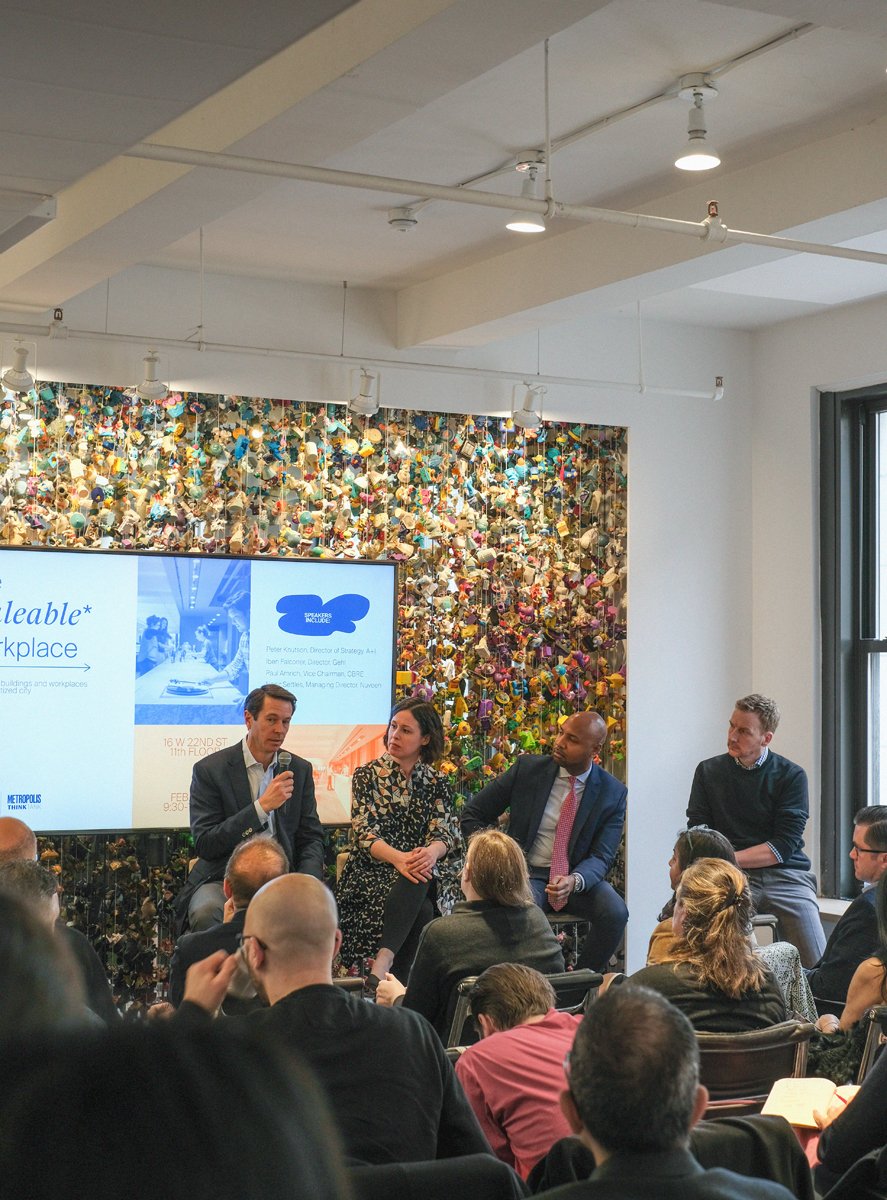 Iben Falconer, former director of urban planning firm Gehl, suggested that public life actually starts inside privately owned buildings. "I think it's really exciting to see owners and businesses thinking about what happens outside of their four walls as something that's important to them. Companies know that when their cities are successful, their busi- nesses are successful," she said.
Still, being part of a vibrant neighborhood—or trying to reinvigorate a quieter one—is no guarantee of success. That's why, said Falconer, piloting ideas before investing in them becomes crucial: There may be several demographics interacting with a property, each of them responding differently to change. One example mentioned was the ABC building in New York's Times Square, which went through drastic changes to accommodate traffic and now has significant public "breathing room" through the use of seating areas and expanded sidewalk space. "Or look at 1411 Broadway," pointed out Paul J. Amrich, vice chairman at CBRE. "It wasn't inviting, so the city shut down a vehicular lane, created seating, and embraced a big public park in front of the building." Tenancy improved and the city benefited.
Of course, from companies' points of view, better amenities are a way to attract and retain talent, and they want to see an impact on the bottom line, especially if large investments are required. But the panelists agreed that by focusing exclusively on the financials, companies are missing the point, warning that it's better to focus on "building a space for people." A safe, practical space is the baseline, but from there, companies should experiment.
The Think Tank discussions were held on February 26 and 27, 2020, in New York City. The conversations were presented in partnership with Arc-Com, DXV GROHE, KI, Kimball, and Versteel.
You may also enjoy "Tech Companies Are Changing How They Interface With the Cities They're Re-Shaping."