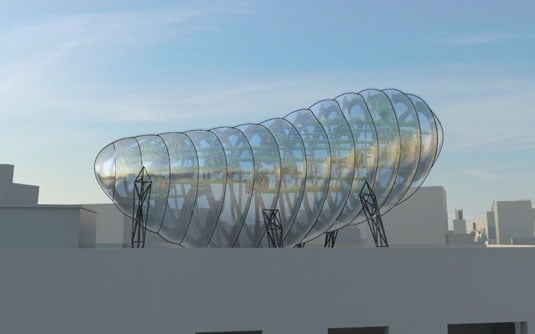 June 21, 2010
Galactic Gardening
While green roofs have increasingly made headlines as solutions for environmentally sound design in an urban environment, more often than not they are found only as expensive additions to new constructions. Translating the concept for mass production at a cost-effective rate—and for easy implementation on pre-existing buildings—has posed a bit of a dilemma. As a […]
While green roofs have increasingly made headlines as solutions for environmentally sound design in an urban environment, more often than not they are found only as expensive additions to new constructions. Translating the concept for mass production at a cost-effective rate—and for easy implementation on pre-existing buildings—has posed a bit of a dilemma. As a result, although it is already clear what kind of positive impact a green roof can have in terms of energy conservation and aesthetic appeal, there has yet to be much opportunity to measure the widespread impact of green roofing on an urban scale.
Recently, however, Natalie Jeremijenko, an aerospace engineer and an environmental health professor at New York University, may have come up with a solution. Her modular rooftop greenhouses look a bit like giant larvae with outspread legs, but they do wonders in terms of function. For one, Jeremijenko's design solves the predicament that Viraj Puri's Gotham Greens, New York City's first commercial rooftop farming initiative, struggled with: weight. Most city rooftops, particularly those of an older make, cannot support the heaviness of soil and water required of a green rooftop. Consequently, Puri struggled with locating enough suitable sites that meet the structural requirements.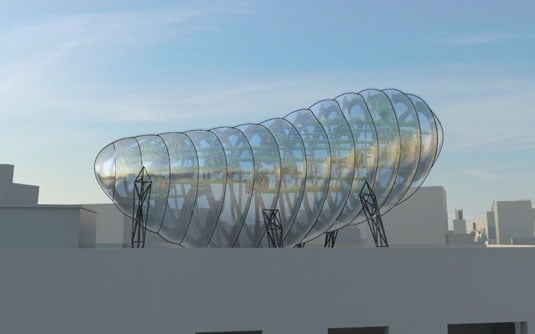 Jeremijenko's design, on the other hand, employs legs that flare out to distribute its weight to a building's load-bearing walls. In addition, Jeremijenko has removed the weighty soil entirely by installing hydroponic growing systems instead. The sleek design of the pods themselves is also clever: the curving shape of the "larvae" strategically optimizes sun exposure and is also wind-combatant so the pod won't blow off the roof on gusty days.
Most exciting, though, is that these greenhouses could be used to recycle a skyscraper's air and water. Jeremijenko worked with co-designers Jeremy Edmiston and SYSTEMarchitects on how best to accommodate the greenhouses to prefabricated sites, focusing on retrofitting and integrating the gardens into buildings' mechanical, structural, and water systems. By connecting a rooftop pod to a building's electrical and ventilation systems, garden plants will be able to increase the oxygen content in the building's air and waft fresh garden scents through building interiors, while extracting large amounts of CO2 from the air. Jeremijenko is also experimenting with recycling and purifying graywater.
A section and axonometric diagram of the design; click to view larger images.
So will Jeremijenko's project—called the Urban Space Station–actually find its way onto a New York rooftop anytime soon? With a little luck, yes. Jeremijenko is currently undergoing fundraising and is trying to sign on as many sites as possible to help bring down costs. According to Jeremijenko, the Bronx River Arts Center and NYU's Barney Building are the first approved locations so far, with many more prospective sites currently in talks. If all goes well, Jeremijenko's hydroponic garden pods could begin dotting the city's skyline in the next few years.
Images: courtesy SYSTEMarchitects (Jeremy Edmiston, Charles Kwan, Rob Baker, and Steven Addington)
.
Related: In the magazine, we've run numerous stories on green roofs, including in-depth looks at the roof of Renzo Piano's California Academy of Sciences and New York's largest green roof, by Balmori Associates.