May 25, 2010
ICFF, We Hardly Knew Ye
Even after last week's ICFF live-blogging extravaganza, we ended up with dozens of unpublished snapshots of noteworthy new products and projects from the 22nd annual furniture fair. Here, then, in no particular order, is a final roundup of neat stuff from the 2010 ICFF. Above: Noé Duchaufour-Lawrance's Corvo chair, for Bernhardt Design, which we wrote […]
Even after last week's ICFF live-blogging extravaganza, we ended up with dozens of unpublished snapshots of noteworthy new products and projects from the 22nd annual furniture fair. Here, then, in no particular order, is a final roundup of neat stuff from the 2010 ICFF.
Above: Noé Duchaufour-Lawrance's Corvo chair, for Bernhardt Design, which we wrote about in the April issue of the magazine.
Studio Dunn took home an ICFF Editors Award for best new designer a mere two weeks after finishing its first collection. Founded by a trio of recent RISD grads, the Pawtucket, Rhode Island–based studio combines in-house manufacturing with collobarations with a network of local craftspeople. Pictured are its Coventry stools.
Andrew Mau (left) and Asher Dunn, of Studio Dunn
Speaking of the Editors Awards: Molo won for best booth . . .
. . . and Arper for best seating. Its new collection included the Loop sofa by Lievore Altherr Molina.
This bag is pretty clever: Developed by fuseproject with Material ConneXion and Puma, it combines shopping bag and shoebox, using 65 percent less cardboard as a result. It also takes up less space and weighs less in shipping. (Read more here.)
Marcia Weese, of Weese + Design, was showing her latest rug collection, called Flora, with six patterns inspired by the garden. The wool comes from Tibetan sheep living at high altitudes, whose coats produce extra lanolin to keep them warm; this results in a naturally durable and stain-resistant wool.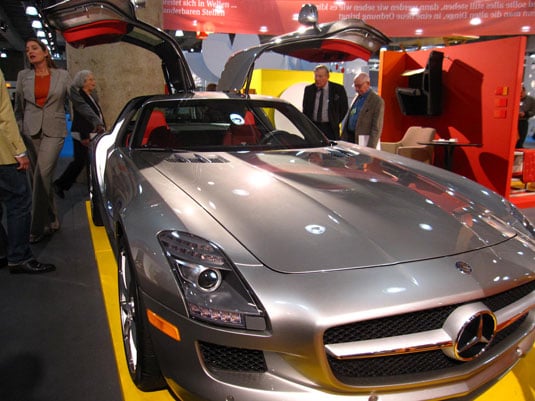 At the opposite end of the design spectrum, this year's German pavilion featured something you rarely see at the ICFF: a car–or, rather, a "supercar," according to Mercedes-Benz. Its yet-to-be-released SLS AMG includes a carbon-fiber-laced interior and gull-wing doors for the inner Doc Brown in us all.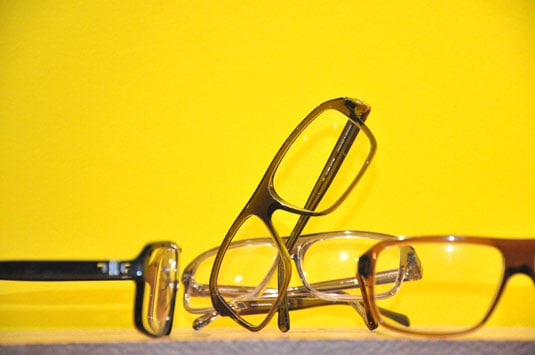 Also at Design Deutschland: these (very Germanic) eyeglass frames by MYKITA.
Snow Peak is the U.S. branch of a 50-year-old Japanese camping-supply company; it's been in the States for 12 years but only recently hit on the idea to market its cleanly designed, upscale camping goods to the urban small-apartment dweller. This was its first time exhibiting at ICFF and it snagged an Editors Award for outdoor furniture. Above: a folding bamboo table, available through Design Within Reach.
OK, so this piece wasn't actually at the ICFF but at the second-annual Model Citizens NYC satellite show on 36th Street, a block away from the Javits. Jason Hu's Perch is part of the Guyana Project, an initiative by 11 Pratt design students working with artisans at the country's Liana Cane Factory and with its indigenous Wai Wai community.
Also at Model Citizens: furniture and lighting by Jason Neufeld . . .
. . . and Niels Cosman, who was kind enough to pose beside his CMYK Cabinet.
This is Cosman's Baum Bench, which borrows from the Windsor style and Sam Maloof. Cosman makes all his furniture himself, and says that he's a bit obsessive about using every scrap of wood he acquires: "I have this, like, wood guilt."
Back at the Javits, we find another wood bench, this time by the Swedish design studio Claesson Koivisto Rune for Mabeo.
The Czech Republic had an ICFF presence this year. This rolling bookcase by A.M.O.S. Design looked to me like a cross between Alexander Brodsky's Vodka Pavilion and Tejo Remy's famous Droog cabinet, on plastic wheels.
Finally, Blu Dot–another Editors Award winner–had several new pieces, my favorite of which was the Cant desk. The perforated, powder-coated steel grille is a nice touch. (It comes in red, to0.)
That's all for this year! If you're just now catching up on our 2010 Live@ICFF coverage, you can read all our stories here on the blog or view a handy story index over on our Live site. Or, jump straight to our show-floor videos, our idiosyncratic editors' picks, our coverage of this year's six ICFF Schools, or our extremely professional party photos.