April 22, 2019
Leveraging Data to Help Plan Better Cities
A recent Metropolis Think Tank panel with planning experts, city officials, and architects from KPF delved into data how data is shaping today's urban planning.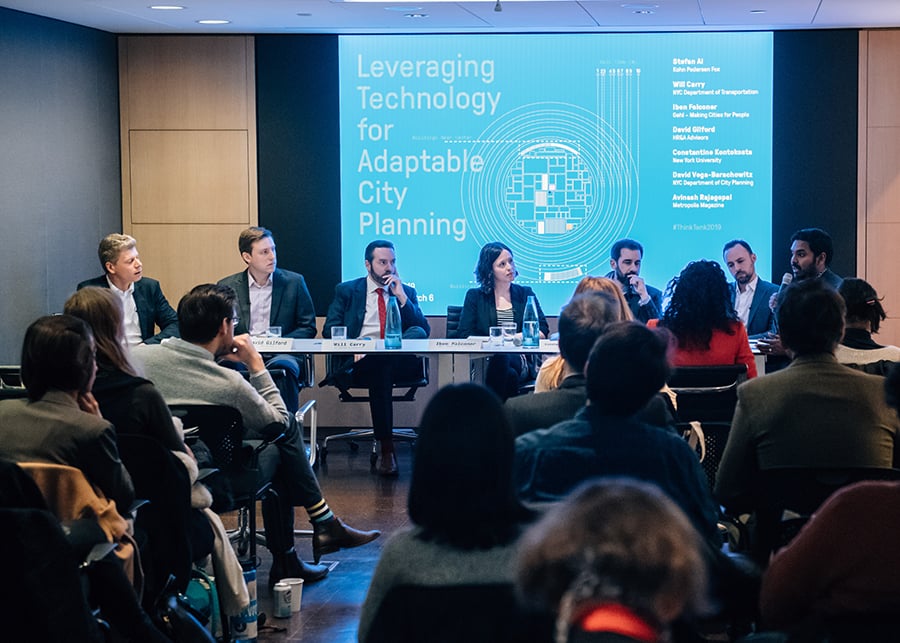 ---
What's most unnerving about data harvesting is how seamless and unnoticeable it is. Whether hailing a ride on Lyft or pulling up GPS, city dwellers in particular are constantly handing over personal information to powerful technology companies. Putting aside the ominous overtones that often color discussion of the subject, can data harvesting serve to strengthen the relationship between the public and the urban environment in which they live? Can data help urban designers and planners make positive—and more responsive—decisions regarding the spaces we all share? A March 6 Think Tank panel at Kohn Pedersen Fox's (KPF) Manhattan office tackled some of these questions.
Moderated by Metropolis editor in chief Avinash Rajagopal, the conversation led off with an unlikely reference to a pop culture touchstone—Sim City. The video game, said David Gilford, principal of planning consultant HR&A Advisors, "had a real impact on this profession." "What [new game] should we be creating today for kids who are thinking about the future of their own environment," Gilford asked. The audience laughed, but the point was a critical one: Creating accessible tools and forms of media can provide insight into the complexities of urban design and help make city planning more responsive.
Gregory's prompt soon proved less speculative than the audience realized. Stefan Al, senior mobility specialist at KPF, discussed the Spotless app developed by KPF's Urban Interface team, which he described as "a game of Sim City with real-life consequences." Spotless visualizes and simplifies complex urban data, making it comprehensible for planners and the public alike. This is key, said Iben Falconer, director of urban design firm Gehl: "You can gather all sorts of data, put all sorts of sensors out, but really the most useful thing is the interpretation of that data."
But creating a more responsive city is also about enhancing quality of life. In New York City, where people spend a large portion of their time walking, "one of the challenges that we continually face is understanding how pedestrians use urban space," said William Carry of the NYC Department of Transportation. Despite new incoming data streams, so much of that data is still attached to a thing: car, bicycle, bus, train. "What we're working on is how we can use these new technologies to really understand on a fine grain basis how people are walking," explained Carry.
---
While data-driven technologies have the ability to bolster decision making, it's not immediately apparent how they might foster inclusivity and a truly engaged community. "Without understanding the power structures, you can't really understand urban development," said Constantine E. Kontokosta from the NYU Center for Urban Science and Progress. This emphasis was echoed by David Vega-Barachowitz, senior urban designer at the NYC Department of City Planning, who observed that "there's a real divide between how we want to solicit feedback from communities and allowing those communities to actually be on a level playing field to the conversation."
Falconer seemed to speak for the whole panel as she closed her comments with an important prompt: "What tools could we use to bring more people to the table? To really let people know that their input matters?"
---
The Think Tank discussions were held on March 6 and 7, 2019, in New York City. The conversations were presented in partnership with DXV/GROHE, KI, Room & Board, and Sunbrella Contract.
You may also enjoy "Google Used Sensors to Connect Neurology and Aesthetics at Milan Design Week."
Would you like to comment on this article? Send your thoughts to: [email protected]