July 26, 2018
How Austin's Growth Can Be Sustainable and Equitable
Lake|Flato hosted a Metropolis Magazine Think Tank discussion on the risks and benefits the expanding city faces.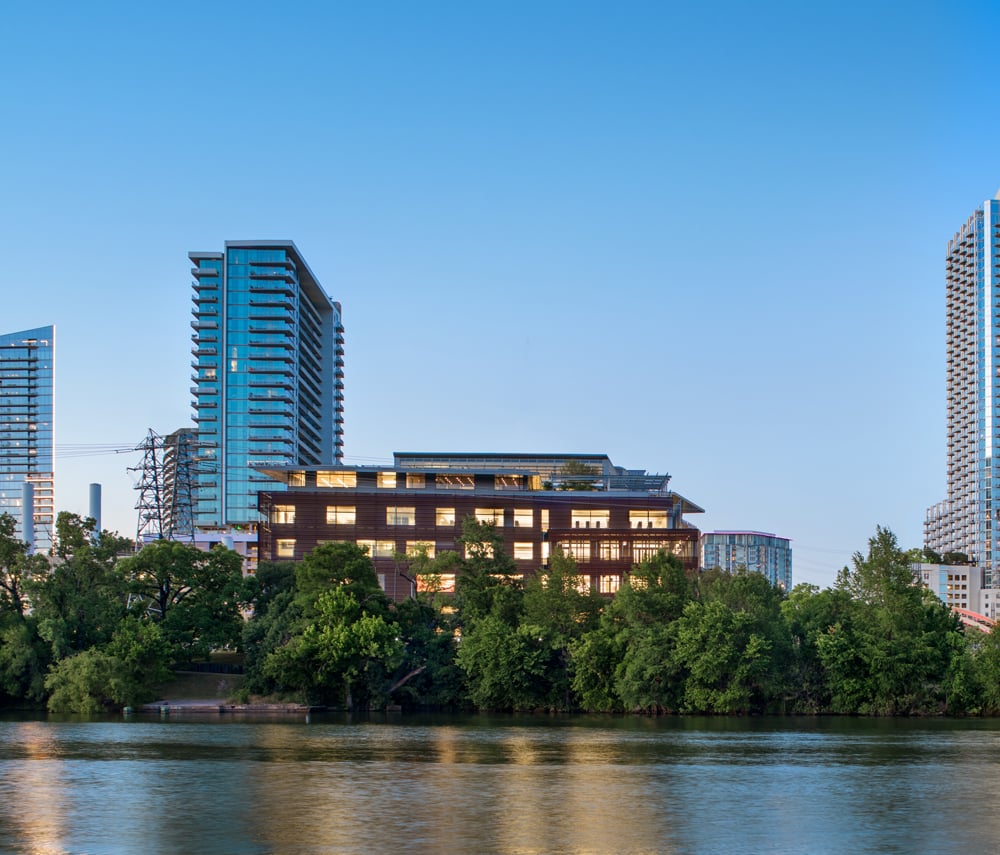 ---
Meeting at the offices of the Livestrong Foundation on Austin's East Side on April 5, Susan S. Szenasy, Metropolis's director of design innovation spoke with three experts from architecture, government, and development about a progressive vision for this booming Texas city. The discussion, which followed from the panel theme, "The Development of Complete Communities," returned repeatedly to addressing issues of social equity and environmental sustainability. Both are touchstones in Austin, a racially segregated city in a hot, drought-prone climate now dealing with issues of mass transit, affordability, and gentrification.
Greg Weaver, executive vice president of Catellus Development Corporation, noted that the root of many of these challenges lies in inconsistencies in current law. "Equity must be built into the land development code," he said, while stressing that the time is now. 
Indeed, the code is currently being rewritten. Lucia Athens, chief sustainability officer for the City of Austin, suggested that orienting the proposed code—CodeNext—toward more equitable ends should be elevated as a high priority. As she explained, the initiative would require creating more compact development with better mobility options; integrating nature into the city; and continually examining what contributes to overall "livability." Among the factors Athens highlighted were alternative housing types, including cooperative and cottage housing. "Austin's aspiration is to take it to the next level," she said, adding that the city has updated its definition of community from a narrow definition of jobs-plus-housing to affordable housing and access to green spaces and healthy food. Making connections to history and understanding the city's systems can also deepen people's investment in their shared community.
---
Understandings of community will need to be continually refined as Austin's population grows to double its current number within the next decade. "The curious thing about Austin is not its built environment, but its open spaces," argued David Lake, founder and partner of Lake|Flato Architects who grew up in Austin. "That's what people respond to." Rapid growth risks expanding development into the very landscape that attracted people in the first place. How, then, can a city evolve effectively and meaningfully at warp speed? Lake's ideas included architects working with developers to look at land in a different way; incentivizing appropriate density sustained by infrastructure; and meeting a market environment that creates better value.
The panelists highlighted the transformation of the old Mueller Airport site into a New Urbanist enclave as a model development for setting sustainability parameters on builders at a time when LEED was virtually unknown in the private sector. Developed in 2002, this mini-city of 13,000 people has 140 acres of parks, private and public infrastructure, and affordable housing. In this case, the insistence on sustainability was a major risk that paid off, and Mueller's success, the panel agreed, is a case study for good government leading the way in smart, integrated design. It might even point ahead, as the city moves forward with CodeNext.
The Think Tank discussions in Austin, Texas, were held on April 4 and 5. The conversations were presented in partnership with Sunbrella, DXV/GROHE,Wilsonart, Visa Lighting, and Lutron. 
You might also like "Lake|Flato Designs a Texas Home Protected Against Floodwaters and Prying Eyes."