May 18, 2010
Live@ICFF: Last Night's Parties
At the Alessi Takes the Cake party, on Greene Street, the French designer Matali Crasset poses with the mixing bowl from her new Essentiel de Pâtisserie collection, designed with the renowned pastry chef Pierre Hermé. Crasset demonstrates proper whisk technique. And the award for best ICFF party treats goes to . . . Moving on: […]
At the Alessi Takes the Cake party, on Greene Street, the French designer Matali Crasset poses with the mixing bowl from her new Essentiel de Pâtisserie collection, designed with the renowned pastry chef Pierre Hermé.
Crasset demonstrates proper whisk technique.
And the award for best ICFF party treats goes to . . .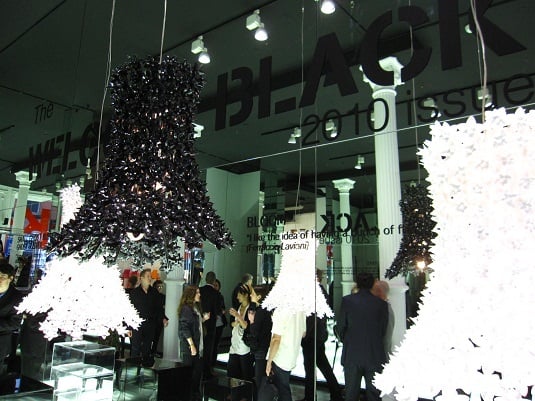 Moving on: A few block south, Kartell was showcasing it's Welcome Black collection, which includes the Bloom pendant by Ferruccio Laviani . . .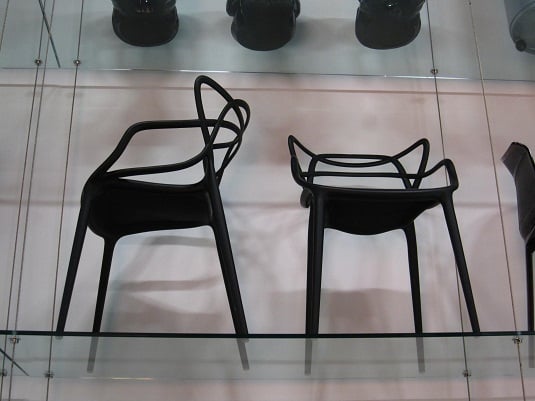 . . . and the Masters chair by Philippe Starck–which is still in the prototype phase and hence was being displayed on the wall about ten feet off the ground, to prevent anyone from accidentally mangling it.
Across the street, Artemide was holding its Nice White Ice party, with Michele De Lucchi's new Sofficone lamp prominently displayed in the window.
Confusingly, the drinks were not white but a vivid green.
A few blocks away, USM easily had the most crowded showroom in the district.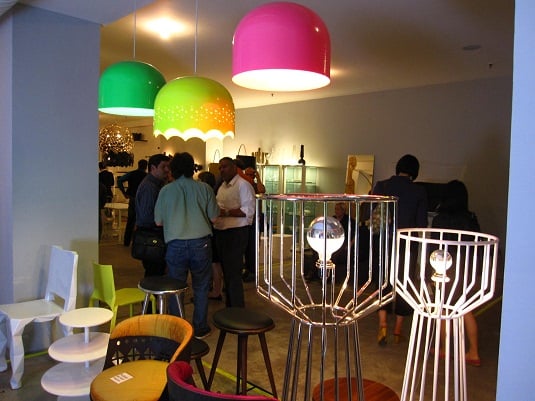 Meanwhile, on Wooster Street, Property's party was pleasantly mellow, thanks in part to all  the modish mood lighting.
Speaking of lighting: Ingo Maurer was showing some of his latest experiments. Mmm, spaghetti . . .