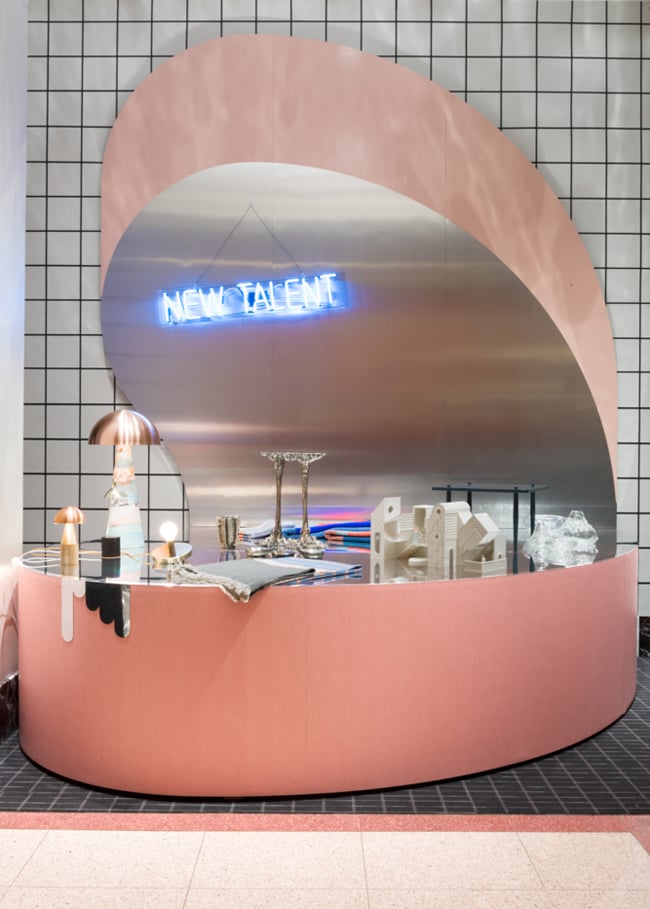 September 20, 2016
Metropolis Showcases Five Emerging Designers at NeoCon
At this year's NeoCon, Metropolis showcased the work of five up-and-coming architects and designers.
Images of installation courtesy Jessica Pierotti
When the Mart, the organizer of NeoCon in Chicago, initiated a program to support emerging talents as part of the 2016 edition of the fair, it invited Metropolis to curate an exhibition that would feature designers on the cusp of entering the marketplace. "It's important for NeoCon to offer a platform for what's new—I think the community welcomes the freshness," says the Mart's vice president of marketing, Lisa Simonian.
In developing the project, Metropolis held to its guiding principle of featuring design at all scales, showcasing diverse pieces ranging from small glass bowls to the booth itself, which was developed by Chicago-based architecture studio Design With Company. "The studio's serious but playful approach to architecture and design is in sync with the magazine's editorial mission," says Metropolis's editorial and brand director, Paul Makovsky. "They gave us several imaginative scenarios to choose from. It was hard to select one." The structure, which took the form of a kidney-shaped podium, its bottom half projecting outward into the space and its top flattened against the wall, was dubbed the Talent Pool; the witty wordplay— along with the designers' experiments with Wilsonart's Raspberry Cream laminate—gave a subtle nod to Postmodern irreverence.
"We wanted to create something that drew attention to the space but didn't take any attention away from the products," Design With Company cofounder Stewart Hicks says. "At the same time, the booth made a statement." To achieve this delicate balance between attracting crowds and diverting their attention to the objects themselves, the designers fashioned a Polished Natural Aluminum laminate platform that reflected the products on its surface. The material continued on the vertical section of the booth—this time in the Matte Natural version to animate the design but prevent distracting reflections of viewers gathered around the display. "I liked that Design With Company worked with our sponsorship partners," says Makovsky. In addition to Wilsonart's Decorative Metals line and new Spectrum collection, the designers specified Milliken's Woven Threads pattern from its Suitable 2.0 collection in an unconventional black-and-white colorway. The end result inspired the fair's audiences to engage with the space. "Even people who hadn't planned on stopping by the booth couldn't help but stare at the giant pool while in line for the elevators," Metropolis's director of brand strategy, Grace Ehlers, adds. "It was a moment of unexpected joy."
In choosing designers to feature as part of the project, Metropolis's editors developed an open-ended set of criteria. The focus was on young designers who hadn't yet established relationships with large retailers or manufacturers. Metropolis has followed the careers of some of the featured designers, including Florida-based lighting design studio DAMM and Chicago's Assembly, while others, like textile designer Dee Clements and Steven Haulenbeek, were new finds.
The New Talent installation complements a shift observed across NeoCon, as the industry increasingly sees emerging designers as an energizing force. "NeoCon has a reputation for featuring innovation at a mass industry level, but they are now reaching out to younger designers who are trying to make statements but don't necessarily know how to implement their ideas on a large scale," Hicks says. "I think our pieces fit really well into that narrative." Ehlers adds: "At our champagne toast, manufacturers were asking to be introduced to the designers, as opposed to the other way around. This can mark a really significant shift in how products get made."
Courtesy Design with Company
Stewart Hicks and Allison Newmeyer formed their Chicago-based practice to explore the intersection of architecture and literature. They designed the New Talent exhibit and developed a project for it called A Doll's House, which upends the traditional dollhouse by removing interior elements and celebrating the facade.
Courtesy Assembly
Nora Mattingly and Pete Oyler create furniture, objects, and site-specific interior installations that blend traditional and experimental making techniques. The exhibit showcased their L2 table as well as vases and bowls from their 2x series.
Courtesy Joseph Ciciliano
Brenda and Robert Zurn's studio was born out of their love of sculpture, and they explore the relationship between art and design in their lights, such as (pictured left to right) the ash-and-brass Theorem lamp, the concrete Florian light, and the Myron pendant.
Courtesy Daniel Shea
Haulenbeek's Chicago studio produces both minimal designs, exemplified in the exhibit by his bronze Seed Bowls, and more experimental objects, like the bronze side table and bronze vessel crafted through a unique ice-casting process.
Courtesy Mike Killion
Dee Clements created her textile brand and weaving studio in Chicago with the vision of reviving American textile manufacturing. Her Primary + Secondary rug was handwoven in her studio.