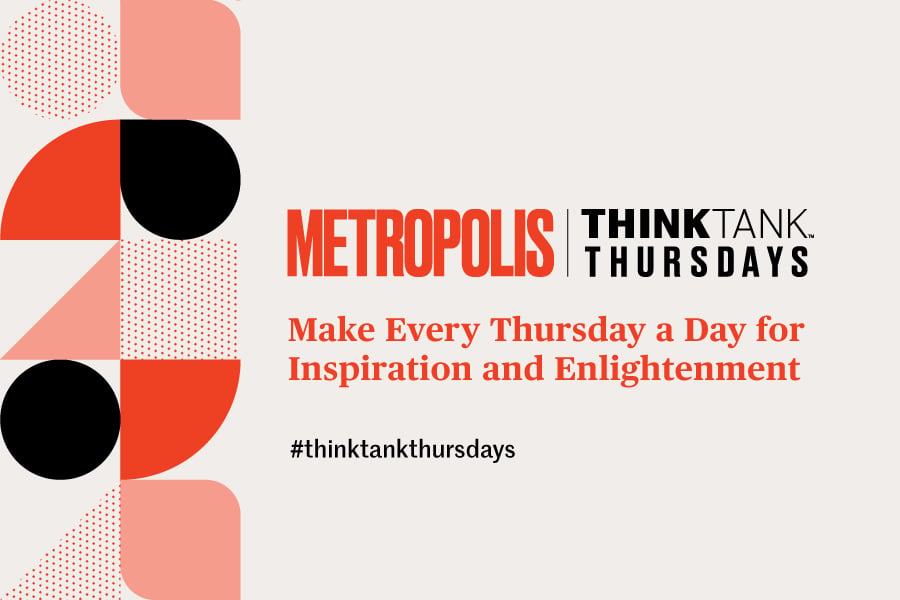 July 28, 2020
Starting Next Week, Join Metropolis for Think Tank Thursdays
Registration is now open for Metropolis's thought leadership conversations, co-hosted with the top architecture and design firms in North America.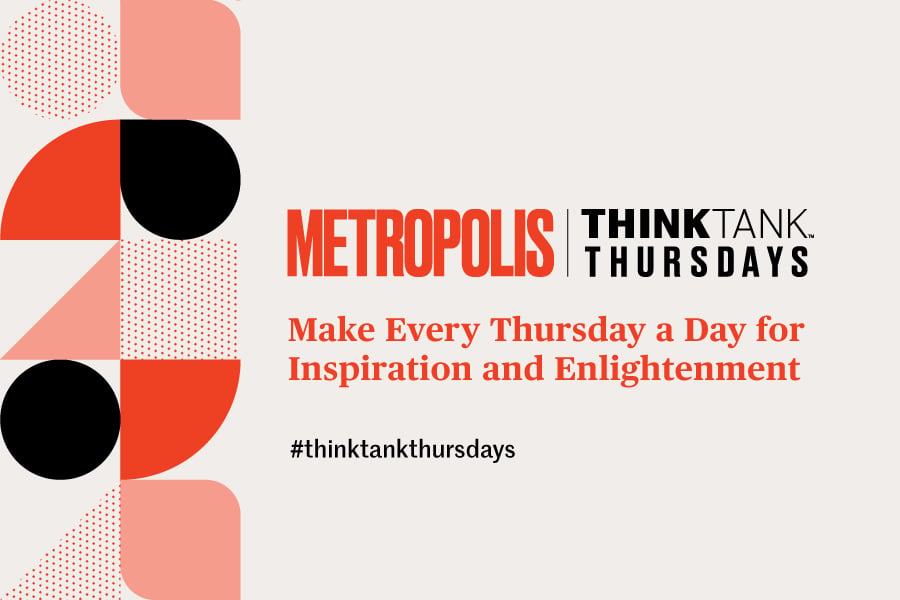 Beginning August 6, Metropolis is offering its Think Tank discussions as free, CEU-accredited webinar sessions on three Thursdays every month. The webinars will be produced in partnership with noted architecture and design firms around the country, offering in-depth conversations about topics at the very forefront of design practice and thinking today. Attendees will have a unique opportunity to address questions to corporate leaders, strategists, researchers, policymakers, and other experts.
Registration is now open for the first three Think Tank Thursdays, to be held in August and hosted by Blitz, Perkins and Will, and AECOM.
Think Tank is Metropolis's flagship thought leadership events program, taking an unparalleled deep dive into the projects and practices of the leading architecture and design firms in North America. With each event, Metropolis goes into a key market and conducts thought leadership conversations on workplace and hospitality design, incorporating discussions of research, technology, and wellness. The discussions are then reported in the print issues of Metropolis. You can read coverage of past events at metropolismag.com/thinktank.
The next three upcoming Think Tank Thursdays events are:
August 6, 4pm-5:30pm EST
Hosted by Blitz
From Flexible to Evergreen: Tackling the Core Issues of the Workplace
We are in an era of accelerated change on a multitude of fronts whether it be a pandemic, social justice reform, political leadership, or the climate crisis. If change is the only constant in our lives, why have we been designing static workplace solutions? We haven't, as a profession, truly tackled the core issue of spatial adaptability—to environmental changes, economic swings, supporting physical and mental health and wellbeing, responding to natural and man-made disasters, and social justice reform which includes the criminal carbon footprint of the goods we specify. How can we look beyond "flexibility" to designing for resilience from a strategic and operational perspective?
August 13, 4pm-5:30pm EST
Hosted by Perkins and Will
Makerspace as Workplace: A New Typology for the Digital Age
San Francisco is steeped in digital culture and motivated by the constant desire for the best thing. However, a new building type unique to the city is being tailored to crafters and artisans. Production, Distribution, and Repair (PDR) buildings mix ground-floor light industrial use with Class A office space above, enabling lower rent options for makers in districts with a history of manufacturing, while also allowing office-goers the opportunity to tinker and test beyond their desks. What lessons do PDR projects hold for designers who want to create spaces for people to discover, experiment, and innovate?
August 20, 4pm-5:30pm EST
Hosted by AECOM
The Science Behind Designing Healthy Workplaces
In a post-COVID world, health and safety are the new imperatives. Knowing the science behind what makes a healthy workplace is essential to meeting this new design imperative. Join us for a discussion about how we can design healthy workplaces based on scientific data and best practices. We believe that safe, healthy, and welcoming environments for work will keep the workplace a valuable place for humanity.
Registration for all events is free, and is now open at metropolis-think-tank.splashthat.com
Think Tank Thursdays in August are sponsored by Grohe, KI, Material Bank, and Versteel.