April 17, 2008
More Songs About Buildings and Food
On Monday night, the specter of Goethe haunted New York's Thalia Theatre, at Symphony Space, which hosted a program exploring the convergence of music and architecture. Organized by the composer Victoria Bond, Shaping Sound: Architects, Composers and Concert Halls featured a talk by the architect Jim Polshek followed by performances that embodied what Bond called […]
On Monday night, the specter of Goethe haunted New York's Thalia Theatre, at Symphony Space, which hosted a program exploring the convergence of music and architecture. Organized by the composer Victoria Bond, Shaping Sound: Architects, Composers and Concert Halls featured a talk by the architect Jim Polshek followed by performances that embodied what Bond called "the cross-fertilization of music and architecture."
Polshek—whose firm, Polshek Partnership, is behind many well-regarded concert halls, including a redesign of the one we were sitting in—started out with a slide bearing Goethe's oft-quoted line about architecture being "frozen music." Polshek wasn't having any of it. "Victor Borge would have gone"—here he made three rude sounds. "Architecture is not frozen music. It is closer to frozen custard." He paused. "Well, cooking and architecture—there are similarities."

James Polshek + Victoria Bond
Since he didn't have any kitchen architecture on hand, he settled on a slideshow of Polshek Partnership's music-venue work, such as Radio City Music Hall, the Brooklyn Academy of Music, and Tanglewood. Taking Paris's 1860 Palais Garnier as his model, he spoke about the four main considerations in designing places for people to hear music: 1. the welcome; 2. the public spaces; 3. the audience; and 4. the musician. Project after project showed limpid glass facades, staircases, and overlooks. "People like to look at other people," he explained.
Grand entrances aside, the performing spaces offer the greatest opportunity for technical ingenuity. For the Weill Recital Hall at Carnegie Hall, Polshek said, "We had an acoustician who was also an Israeli jet pilot," suggesting a whole new area of cross-disciplinary inquiry. The next slide showed a plan of a concert hall overlaid with colored lines representing ducts, electrical and emergency systems, plumbing, and HVAC; alongside it was an anatomical section drawing that showed arteries, lungs, and other human networks. (Was this the architect playing God?)
Then it was time for the music, with the harpist Susan Jolles performing a piece based on Erato, the Greek muse of poetry; Cornelius Dufallo rendering Huang Ruo's "Four Fragments" on violin; and Wang Guowei playing, on the ehru (a traditional two-string Chinese fiddle that made a skittish chirp), a composition derived from the notes of his name. If we were back at Polshek's anatomy diagram, here was the nervous system.
.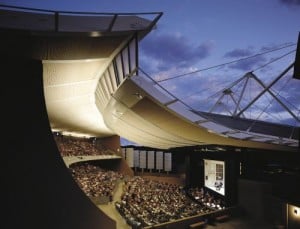 The Santa Fe Opera Theater, Santa Fe, NM, 1999
(Robert Reck for Polshek Partnership Architects)