September 25, 2008
Next Stop: Singletown
Alone? Single? Droog and KesselsKramer are here to help.
Seldom do I get so excited by a bunch of completely (almost) useless things! But yes it is true, this entire review will be about S1ngletown.
A curated "town" within the Betsky curated Arsenale based on the premise that as we become more and more industrialized, more and more people are living alone. Indicating that in 2006 there were more American women that lived without husbands than with and in 2021 single-persons are expected to account for 37% of all UK households, the folks at Droog and KesselsKramer bring us a collection of products designed for the single lifestyle. At times ironic, wasteful, inventive, and damn creative; these products prompt discussion about the pros and cons of singledom.
This fictional town comprises a diverse group of nine singles, mostly women, who live alone by either choice or circumstance. They are: "100K+ Executive" traveling and working on short contracts; "Air-Bound" flight attendant with friends all over the world but never where she is; "Alone, Together" single living in a communal house for singles to lessen the enormous environmental impact of single households; "Independent Widow" interested in keeping active as she ages; "Global Opportunist" otherwise known as professional student; "Once a Mom", divorced, who's children are grown and only return home occasionally; "Recently Divorced" male who enjoys his single freedom but finds himself a bit lonely without friends after many years centered on his family; "Seasoned Professional" who works in the arts and design and structures his work and play around the art world; and the "Solitude Seeker" who is more comfortable communing with nature than with people.
 Air Bound Citizen sporting the Weare scarf
Independent Widow with Hugging Hands scarf
Welcome to S1ngletown
The products range from "must haves" to "you must be crazy".
Reinraus, Instant Balcony Design (video screen shot, above) cantilevered out a window (notice the safety harness) and the Instant Balcony Design chair (below).
The absurd ranges from the Reinraus, Instant Balcony Design mountable chair cantilevered out your window to provide a balcony for one in tight apartment dwellings and definitely not for the faint of heart; to the "Hugging Hands" scarf that hugs the user; to the "Jacket for Lonely People" made of Velcro in the hopes that while wandering the city solo you will bump into another lonely Velcro wearer and the attraction will be, well, instant.
A Jacket for Lonely People stuck together like peas in a pod. How cute.
Placemat Paperback
Some of the practical proposals really should begin production immediately and would sell like hotcakes in the Biennale bookstore if available. The Placemat Paperback is an elegantly designed placemat with the text of a book printed with a void for your plate. Each night a "page" is read while eating and then the placemat is torn off and thrown away to reveal the next page the following evening. Just imagine reading War & Peace one placemat at a time; that could take years.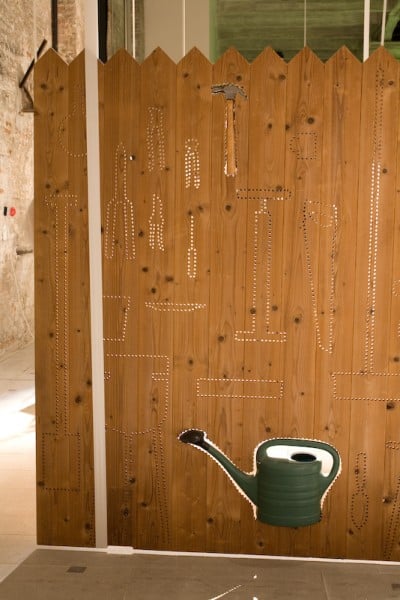 Shared Fence waiting for a home improvement project
The Shared Fence takes the backyard yard projects to a whole new level. What better way to get to know your neighbors than by sharing tools and saying hello through the fence at the same time? The idea also lends itself to all sorts of other communal solutions to everyday dividers such as cubical walls with staplers, pens, pencils, and communal phones to make the office eavesdropping a little easier or maybe even public restroom dividers with shared toilet paper dispensers so you will never have to reach under the stall for some help from a neighbor again. The possibilities are endless.
Simpledouble Deux bed for those unexpected guests
The Simpledoublebeux bed solves both space issues while serving the needs of guests or occasional "friends". With a cleverly integrated frame that slides out and double single futons that flip open to form a double bed it is the perfect solution for the bachelor pad in cramped quarters of Paris, New York, or even Venice.
Casulo completely unpacked (video screen shot, above) and the Casulo furniture system packed and ready to go (below).
And while the nomad is moving from apartment to apartment they can take the Casulo furniture system with them. Small enough to fit through even the alleys and streets of Venice and maybe even the occasional gondola ride (as envisioned on their website), this mobile furnishings unit will accompany the ipod, iphone, ilifestyle of even the most independent hipster.
Life Dress in action (video screen shots, above) and on dispaly (below)
There is even an "Impractical But Cool" classification I could give some of these works. The Life Dress self inflates to create a barrier/ cocoon around you to keep out those prying eyes reading your paper over your shoulder on the subway. I really wish they would invent one for walking in Venice to clear a path through all the tourists blocking the Bridge of Sighs.
The Sky High Table ready for a power nap
Another somewhat useless design that I really must have is the Sky High Table with a built in inflatable pillow for those power naps while working. This replaces the need for an office nap room (not that I have ever worked anywhere that has had such perks but I keep hoping) with a small pillow that hides below a wood plug and inflates to lay your head down for a few quick winks.
Messy clothes wardrobe
The Messy wardrobe is a dream come true for any parent who's unsuccessfully tried to make their children clean their rooms. I'd like to install a whole wall of Messy wardrobes in my room to collect my various things. Closely strung cords replace traditional shelves allowing you to carelessly drop your clothes and personal effects in the web of string shelves like a giant spiderweb.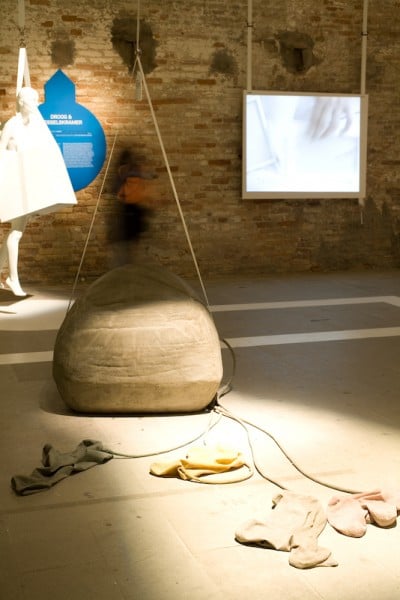 The Pump It Up chair and pets waiting for you to come play with them
The Pump It Up chair manages to change the very nature of a chair. The act of sitting actually creates your friends through the attached blow up animals that are inflated through tubes when you sit down. Like your puppy that sits patiently at the window when you are gone and then wants to play when you come home, these animals are always ready to keep you company when you sit down. The amount of brownie points I could receive if I could figure out a way to purchase these two items for my girlfriend would keep me out of trouble for at least a year (strike that, she says ten years… where can I get one!).
S1ngletown town gatherings—above, Contact Tables transmit light messages between the tables
Photography: Eric Holm