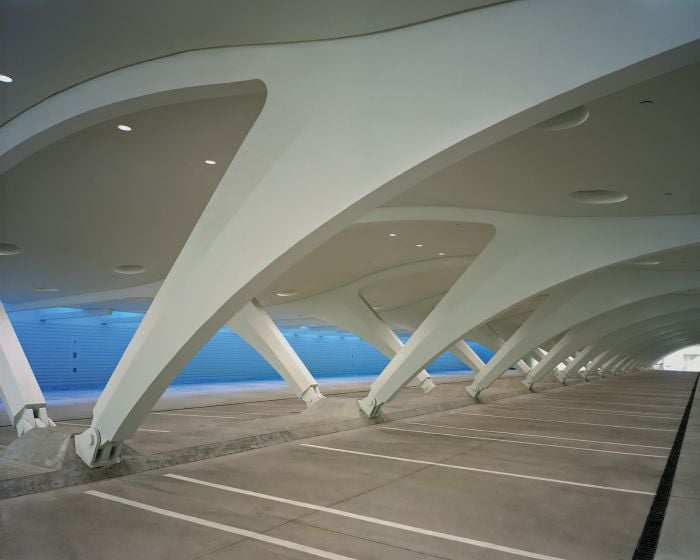 October 16, 2009
Parking Outside the Box
The parking garage is the Rodney Dangerfield of building types, the troubled snag in the urban fabric, the Gordian Knot of design. But for all the ugly-red-haired-stepchild car parks of the world and the many generic, bunker-like auto warehouses, there are also stunning examples of man-and-machine triumph that incorporate both function and aesthetics. And they […]
The parking garage is the Rodney Dangerfield of building types, the troubled snag in the urban fabric, the Gordian Knot of design. But for all the ugly-red-haired-stepchild car parks of the world and the many generic, bunker-like auto warehouses, there are also stunning examples of man-and-machine triumph that incorporate both function and aesthetics. And they are about to be celebrated in an exhibition that opens tomorrow at the National Building Museum, in Washington, D.C.
Based on the book The Parking Garage: Design and Evolution of a Modern Urban Form by Shannon Sanders McDonald (Urban Land Institute, 2008), the show highlights the driving designs of such standout architects as Santiago Calatrava, Louis Kahn, and Eric Owen Moss, among others, and plumbs the building type's history. Originally adapted from the design of stables, early garages offered a similar kind of "curry" service: You could get your car gassed, tuned up, and washed while it was parked. The future of parking brings some of the same, with plans for "smart" garages where you can get your electric car charged inside a building that sports environmentally friendly features like solar panels, green roofs, and (in something of an ecological irony) LEED certification.
If McDonald's exhaustive tome isn't enough, you can always check out Simon Henley's The Architecture of Parking (Thames & Hudson, 2007), which, in addition to using case studies to discuss design theory, delves into how the auto garage has influenced the designs of such buildings as the Mercedes-Benz Museum by UNStudio, as well as designs by Rem Koolhaas, David Chipperfield, and Frank Lloyd Wright.
Click here for a slide show of noteworthy examples of the form.

.
Having trouble viewing the slide show? Continue reading for a single-page version of the story.
.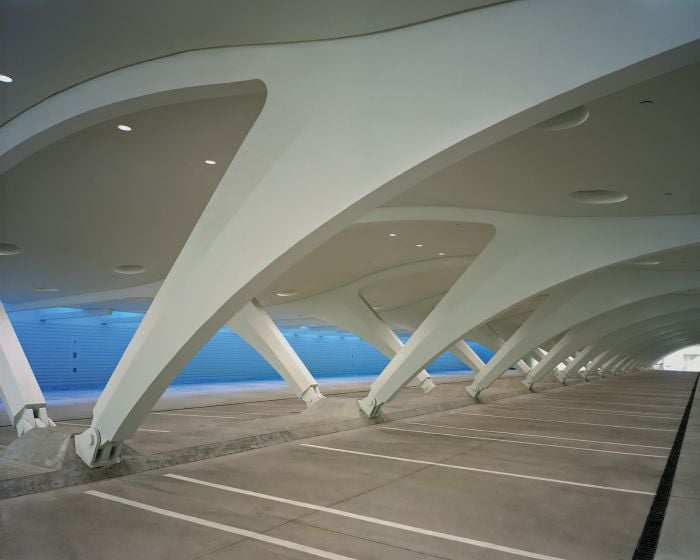 Photo: Timothy Hursley/courtesy the Milwaukee Art Museum
The Milwaukee Art Museum
Year: 2001
Location: Milwaukee, Wisconsin
Architect: Santiago Calatrava
Parking spaces: 199
Since most parking garages are designed by engineers, it is only fitting that an architect-engineer like Santiago Calatrava would embrace the design opportunity of accommodating cars at the Milwaukee Art Museum, where he completed a major new addition in 2001. The parking garage's ribbed vault, which exhibits the sculptural and skeletal aesthetic seen in much of his work, also mirrors the curves of the automobile silhouette. Skylights banish the normal gloom of underground parking, illuminating the swooping trusses and, in a sense, rounding out the museum experience: You're still inside the art as your vehicle backs out of its parking space.
.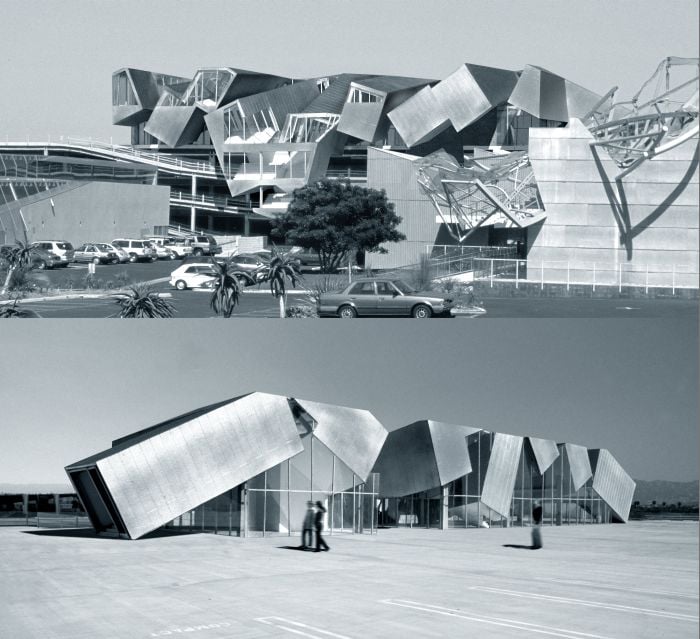 Pterodactyl Parking Garage and Offices
Year: 2000
Location: Culver City, California
Architect: Eric Owen Moss
Parking spaces: 523
There is something quintessentially Southern Californian about the design of Pterodactyl, from its sci-fi facade and mid-quake appearance to its housing of machines just off the ubiquitous freeway. And then there's the Hollywood connection: This simple four-story parking garage stands amid a sea of post-production warehouses for the film industry and its rooftop office building is expected to house a film-related concern when completed. The design, which has won kudos and awards for a decade, deconstructs the traditional bunker-like garage, exploding it outward like a frozen collision.
.

Fairfield Multimodal Transportation Center
Year: 2002
Location: Fairfield, California
Architect: Stantec Architecture (formerly Gordon H. Chong & Partners)
Parking spaces: 400, plus 10 covered bus bays
If you're going to go green with a parking structure, why not make it green-on-green? The exterior of this Interstate 80 transfer hub for local, inter-city, and commuter buses is covered with photovoltaic cells, which power electric-vehicle charging ports inside. The mixed-use parking structure also caters to van-pools and offers bike lockers, a telecommuting center, a kiss-and-ride/taxi area, and government, commercial office, and retail space. Drought-tolerant foliage handles storm-water runoff and diminishes highway noise and the building heat.
.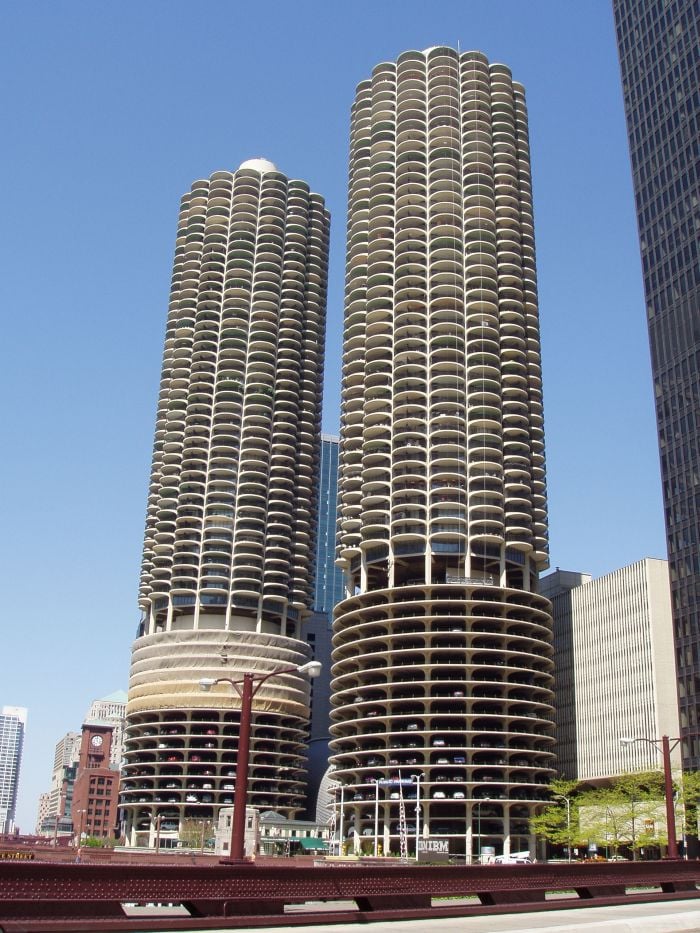 Marina City
Year: 1964
Location: Chicago
Architect: Bertrand Goldberg
Parking spaces: 896 per tower
The most exciting use of these 19-story parking helixes may have been the Steve McQueen car chase in The Hunter (1980) (re-enacted for a rather hilarious Hollywood-grade Allstate Insurance ad in 2006), but their real purpose is to serve the two residential towers that loom above. If you're unlucky enough to have to drive to the very last parking space, you'll cover an entire kilometer getting there. There are two parking spaces for each of the 450 residential units in each "corn-cob" tower. The entire project occupies just three acres.
.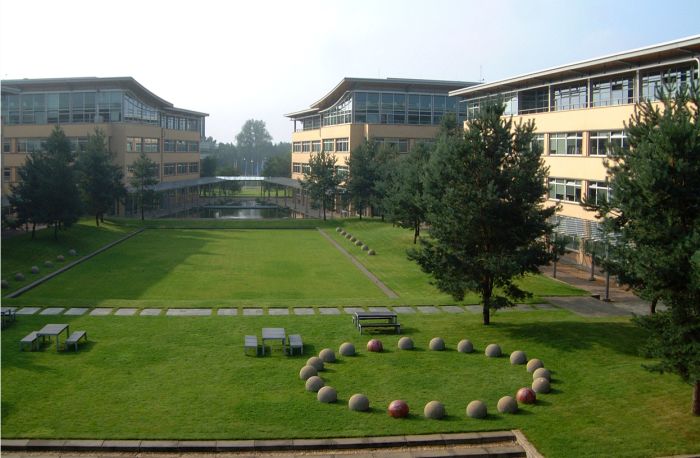 Nike European Headquarters
Year: 1999
Location – Hilversum, The Netherlands
Architect: Landscape architects Nelson Byrd Woltz with William McDonough + Partners
Parking spaces: 321 for cars, 246 for bicycles
Lots of otherwise unsightly garages have been concealed underground, but perhaps none with as much panache as the parking for Nike's European Headquarters, where the campus's central lawn acts as a green roof for below-grade parking. Four buildings encircle the green, which becomes a skating rink when flooded in winter. The lawn, which is part of an eco-friendly environs cited as a perk for employees, offers views to those inside the office buildings and a place for social interaction– not the usual role for a parking garage.
.
Parc des Célestins
Year: 1994
Location: Lyon, France
Architects: Michel Targe, Jean-Michel Wilmotte and Daniel Buren
Parking spaces: 413
This drum of underground parking is sunk seven stories into the earth under the Place des Célestins. An inverted periscope in the middle of the square lets people look straight down into it, at the huge rotating mirror at the bottom of the well. And speaking of wells, the design is eerily reminiscent of Sangallo the Younger's well at Orvieto completed in 1540, with its double spiral that kept those going down from colliding with those on the ascent. Parking has never looked so Gothic.
.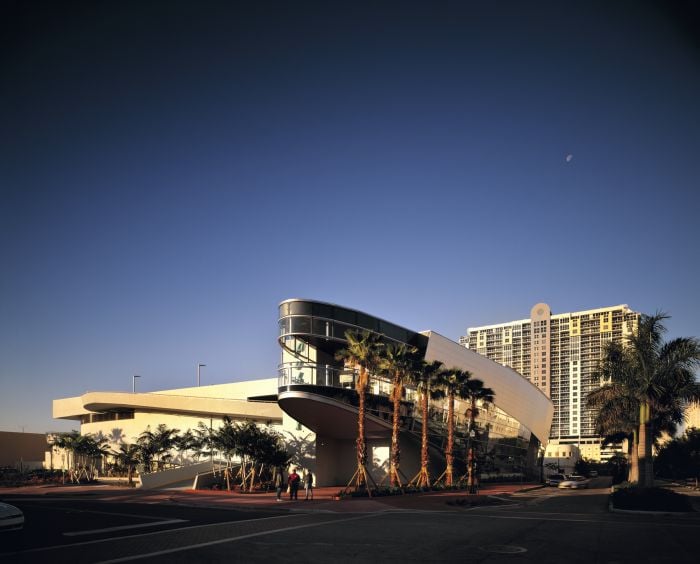 Publix by the Bay
Year: 1998
Location: Miami, Florida
Architect: Wood + Zapata, Inc.
Parking spaces: 300
Maybe it's a whale surfacing or maybe that's the prow of a ship, but marine themes definitely dominate the parking design for this unusually elegant supermarket (yes, we said supermarket). The circular garage is positioned above the supermarket itself, and, fortunately, comes with a moving sidewalk ramp that carts lock into, so people can easily get their groceries to their cars. Also available: valet parking. In line with the design, though at odds with its function, the building brings glamour to both grocery shopping and parking.
.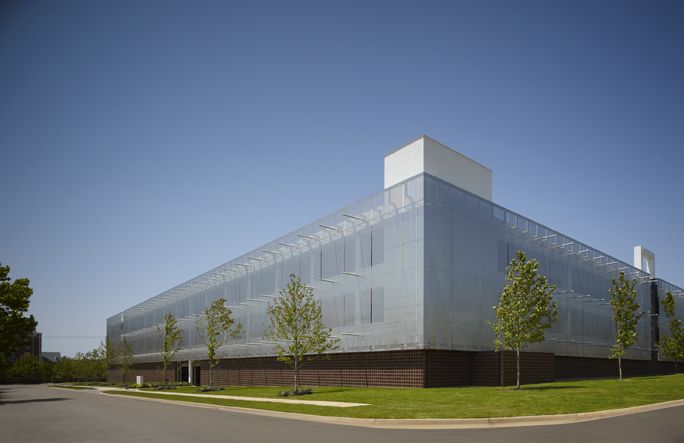 Photo: Scott McDonald/Hedrich Blessing/courtesy Elliott + Associates
Chesapeake Car Park
Year: 2008
Location: Oklahoma City, Oklahoma
Architect: Elliott & Associates
Parking Spaces: 791
Parking as art–that's what the architect Rand Elliott wanted to create when he designed a garage for Chesapeake Energy Corp. But the beauty went beyond the eye of the beholder to the actual experience of parking. An elegant steel-screen exterior conceals the cars and mirrors the region's nearly-always blue sky and spectacular sunsets. But inside, the design speaks to the actual find-your-car function. Way-finding is accomplished in part by colored fluorescent lights in the stairwells and on each level, while an elevator with a window visually orients the parking to the corporate campus across the street.
.

Photo: courtesy John Edward Linden
Santa Monica Civic Center Parking Structure
Year: 2008
Location: Santa Monica, California
Architect: Moore Ruble Yudell Architects & Planners (Executive architect: International Parking Design)
Parking Spaces: 900
Since when has a garage ever been literally at the top of anyone's civic and cultural projects list (which, btw, includes the U.S. embassy in Berlin)? Since it became the first LEED-certified garage in the nation. Whether it's a built oxymoron or a redemption of the form, this eight-floor facility boasts a colored-glass chic that belies the serious green character of its materials (recycled), finishes (low-VOC), glazing (low-e to decrease heating and cooling loads), landscaping (fed by gray-water harvesting), and its charging outlets for electric vehicles. There's method to this thoughtful intersection of ecology and aesthetics: Those photovoltaics power the building but, hey, they also give a saucy little lift to the top.
.