September 21, 2011
Q&A: Adam Tihany and the CIA
Photo: Bill Hughes Adam Tihany, known for designing iconic restaurants and famous resorts from New York to Jerusalem and points in between, is the new art director for the prestigious Culinary Institute of America in Hyde Park, New York. Tihany is set to play a key role in the aesthetics of CIA's expansion and renovation […]
Photo: Bill Hughes
Adam Tihany, known for designing iconic restaurants and famous resorts from New York to Jerusalem and points in between, is the new art director for the prestigious Culinary Institute of America in Hyde Park, New York. Tihany is set to play a key role in the aesthetics of CIA's expansion and renovation programs. I spoke to him about his latest projects, his advice to young designers in a challenging market, and his plans for the future.
Paul Makovsky: I know it's early, but what are your initial thoughts as the new art director for prestigious The Culinary Institute of America?
Adam Tihany: The school has a major expansion agenda for the next 5 years. I took the position at a good juncture to be able to direct the future aesthetic of the campus and school from a design standpoint. They are looking to construct many new buildings and restaurants throughout the school and my goal is to inject a contemporary energy to the more traditional established image of the campus. The CIA is a breeding ground for the future chefs of the world and my hopes are to begin the dialogue with students from a design aspect connecting the importance of the front of house dining experience to the back of house creations.
PM: You collaborated with some of the world's best chefs, restaurateurs, and hoteliers, each with their own personality and needs, what are the first steps that you take when starting a new design project?
AT: The first step is to understand what kind of food is being served and which brand of hospitality the chefs want to emanate. We do a lot of site-specific research to truly understand what the space and location want to be and how can it be adapted to the restaurant concept and spirit. I like to think that many of my projects are portraits for their owners, which make them so unique.
PM: You've designed in great cities all over the world: Jerusalem, Las Vegas, Istanbul and now Korea. Do cities influence the way you design a project? If so, how?
AT: I pride myself to go the extra mile to make all of our projects as site specific as possible. Paying particularly attention to the traditions and values of the country I am working in. Being true to the site is a fundamental design principle of mine and I work very closely with my clients to accomplish it.
The restaurant at the Westin Chosun, in Seoul, South Korea, designed by Adam Tihany; Photo: Nacasa & Partners
PM: You've been noted for doing some iconic spaces in New York, Las Vegas and increasingly Asia, what's the biggest challenge in working on overseas projects?
AT: Maintaining the quality of the design intent can be difficult when working overseas and particularly in China. Many times materials we specify are hard to obtain in certain parts of the world and contractors will look to substitute materials at a drop of a hat. It is crucial to keep the design details and materials as close to the original specification and then try and get the best quality workmanship one can get from the local artisan's contractors. The great pleasure of working in countries such as South Africa, India or Thailand is collaborating with local craftsmen and artists to create some stunning new designs.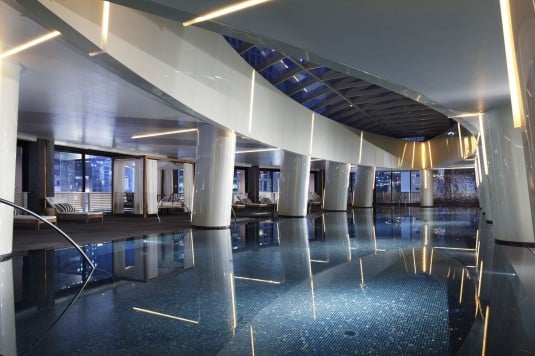 The pool at the Westin Chosun, in Seoul, designed by Adam Tihany; Photo: Nacasa & Partners
PM: You've just completed the Westin Hotel in Seoul, South Korea. What was the main design idea behind the project?
AT: Our concept was a contemporary interpretation of the Korean "Harmony of Traditions," which affords us to develop significant design dynamics, balancing contemporary proportions and sensibilities with traditional Korean design sensibility.
PM: There is now a graduating class of designers who are facing a challenging work situation. What advice would you give to designers just starting out?
AT: It's easy to give up and switch focus in a difficult job market, as one needs to survive….I would argue that if at all possible, one should at least stay connected to the profession by apprenticing few hours a week in a design office. Firms still need help and although they may not have the funds for hiring, they always welcome interns. Our profession is equal parts talent, dedication, and luck. One must possess talent but can pray for luck. Dedication and focus will most of the time trump the need for praying….
PM: What's next for Tihany Design?
AT: We will continue doing what we do best, designing luxury hospitality projects around the world. Personally, I am planning to teach and write about design.