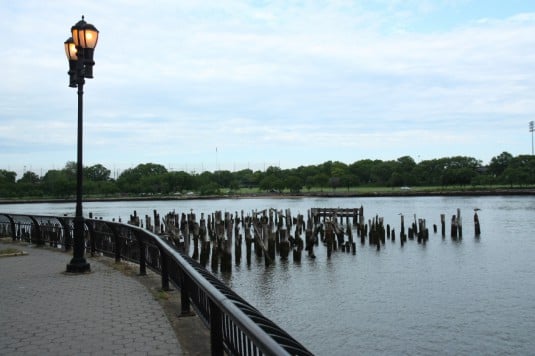 October 18, 2011
Reimagining the Waterfront
Southern view from 114th Street The waterfront park along Manhattan's East River Esplanade (60th to 125th Streets) is in disrepair, even sinking into the water in spots. An ambitious redesign is called for. Last month, CIVITAS', a non-profit organization that works to improve land use and zoning policies on the Upper East Side and East […]
Southern view from 114th Street
The waterfront park along Manhattan's East River Esplanade (60th to 125th Streets) is in disrepair, even sinking into the water in spots. An ambitious redesign is called for. Last month, CIVITAS', a non-profit organization that works to improve land use and zoning policies on the Upper East Side and East Harlem, announced an ideas competition for major infrastructural improvements for the linear park. The competition closes on January 15, 2012.
Reimagining the Waterfront is only the first step toward developing a new vision to improve the Esplanade, indeed to improve lives in many, diverse communities along the river. Open to architects, landscape architects, urbanists and design students, the competition is intended to produce exceptional designs and ideas that will profoundly enhance the public's relationship with the park and river, and bridge the urban and the aquatic.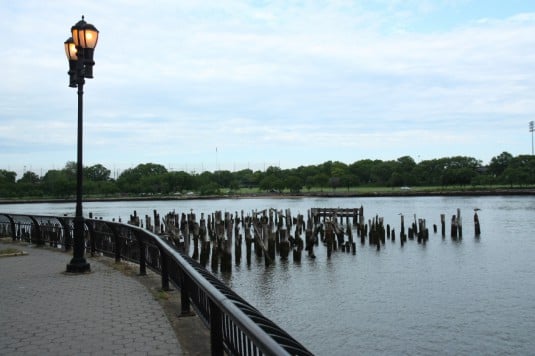 Northern view from 116th Street
Waterfronts are transitional boundaries between New York City's hard and soft edges, between life on land and life on water.  In fact, urban waterfronts everywhere offer infinite opportunities to craft and maintain that relationship. Any such redesign "must start from the premise of public access," as Phillip Lopate wrote in his book, Waterfront: A Journey Around Manhattan. And so the competition's design goals include public access, attention to active and passive uses, effective use of existing amenities and neighborhood context.
There is not yet money available for an ambitious redesign of the Esplanade. But CIVITAS wants its ideas competition to energize the community and enhance political support.
Fortunately, funding is being allocated to make much-needed repairs to the Esplanade.  Councilmember Jessica Lappin has secured over $1 million to fix some of the worst sinkholes and to conduct an engineering study. She also co-chairs a task force of elected officials and government agencies to address Esplanade concerns with Congresswoman Carolyn Maloney. In addition, the grassroots efforts of park lovers and other stakeholders have helped raise the waterfront discourse.
Recently, on a cloudy day, I asked a jogger what he'd like to see for the East River Esplanade. As he looked up and down the waterfront, he talked about what he likes about the Hudson and Riverside Park greenways. He added that he's envious of West Siders. That may change in the years to come as the East River waterfront is improved.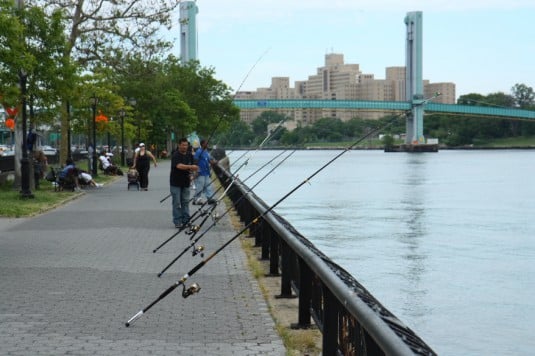 Northern view from 98th Street
Sharon Pope, an urbanist, is a volunteer writer and researcher with CIVITAS.
Photos: Anton Brookes