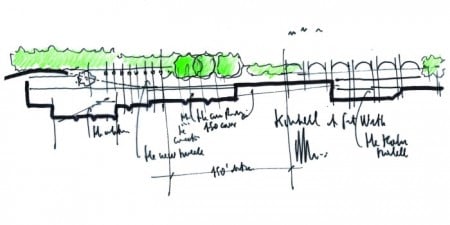 November 18, 2008
Renzo Piano: Yes We Kahn
The Kimbell Art Museum releases sketches of Renzo Piano's addition to the 1972 Kahn landmark.
Pop quiz (and it's an easy one): which world renowned architect does a museum board turn to when faced with the problem of expansion, when that institution is already housed in a building widely considered to be a masterpiece? The answer of course is Renzo Piano. And the museum in question is the Kimbell Art Museum, in Fort Worth, Texas, home of the 1972 Louis I. Kahn landmark.
Kimbell Art Museum, Fort Worth, Texas; constructed 1969-72
South portico with reflecting pool and its waterfall
Louis I. Kahn (1901-1974), architect
Photograph: Robert Laprelle ©2008 Kimbell Art Museum, Fort Worth
The museum announced today that Piano will design a new wing, located to the west of the original building. It's hard to ascertain exactly what Piano is proposing, based on the rather skimpy details sent out by the Kimbell, although it's clear it will be low slung and deferential.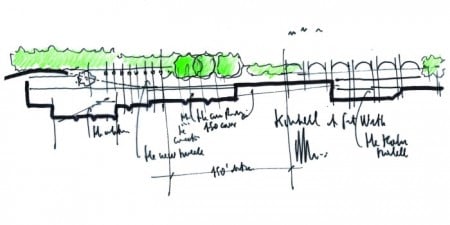 Kimbell Art Museum, Fort Worth, Texas
Renzo Piano, Building section including the Kahn building, 2008
©Renzo Piano Building Workshop
According to a source close to the museum, the addition is proving somewhat controversial with the locals, since the new wing will located on a patch of park popular with picnickers and Frisbee enthusiasts. This may account for the sketchy visuals accompanying the announcement (and here I'm being literal: the press release includes a Piano site drawing that gives no indication of what the building will actually look like).

Kimbell Art Museum, Fort Worth, Texas
Schematic design of the site plan, 2008
Renzo Piano, architect
©Renzo Piano Building Workshop
But, take heart, Kimbell, one of the other things that comes with a Renzo Piano commission (besides a building) is the patented Renzo Piano charm offensive, almost certain to subdue grumbling park visitors and skittish architecture historians.