September 9, 2008
Some Useful Lessons from Burning Man
     Those who come back from Burning Man use the word "decompress" to describe the shock of returning to their "normal" lives. So now that I've had about a week to do that myself, I've been thinking back to how amazing it was to be in an instant city populated by some 50,000 people […]
Those who come back from Burning Man use the word "decompress" to describe the shock of returning to their "normal" lives. So now that I've had about a week to do that myself, I've been thinking back to how amazing it was to be in an instant city populated by some 50,000 people who brave extreme weather conditions in order to get together and make stuff.
Burning Man is a hedonistic festival of art and excess that takes place each year the week before Labor Day in a no-man's-land of an ancient dried-out lake-bed 100 miles from Reno. Black Rock City, as the temporary city is known, becomes the third largest urban settlement in Nevada during that week. The festival's landscape or playa is a blank slate set with a circular urban plan surrounding a sculpture of a giant man that serves as a ritualistic centerpiece and a critical way-finding device. When, at the end of the week, this sculpture is consumed by flames suddenly it's not so easy to tell which way you're facing.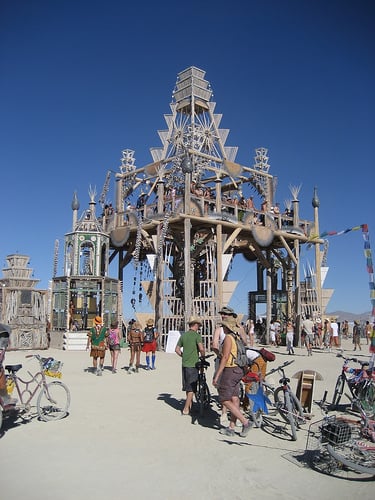 The temple is a spiritual institution at Burning Man. This year it was called the Basura Sagrada and built mainly from recycled materials and burnable trash. Participants bring mementos from people or pets they've lost this year, and write messages all over the structure in marker. The temple burn happens the night after the man burns and tends to be a solemn and cathartic experience.  
Photos by Daniela Morell unless otherwise noted
Key infrastructural elements including the urban plan, the Man, and Center Camp are placed in advance. The rest of it, both public and private space as well as enormous art projects, are built by all of us who go. Architectural questions we ask ourselves every year include the relative merits of geodesic domes, hexayurts, tents, and pre-made Costco barns. Other important topics include procurement, transportation, and storage of building materials used for one week and then, following the "leave no trace" ethic, removed completely from the site. The fun question of "how well will this burn down" is another issue for both infrastructure and art projects.


Our neighbor, the Grand Hotel Ashram Galactica, had beautiful public tents and valet bike parking.
Photo: Nick Hohn
 Altered State by New York artist Kate Raudenbush is a re-creation of the Capitol building carved with Native American imagery in white steel. Inside is a swing.
 Bicycles are an important mode of transportation in Black Rock City, although the terrain's dunes made it hard to ride on this year, due to a lack of summer flooding plus outrageous dust storm early in the week. In the left hand corner is the New York-based camp Smootchdome. In the center is a giant seesaw that had a sign on it claiming "You must be this topless to ride." 
Burning Man is a lot of things to a lot of different people and it's hard to scratch the surface in this short post. But to me, the most amazing thing is how large and inclusive the city becomes out of the desires and creativity of the individuals that come to the desert from the world over. I see parts of Burning Man as a design laboratory. For instance, what use is a hexayurt or a shipping container in a disaster relief situation? What's the most effective way to use shading alone to keep an interior cool? How can all of this ingenuity be harnessed to address the real problems of our day? How, indeed.
The public face of my own camp, Sparky's House Of…, is a flame-throwing fire truck named Sparky. On our way to the burning of the Man, the wind was blowing hard making the air white with dust.
 Lots of artistic pre-planning goes into Burning Man. Last year I spent all summer making stencil patches which were cut out of paper and spray painted on canvas. This year I illustrated one stencil which my handy campmates were able perfect through the magic of CAD files and machine cutting. We applied this to the back of our firemen's jackets.
 The theme for 2008 was "American Dream" and the base of the man is decorated in flags from around the world.

The burning of the man begins with a triumphant blast of fireworks.
Photo: Gilad Rosner