August 14, 2009
Summer Camp for Designers
Our correspondent attends Boisbuchet, an idyllic design retreat on a sprawling estate in the French countryside.
Located an hour by bus from Poitiers, France, the Boisbuchet summer workshops are among the design world's best kept secrets. On this sprawling 15th-century country estate, far from the distractions of the studio or the office, designers can recharge their creative energies by learning about aspects of the field that they wouldn't normally get a chance to explore. Aside from the more conventional short courses in lighting, graphic design, furniture, and architecture, students can experiment with porcelain, glassblowing, jewelry-making–and even chocolate.
"It's about taking play seriously," says Alexander von Vegesack, who founded Boisbuchet more than twenty summers ago. "Charles Eames used to say that and it's true." Von Vegesack is also the founder and director of the Vitra Design Museum, which sponsors the interdisciplinary program with the Centre Pompidou and the Centre International de Recherche et d'Education Culturelle et Agricole. "Here at Boisbuchet it is an experimental field for what we do in the museum," he says, "but both are adding value to the other. Sometimes we come here and we just think."
This summer's session–which continues until mid-September–offers a broad range of workshops led by more than 30 world-renowned designers, including Brazil's Estudio Campana, the Dutch designer Maarten Baas, and the Swiss designer Beat Karrer. With two or three sessions per week, there is always an invigorating mix of materials, concepts, people, and ideas, with students investigating everything from sustainability to materials like biopolymers, textiles, and bamboo.
On the Boisbuchet grounds, a timber hut built by students in a previous summer's workshop
Earlier this month, I was lucky enough to sample a week's worth of Boisbuchet's unique creative atmosphere. Boarding in one of the site's rustic restored barns, complete with skylights and designer furnishings, I was introduced to my new roommate for the week, a bubbly architect and artist from Tasmania. Together with the other participants, about sixty in total, we ate all our meals together and entertained ourselves late into the evenings at nightly social events. Chatting under the stars after our first al fresco French supper, I began to realize this was going to be an unforgettable "summer camp" experience.
The next morning, three Spanish designers took over the curriculum, with Hector Serrano staging the "I am Alien" workshop, Gala Fernandez on "Back to Basics," and the design collective Cul de Sac teaching "Edible Chocolate." I settled on Serrano's workshop, which, true to its name, encouraged students to think like aliens who had landed at Boisbuchet and were trying to copy, paste, and otherwise document the textures, sounds, materials, and forms that they found here. "Just play around with it," Serrano suggested as one student attempted to thread an old fluorescent light tube onto a tree branch to create an unusual outdoor sculpture. "Design should be about play and experimentation," he said.
The Boisbuchet workshop has facilities for casting, furniture making, and woodworking.
A barn served as both a workshop and a venue for a final design review on the last day.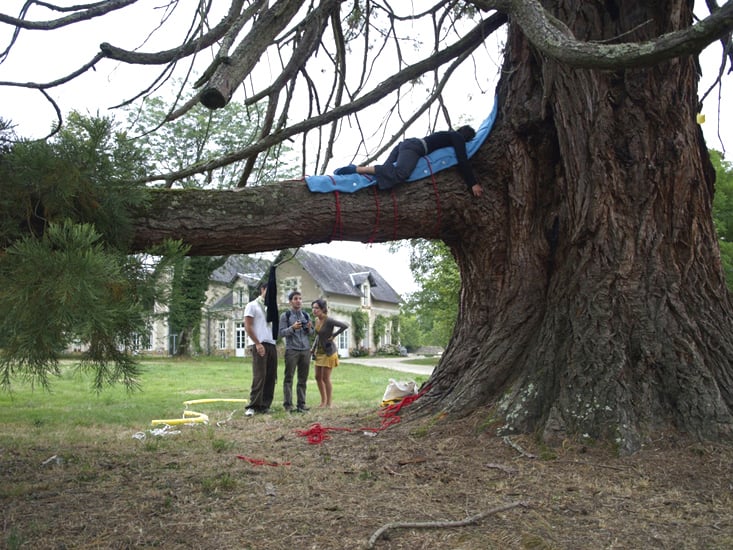 On the grounds, students made short films with the sprawling estate as a backdrop.
After an initial project making hybrid ready-made objects, we were encouraged to produce physical artifacts that reflected possible relationships between the manufactured and natural world. I began to study small jewel-like objects in nature: tiny acorns, small crisp leaves, and patterns on wood. I tried to take a fresh look at my relationship to my picturesque surroundings. With a couple of other students, I strolled around the grounds, closely observing details and textures that I took for granted in my everyday urban life. On the third day I began making molds of my collection of sticks, bark, stones, and leaves, covering them in a pink latex-like material used for making detailed dental impressions. Then I began casting these using plaster. When I brought my artifacts to the group discussion, these models of nature became discussion points about what aliens would see as valuable on our planet–with nature's diversity, complexity, and impressive structures we tried to just experiment, without thinking too deeply about how these things could be "architecture."
My casting of leaves during the workshop
A green watering can by Max was one of the ready-made projects.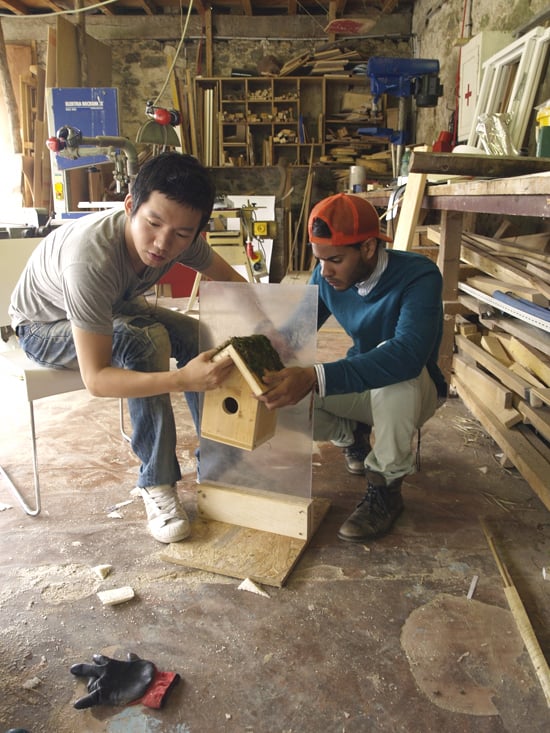 Jongyoon and Jerry made an object to attract and observe the local birds.
All week long we were working side by side with the students from the Edible Chocolate workshop, who looked at every possible way to build, manipulate, mold, freeze, burn, pour, and squeeze dark chocolate. (Luckily we all got to taste their creations.) They made chocolate eye masks and chocolate cups; silk-screened with chocolate; made chocolate casts of their hands and natural objects; and injected chocolate into apples and bubble wrap. No doubt, working with a known material like timber, concrete, or brick wouldn't have produced such free and un-self-conscious (and delicious) results.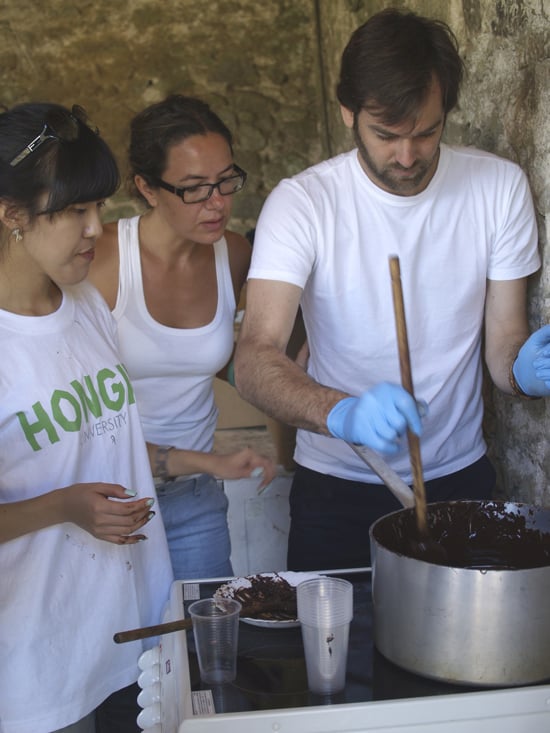 Alberto from Cul de Sac helps his group stir the chocolate.
Katarina making chocolate molds of her fingers.
On the last night of my stay, students from Gala Fernandez's group gave a presentation of their week's work–a series of experimental photos and short videos made on the rambling grounds of the Boisbuchet estate. The next morning, we reluctantly boarded buses to take us back to reality, clutching souvenirs of our week and the e-mail addresses of our new friends. Von Vegesack told me that one of the key appeals of Boisbuchet is its remoteness, and warned me that heading back to reality can come as a shock to the system after a week of idyllic picnics and swims in the lake. On the long bus, train, and airplane journey home, I thought about some of the highlights of my week: an extravagant designer costume party (I took fifty photos), morning coffee breaks with a toymaker from Switzerland who has been attending workshops for six summers now, and chatting around the campfire with my new friend, an interior designer from Milan. While Boisbuchet is about making things and taking time to think differently, it is also a meeting ground for fellow design "aliens" from around the world–a relaxing, fun, and creatively stimulating experience that I'll never forget.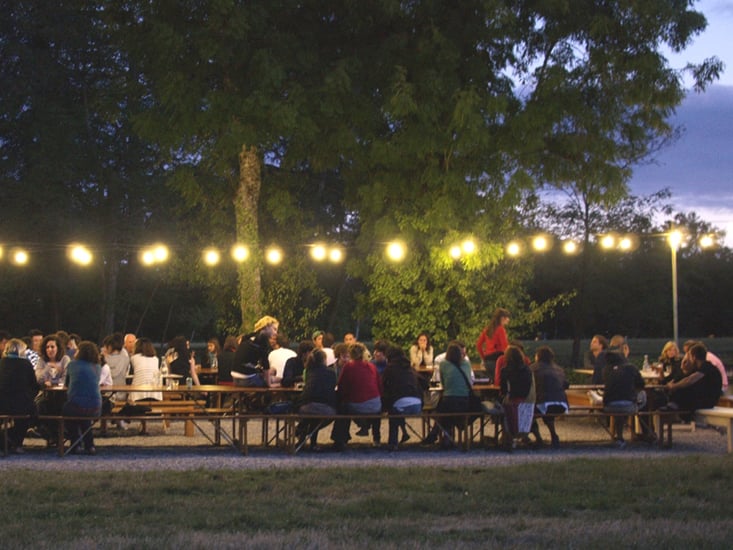 students for short films using Boisbuchet as a backdrop