October 5, 2021
Sustainability Lab Showcases Tools for Making a Positive Impact
On the tenth floor of theMART, the Metropolis Sustainability Lab at NeoCon is a showcase of how far the interior design profession has come in reducing its negative impact on the environment and in striving to safeguard the health and well-being of people on this planet.
The Lab includes an exhibit of breakthrough products and initiatives from B+N, Armstrong Flooring, Clarus, Indiana Furniture, Luum Textiles, Mohawk Group, Shaw Contract, Sherwin-Williams, Tarkett, and Teknion (see more on the following pages).
The space is also a hub of learning and participation, with sustainability-driven CEUs on offer and a chance to get involved with two important industry-wide movements.
At the Lab, designers can be among the first to take the Interior Design Pledge for Positive Impact. The Pledge, created by ASID, IIDA, IDC, and Metropolis (with support from Interior Design and leading firms and organizations) provides a comprehensive framework for the future of interior design organized around three interconnected commitments to climate, health, and equity.
As a first step toward helping designers meet these commitments, Metropolis demonstrates its recently released Climate Toolkit for Interior Design. Shaped by 60 stakeholders spanning the U.S. interiors industry, the toolkit suggests strategies interior designers can use to join the fight against climate change.
ARMSTRONG FLOORING REVEAL
Armstrong Flooring is focused on transparency—in its product content, recycling efforts, and manufacturing optimization. Through business change and innovation, the company is committed to strategies to reduce its carbon foot-print. This starts with third-party-verified declarations to guide Armstrong Flooring's continuous improvement and to reveal the information designers need to make sustainable choices.
B+N INDUSTRIES SYSTEM 1224
System 1224's modularity is the key to future-proofing. Wall- or tension-mounted rolling systems can be repurposed as space dividers, ad hoc conference rooms, display, shelving, and desking. Updates are easy and require ordering different panels and/or accessories rather than scrapping the whole and starting anew, which equates to less waste in the landfill. Once the uprights are installed, reconfiguration can be done in-house—meaning less travel, less time, less stress.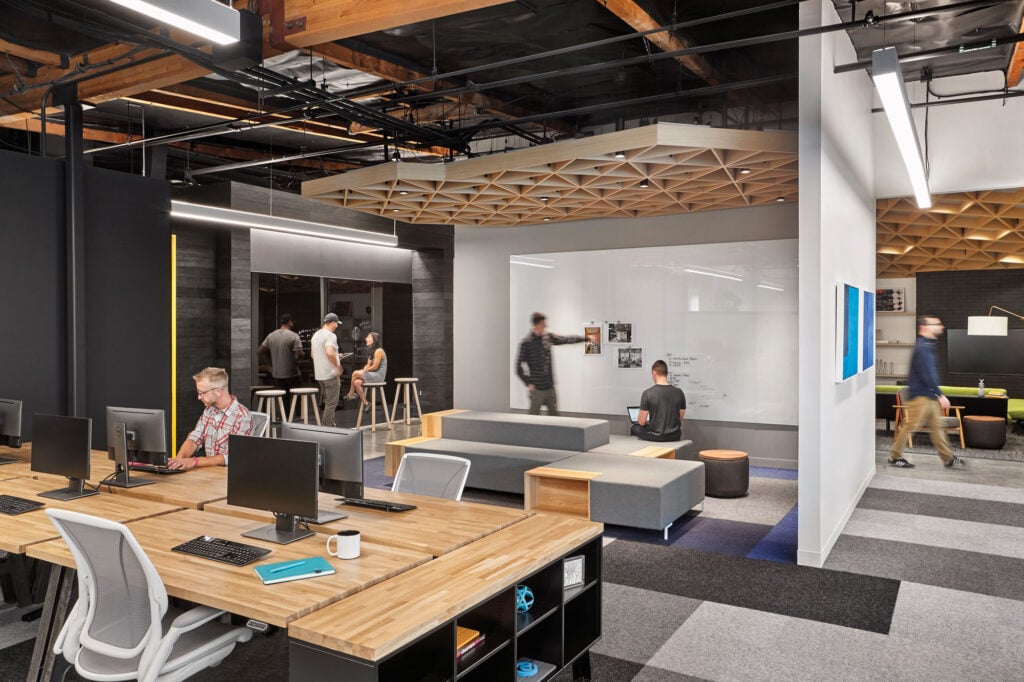 CLARUS FLOAT
In keeping with Clarus's commitment to a more sustainable future, Float boards offer EPDs, Red List–Free Declare labels, and SCS Indoor Advantage Gold certifications to support any project team in achieving its green building project goals. To learn more, designers can find Clarus products in the mindful MATERIALS database (mindfulmaterials.com).
INDIANA FURNITURE
Since 1905, Indiana Furniture has proven its commitment to a sustainable future by supporting the standards and programs that protect the natural world and human health. Whether it's local sourcing, domestic manufacturing, reducing contaminants, diverting waste, implementing wellness programs, or supporting community endeavors, social responsibility is a part of every decision at Indiana Furniture.
LUUM GRID STATE & ECOTONE
In 2021, Luum proudly launched Grid State and Ecotone: the contract industry's first and second recycled, biodegradable polyester textiles. Both textiles are bleach-cleanable and are suited for many applications. Grid State's motif is inspired by the textile development process, while Ecotone references traditional wools.
MOHAWK GROUP COLOR PULSE
With its zero-water dyeing process, Color Pulse is an innovative solution-dyed alternative to space-dyed yarns. By specifying products with Color Pulse fiber instead of traditional space-dyed fibers, you help reduce your project's water impact by up to one cup of water per carpet tile.
SHAW CONTRACT BOTTLEFLOOR
This PET-composite flooring blends the performance of a hard surface with the acoustic sound absorption and slip resistance of carpet. This revolutionary new platform is manufactured with 40 percent postconsumer recycled PET—taking waste bottles and recycling them into beautifully designed, highly durable flooring.
SHERWIN-WILLIAMS SUSTAINABILITY BY DESIGN
In addition to having the largest portfolio of coating products eligible for LEED credits, Sherwin-Williams is pleased to announce the new Sustainability by Design program. Through this program, all products developed will consider over a dozen sustainability attributes, including third-party verification and ecolabel recognition, helping increase the adoption of sustainably advantaged coatings.
TARKETT FLOORPRINT
This resource gives a holistic review of every single flooring category Tarkett produces, whether it's resilient or soft surface, providing all the data and certifications you need in one place. From information on responsible materials to the environmental impact of manufacturing and the category's carbon-neutral status, Tarkett Floorprint shows you how your selection can contribute to the health and well-being of people and planet.
TEKNION ROUTES
Routes is a toolbox of boldly conceived products designed in partnership with Pearson Lloyd, and driven by the concept "What do we need, really need, to work efficiently and well?" Designed for durability, flexibility, and ease of assembly and disassembly, Routes supports sustainability by reducing waste, materials, transport, and packaging, as well as prioritizing recyclability.
---
Visit the Metropolis Sustainability Lab at NeoCon, Suite 1091
Would you like to comment on this article? Send your thoughts to: [email protected]