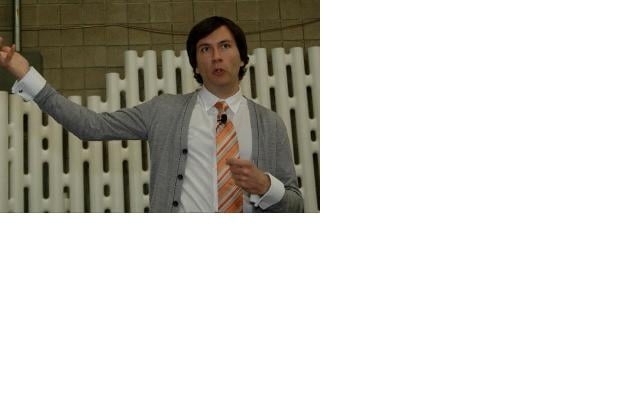 May 20, 2008
The Metropolis Conference @ ICFF: Afternoon
Live from ICFF
Right to Left: Bill Spink, ASID; keynoter Fritz Haeg; Suzan Globus, ASID past president; Susan Szenasy of Metropolis; Rhonda Clayton Berry, ASID; and two New York Metro ASID members. Haeg presented the first ASID New York Metro chapter's Education Legacy Fund (Elf) Horace Havemeyer III lecture; ASID national along with Lonseal sponsored this year's conference.
Our annual conference at ICFF this year took place yesterday in a sort of polypropylene coral reef by PearsonLloyd. From my perch at the continuing-education welcome table I had the pleasure of listening to a battery of smart people discuss a variety of topics under the umbrella of "Make Good and Prosper." We had a great audience this year that kept the energy high all day. Here are a few highlights from the afternoon session (and stay tuned for highlights from Fritz Haeg's keynote lecture, which happened in the morning).
During the afternoon session, Douglas De Nicola from the Noguchi Museum set the tone with a little design history. This was the first museum of its kind by an artist worried about being marginalized. Today Noguchi is practically a household name, in the design community at any rate, so it must have been a step in the right direction. Did you know the entrance is a converted gas station?
Next was our 2008 Next Generation winner, Eric Olsen, who spoke eloquently (despite pre-show jitters) about the Solar Water Disinfecting Tarpaulin. The concept is a wearable water carrying device that kills germs with passive solar power. It's a high tech object with a very simple, obvious use that immediately enthralled the audience. Before he was done speaking people were asking me for more information vis a vis their own third world humanitarian projects.
Nina Smith spoke next about how sometimes the people side of sustainability gets lost in the general conversation. She's the executive director of RugMark which is working to curb the large incidence of child labor across India, Pakistan, and Nepal in the handmade rug industry. Her point was that a carpet is not beautiful if kids lose out on education and childhood in its manufacture. There are plenty of pretty rugs at ICFF that bear the RugMark seal of approval. The sale of these kicks back money for educational initiatives in those countries.
Then Emily Pilloton, founder of Project H Design, explained how the true purpose of design is to make life better for people rather than the pervasive pursuit of luxury goods. She just got back from Africa where, among other things, she delivered a bunch of Hippo Rollers which hold six to nine times more water than traditional methods. Clearly she and Eric have a lot to talk about.
Tanu Kumar and Tzipora Lubarr from the New York Industrial Retention Network brought the conversation back home with a discussion of manufacturing in New York City. We all know that locally made products have an edge on sustainability, but what does that mean in an era of rezoning for waterfront condos? Their advocacy efforts include a popular website for finding local manufacturers, check out Made in New York.
Finally the ever crowd-pleasing Cameron Sinclair from Architecture for Humanity took the stage, but that's the subject of another blogger. Hope to see you all back next year. (And don't forget to sign up for those continuing-education credits!)
Eric Olsen, the 2008 winner of our Next Generation Competition: