June 17, 2021
Designing a Global Real Estate Portfolio for a Changing Workplace
A Think Tank panel explores how changing office needs and a work-from-anywhere culture will impact corporate real estate.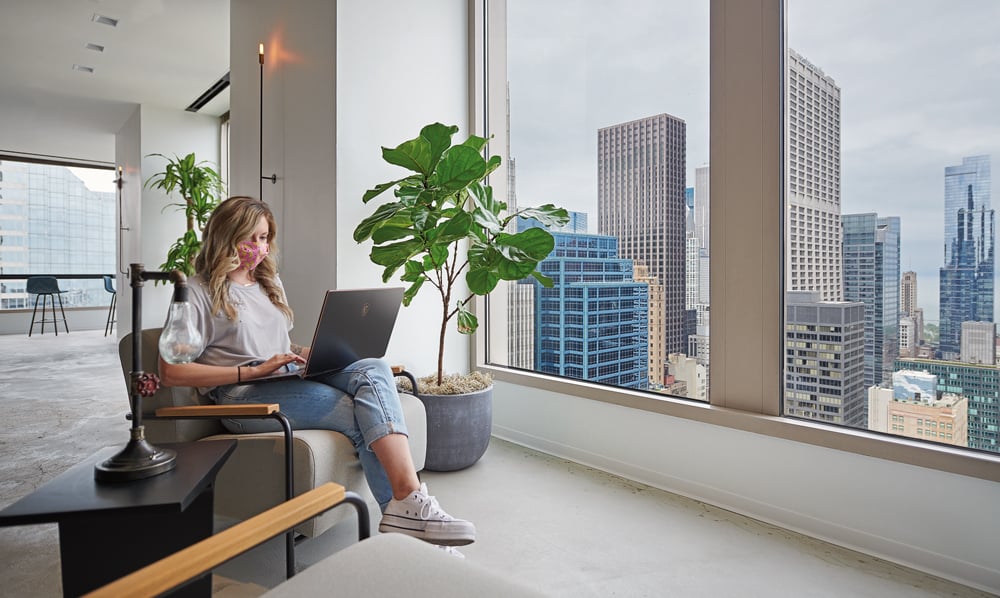 "The power has gone from the employers to the employees," said Paul Jaskowiak, global director of real estate for Kantar, a 30,000-head international consulting and data company. "Now, post COVID-19, the office has to be a place of destination, an experiential place for the employee."
In a lively discussion for the Think Tank session held on April 8, "Designing a Global Real Estate Portfolio for a Changing Workplace," an architect, an interior designer, and experts in corporate real estate discussed the future of the workplace after the pandemic. Metropolis editor in chief Avinash Rajagopal moderated the event, hosted by HOK. Rajagopal set the stage by saying: "We are dealing with two poles: The need for there to be a purpose for the workplace, and on the other pole that the workplace support health, safety and environmental wellbeing."
"The pandemic was a catalyst to a change that was already taking place," said Sarah Oppenhuizen, principal and director of interiors at HOK. The question employees will be asking now is: "What's the draw for me to come into the office?"
Gordon Wright, senior principal and firmwide director of WorkPlace, HOK, explained that people are viewing September as a benchmark for reentry to the office. But with their new-found power, he said, "employees are going to have a lot to say about how space is laid out; they are going to demand options and choice." Kantar's Jaskowiak looked forward to the September reopening and piped in to say "If we're all working at home, we can't develop a culture. That's the biggest fear of being all remote. The office sets the stage for the culture to develop."
The panel agreed that it's already been proven that working remotely is both productive and efficient. But the lockdowns have also upended companies' concepts of hiring and location.
"We're location agnostic," said Sue-Meng Lau, senior director of global design and construction for The Trade Desk. "We'll hire people from anywhere as long as they're qualified. That said, you can't just open an office in Costa Rica because someone wants to work from there. We have to be nimble and more deliberate about markets we go into."
Numerous issues regarding the workplace remain, the panelists agreed, as the notions of people and places evolve. Jaskowiak offered an example: "If I'm based in New York I'm making a New York salary. What if I choose to continue working remotely and move to the cheapest tax place in the country, a place with palm trees? Do I still get my New York salary? This is a question that's lying out there." In the same vein, he continued: "During the pandemic, you had to do what you had to do. But once we normalize, should the company pay for IT in a home office setup?"
As a designer, HOK's Oppenhuizen said now was a "great opportunity for companies to reinvent their workplaces," with deep collaboration with the end users. For example, she said, "It's very well documented that people didn't like the open office concept. At home, workers had a great deal of control over the layout they were working with."
Whatever its configuration, the workplace might just prove itself remarkably resilient and able to adapt to change.
"The office is not dead," said Lau. "It's not going away."
The Think Tank discussions were held on April 1, 8, and 15. The conversations were presented in partnership with GROHE, International Well Building Institute, Mannington Commercial, Material Bank, National, Sunbrella, and Trendway.