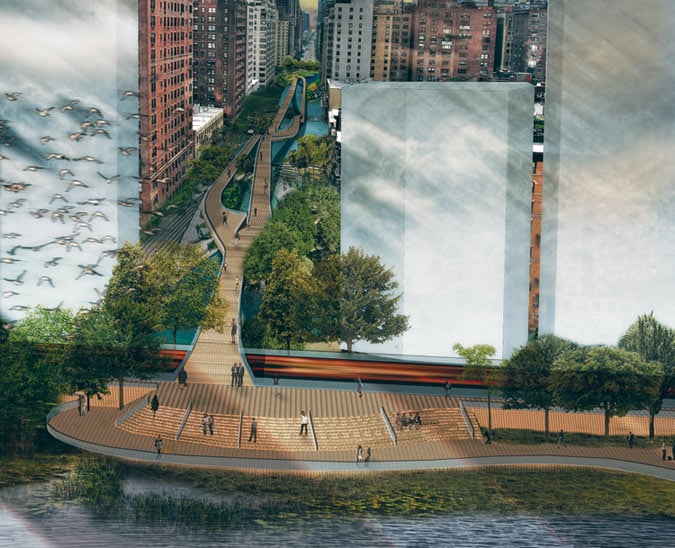 June 15, 2012
Yearnings for an Esplanade
The opening reception for Reimagining the Waterfront, the East River Esplanade design competition organized by CIVITAS, was held at the Museum of the City of New York early last week. Indicative of the civic yearnings of the Upper East Side–They want a High Line of their own! –the competition's  results hinted at some of the […]
The opening reception for Reimagining the Waterfront, the East River Esplanade design competition organized by CIVITAS, was held at the Museum of the City of New York early last week.
Indicative of the civic yearnings of the Upper East Side–They want a High Line of their own! –the competition's  results hinted at some of the unique qualities of the Upper East Side, Harlem, and the East River.
The winning idea–a blue skye concept entitled "3X: 300% More Esplanade," designed by Joseph Wood—would expand the esplanade with a series of canals and pathways that wind their way through the streets of the Upper East Side and Harlem. While not remotely feasible, the bold proposal shows the necessity for  connecting the communities of the Upper East Side and Harlem with  the East River.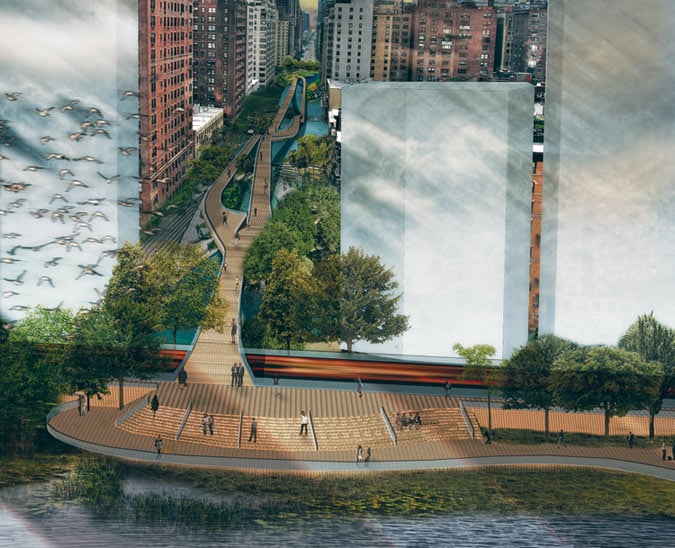 "3X: 300% More Esplanade by Joseph Wood
My favorite entry is "The 'Fit It' Process,",an honorable mention in the competition, which uses the changing of tides of the East River to "create different landscapes," using floating portions of the esplanade that would rise up and join the park during high tides. This plan really resonated with me, as I remembered summers spent exploring the low tide mud flats in New Brunswick, Canada, and how each visit to the water came with new discovery.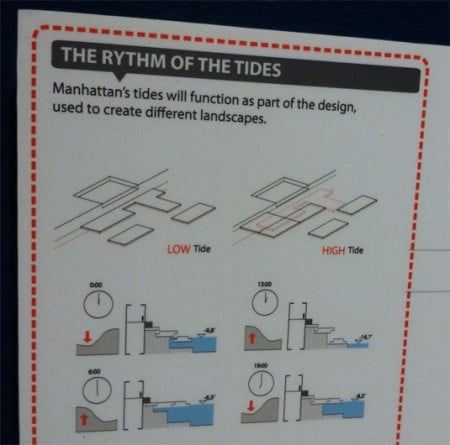 "The 'Fit It' Process" by Jorge Manuel López, José María Echarte, Victoria Marrero, José  Luis Llaca, María Ortiz, and María Andés
The third place winner, "Writing the Esplanade" by Matteo Rossetti, located large red pavilions along the waterfront. These structures would function as "nodes" for community outreach and places for documenting what people feel about the place. The recorded wants and desires would be physically carved into new developments of the esplanade. What a wonderful way for the city to say, "We hear you"!
"Writing the Esplanade" by Matteo Rossetti
Many of the selected competition entries focused on environmental stewardship, resource reuse, and other common practices in sustainable development. When I asked CIVITAS' executive director, Hunter Armstrong, if there were any environmental goals for the esplanade, he said, "Not yet, that would be in the next steps. We want to see how the community feels about different aspects of the design and see what environmental requirements for the site are most important. The community is very excited about this. The entries show the range of potentials, and we will listen to the community, and gage their reactions to the exhibition, website, and programs."
Will the Upper East Side and Harlem create their own equivalent of the High Line?  They clearly want to. But will these communities be able to create such a powerful vision? Yes, if the esplanade will reflect the assets and qualities of community engagement and tidal action; those things that make the Upper East Side and Harlem unique.