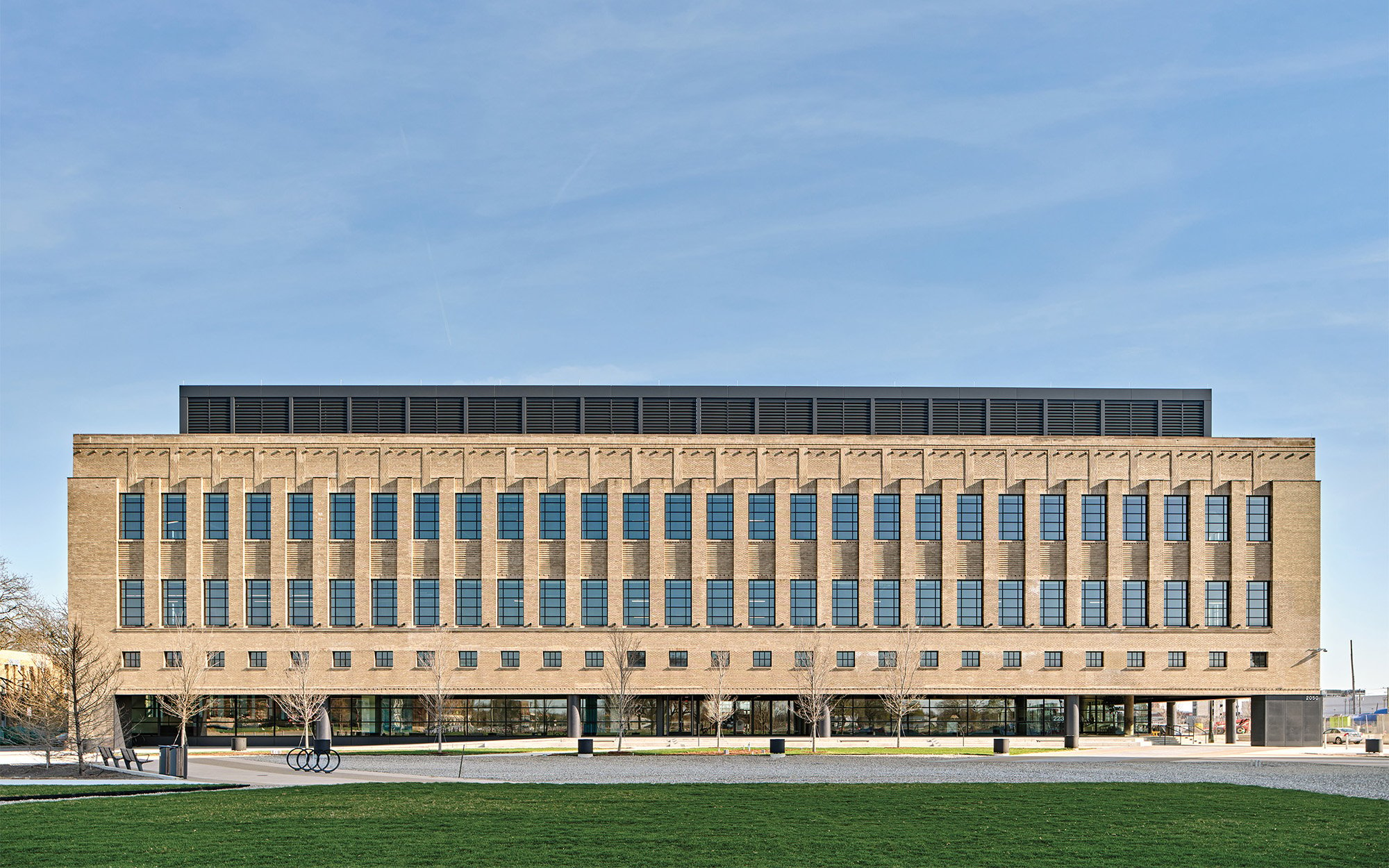 August 23, 2023
3 Adaptive Reuse Projects Prioritize Flexibility for the Future
Just a handful of years ago Detroit's towering Michigan Central Station (1913) felt like the edge of the world. Once one of the grandest Beaux Arts train depots in the country, it had become a must-see for ruin porn photographers, an overgrown relic filled with twisted metal, decomposing concrete, tree-size weeds, graffiti, and a sense of hushed despair. In 2018, Ford Motor Company bought the property (which had come razor-close to demolition in 2009) to transform it into the centerpiece of a new 30-acre mobility innovation campus, a collection of industrial buildings rehabbed into offices, labs, test spaces, cafés, and more. Five years later, Michigan Central's first major facility, a former book depository that is now a home to maker, research, and development facilities, has opened, with more projects to follow. The campus, which includes four buildings knitted together by plazas and parks, is indeed becoming a center of mobility experiments. But largely owing to the unprecedented changes taking place in office, retail, hospitality, everything—dramatically amplified by COVID-19—it has also become a center of architectural experimentation. The ways in which adaptive reuse can become a core component of our quickly changing built world—and make buildings flexible enough to adapt to today's needs and those of the future—are playing out here in real time.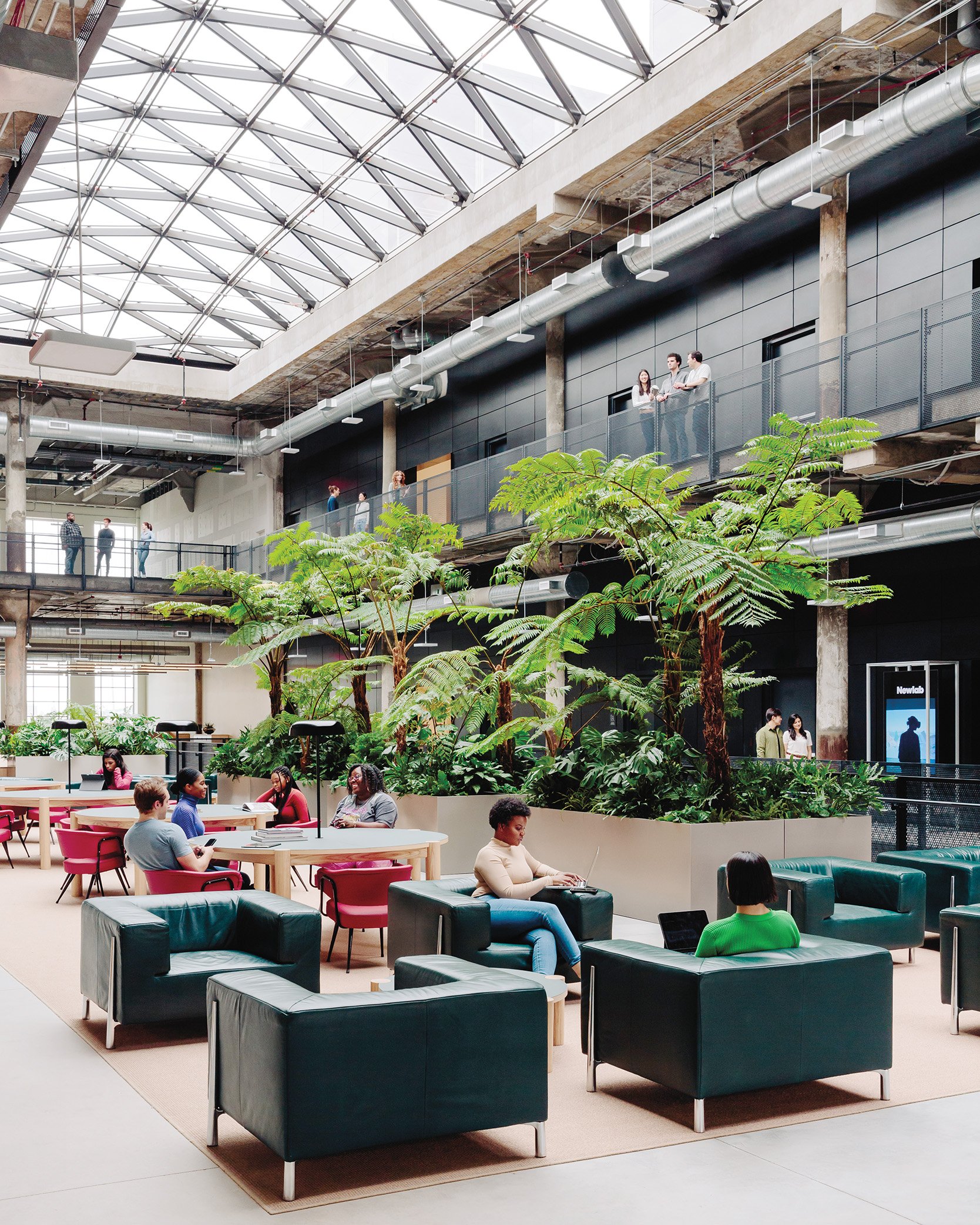 This isn't the first reuse rodeo for the 270,000-square-foot Book Depository Building, a brick-clad Art Deco structure next to Michigan Central originally known as the Roosevelt Annex. Designed by legendary Detroit architect Albert Kahn in the 1930s to serve as the city's main post office and mail sorting facility, it had an open, concrete-supported skeleton that allowed it to later become a book storage center for Detroit's public schools. It closed in 1987 after a major fire. It is now, of course, launching its third act as a mobility incubator overseen by Michigan Central Station and Brooklyn-based tech collaborative Newlab (whose other location is in New York City's Brooklyn Navy Yard). Its design team, which includes Gensler (the shell) and Civilian (interiors), has made it flexible for workers now and ready for the acts that will inevitably follow.
---
More from Metropolis
---
In adapting the depository, the designers introduced much-needed natural light and space, cutting through the three-story building's patterned blond-brick walls and its ceiling to create massive steel-edged window walls and a pillow-top skylight. They also strove to create flexible spaces by slicing open sections of the second and third floors to create an open atrium with connecting stairs, and carving out interwoven spaces for working, prototyping, lounging, gathering, exhibiting, learning, and dining. They modified some of the building's trademark martini columns and pulled out a large loading dock to introduce an expansive new entrance and buzzing ground-floor paseo. Within this open palette the team inserted independent elements, including a prefabricated millwork reception desk, a building-within-building café, and Sheetrock walls and suspended drop ceilings.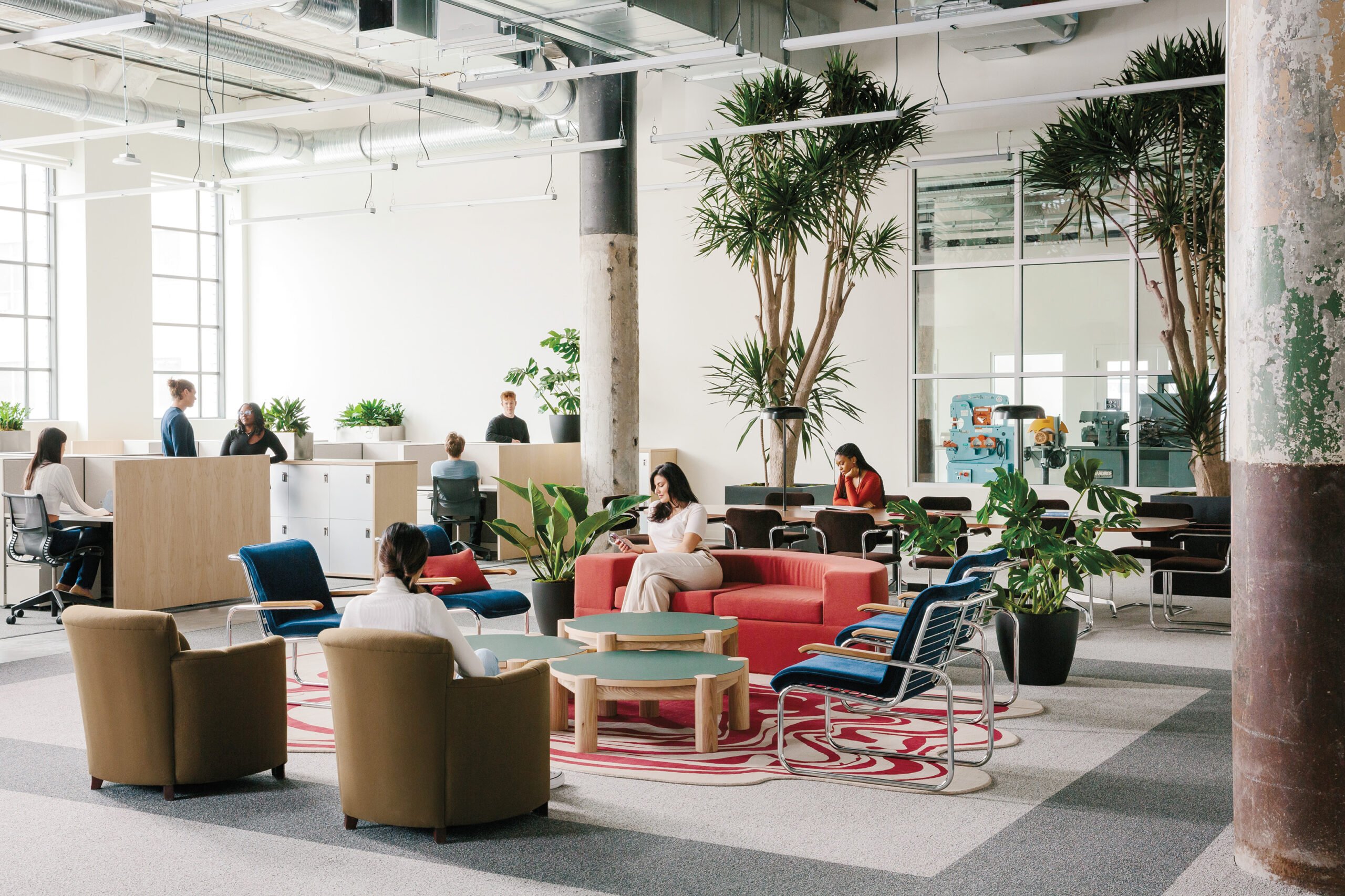 This kind of elasticity—adaptable open spaces, tall ceilings, impermanent dividers—is vital for scrappy companies developing products like autonomous and electric cars, electric bicycles, drones, mobility software, and streets built for autonomous vehicles. Their businesses and technologies are constantly evolving, and they anticipate shifting their focus and size quite regularly. What if, for instance, they get a VC infusion and need to bulk up? Or need to add a new CNC machine or a robot arm or two? Even individual studio spaces, of which there are plenty, can be reorganized via movable partitions and furniture. (These MillerKnoll furnishings, adds Civilian principal Nicko Elliott, can also adapt to new uses and eras thanks to their inherent timelessness.)
"We don't make any promises of permanence," says Civilian's Elliott. Adds Gensler Detroit design director Lily Diego: "Everything we did was about how flexible this can be to adapt for everyone who is using it."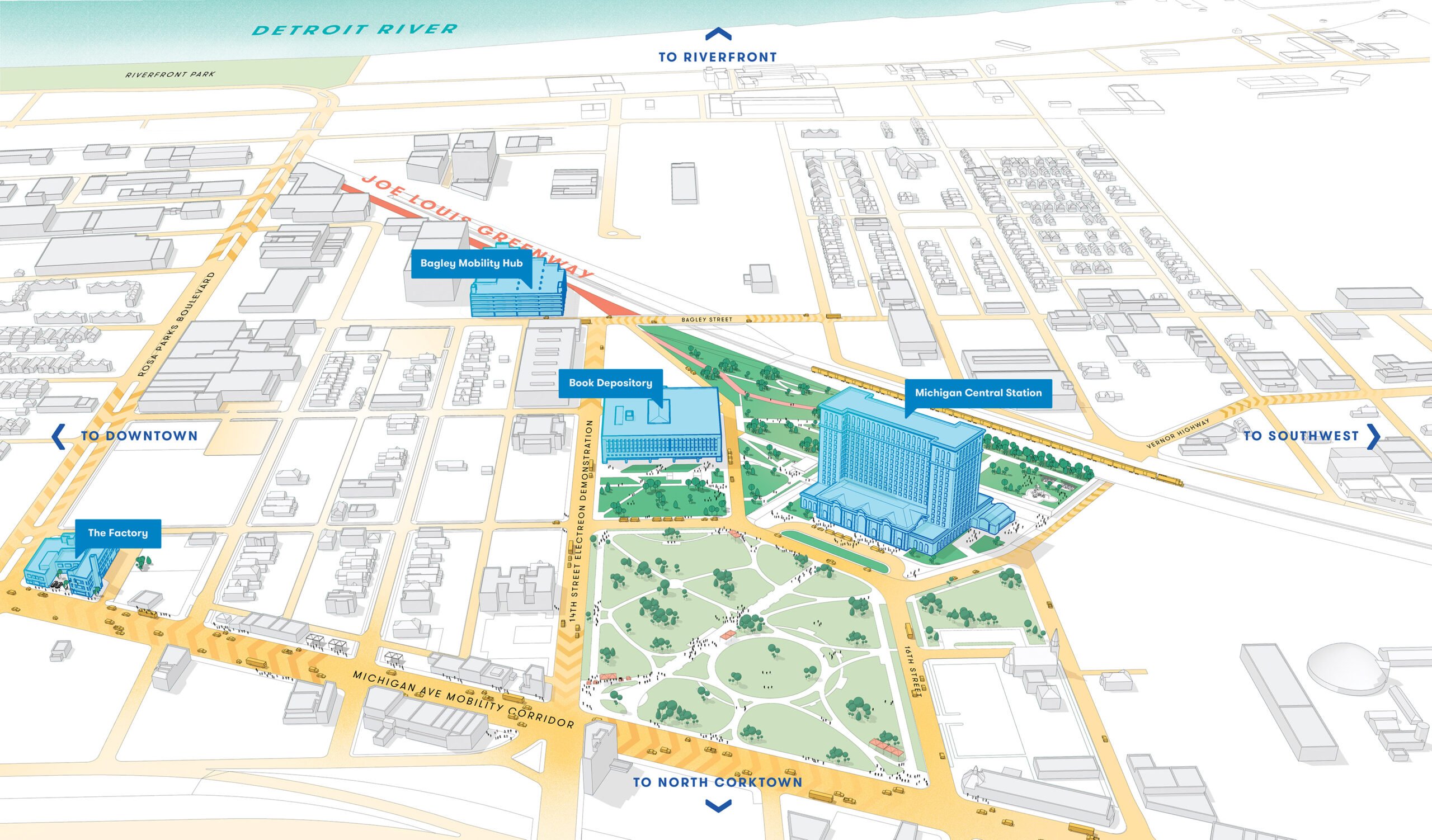 The building, its designers say, is also set up for future "evolution," be that in two years or 20. Under the shop areas, extra structural steel reinforcement can accommodate the weight and mass of the next generation of machinery, while extra steel under the roof deck would allow for a much larger expansion. Capacious public spaces like the atrium, rooftop, and paseo, which can host virtually any type of program from lectures to pop-ups, could be subdivided into offices or conference rooms via glass dividers, or could host completely new uses, provided zoning can catch up. Furthermore, a restored tunnel between the depository and Michigan Central Station now provides egress for mobility prototypes and space for enhancing prototypes. But future occupiers of the building could do anything with it.
This kind of mutability makes the book depository a model for flexible adaptive reuse. By contrast, its soon-to-open neighbor, Michigan Central Station—despite being another very creative reuse and the gorgeous centerpiece of the whole development—is a case study in navigating its limitations. The building's flexibility is reined in both by its original structure and by its historical significance—particularly since part of its funding comes from historic tax credits. While it's a more straightforward project in terms of renovation, it's much less so in terms of elasticity.
"It's a tall challenge," notes Richard Hess, principal at Quinn Evans, the project's architect of record. Nonetheless, he adds, it is still being designed for as much flexibility as possible. "A building can serve multiple uses over time," he says. "But you have to know what can work within the historic context."
Michigan Central is essentially two buildings in one: its cavernous base, which once contained a magnificent waiting room, concourses, an arcade, and a reading room; and the tightly spaced 13-story tower, with long corridors of offices with stairs and elevators at either end of each floor. The whole building's exterior envelope, says Hess, was basically off limits to change, outside of masonry cleaning and repairs and unseen improvements for insulation and energy efficiency. In the base, while the look of existing areas—gorgeous Guastavino tile, intricate terra-cotta, eye-popping expanses of up to 62 feet—remains the same, the hidden infrastructure—HVAC systems (including specialized ventilation systems for restaurant kitchens), electricity (able to adapt to massive loads for everyday use or special events like concerts), lighting, etc.—is being completely replaced to adhere to modern standards for a plethora of uses.
While the base's original mixed-use program remains virtually the same, including retail, dining, events, and public assembly, the manifestation of these programs will be very different, and much more flexible. The grand spaces, Hess points out, could host conferences, lectures, performances, or banquets, showcase Ford vehicles or a giant Christmas tree, or provide endless other uses, given the proper scenario planning. The station's carriage house, once a partially enclosed porte cochere, is being wrapped in glass and adapted for hospitality. "You have to know what can work in this historic context," says Hess. "Will there be enough power for this? Will this meet the egress standards? Will the fire marshal sign off on this?" To prepare for the future, the team is planning for much larger loads, in both infrastructure and occupancy.
The tower is far more restrictive. The 53-foot edge-to-edge floor plates are quite narrow, and the arched, double-loaded corridors and divided bays of the first three floors are historically protected. That and the double-hung windows will limit the variety and space that most modern companies are looking for. "It gets harder to do the skinnier it gets," says Hess. He could not yet reveal which tenants will move into the offices (with the exception of Google's Code Next lab), but regardless of who is there, the tower's flexibility will be severely tested moving forward.
The divergence, both flexibility-wise and strategy-wise, between the book depository and Michigan Central Station indicates the extraordinarily wide spectrum of possibilities and tests facing all adaptive reuse architects. Creative responses are always needed, but they can never be one-size-fits-all. They will shift dramatically from project to project, and the ability to maintain flexibility will shift with them.
The entire city of Detroit has become a laboratory for reuse, with its exceptional variety of historic buildings—most of them sitting vacant for decades—just now being brought back to life with endless approaches for reuse and flexibility. Classical skyscrapers are becoming offices, Modernist offices are morphing into residences, and Art Deco boardinghouses are transforming into hotels. The city, which has bought hundreds of decaying structures, often sells them at affordable prices if owners guarantee they will undergo reuse. Local nonprofits like Detroit Future City promote industrial reuse by identifying local opportunities and sharing successful case studies.
On Washington Boulevard, architect Louis Kamper's Book Tower (1926), a 38-story Beaux Arts office building with a 13-story annex, reopened in June with a program that includes a long-stay hotel, residences, restaurants, event spaces, and more. The project was led by Detroit developer Bedrock and New York architects ODA. The tower's central rotunda, topped by a majestic glass dome consisting of more than 7,000 individual jewels and 6,000 panels that have now been restored or replaced, had long been hidden by internal offices and has been brought back to life as the building's focal point. Most of the building has been reconfigured via flexible floor plans (there are 46 different unit types) and a wide range of amenities, including a gym, restaurants, a coworking space, and idiosyncratic gathering spaces shaped by the original building's bones. The broad mix of uses, points out Bedrock's vice president of architecture and design James Witherspoon, will keep it flexible if needs change over time, as will the significant investment in elements like the rotunda, which will be a popular focal point no matter who future occupants may be. 
At Michigan Central, a similarly diverse mixed-use program, including office, light-industrial, retail, dining, hospitality, event, and outdoor gathering spaces, is an effective future-proofing strategy intended to foster energy ("We were trying to create a center of gravity," notes Ruchika Modi, principal at PAU) and flexibility.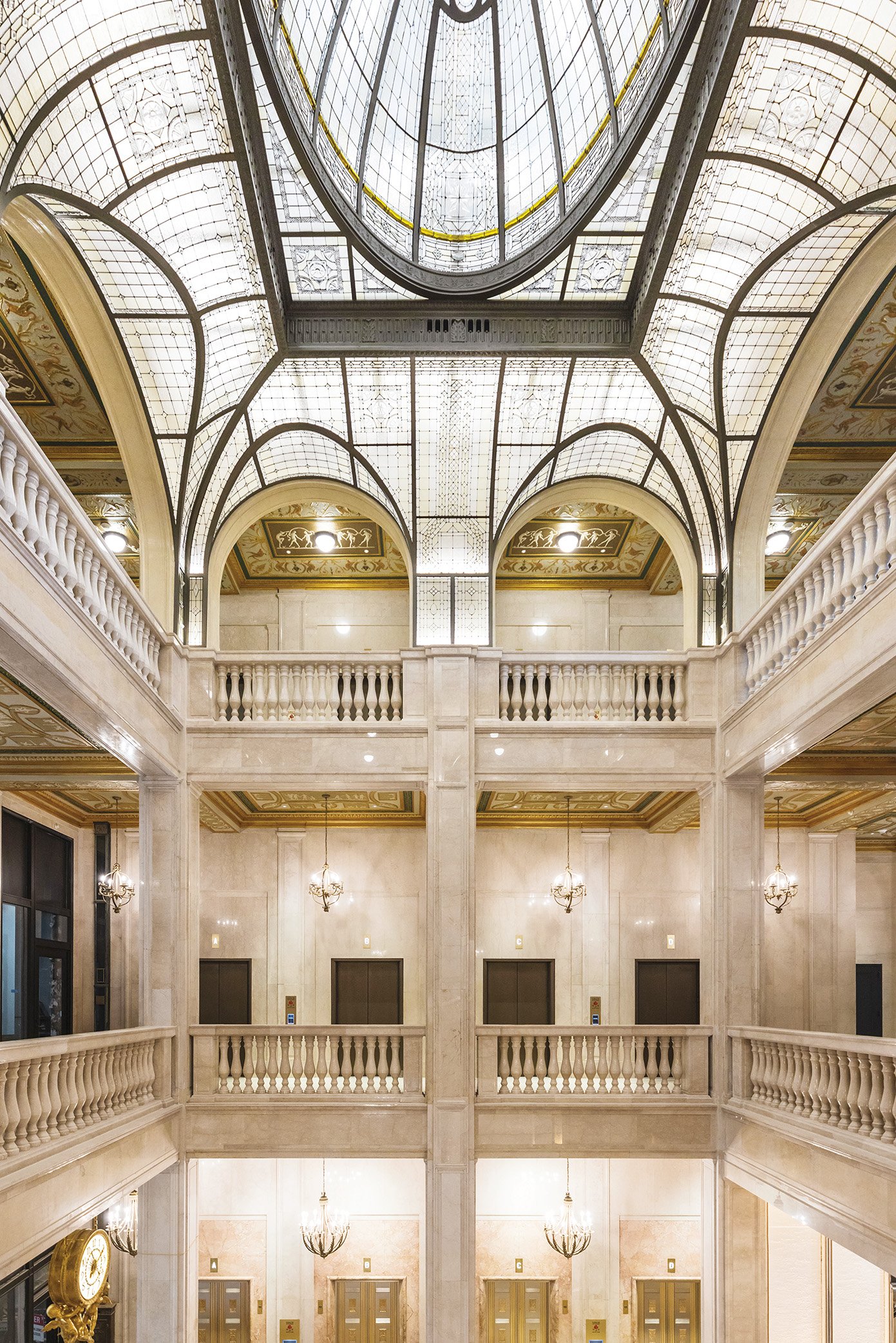 "Each building, no matter its limitations, is designed to both morph and provide space for small companies to grow into," says Melissa Dittmer, head of place at Michigan Central. That flexibility extends to the campus as a whole: A company, she notes, could start at The Factory, a relatively small former knitting factory now housing Ford's autonomous vehicle business and operations team, move to the book depository for research and prototyping, then set up business offices inside Michigan Central Station. The Bagley Mobility Hub, a six-story parking garage on campus clad in polycarbonate and steel and adorned on its north facade with public art, is set, as operations expand, to double as a testing ground for mobility technologies related to electric charging, automated parking, and more. "We're not rethinking a single building, we're establishing a complex community," adds Dittmer.
Michigan Central Station is also a reminder that the scope of reuse, and flexibility, extends beyond buildings and into the spaces around them. In contrast to a time when the car ruled and campuses were tightly sealed, Michigan Central is working to fill its campus with new and renewed parks, plazas, and walkways—employed for congregation, recreation, events, and more—connected to the city via arteries like the Joe Louis Greenway, which extends to Downtown and the Detroit River. A set of elevated former train tracks behind the station are being converted into The Platform, a place to test and showcase mobility solutions like scooters, drones, e-bikes, and autonomous vehicles.
"Cities are living organisms that evolve through different chapters and ride waves of cultural and technological change. Every aspect of what goes into a city evolves over time," adds Dittmer. "We need to give businesses the opportunity to create, test, and showcase their work inside and outside and in all the spaces in between."
DOMINO SUGAR REFINERY
Sitting on the extreme end of both flexibility and creativity is another industrial project about 600 miles east of Michigan Central: Brooklyn's Domino Sugar Refinery, an emblem of New York's industrial past that is now being converted into the centerpiece of its own office and retail campus. (The site is already beloved for Domino Park, with its grassy waterfront expanse, elevated walkways, and reused industrial remnants.) Built by the blue-blooded Havemeyer family in 1856, Domino posed significant challenges to flexibility with its landmarked facade. Challenges mounted inside, since the building was never a real building, but essentially a steel-supported armature for massive sugar processing machines. To remedy these limitations, the project architects PAU made a radical plan: maintaining the masonry facade with its arched window openings but removing the entire interior and replacing it with a glass-and-steel structure topped by tall barrel vaults, supporting the facade via steel I beams. Now column-free internal office spaces can be organized for virtually any configuration, from one office per floor to eight. And with relatively shallow 30-foot edge-to-core floor plates and plenty of natural light and air through floor-to-ceiling operable windows, the program could be shifted to, for instance, residential if need be (although developer Two Trees insists it's committed to offices for the foreseeable future).
BELL LABS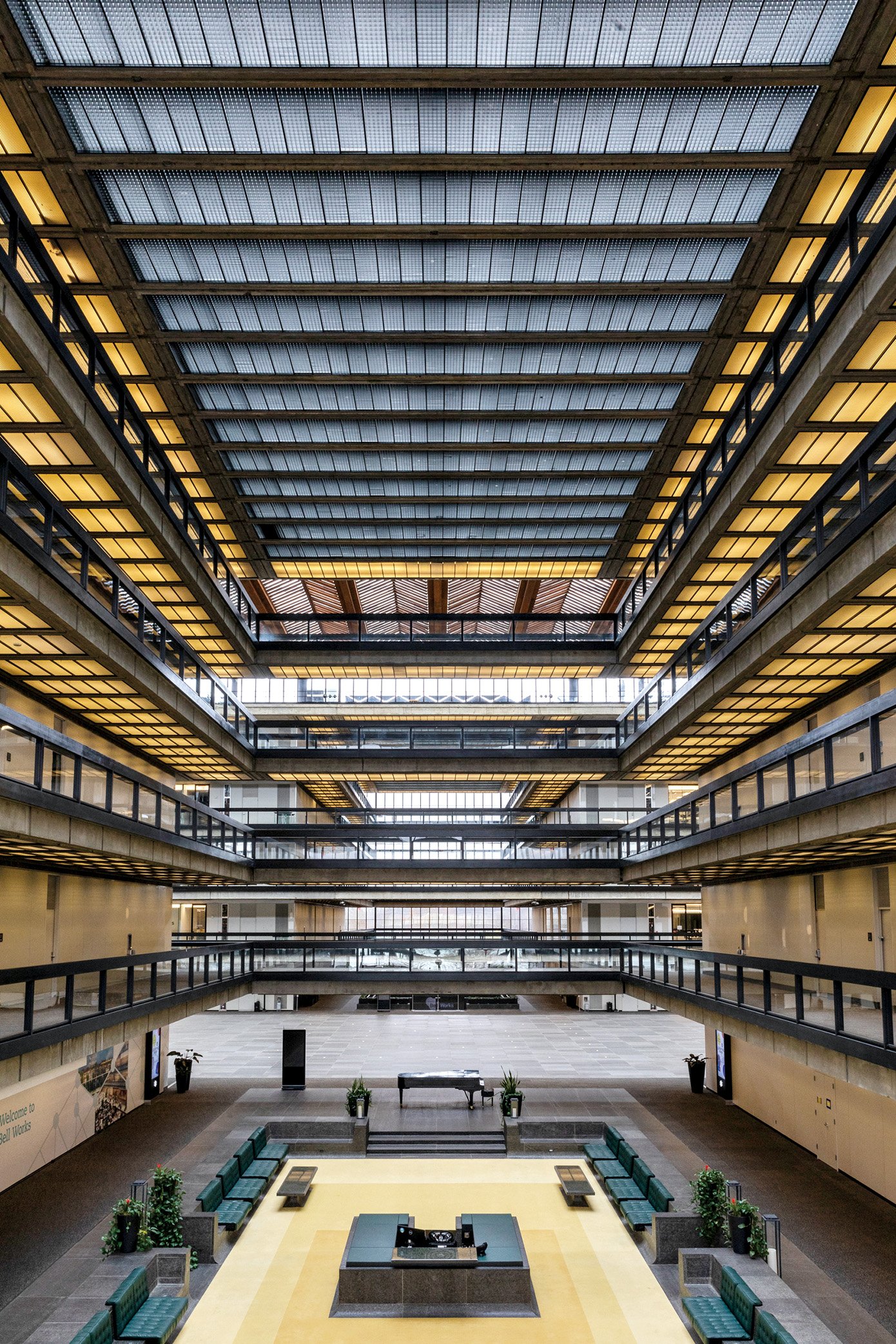 Eero Saarinen's Bell Labs (1962), whose adaptive reuse as Bell Works was led by New York–based Alexander Gorlin Architects and developer Ralph Zucker with interiors by NPZ Studio, proved the ideal armature for flexibility, with its cavernous glass-and-steel shell, gargantuan internal plazas and atria, and reconfigurable partitions. "Flexibility was part of its DNA from the beginning," explains Gorlin. The building still needed a major modernization, and Gorlin's team was able to enhance the complex's inherent adaptability through a few key moves. First came removing the fixed planted areas in the atria and replacing them with "tabula rasa" open space. The team also obtained an exemption from the National Park Service (which administers historic tax credits) to open once-opaque outer walls, allowing light to penetrate all offices (a must for modern office standards). And finally, they obtained a zoning variance to allow for a mixed-use program, allowing them to add cafés, bars, convention space, and much more. Now the building, once a restricted research center unfavorably dramatized in the television show Severance, hums with energy from its reconfigurable makerspaces, tech incubators, coffee shops, farmers markets, and a colorful new outdoor terrace that spills out onto the property's pond.