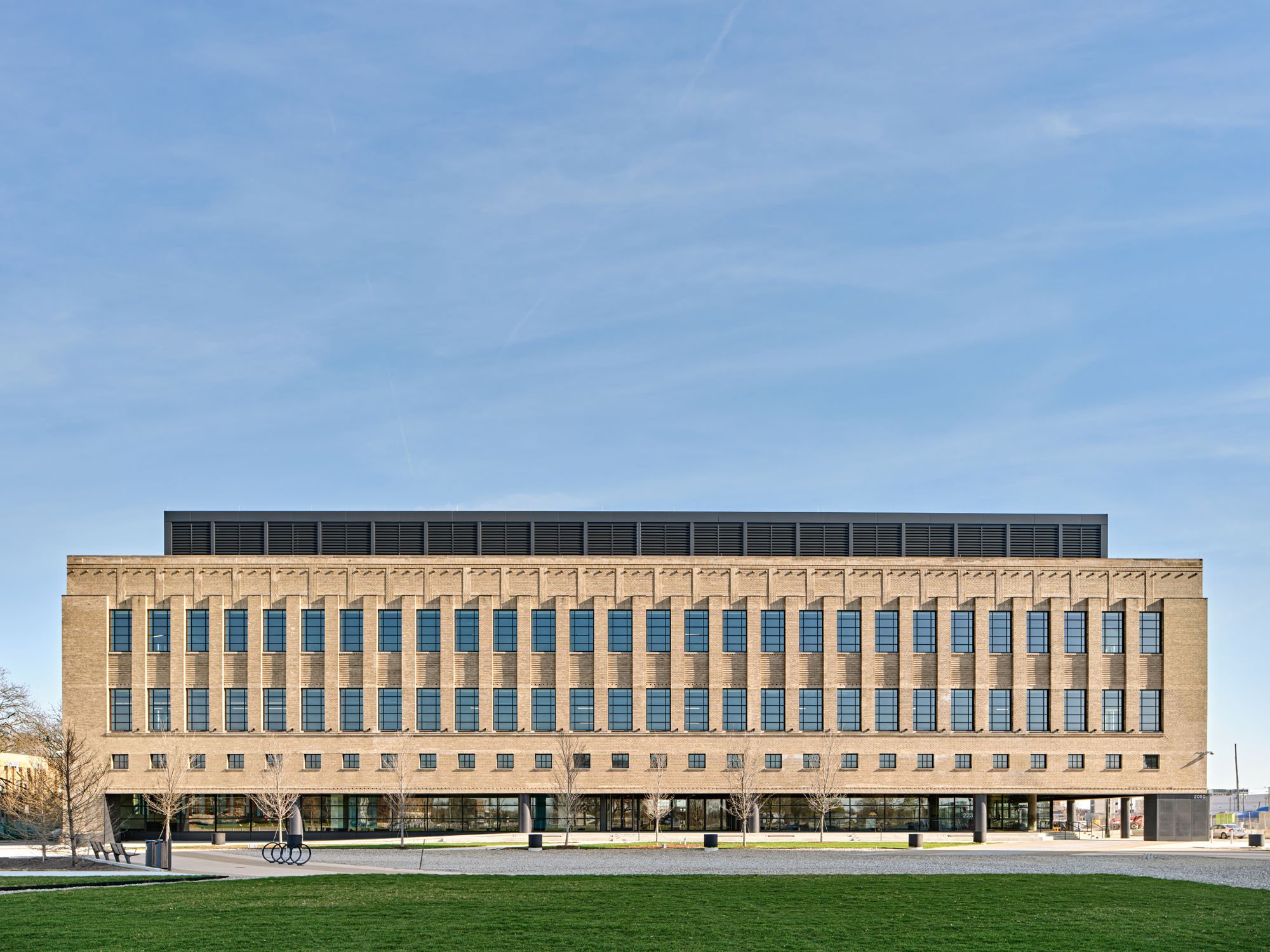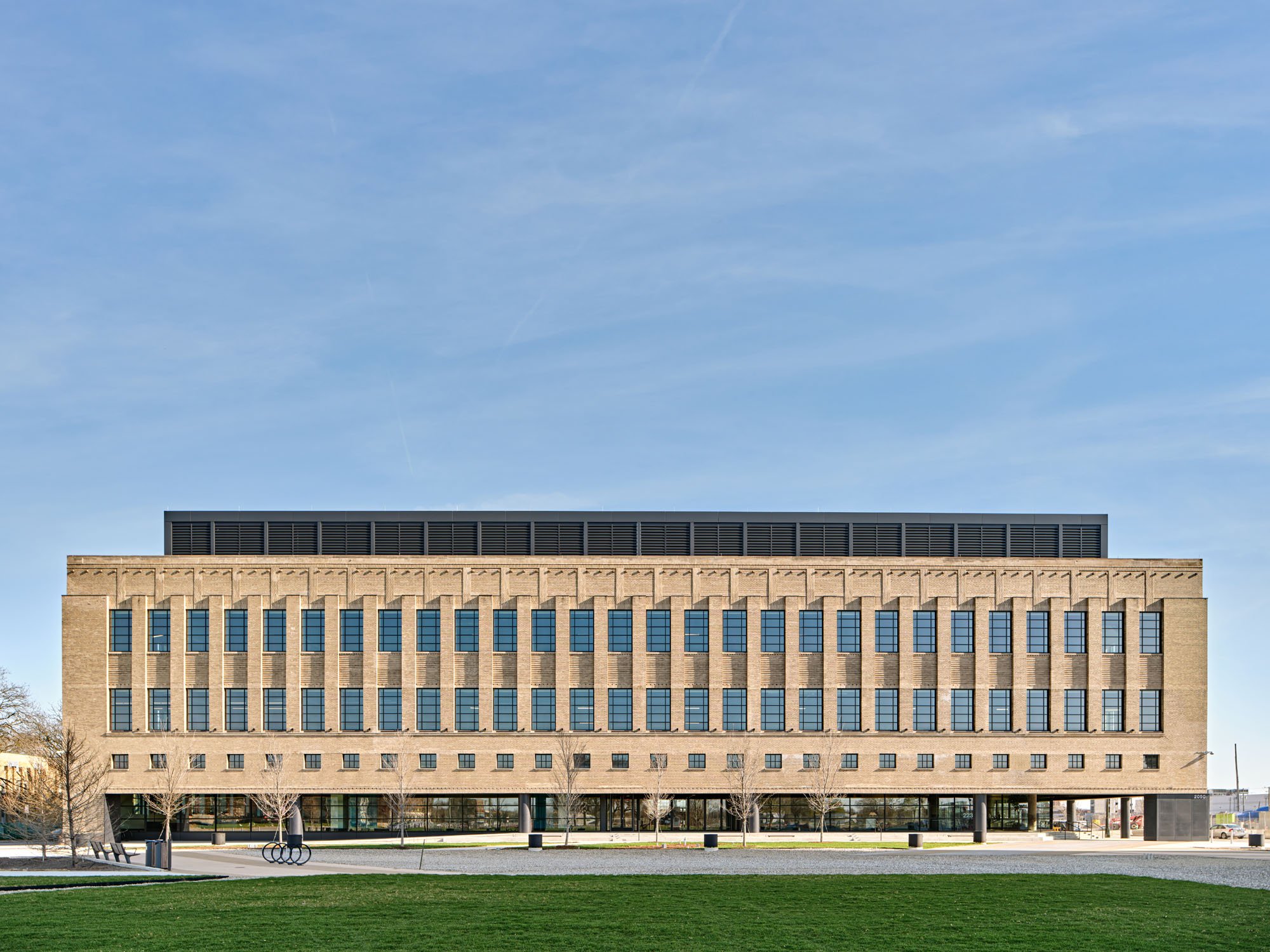 May 18, 2023
NewLab Puts Down Roots in Detroit
A city synonymous with postindustrial decline, Detroit is currently undergoing a revitalization. The rust belt metropolis is the only U.S. city to carry the coveted title of UNESCO City of Design. It has historically hosted innovations in Modernist architecture and industrial design. The Eameses, Saarinens, and Florence Knoll all converged at nearby Cranbrook Academy before shaping American design of their own accords. Major furniture manufacturers like Herman Miller have also defined the state of Michigan as one of fervent and innovative production. Detroit itself boasts some of the most striking examples of Art Deco architecture rendering in soaring towers that still stand as corporate beacons of yesteryear. Both city and state are actively reclaiming and reshaping this narrative.
Seeking to bypass the traditional pitfalls that too often come with so-called urban renewal, Ford Motor Company­–backed Michigan Central is an organization working tirelessly to reactivate derelict buildings throughout town. Its programming has been carefully calibrated to support the surrounding community rather than catering to real estate speculation. The opening of Newlab's second location within the former Book Depository Building this month marks its first big step in revamping a 30-acre campus at the center of the Motor City's Corktown neighborhood. The technology workspace provider—famous for having sparked the transformation of Brooklyn's Navy Yard in 2016—chose this 270-thousand-square-foot facility to facilitate start-ups revolutionizing mobility. The 25 or so firms that have already taken up shop are innovating in everything from dynamic electric car infrastructures and automated delivery services to drones, robots, and even air pollution monitoring systems. Cofounder David Belt's goal is less about blindly promoting the forward march of technology but rather mitigating its positive and negative impact to improve society with a more measured mindset.
A New Kind of Innovation Hub
William Clay Ford Jr., executive chair of the eponymously named company, sees the new incubation hub as a chance to bring car manufacturing back to where his great grandfather got it all started, Detroit. "Five years ago, we set out to create a place that would accelerate our region's role in solving the most pressing mobility challenges and change people's lives for the better," he says. "With the opening of Newlab Detroit, we see an opportunity to bring new companies and jobs to Michigan, while also attracting the best and the brightest talent for our industry."
Rather than follow in the path of so many tech campuses around the world that claim to have outwardly facing social initiatives but ultimately focus on internal development, Newlab Detroit aims to be open to its surroundings. By tapping the expertise already in place, the new hub will also serve as a new source of employment. New concepts developed on site will be beta-tested in the city. Black-owned companies like EV charging solutions provider Plug Zen are set to take up residence and set to hire and train with better inclusion in mind.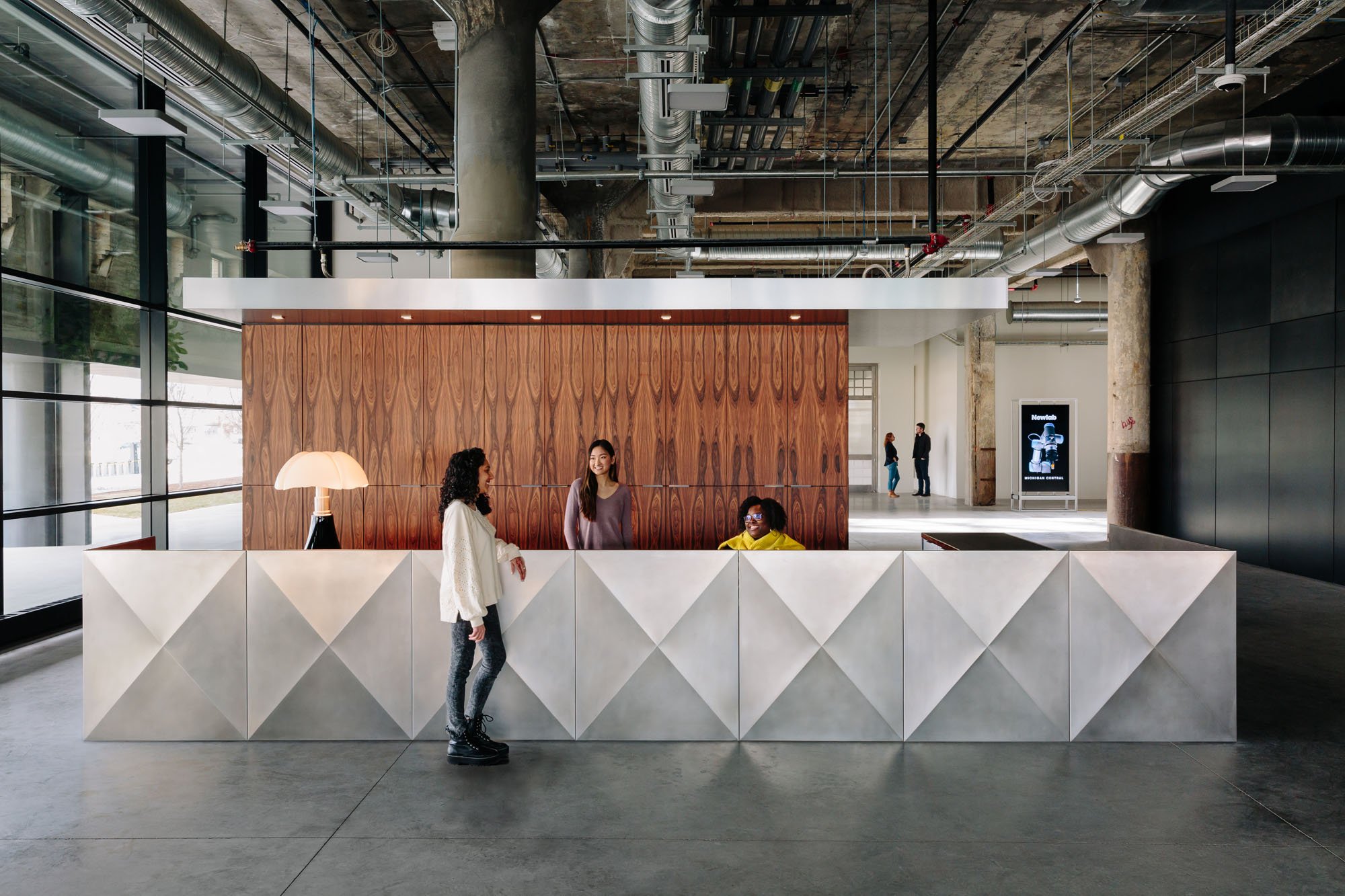 Revitalizing Albert Kahn's Book Depository Building
Sitting adjacent to the monumental Michigan Central Station—currently undergoing a painstaking restoration of its own—the Albert Kahn-designed Book Depository Building was first opened in 1936 as a U.S. Postal Service sorting facility. The mammoth Beaux-Arts-style monolith was constructed using funds allocated as part of the New Deal. It was repurposed as a storage facility by Detroit Public Schools in the 1960s but became empty in the mid 1990s. In 2018, Gensler was hired by Michigan Central to revitalize the structure's core and shell but it wasn't till Newlab was brought in as a partner and tenant in 2021 that up-and-coming Brooklyn practice Civilian was called on to envision the new center's internal program.
---
More from Metropolis
---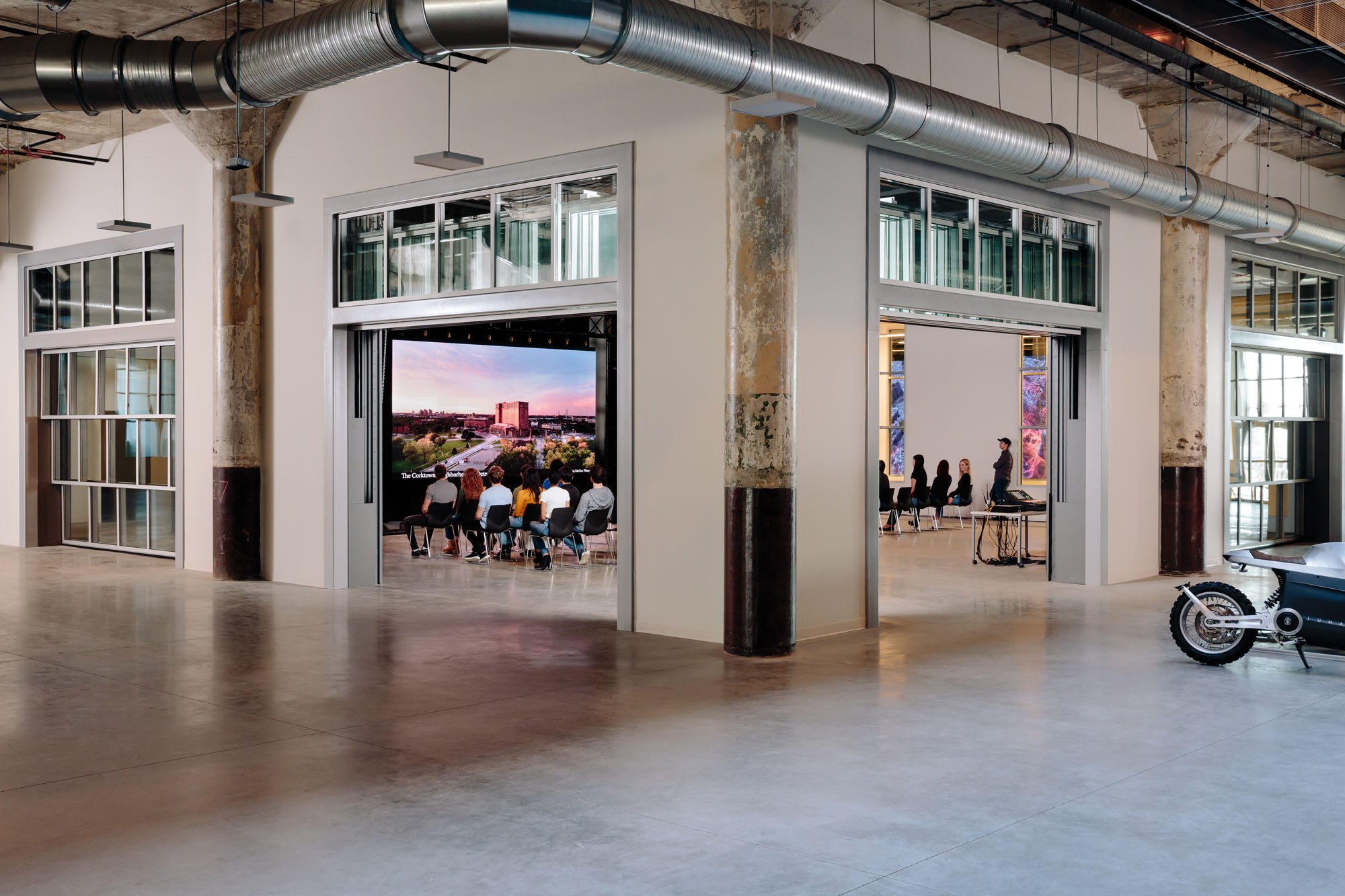 While the former developed a scheme that reimplemented many of the original details like martini glass columns, detailed brick facade, and large bays that Kahn had originally implemented, the firm also introduced interventions that would help promote the key tenets of proximity, visibility, and connectivity. Leaving much of the concrete formwork framing intact and exposed, blackened steel was introduced to clad inserted walls and encapsulate a newly introduced, triple-height atrium that's topped by a skylight.
On the ground level, this central artery gives way to an exhibition space, café, a 100-seat event space, and a state-of-the-art robotics and prototyping facility, all of which is accessed through near-noiseless 20-by-15-foot lift doors and via ramps seamlessly connected to city streets. The second floor and soon to be completed third level accommodate open plan and enclosed office spaces that are fluidly allocated to different members as needed. Civilian's intervention includes this room with a room scheme but also an indoor fern park that brings the outdoors in. The studio's aim to achieve this sizable adaptive reuse project was to honor the key characteristics of Kahn's era-defining architecture while meeting the rapidly evolving requirements of today's workspaces.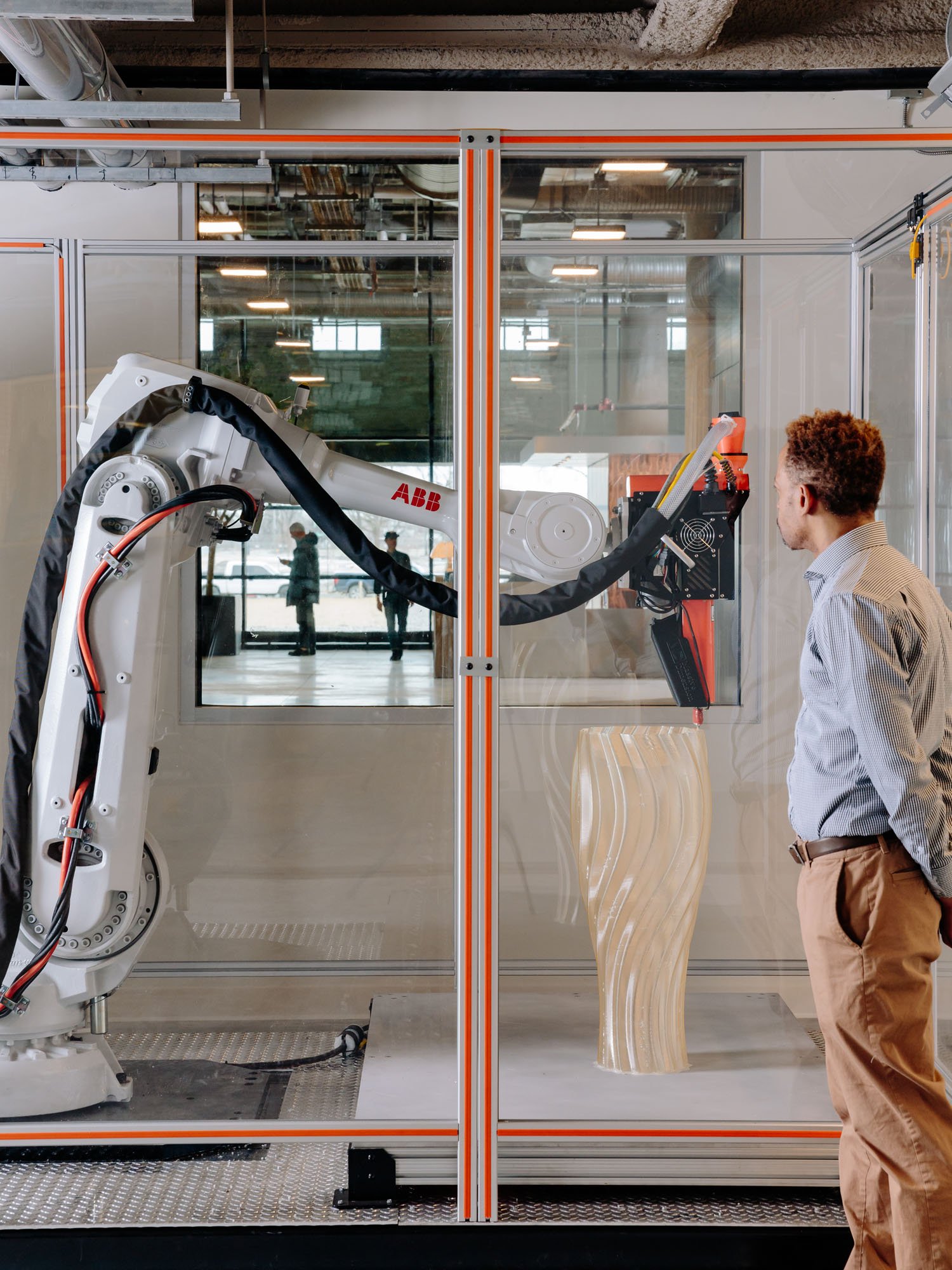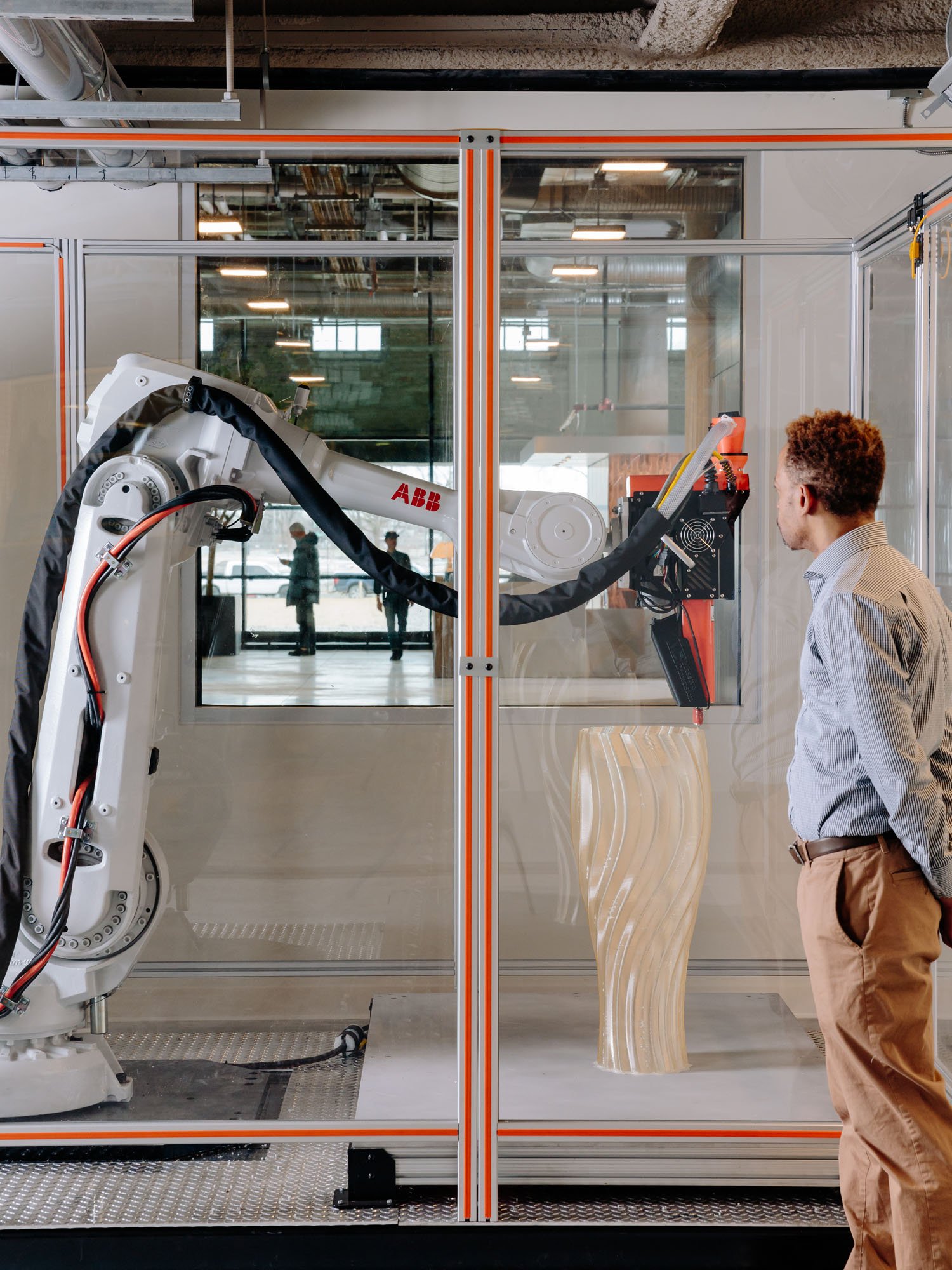 Rooting Design in Detroit
"Detroit is a city with an extraordinary design culture both past and present and the city has provided a deep well of inspiration for this project," says Civilian coprincipal Nicko Elliott "Our goal has always been to create a resonant and layered environment that takes cues from this remarkable structure while supporting and celebrating the visionary work that will take place here in the years to come."
Sourcing materials and working with local fabricators locally, Elliott and partner Ksenia Kagner were strategic in sourcing office furniture from Herman Miller. A prefabricated rosewood and pressed stainless steel reception desk sets the tone for a bold interior design vocabulary throughout. The graphical approach can only be described as one the fledgling practice has masterfully formulated as an evolving house aesthetic, not a set style per se. Projects like their own Bed-Stuy, Brooklyn, home and Bard College Berlin Student Residences demonstrates the studio's keen understanding of bold yet inviting colorways and almost neotenic forms, all mixed in with a clever selection of vintage furnishings and luminaires.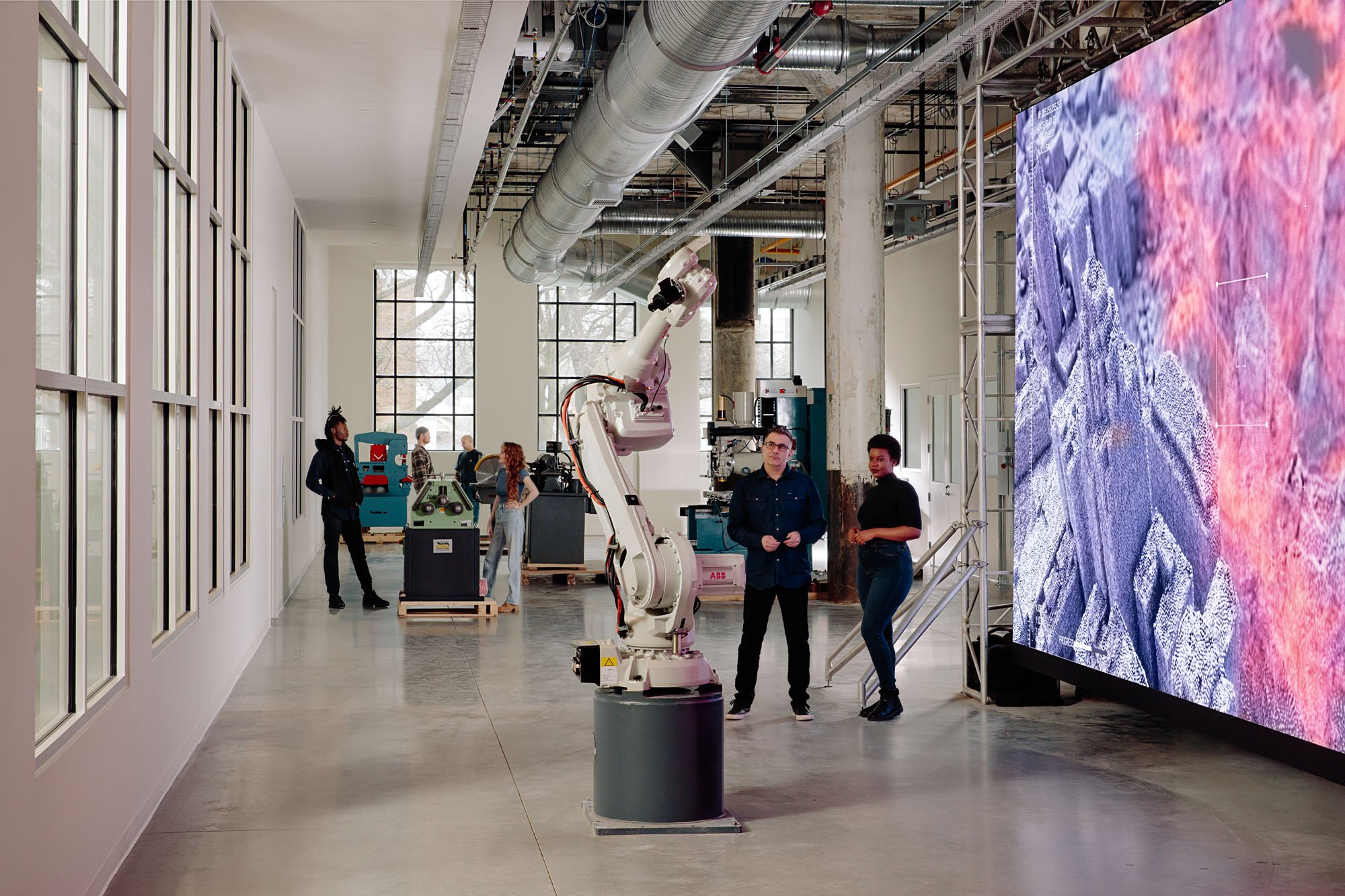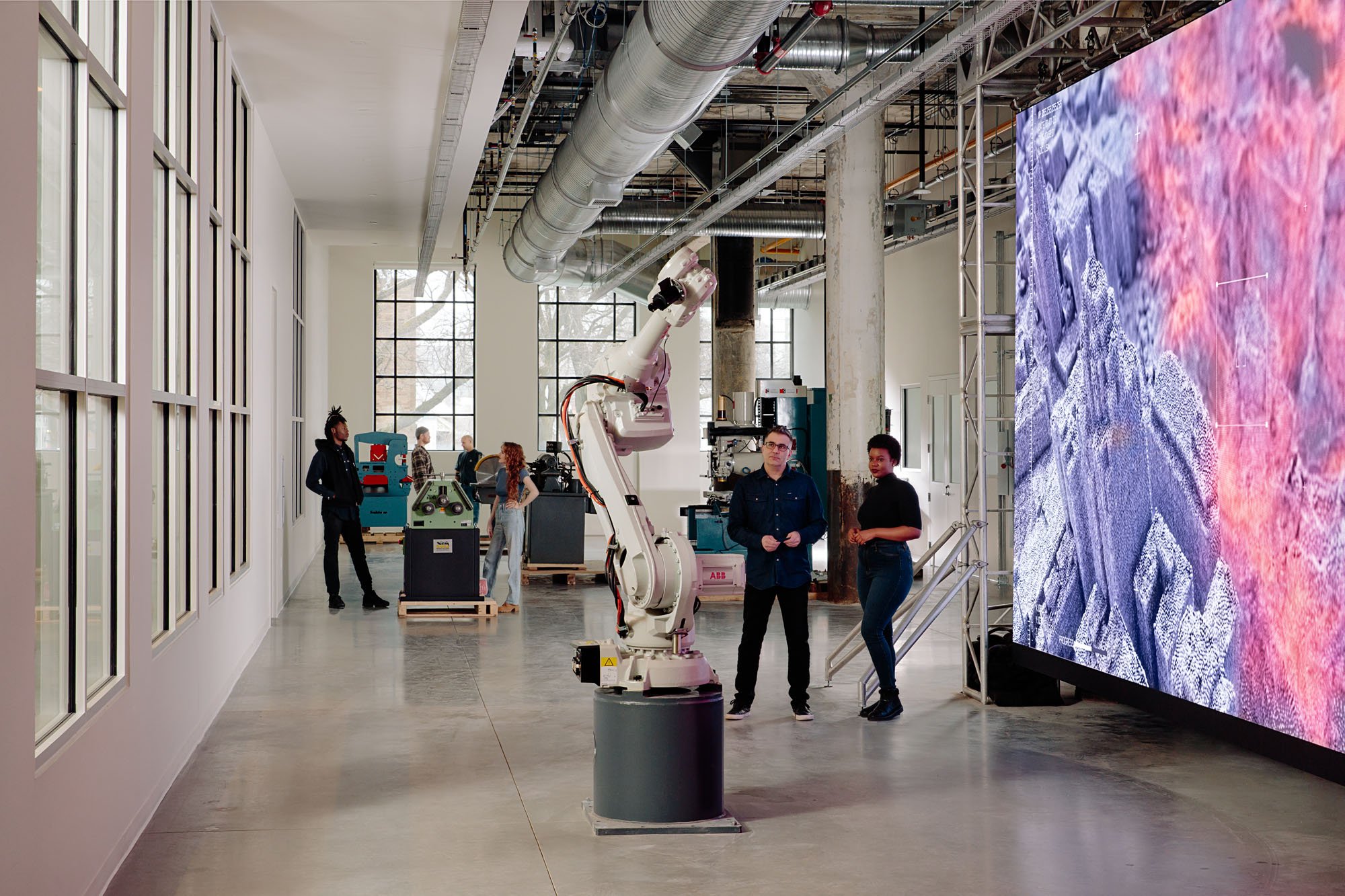 For Newlab Detroit, Elliot and Kagner sourced a surprising, comprehensive, and consistent set of heirloom settees from a dealer outside of Amsterdam and iconic Gae Aulenti lamps to create a mood that is as much tech forward as it is Mad Men chic. New upholstering and a lexicon of custom tables in three sizes riff-on the uniformity of the structure they inhabit. Together with storage cabinets rendered in solid ash and laminate evoke the 1930s Moderne furniture style and in turn, the Fordist mass production of a similar era. As a holistic evocation of the overall project and Newlab's goals, Civilian's intervention is as much about honoring the past as it is facilitating the future. 
"Newlab at Michigan Central is essential to making Detroit the leading hub of global mobility innovation and is a key platform for economic development in Michigan," says governor Gretchen Whitmer. "We are proud to bring key partners together to create good-paying jobs, revitalize Corktown, and create unparalleled opportunities in Detroit as we bring historic buildings back to life. With our economic momentum and powerful economic drivers like Michigan Central, we will lead the future of manufacturing, support entrepreneurs, and keep bringing jobs and supply chains home."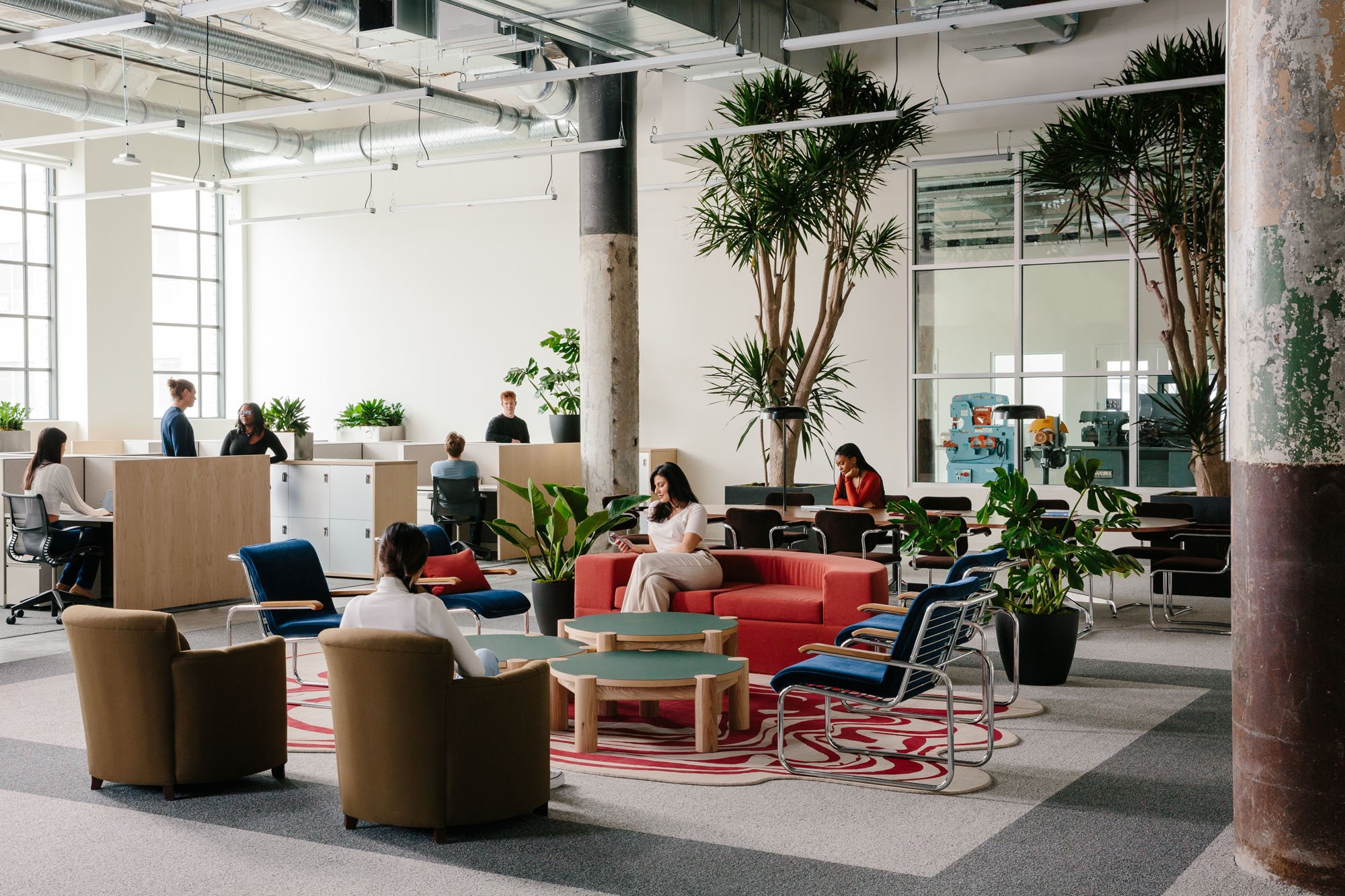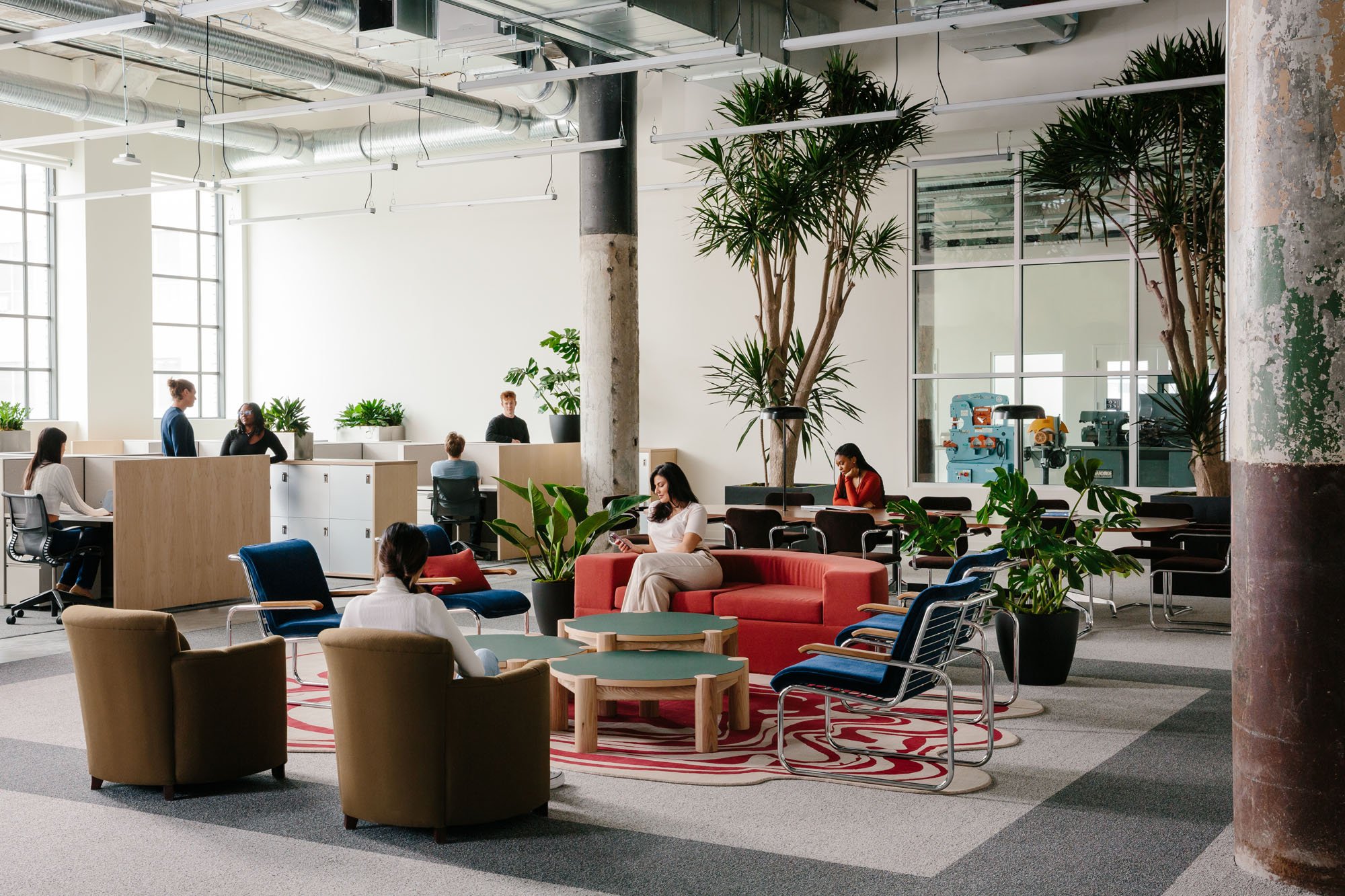 Would you like to comment on this article? Send your thoughts to: [email protected]