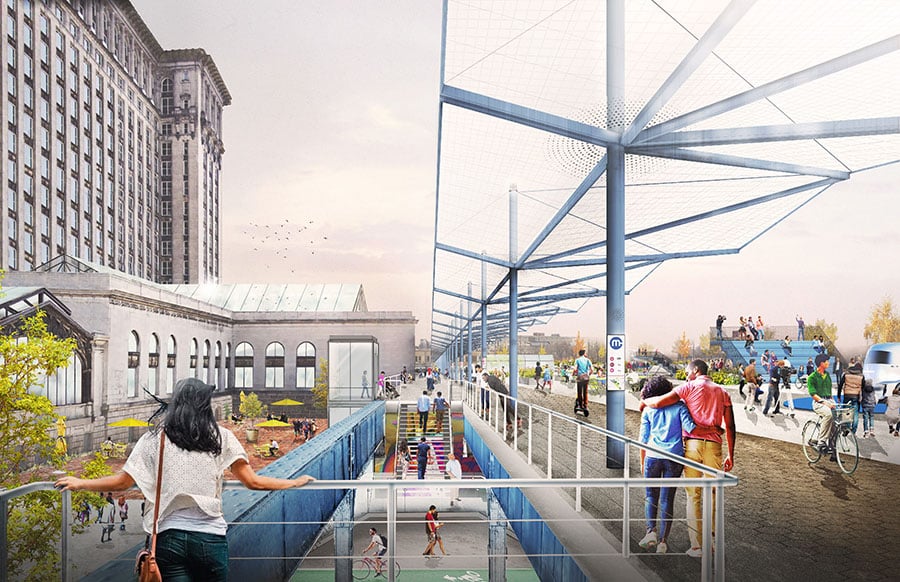 November 18, 2020
Ford Unveils Details of its Plans for Detroit's Corktown
Practice for Architecture and Urbanism and Gensler envision how the Michigan Central mobility innovation district will embrace the past and provide future opportunities for Detroit's communities.
Two years ago, when Ford announced its intention to create the Michigan Central mobility innovation district, it created waves because the site included some of Detroit's most iconic buildings—landmarks that had languished for decades. This week the automotive giant took the next step by unveiling a 30-acre site plan with lead architect and strategic planner Practice for Architecture and Urbanism (PAU) that weaves the existing historic neighborhood into new structures to create an alluring, modernized regional destination for high-tech talent.
The plans include four key buildings: Michigan Central Station, Building West, the Factory, and the Book Depository. The Beaux Arts–style 1913 Michigan Central Station building will become the hub of the new campus in Detroit's Corktown neighborhood while the Albert Kahn-designed Book Depository, which was built in 1926 and abandoned after a 1987 fire, will be transformed into a whimsical makerspace by a team led by Gensler.
Imagine a live, creative co-op full of emerging technology partners where ideas are on display. That's what Lily Diego, Design Director at Gensler, has in mind for the three-story Book Depository, a monumental building that's square, stout, and robust with a rich architectural heritage.
---
More from Metropolis
---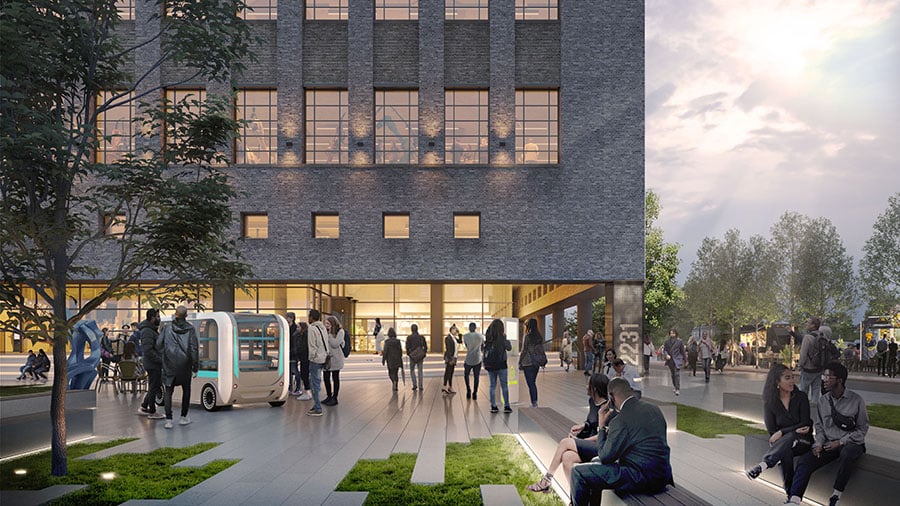 With its new design, "you could go through this building and choose your own adventure from the ground floor," says Diego, which connects to the neighboring buildings, the parking garage, Michigan Central Station, and Roosevelt park. The building features a central atrium to ensure tenants have equal access to daylight. Right to light and the adaptive reuse of the structure are two of the new design's main sustainability features.
While creating flexible and future forward workspaces, the Gensler team had fun fusing adaptability into each area of the building from restrooms that could be gender neutral, to alcoves underneath the main staircase, which could be used for meetings and a canopy net to one side where tenants can relax.
To complement the amazing view of downtown Detroit and even Canada from across the river, Gensler's proposal for the rooftop includes a wrap-around bar, a 1950s-style conversation pit, and hanging fireplace. The rooftop space will be technology-enabled and the open lounge area could easily shift from dinner settings to a large presenter space or performance stage. "It's comfort beyond code," says Diego. "Not only are we meeting building code, but we're also thinking of the comfort, health, and well-being of the people using the building."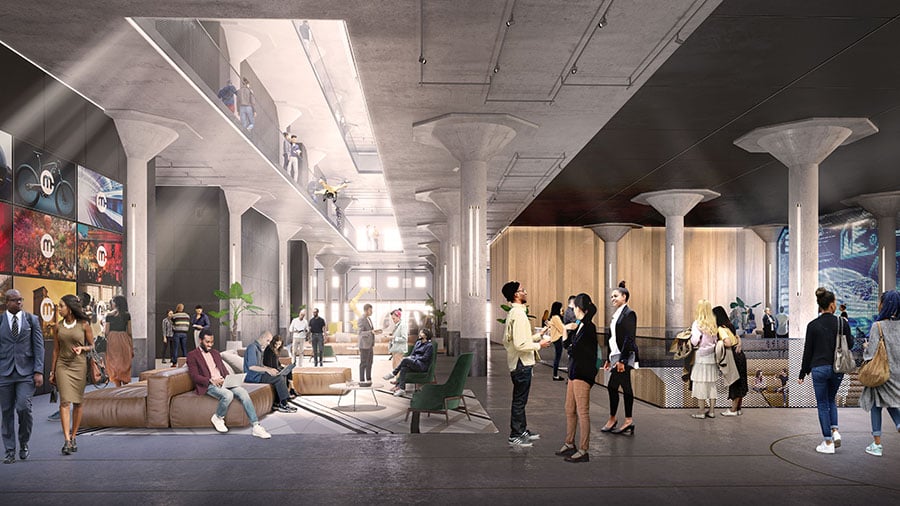 This same mindful planning by PAU's lead architect is employed in the revival of the Michigan Central Station. The building is a symbol of both past glory and tough times in Detroit, and is now poised to become an icon of a budding Detroit Renaissance movement, creating opportunities for the surrounding Corktown neighborhood. "It's not the rust belt, it's the innovation belt," says Vishaan Chakrabarti, Founder and Creative Director of PAU and lead architect and urban planner for the project.
There is more than one community surrounding the station, and their input was vital in planning what will become an innovation destination in Detroit. Chakrabarti aimed to create something that both paid homage to the existing neighborhoods and was forward thinking in design. New architecture and city planning can galvanize improvements in the neighborhood through job creation, mobility innovation, and improving connections between the communities. "Ford is the gardener here," says Chakrabarti. Planting public spaces around the station, he says, will hopefully spur other organizations to also create affordable housing in the area.
PAU's plan includes a 7-acre greenway behind the station that connects the Detroit Riverfront, surrounding parks, and neighboring structures. The greenway will grow out of the revitalization of the historic train tracks, and it will connect to the train platforms inside the buildings, which will in turn be repurposed into a mixed-use testing area for emerging mobility technologies. After all, Detroit – the Motor City – was designed around transit and the automobile industry, but people are at the forefront of this project.
"We really tried to make a balance between greenery and hardscape," Chakrabarti says. For example, the Vernor Highway underpass will become less of a pedestrian roadblock, thanks to the addition of lighting, a sidewalk, and bike lanes. This not only improves the neighborhood's walk score, but also makes it safer for residents.
The aspiration is that Detroit could become an employment destination. "If you graduate from a local school, you should see value and opportunity in staying here," says Chakrabarti. Projects like the Michigan Central mobility innovation district could also transform Detroit into a magnet for attracting young talent to the city and retaining them. "I hope people will look to this as a model," he said.
You may also enjoy "In Detroit, Empty Lots Become Parks, Helping to Rebuild Lost Social Equity"
Would you like to comment on this article? Send your thoughts to: [email protected]
---
Register here for Metropolis's Think Tank Thursdays and hear what leading firms across North America are thinking and working on today.