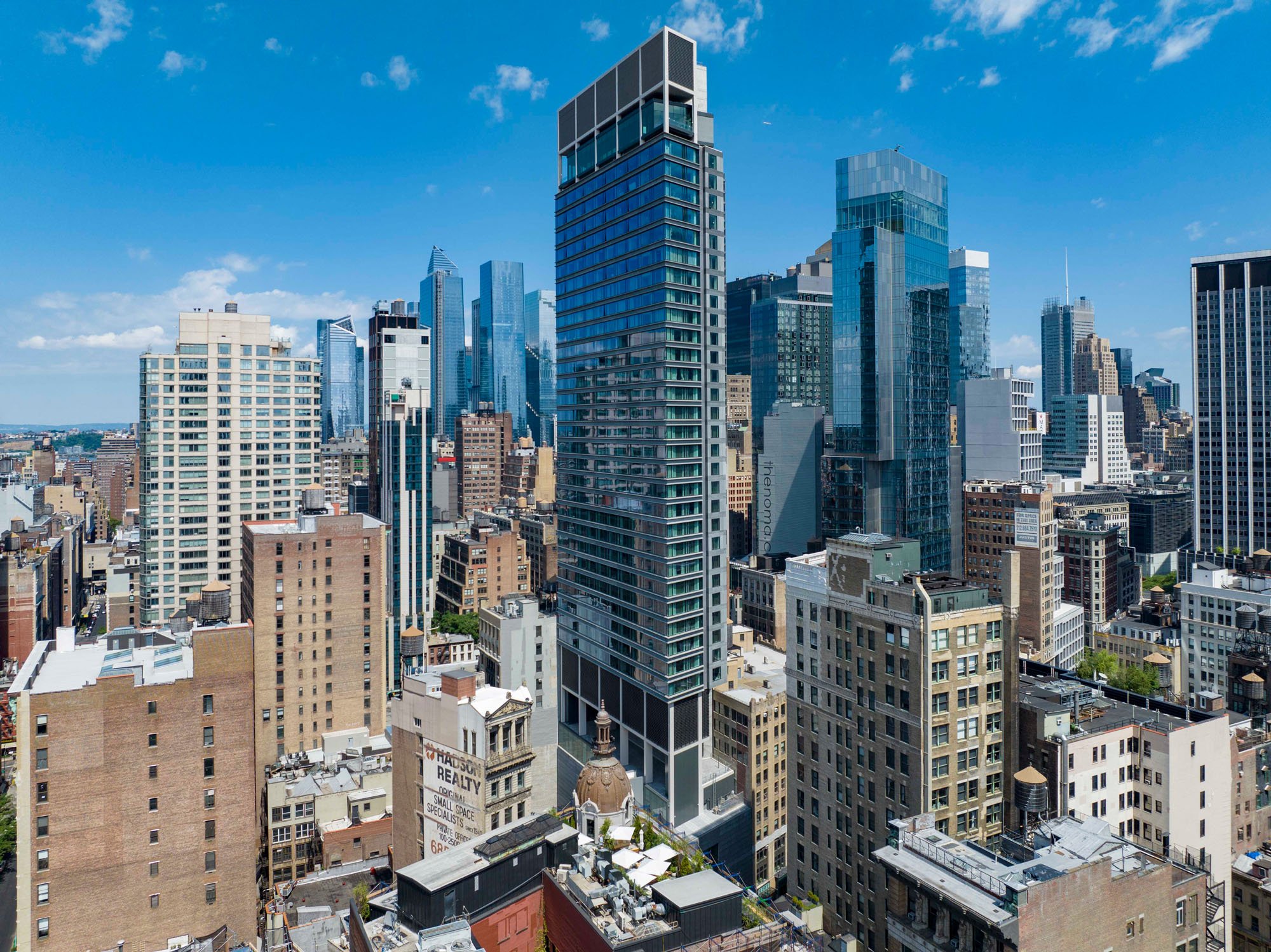 September 29, 2022
A Flagship Ritz-Carlton Hotel Springs up in the Flower District
But don't call that lightness a trademark. Viñoly avoids the word in reference to design, and only uses it with respect to the experience of enjoying the building—which, in the case of his new hotel, the Ritz-Carlton, New York, NoMad, he credits mainly to Dayssi Olarte de Kanavos, president and COO of Flag Luxury Group, the project's developer. (Her husband, Paul Kanavos, is the CEO and chairman.) Viñoly is not into wow factors and has no desire to be the architectural equivalent of a fashion victim; he is more apt to use the use the word dignity. "It's a lot more difficult not to have a trademark," he suggests.
This is a man who creates billion-dollar buildings, who has no need to showboat about the highly anticipated, 250-unit luxury hotel. "It's a rational response without being boring," is all he offers initially. The hotel registers as a thin blade, a floating rectangle set down at Broadway and 28th, just five blocks from the Empire State Building, within a neighborhood that was workaday a few decades ago but is now one of the hottest in Manhattan.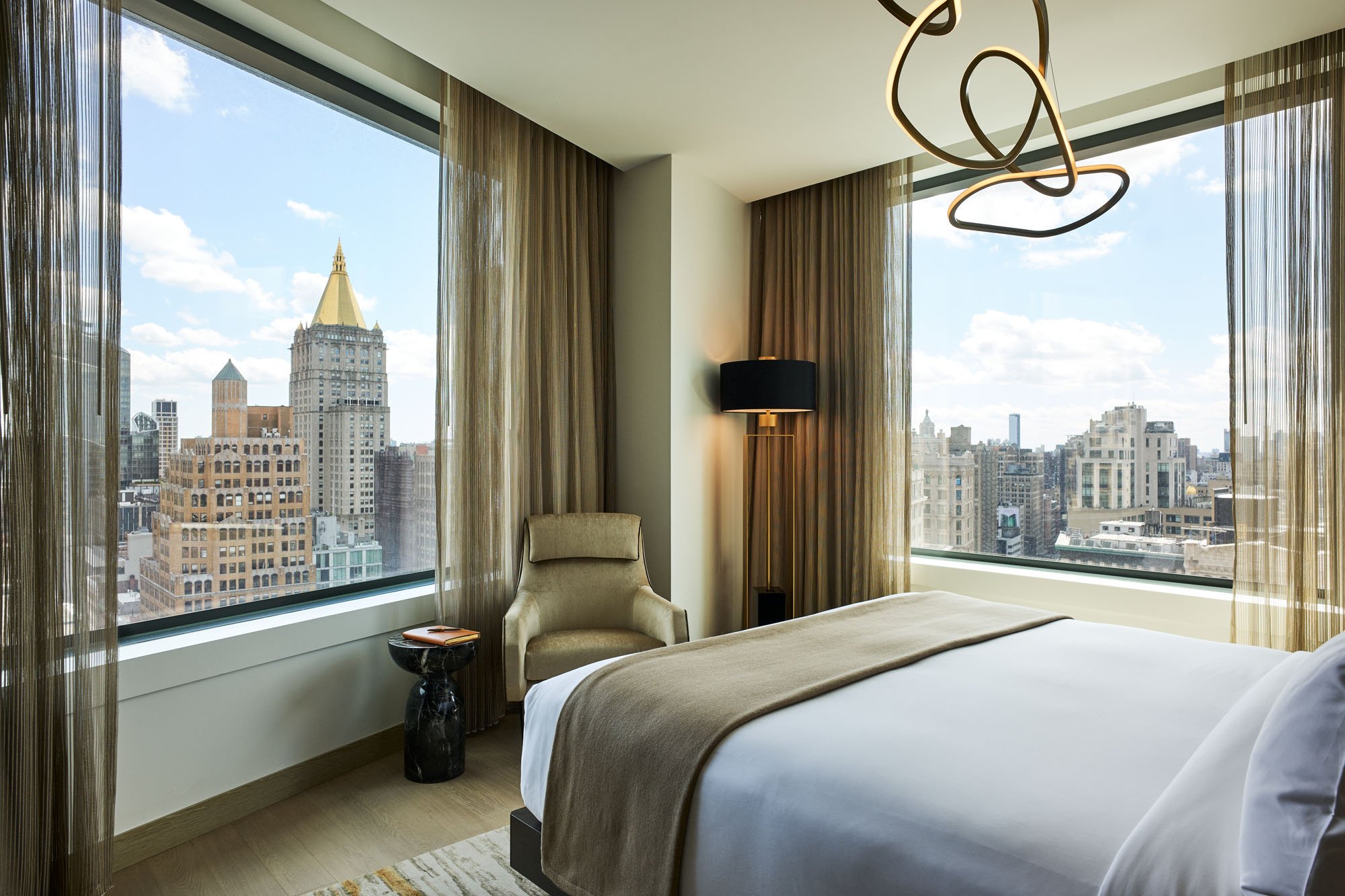 With its hanging gardens at the top levels where the rooftop bar is located (the culinary program is overseen by no less than Michelin-starred chef José Andrés), the 38-story hotel nods to the semi-open floors of its famous sibling at 432 Park. "Perforations free up the wind pressure of the tower and are used for expansiveness on a site that doesn't have any," the architect explains. And like 432 Park, the tower's calling card is its views—and Viñoly is quick to defer to them. "The idea is that the guest room should have a completely uninterrupted stripe of glass because the views are spectacular—the most iconic part of Manhattan is still downtown," he says. "The primary motor of this project was to think of it as an experiential journey. You enter, you have a drink, then you go up to the room and what's your first impression?" The answer: Fifteen-and-a-half feet of horizontal urban composition.
---
More from Metropolis
---
In terms of challenges, Viñoly is candid. He calls the lot "a difficult site," and the demands of the New York City's new energy efficiency standards are exacting. "It's a pretty strict situation now—you have to do a thorough model of the whole building," he says. "It's a regulatory process that's remarkably precise. The energy conservation goals are measurable even before you build a building, and they are part of the environmental review even before you receive a permit." On top of this, the elevation versus street setback became a balancing act: In order to gain approval for the building's height, an urban plaza—set back 25 feet, with minimum dimensions, minimum width, and amount of seating—had to be part of the plan. The design is inconceivable without it, given that the Flower District is so dense. "The plan is very efficient when you look at the intricacies of planning and circulation, particularly with the urban plaza in front," Viñoly says. "It creates a more palatable public realm at the bottom, which is needed at that particular part of Broadway."
Of the final product, the architect permits himself a dollop of pride: "It came out rather elegant," he says. "Every time I see it, I think, 'That's a good building. Who did it?'"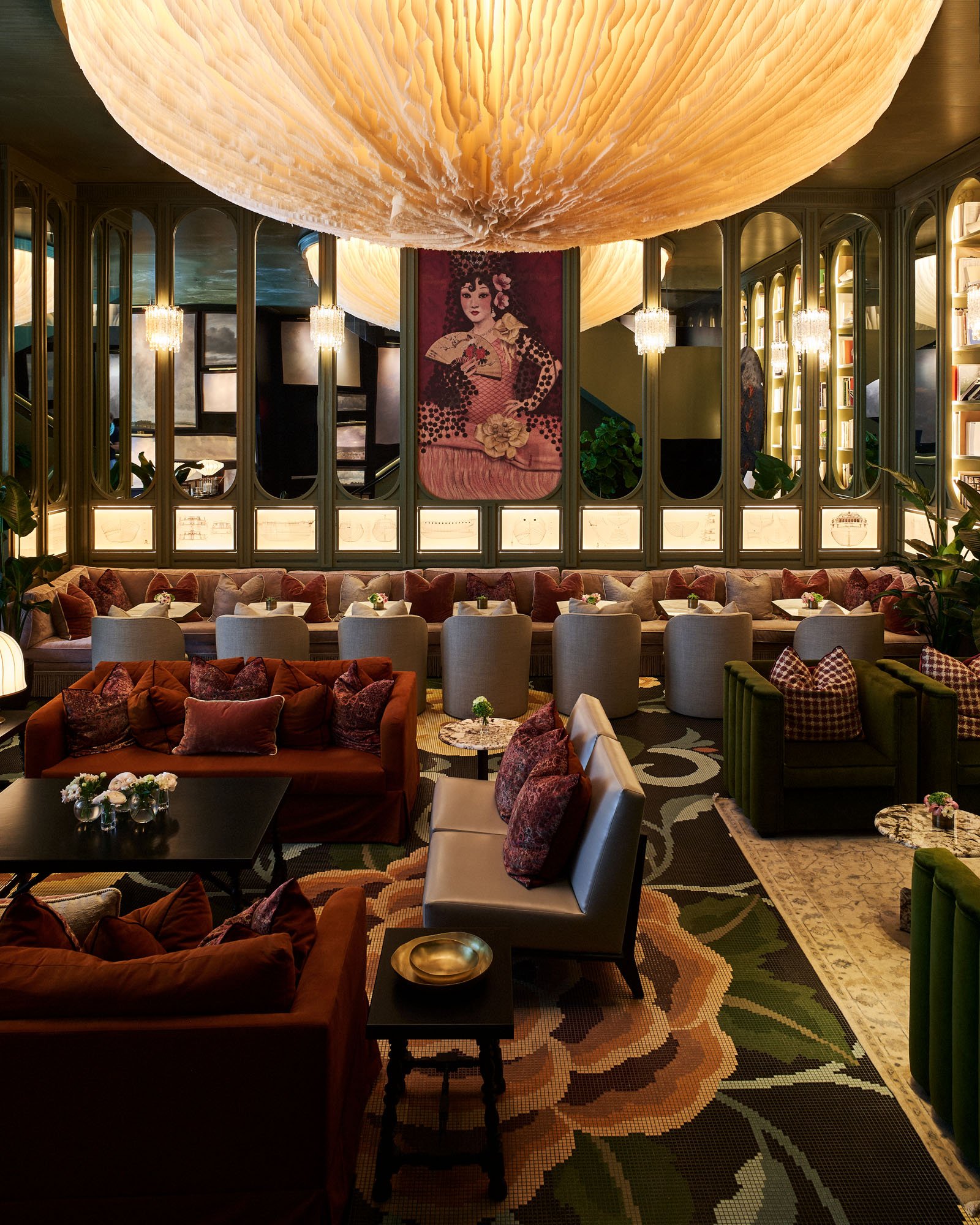 Would you like to comment on this article? Send your thoughts to: [email protected]