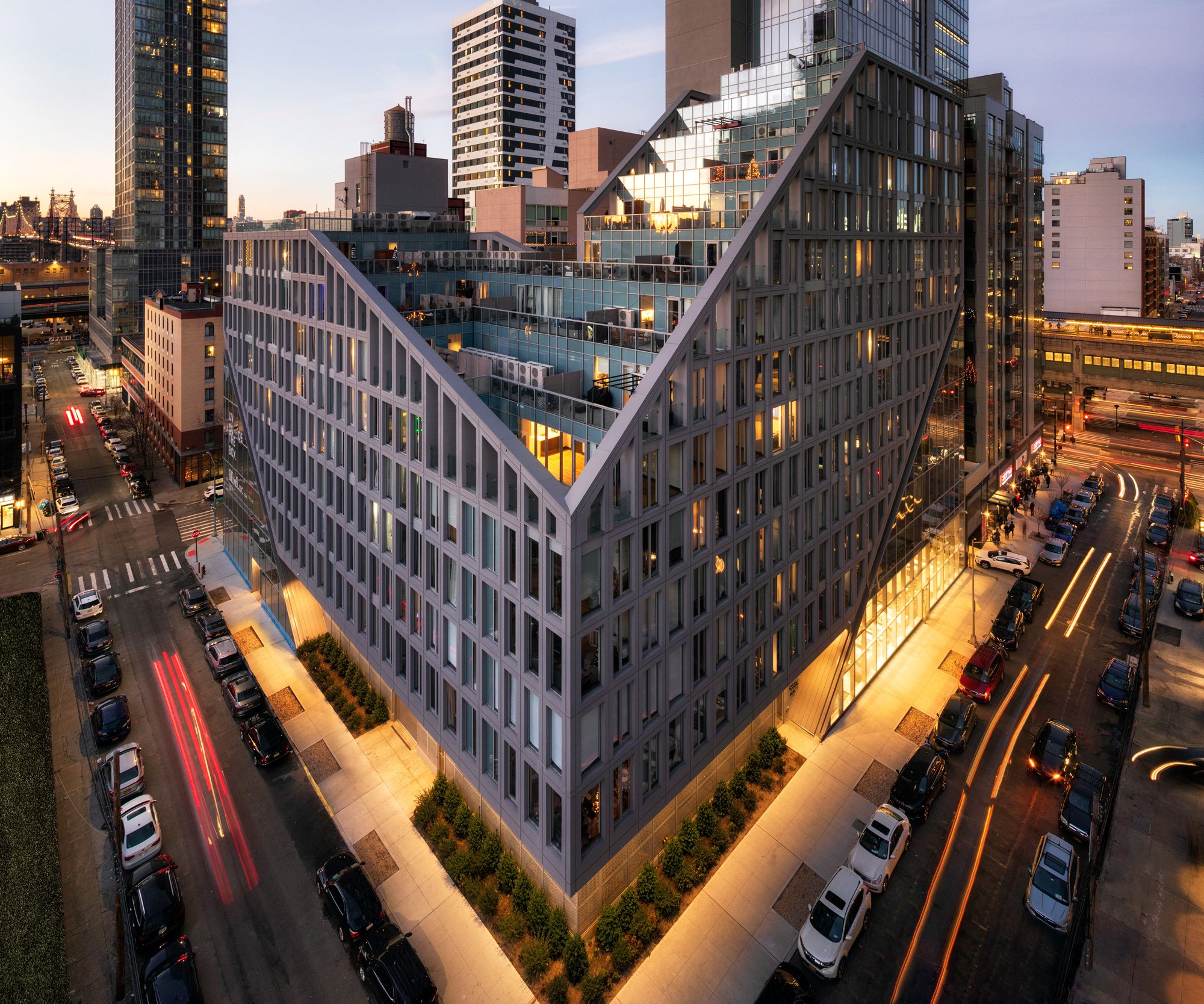 September 30, 2022
A New Long Island City Apartment Puts the "Fun" in Functional
ODA is known for its playful apartments and offices. Instead of building rectangles up to the zoning envelope to maximize every rentable square foot, it manipulates the allotted space with stepped terraces, oversize common spaces, and flying dormers.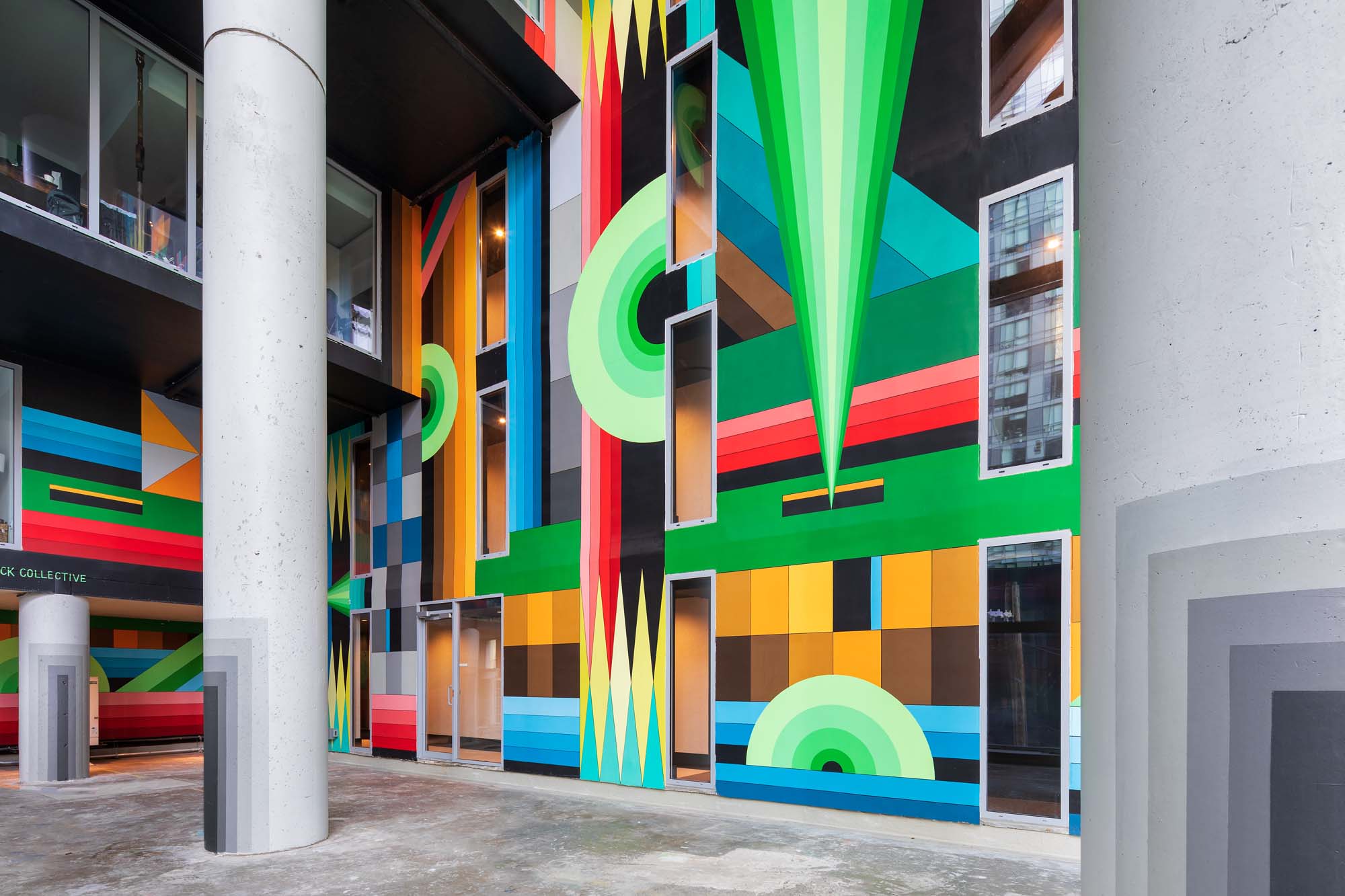 The firm has a cheeky philosophy that informs every project. While modernist architects adhered to the idea that form follows function, "we think the next era of architecture might be described by form follows fun," says ODA founding principal Eran Chen. "We look at residential buildings [as] an ecosystem in which people live, work, and play, engaged with one another, and engaged with outdoor spaces. So we need to adjust our buildings accordingly."
At Bevel, the "fun" part is immediately evident from the street. Passerby are greeted by a freestanding waterfall fountain that resembles harp strings hung from the ceiling and a glimpse into a shady L-shaped courtyard garden through massive plate glass windows. Also visible—almost impossible to miss, really—is a hypersaturated 85-foot-tall Frank-Stella–esque mural by Dalek, an artist affilated with the Bushwick Collective.
"Our aim was to take what's spontaneous and so lovely about life in the city and make it a bit more permanent," Chen explains.
Bevel's large ground floor allowed the team to manipulate the typical residential building layout, wherein apartments are sandwiched between common areas on the ground floors and roof. By slotting balconies into the roofline, and raising one corner to accommodate non-residential use, ODA reshuffled the allotted floor-area ratio to raise what would have been first or second floor apartments to the third floor. Many upper-story units feature south facing terraces sloped and stepped back at a steep angle, reminiscent of BIG's "courtscraper" on Manhattan's West Side. Two botanical gardens—at 65 and 75 feet, respectively—are for residents of all 202 units to enjoy.
It's almost a given that new buildings are self-contained cities with amenities galore. Like its peers, Bevel boasts a gym, a screening room, a library in the lobby mezzanine, and a party room in addition to its courtyard and public terraces. All apartments, from studios to three bedrooms, are sunlit with floor-to-ceiling windows, while solid oak floors warm the industrial chic aesthetic. On average, units are compact, with most one-bedrooms measuring around 600 to 650 square feet.
At one intersection, a glass beveled corner—the building's namesake—rises vertiginously from the sidewalk, its slope parallel to that of the facade on the facing corner. Inside, a monumental commercial space under construction contrasts with the comparatively cozier lobby, a design decision that rounds out the inventive massing and reinforces the building's connection to its surroundings by inviting another look inside.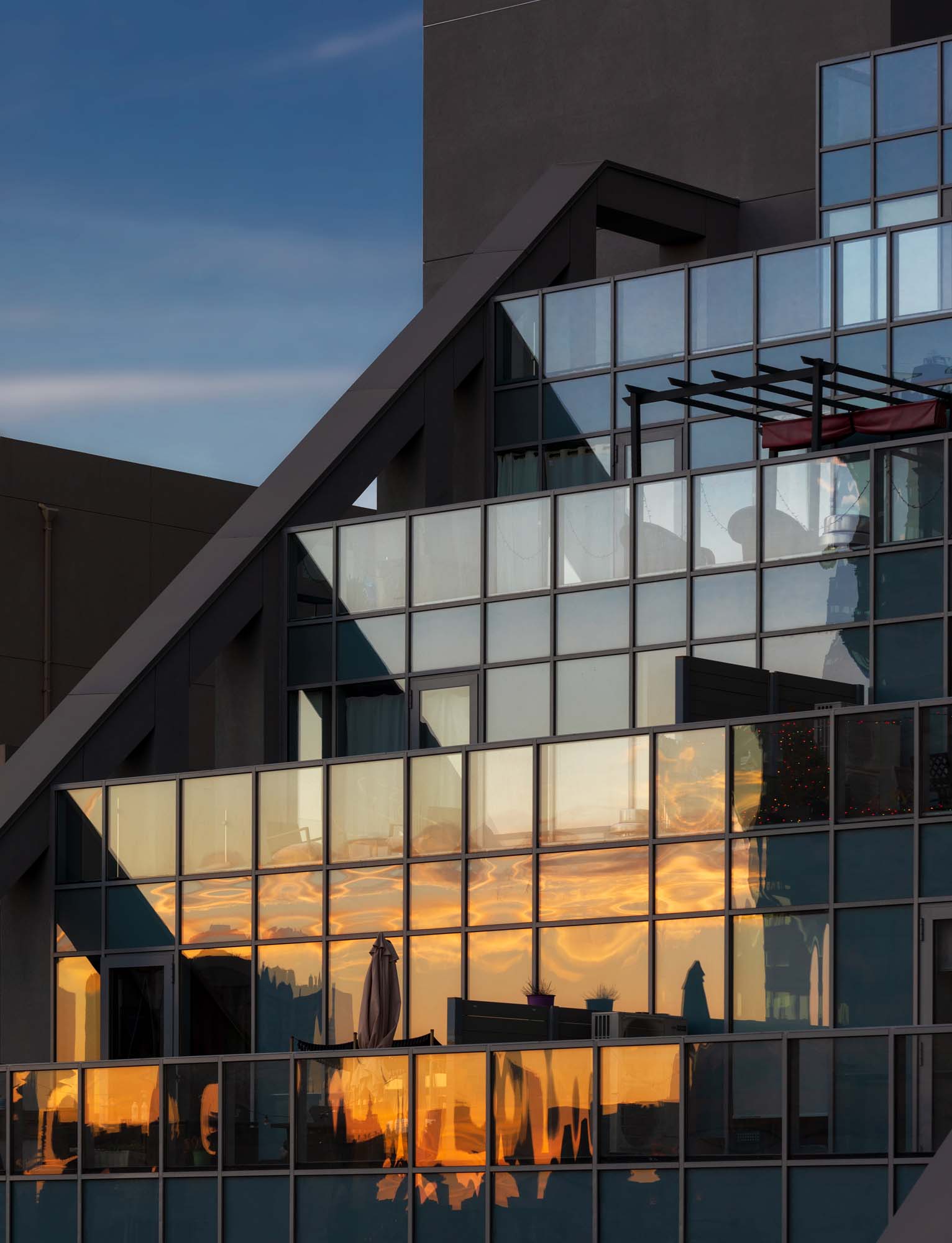 Would you like to comment on this article? Send your thoughts to: [email protected]