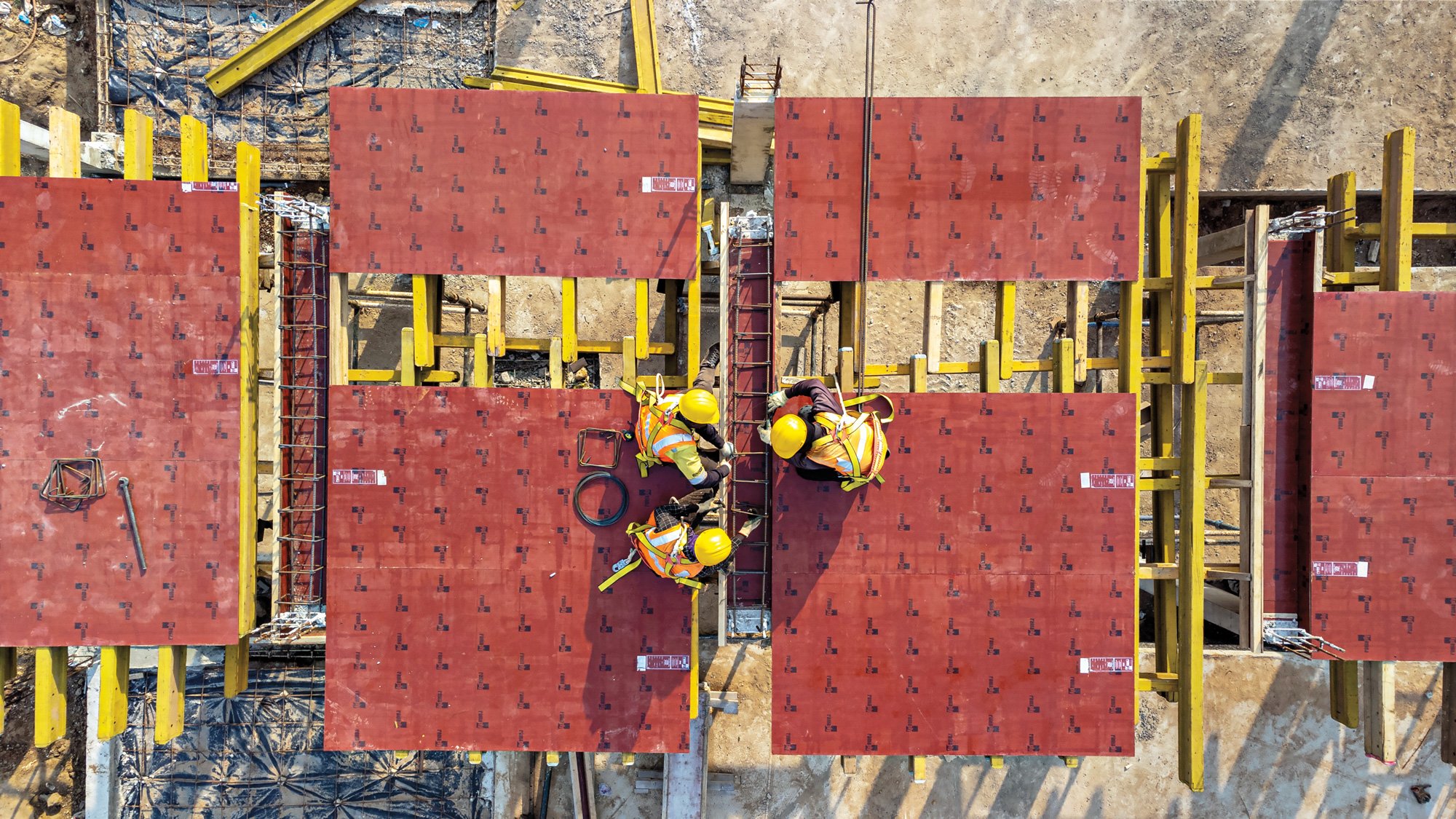 October 5, 2022
How Ghana's Radical Experiment in Health Care Is Taking Shape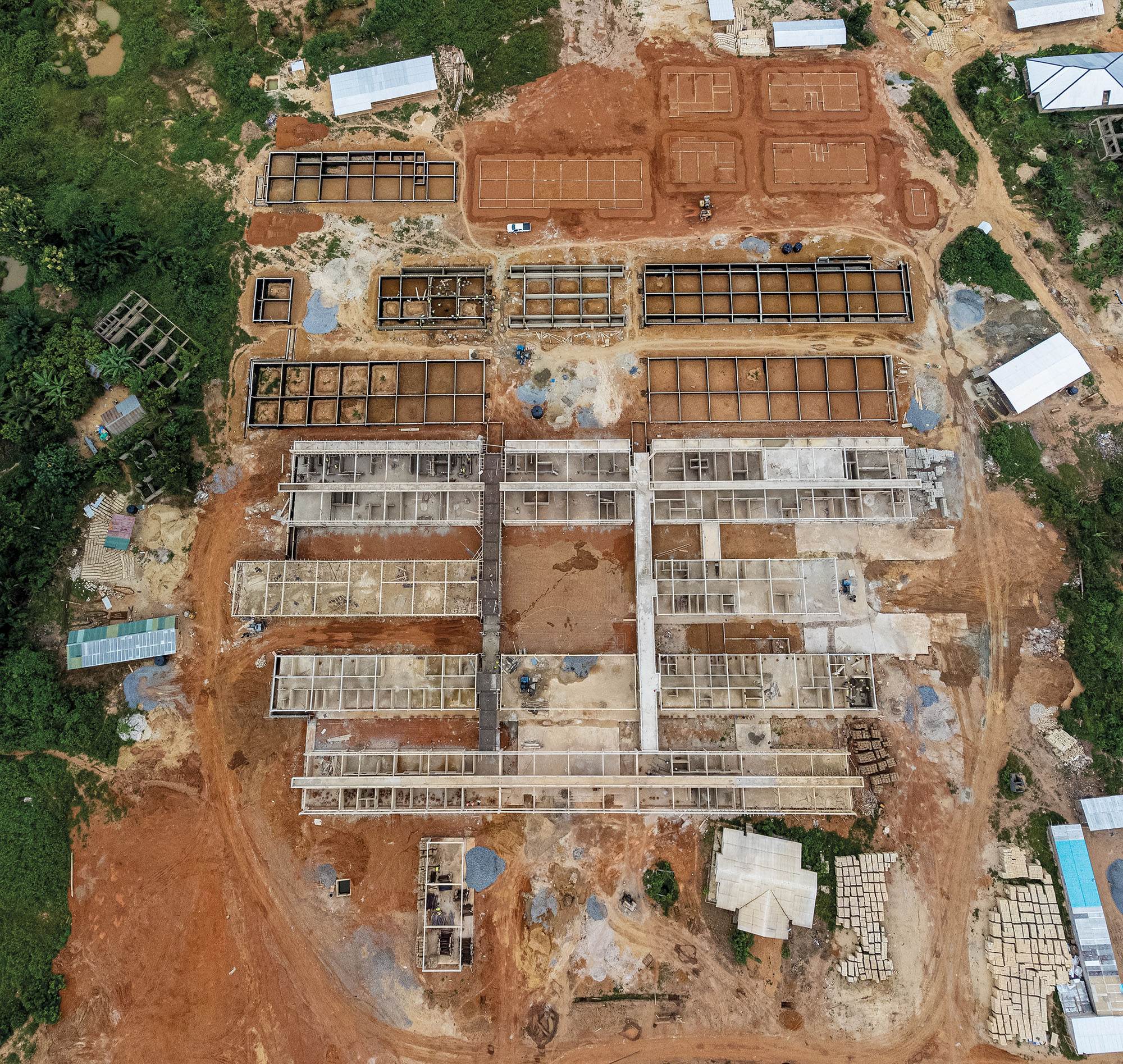 "Agenda 111, the largest investment in health care infrastructure in our history, is part of a massive vision for Ghana's health care sector," said Akufo-Addo in his 2021 state-of-the-nation address. "[Its] realization will lead to Ghana becoming a center of medical excellence and a destination for medical tourism." To help seed the estimated $1.76 billion district hospital program (each building's construction is set to cost an average of $12.88 million, with another $4 million budgeted for medical equipment), the government secured $100 million through its Ghana Infrastructure Investment Fund, launched to leverage private sector funds to aid with infrastructure assets.
The formidable undertaking, whose first hospital broke ground in August 2021, is a collaborative endeavor between local and international, private and public players. Adjaye Associates and Accra-based design consultant Sutherland & Sutherland Architects are teaming with myriad Ghanaian consultants, all appointed by HIG, which is coordinating project integration and implementation. Ghana's Ministry of Health (MOH) Infrastructure Directorate is providing information and resources, while metropolitan, municipal, and district assemblies across the country are facilitating the provision of sites and services, including water, power, and road access.


"The challenge of the project involved organizing a diverse team … within a very limited period of time," says Ralph Sutherland, principal architect for Sutherland & Sutherland. "This took skill, commitment, and endurance."
Adjaye's template, designed to occupy a 91,000-square-foot footprint on a 15-acre site, merges high performance, contemporary design, and sensitivity to local culture with engaging, open public spaces and a healing connection to nature. Its layout follows a pattern of rectangular blocks and voids, arranged in long, north–south rows for high energy efficiency. Depending on site topography, these volumes splay across one level or are tiered in sections along a 2 to 5 percent slope. Blocks—including entrances and waiting pavilions, reception, administration, pharmacies, labs, ER, public health and physiology, surgical, pediatric, and maternity—are all connected by ramps and walkways. Services and accommodation units are incorporated behind these primary buildings.
Many internal spaces are organized to overlook greenery, with a 4,542-square-foot landscaped court enclosed at the heart of each campus. Sunlight filters generously into wards via clerestory window openings below steel-framed butterfly roofs, with broad overhangs for shade and cooling. (Alternatively, gable roofs are adopted for settings like ERs and operating rooms that require controlled internal temperatures.) Each hospital's circulation network is defined by two central spines, with separate routes for support services, accommodating increased traffic and streamlining movement among patients, staff, and visitors. Movement is also distributed laterally along central walkways into double-flanked open-air corridors.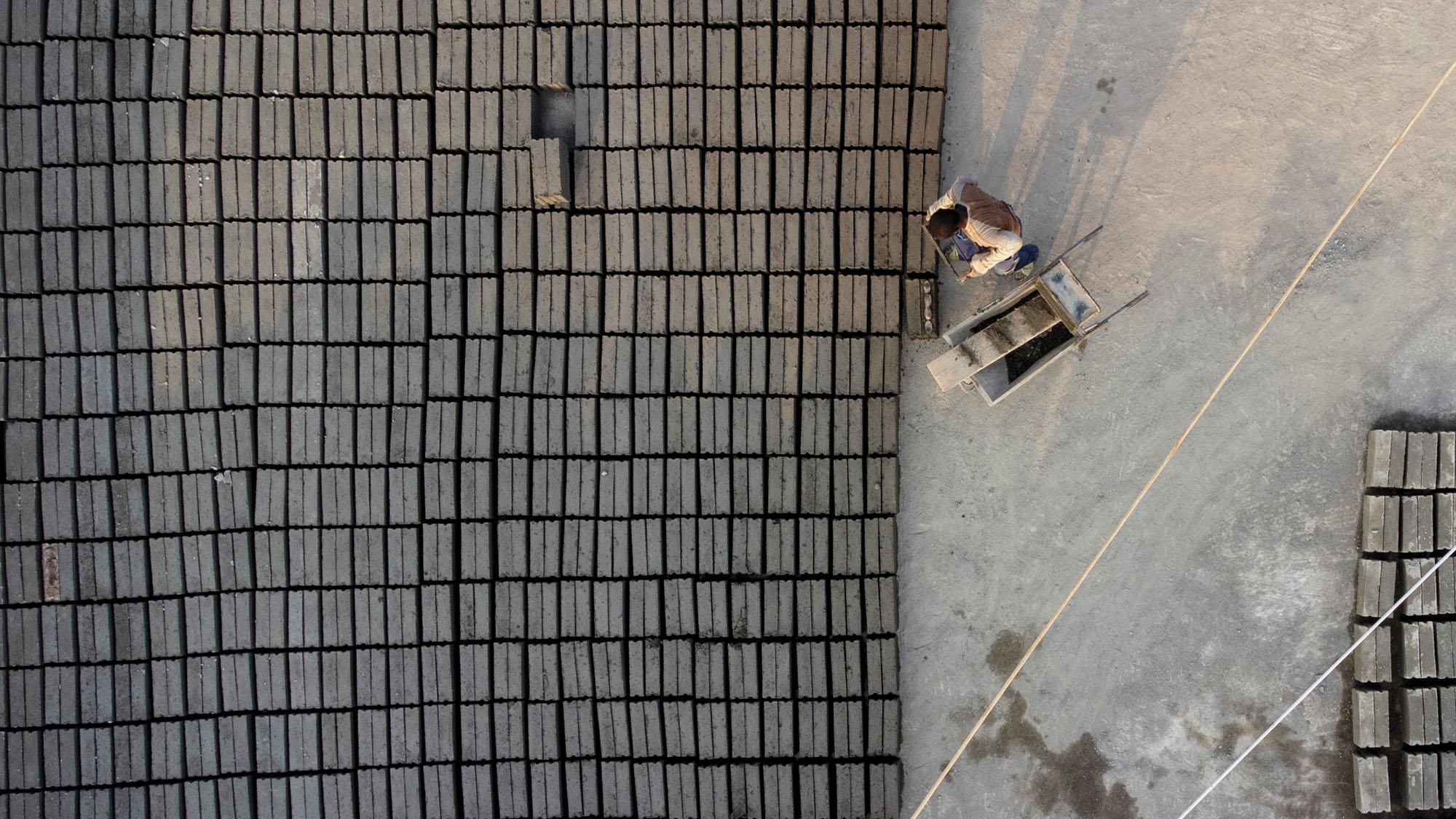 The facility's earthen building envelope comprises stabilized compressed earth blocks (CEBs) that are locally sourced, prefabricated, and arranged in an interlocking pattern. (Other efficient components of the construction system include modular roof truss systems and interlocking roofing sheets.) The exposed, weather-resistant blocks—adding to the healing natural aesthetic while being inherently sustainable—will also function as the hospital's primary external finish, complemented by a natural interior color palette. The project's other sustainability strategies include passive ventilation, locally sourced materials, thermal mass, and insulated roofing systems.
"We've really spent a lot of time working on creating a space that actually allows people to heal," says Kofi Bio, associate principal at Adjaye Associates, who stresses that the design is intended to promote health for all patients, regardless of their background or economic circumstances. "What's really important now, in the world we live in, is that health care is more than just equipment or the most expensive medical technology. It's actually about the well-being of people."
Despite following the basic template, each hospital will take on its own nuances, based on location. Size, building form, materiality, technology, and landscaping will draw on each site's unique conditions. "Rather than designing a tech-driven-type box that just lands onto a site without consideration for its context, the District Hospitals presents a new typology of low-cost, high-quality health care architecture that can be integrated within varying landscapes, townscapes, or cityscapes," sums up David Adjaye.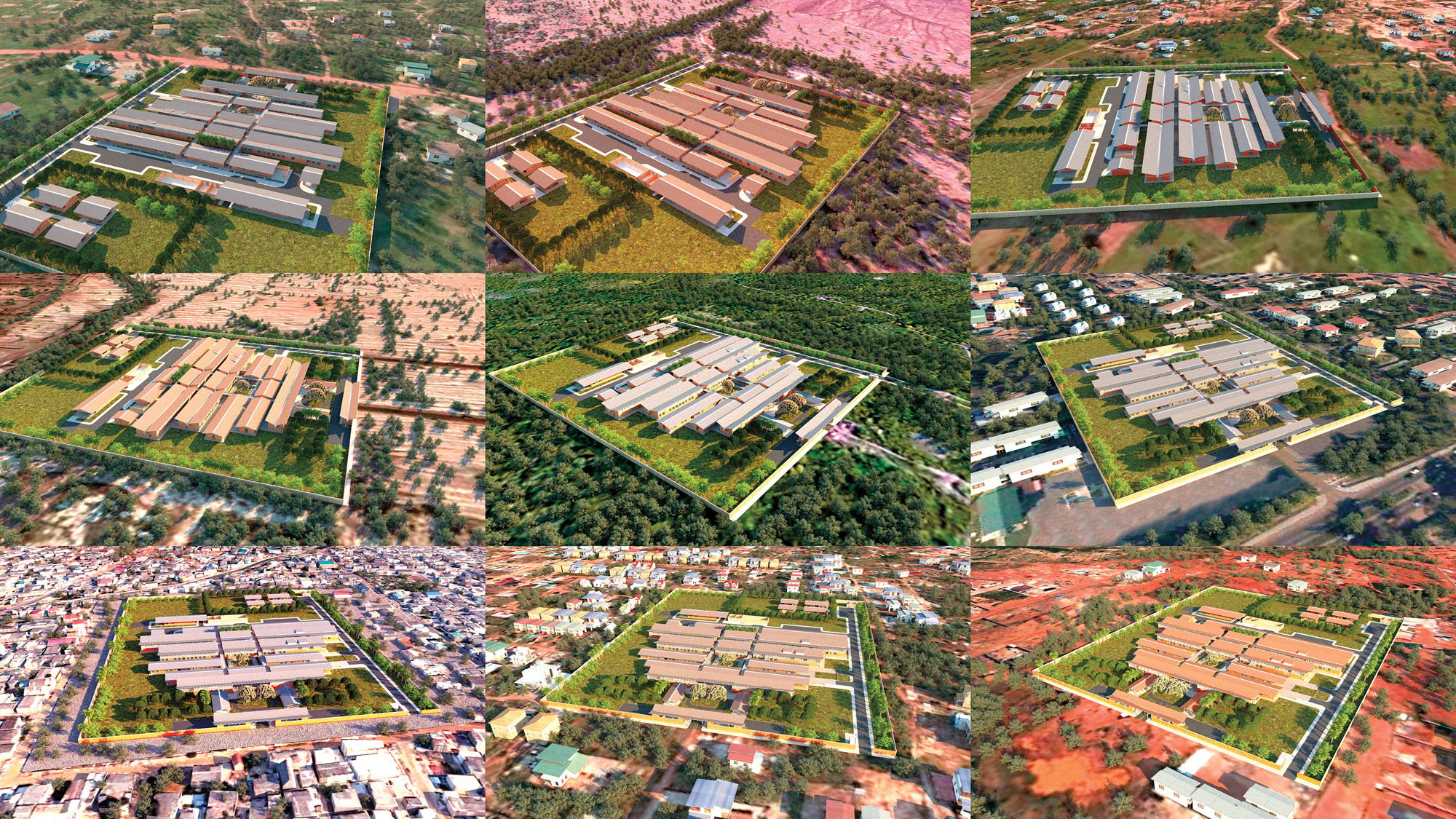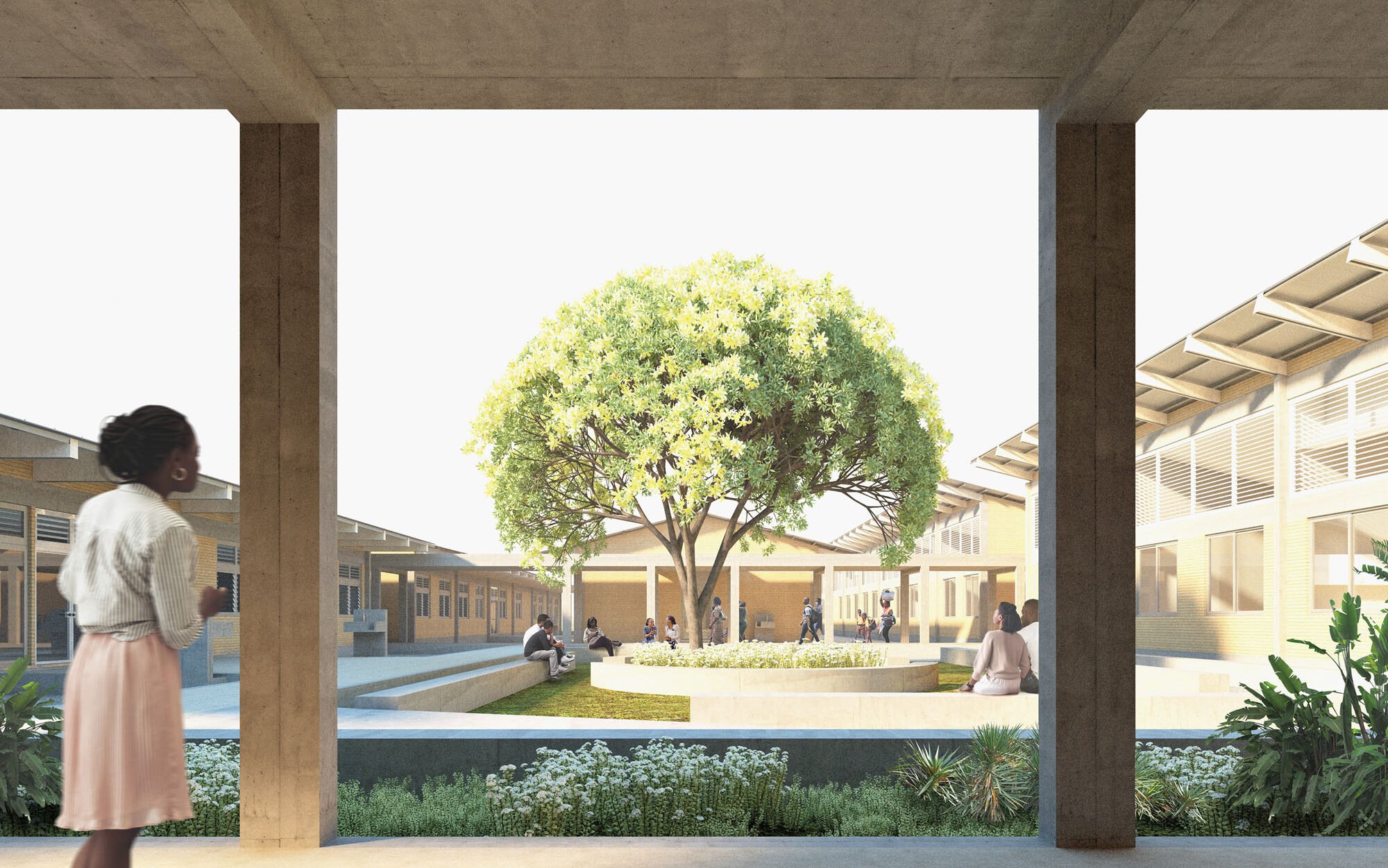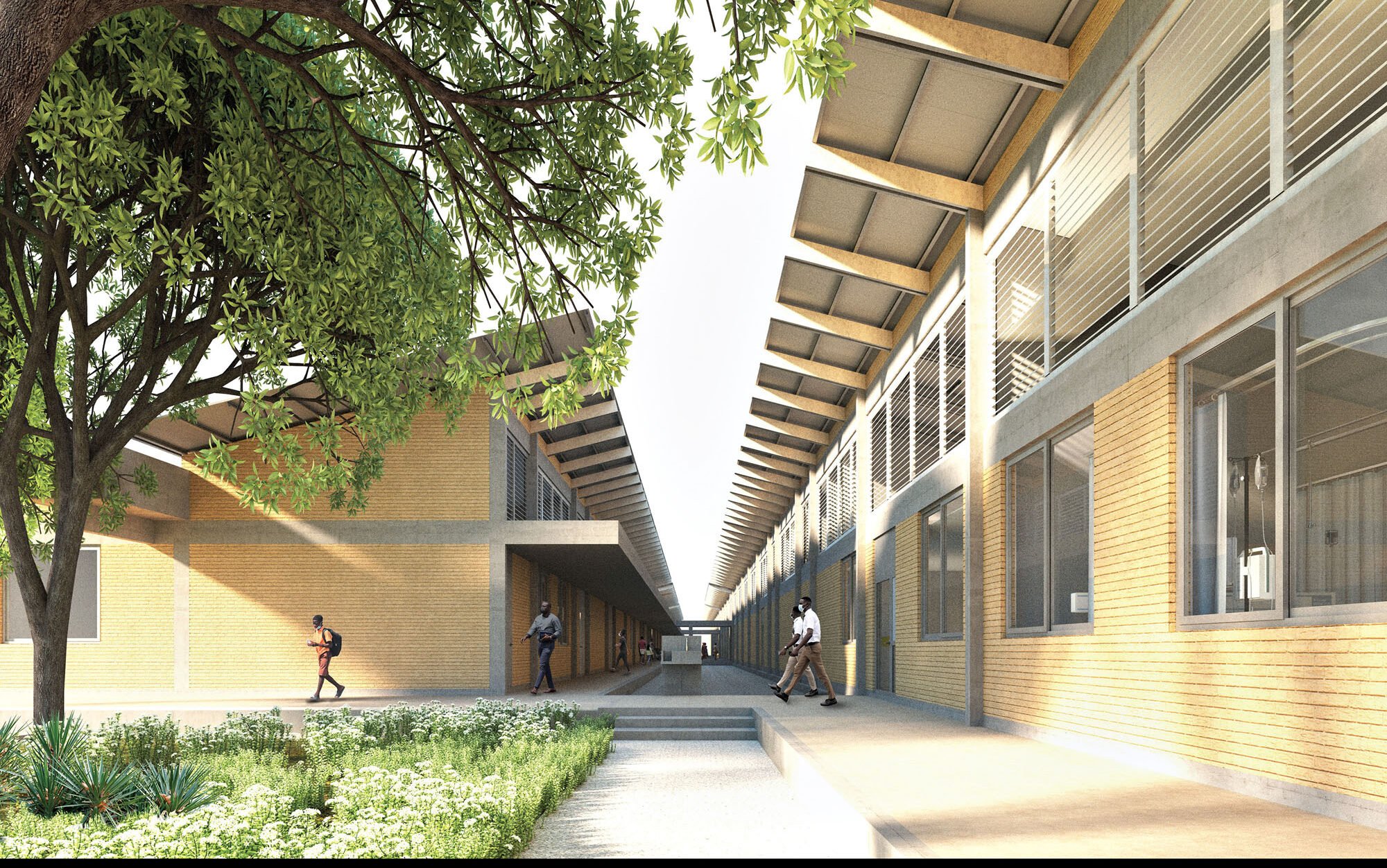 Prototypes, for instance, can adapt to 60-bed or 100-bed capacity, and housing units will be integrated into many remote sites to incentivize doctors and staff to take on live-work placements, and to better accommodate patient families. Plans are also in development to reconfigure the prototype vertically for smaller, more compact sites within congested urban centers.
"As we understand more of the context we're building in, we adapt the design to suit [that]," says Glenn DeRoche, an associate at Adjaye Associates. "In doing this, we create more work for ourselves, but I think it's very important to reflect the context that we're building in and not just predetermine what works." It is this culture of learning, unlearning, and exchange—give and take—that captures and reflects the core ambitions of the project. Underscoring this flexibility, the layout of the prototype is an abstract translation of the Adinkra symbol for ingenuity—Denkyem. (The literal translation is "crocodile.")
Ingenuity aside, some question whether the multi-site undertaking is overly ambitious. Between 60 and 70 percent of the 101 Adjaye-designed hospitals are under construction, but few appear ready to meet their 18-month completion deadline.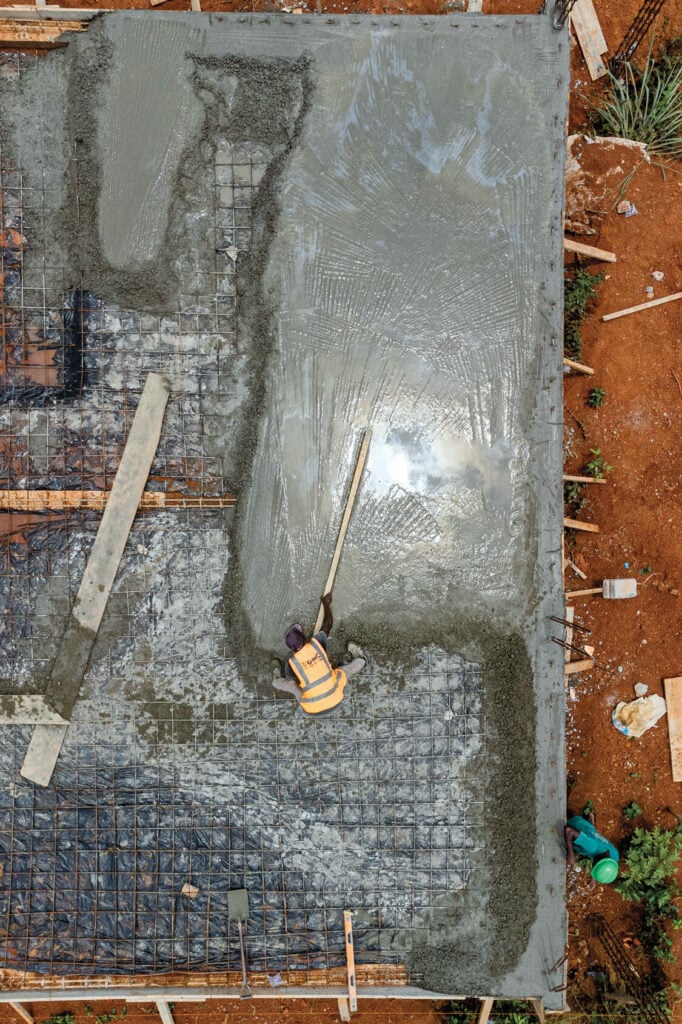 "Yes, it is an ambitious project," asserts Ministry of Health head of architecture and engineering unit Richard Vanderpuye. "But this is something we were well aware of. The original intent was to have it done quickly, but we also recognize that this project must critically focus on the delivery of its intended scope and quality."
To streamline oversight, HIG has sectioned the project into three belts—Northern, Middle, and Southern—and established eight "supervisory zones," each monitored by a site supervisory consultant (SSC). The eight SSCs include Adjaye Associates, who were originally slated only for pre-contract work but took on a post-contract supervisory role later in the process.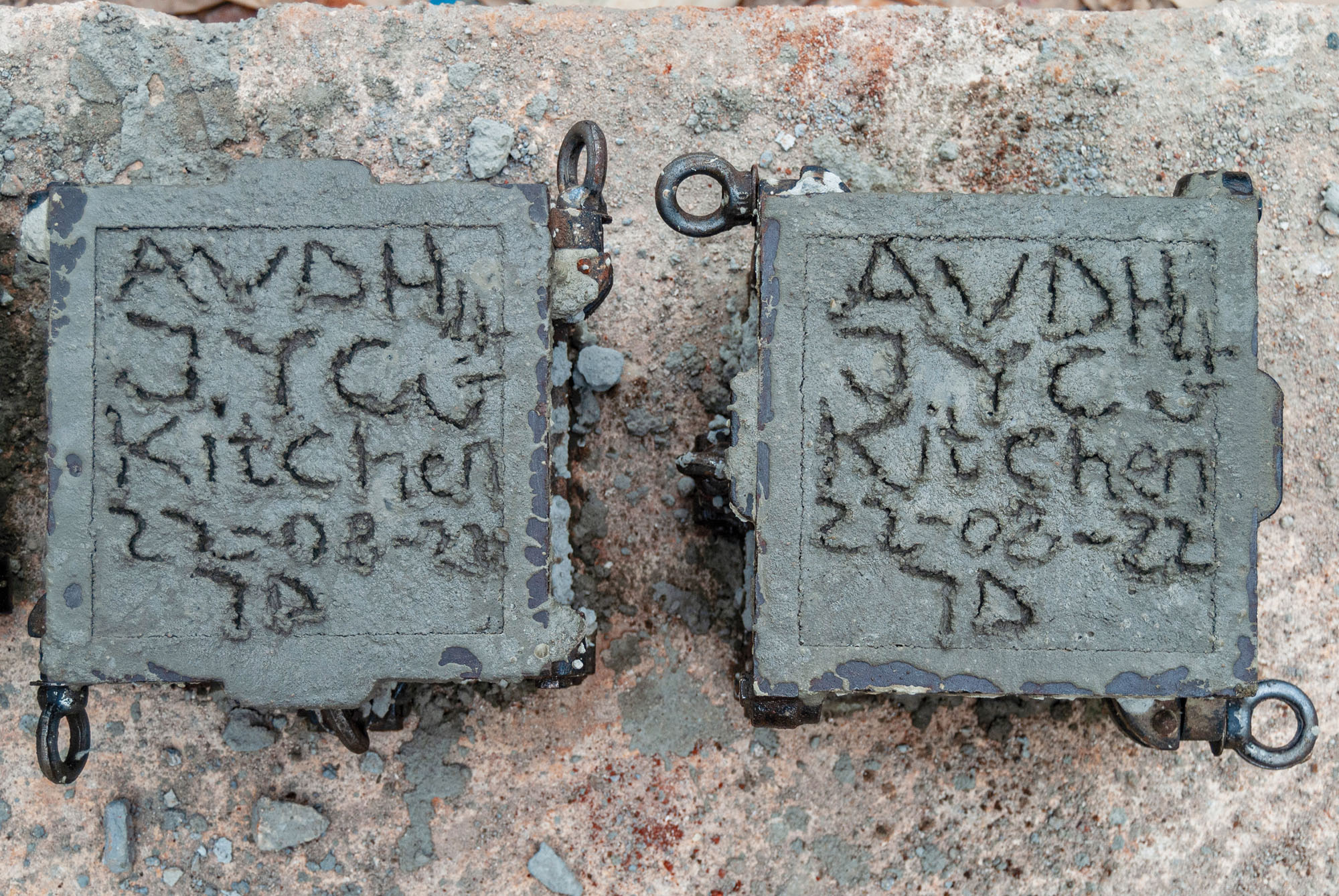 "We want this to be a success story through and through," says Adjaye Associates' DeRoche. "I think that given our experience in previous health care projects, it made us a right fit within the team to maybe question some of the outcomes and interrogate what delivery should look like." (The firm is also working on a Pediatric Cancer Center in Rwanda.)
Hospital infrastructure scale-up is not new to Ghana. But prior developments—such as Egyptian company Euroget De-Invest's 2008 contract for the design and construction of nine major Ghanaian hospitals—have been typically sourced to foreign companies through contracts that lacked mechanisms to ensure a significant level of technical cooperation, resulting in little to no integration of local building skills or knowledge systems in those projects.
"We have real challenges with building local capacity and technologies in our built environment sector," acknowledges MOH's Vanderpuye. "I would argue that Agenda 111 is that kind of project that should 'break' procurement rules, in a sense. It is an opportunity-driven project, about encouraging a 'made in Ghana' sensibility." Moreover, the design's implementation of local compressed earth blocks could strongly advance capacities and standards of local material manufacturing in Ghana, as it has in a number of West African countries.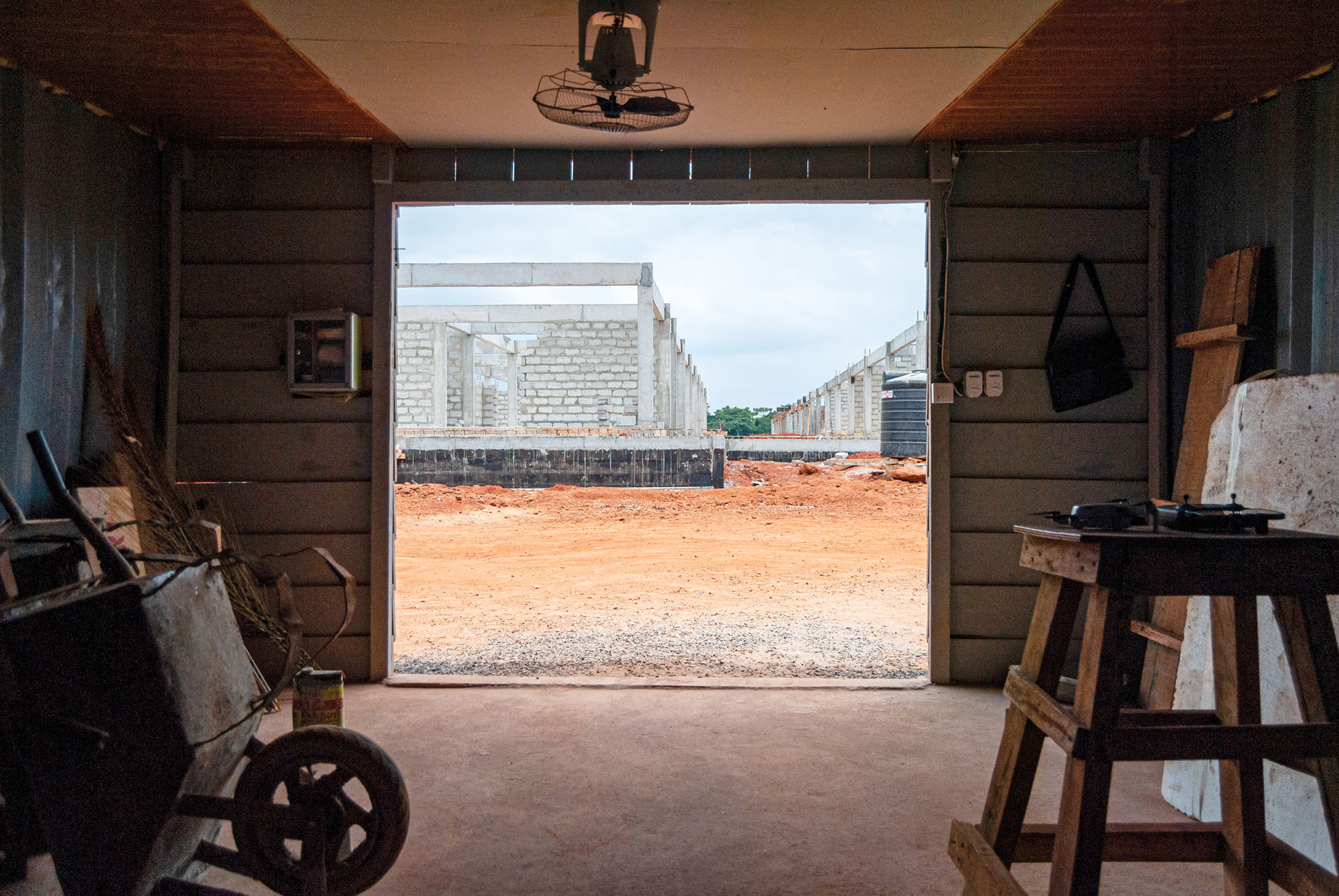 The collective resolve of Adjaye Associates and the project team to shape and drive such a sprawling undertaking while promoting social engagement, wellness, and local involvement holds both risk and reward. While most facilities are progressing, there are still months of heavy construction work left. Keeping so many new hospitals operational once complete is yet another challenge on the horizon, particularly with international donor funding for health services and infrastructure projected to decline from 19 percent of health care spending nationwide in 2017 to 1 percent in 2022, according to UNICEF. A clear funding and operational structure must support the project execution to reflect the country's "Ghana Beyond Aid" ambitions.
But it is ultimately the project's impact in confronting the quality of the public health care experience, particularly for marginalized Ghanaian communities, that will be its legacy. The project contributes to a growing "glocal" mindset in the country, pushing against often-unsuccessful globalist tendencies. Enabling better health, equitable access, and climate resilience, it could prove to be a template far beyond Ghana.
---
Would you like to comment on this article? Send your thoughts to: [email protected]