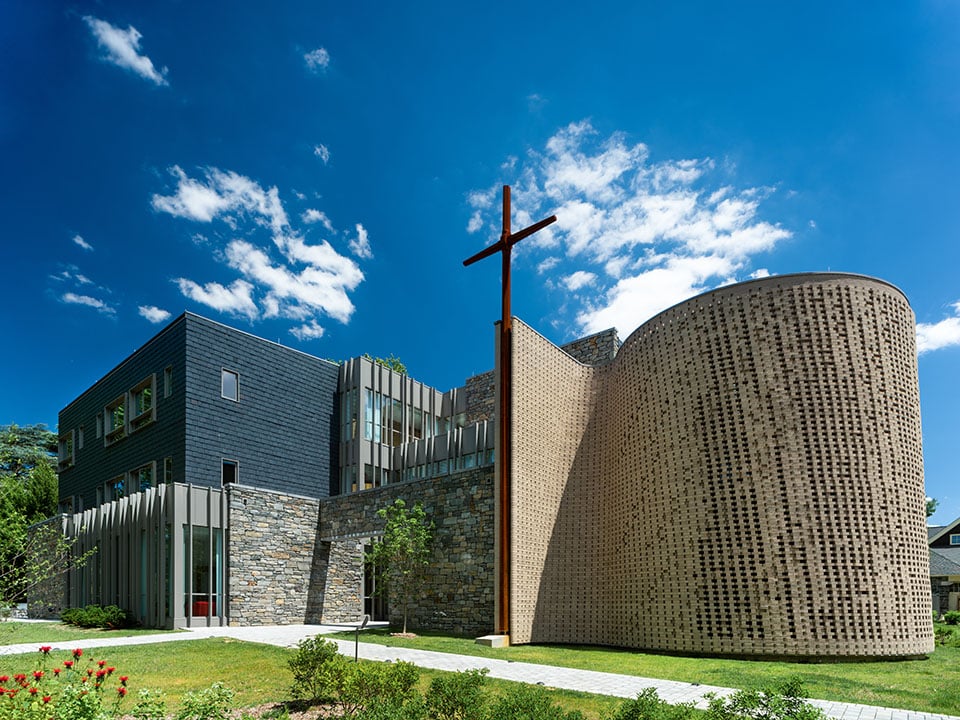 November 11, 2021
Can a Building Symbolize Time?
Situated on a formerly residential lane on campus, Arrupe is named for Pedro Arrupe, who served as the Superior General of the Society of Jesus from 1965-1983. The architecture looks contemporary, but it is also a collage of materials that echoes the Collegiate Gothic and Federal architectural styles of the buildings surrounding it. The various programs inside are identifiable from the outside: steel, glass, and local Wissahickon Schist stonework clad the shared residences, slate covers the individual residences, and orange-hued brick adorns the slightly conical chapel.
---
More from Metropolis
---
It's the furled form of the chapel's facade—marked from afar by a 40-foot-tall, weathering steel cross—that symbolizes the transition between calendars. Each of its 123 courses of bull nose and header brick, supported by a complex steel substrate and reinforced with rebar, represents approximately four years. Its textured filigree—openings in the brickwork and the extension outward of the bull-nose bricks—visualizes the mathematical sleight-of-hand that has been necessary to keep the astronomical and calendar years in alignment. One pattern records the shifting dates of Easter and its attendant holy days, the other the more general mathematical shifts that resulted from the Gregorian reform. In a single building, the chapel really does represent a very brief history of time.
As Moto partner and technical director Eric Oskey explains: "All of this was done through mathematics, bricks, and geometry."
Inside, public and private spaces are connected by a light-soaked, slatted-oak stairwell, ensuring that community members meet in passing, and reinforcing the belief in community-building for which Jesuits are so well-known. (The chapel's rounded interior is similarly clad with timber slats, and is also lit via a large skylight.) The residence contains several much-needed campus gathering spaces, including a patio, meeting rooms, parlors, a large residential kitchen, and a dining hall.
"The communication and connection as a brotherhood was very important to them in regards to how the building worked," says Moto partner and technical director, Eric Oskey. "We made sure to design moments for them to cross paths and connect."
Would you like to comment on this article? Send your thoughts to: [email protected]