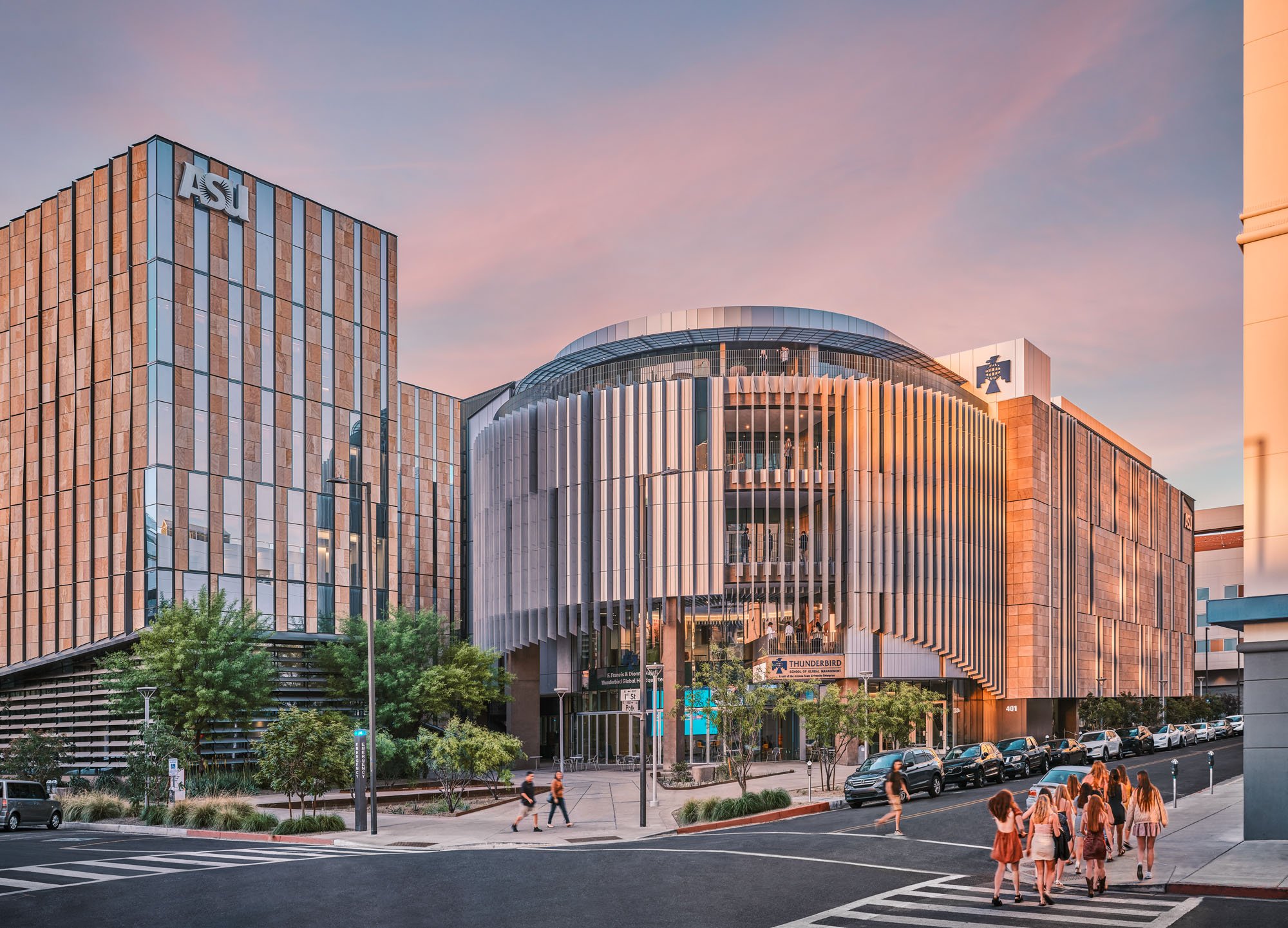 March 1, 2023
ASU's Thunderbird School of Global Management Welcomes All to Phoenix
In the heart of downtown Phoenix— the fastest growing city in the nation—a new 110,000-square-foot F. Francis and Dionne Najafi Thunderbird Global Headquarters for the Thunderbird School of Global Management offers a new model for uniting the global and the local in a new, high-tech incubator for business and leadership education. Co-designed by Phoenix-based Jones Studio and higher education veterans Moore Ruble Yudell Architects & Planners, the new Thunderbird School prioritizes human connection alongside advanced technology across five floors of classrooms, digital learning spaces, and multi-use meeting areas.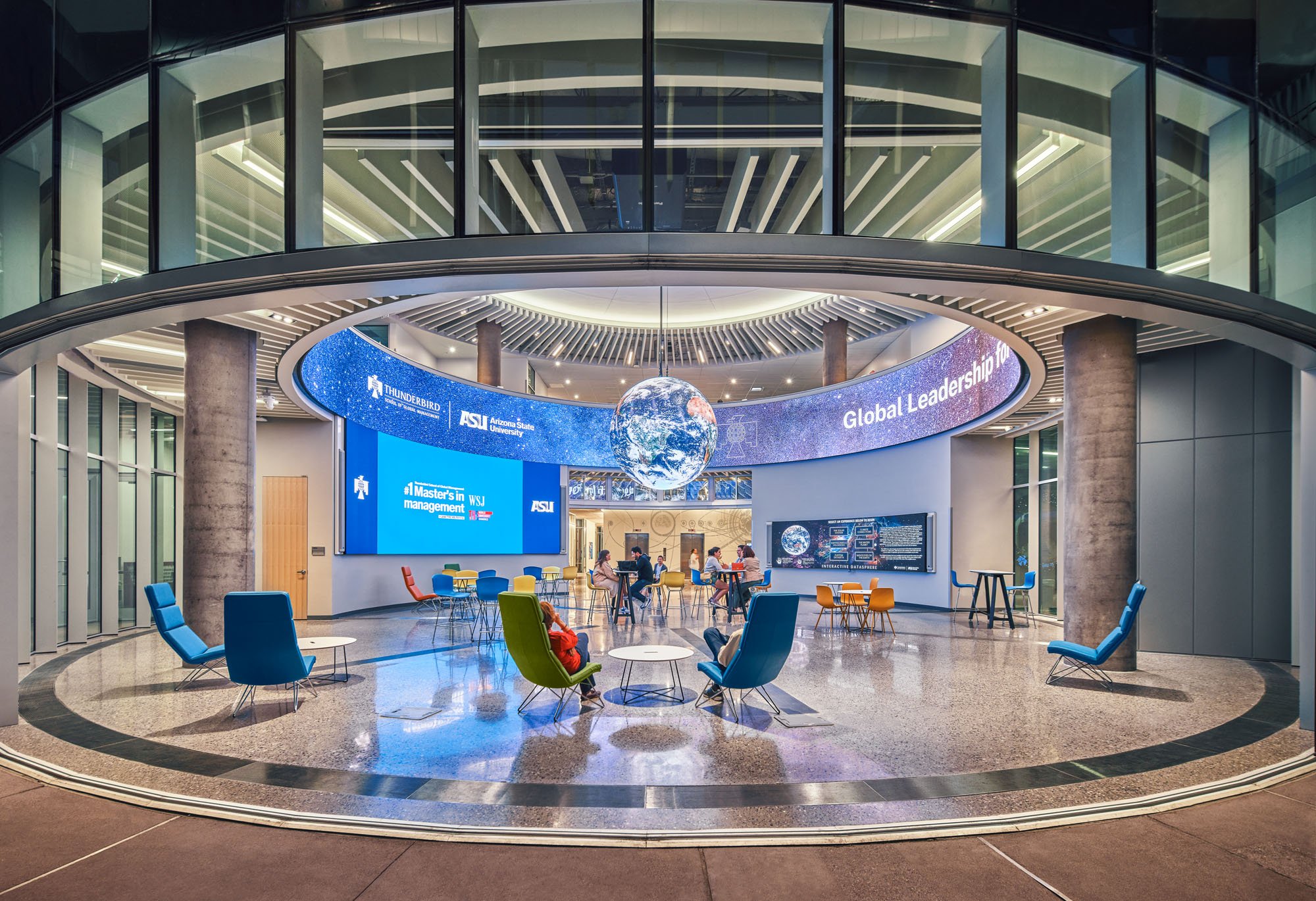 A Campus to Cultivate a Global Perspective
The project represents a major milestone for the Thunderbird School, which was founded in 1946 at Thunderbird Field, a military airfield in Glendale, Arizona. It was the first graduate school in the U.S. to focus exclusively on international leadership and management. "Our school was founded on the notion that borders frequented by trade and diplomacy seldom need soldiers. Ours is much more than a business school—it's a vision about transforming the world towards peace and prosperity," explains Sanjeev Khagram, dean, CEO and director general of the Thunderbird School. In 2014, Thunderbird became associated with Arizona State University, and in 2018 the school relocated to ASU's downtown Phoenix campus. "When we began designing our new global headquarters, we knew Thunderbird 4.0 had to be the best physical space for global leadership management, but also be the most advanced digitally and technologically," says Khagram.
This unity of the physical and the digital, all in service of dissolving boundaries between people and communities, plays out across Thunderbird's new headquarters, which capitalizes on its threshold location between existing university buildings and the booming urban landscape of Phoenix. Clad in locally quarried sandstone, the building immediately conveys something of its place. The convex-curved facade terminates in the Digital Global Forum, a double-height, ground-floor rotunda that opens to a public plaza and the city sidewalks beyond via a 36-foot-wide operable partition, disintegrating boundaries between inside and outside, university and city. "It creates an expansive space—a type of public forum that welcomes everyone, even if they aren't part of ASU," explains Shawn Swisher, senior associate at Jones Studio.
Multifunctional Classrooms and Social Spaces Build Connections
Encircling the 2,800-square-foot Digital Global Forum is a stadium-style seamless LED ring, which can support up to twelve video conferencing windows simultaneously. In the center, an LED video sphere plays dynamic video content as it raises and lowers via an electric hoist, beckoning visitors inside. In total, over 1,300 square feet of digital displays animate the forum. "This space—and the building as a whole—draws on the bright opportunities of technology, bringing people together globally from Thunderbird's 15 international satellite centers in an immersive way, like a global situation room," explains Buzz Yudell, partner at Moore Ruble Yudell. "The space is an invitation. It's a welcoming, accessible place where everybody of every background feels they can belong." The building is anticipated to achieve LEED Gold certification thanks in part to a rainwater collection and reuse system that reduces outdoor water needs by 50 percent and indoor use by 40 percent compared to a baseline building. The design team employed parametric modeling to optimize energy use, shading, and occupant comfort, a must for a hot, dry climate like Phoenix.
---
More from Metropolis
---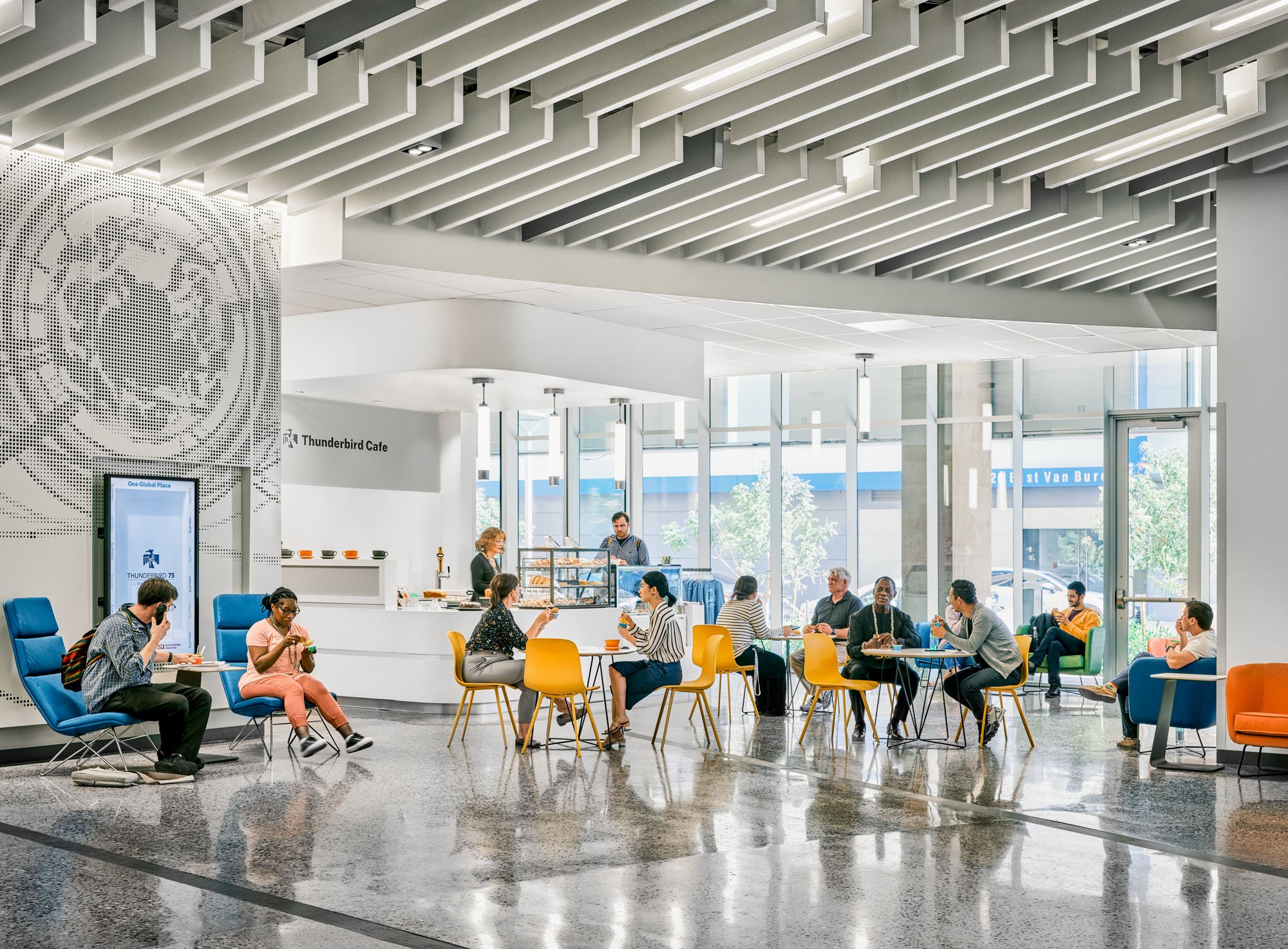 A Look at the Thunderbird School's Collaborative Space
Inside, a series of dedicated learning spaces range in size, shape, and formality, with nine flexible classrooms, two "sandbox" classrooms, and seven group study rooms, as well as a virtual reality language lab and a more traditional lecture hall for large events. Jones Studio and Moore Ruble Yudell prioritized modular and multi-use space planning, along with flexible AV and IT connections, yielding spaces that can quickly transform from private work rooms to collaborative work zones or function for public events.
Across the building's five floors, a series of heritage lounges crystallize Thunderbird's cross-cultural approach, with art pieces and cultural artifacts from Africa, Asia, and Latin America, all of which were donated by Thunderbird's more than 45,000 alumni animating the double-height spaces. "As a user, you're invited through this sequence of heritage spaces that are very warm and culturally rich, and become multi-use for meetings and informal collaborations," explains Yudell. At the building's apex, a rooftop pub is open to the public and offers views up and out, to the city and desert landscape beyond. Ultimately, the building and its emphasis on uniting the local with the global, and the digital with the humane, symbolizes the aims of the Thunderbird School itself. As Yudell explains, "It's a choreography of community."
Would you like to comment on this article? Send your thoughts to: [email protected]