August 18, 2021
A Pediatric Clinic in Hong Kong Turns Examination into Play
Designed by local firm Bean Buro, the space favors soft, curvilinear elements that provide warmth to the clinical setting.
---
After recently completing an educational center for children and designing numerous playrooms and bedrooms for family-oriented residential projects, Hong Kong-based architecture firm, Bean Buro, is no stranger to designing for kids. So when the opportunity to design a pediatric orthopedics and scoliosis clinic in Central Hong Kong came up, the studio was eager to implement what they've learned. "The challenge is to send e the space from their point of view which is different from an adult's experience of the same space," says the firm's co-founder Kenny Kinugasa-Tsui. The solution became what he calls, "stimulation strategies," including play of scale and striking visual elements.
With a clean slate of 1,000-square-feet, Kinugasa-Tsui and his partner Lorène Faure transformed four adjacent rooms and a spacious lounge into a calming environment with warm green-lacquered surfaces and curved edges. "The rounded aesthetic provides a softer and soothing feeling," Faure explains. From bulbous wall corners to cloud-like tables, oval edges have been a signature touch in the firm's portfolio consisting of both commercial and residential projects. However, in this case, the look had a critical function, too. "A perk of designing with curves in all of our joinery was to create a safer environment for patients by minimizing sharp corners which can cause injuries," she adds.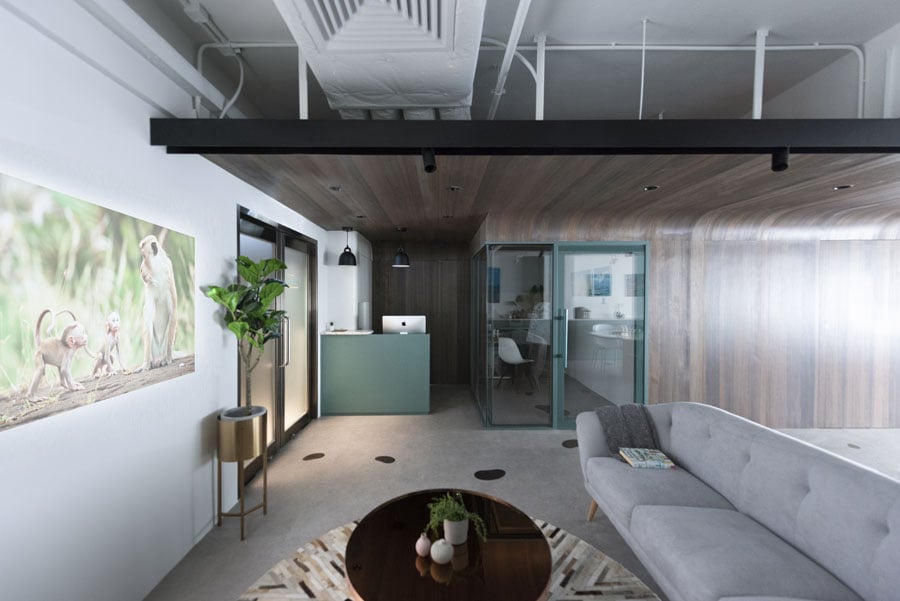 ---
A timber stepped platform in the waiting room is an example of this. The hard wood structure's oval form conveys a sense of softness and promises a spirited wait time during which little patients can climb the apparatus's steps. The room also allows doctors to observe the patients' activities and movements in their relaxed play time.
More from Metropolis
Seeing through children's eyes also meant revisiting fairytales for inspiration. A trail of "bean" shapes dot the entire floor from waiting to examination rooms, designed to stimulate  bored patients' and "nurture their natural inquisitiveness". The amorphously shaped floor decorations are finished with a bronze metallic surface to grab attention and "challenge the idea that medical visits must be cold and daunting," Faure says. The bean motif starts with the firm's name, an acronym for Between Exchange of Architectural Narratives, and extends to their signature custom-designed Bean Table, which here provides a central island unit for parents' and children's interaction.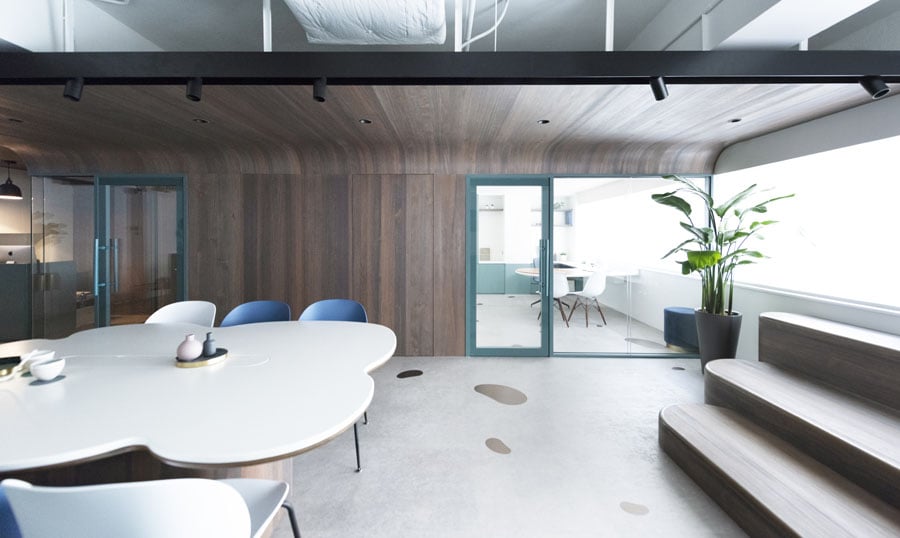 ---
The firm used color as a way to veer away from the typical clinic setting, opting for materials that are "soft, textured, and warm." A rounded timber wall in the center of the space and bespoke cabinets in a dark lacquered green contrast the concrete floor. "Green promotes a sense of serenity and possibility that enables children to feel relaxed and positive," Faure says. The feedback both from patients and parents has been positive. She concludes, "They're drawn to the unusually relaxed and homey feel and they intuitively interact with the space."
You may also enjoy "Why Aren't Black Firms Working on Memorials to Slavery?"
Would you like to comment on this article? Send your thoughts to: [email protected]
---
Register here for Metropolis's Think Tank Thursdays and hear what leading firms across North America are thinking and working on today.