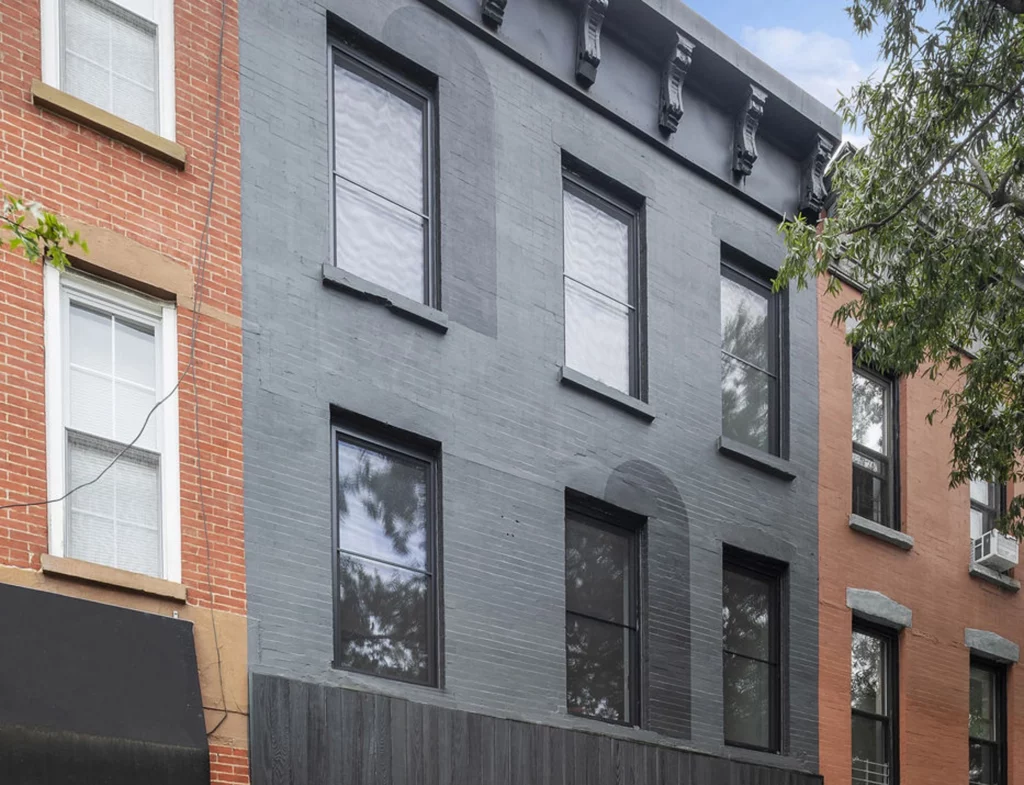 March 10, 2022
A Brooklyn Townhouse Is Refreshed. But It's Not What You Think.
Following the closing, she converted the townhouse into a condominium called House Offset—a name inspired by the offset arches on the façade and the arch motif in the overall design. A two-year renovation came next and took twice as long as originally planned because of COVID-related delays with construction and supplies.
In a departure from the neighborhood's other buildings, Coover envisioned an aesthetic that was playful and contemporary. That meant no subway tiles, double hung windows, or chrome faucets. "I wanted to be true to the ethos of the neighborhood and the history of the building, but didn't want a boilerplate look," she says.
Coover stuck with the three-unit configuration, but changed the layout to give each residence two bedrooms, one-and-a-half baths, and balconies; they range in size from 800 to 1,300 square feet, and one home features a rooftop.
The exterior got a facelift too. "I kept the four walls, but changed everything else," says Coover. The front facade was painted a lighter shade of black (Benjamin Moore Cheating Heart) and is overlaid with darker black (Benjamin Moore Black Iron) graphic scalloped images—an updated perspective on the arched windows and roofs that can be found in the neighborhood.
With sustainability as a priority, Coover clad the lower part of the facade with charred wood from the reclaimed wood supplier reSAWN Timber. The surface protects the exterior and complements the dark gray painted bricks on the façade's upper half. House Offset's tiny entry stoop is in black terrazzo; Coover's reimagination of the classic Brooklyn front stoop that's immortalized in television shows and movies.
Inside, engineered terrazzo (made from 100% recycled plastic by Durat) is a feature throughout, from the staircase that connects the three units to the bathroom floors and walls within them.
Other design features include tilt-and-turn windows, white walls, black custom kitchen cabinets, and black tile backsplashes. Bright accents such as yellow and blue kitchen sink faucets add in pops of cheery color. Then there's the scallop theme again with elements such as arched mirrors, ceilings, shelving, and a scalloped kitchen island. "Scallops let you have a lot of fun," says Coover. "They're impactful but not serious."
House Offset's condominiums hit the market last November and were listed for $1.195 million, $1.595 million, and $1.695 million. They all sold within one week for their asking prices, and residents have just begun moving in
"I'm excited for the owners to experience my take on Brooklyn living," says Coover. "I respected the past but very much hope that I've created a fresh take that reflects a way of living that's relevant to today."
Would you like to comment on this article? Send your thoughts to: [email protected]